Sweet and creamy cinnamon ice cream with sweet apple filling swirled throughout. The best fall ice cream.
Dive into fall with this creamy Apple Pie Ice Cream, packed with crunchy Golden Oreos and spiced apple pie filling. The dessert mash-up you never knew you needed.
❤️ Why you'll love this recipe
Ultimate Comfort: It's the fusion of classic apple pie and creamy ice cream, a match made in heaven.
Quick & Easy: Spend less time in the kitchen and more time enjoying with a total cook and prep time of just 30 minutes. Remember, it's the chilling that takes a while!
Flexible: Already have a go-to vanilla ice cream base? No problem! Feel free to sub it in.
Every Bite's a Delight: The addition of Golden Oreos ensures there's a lovely crunch in every spoonful.
🧂 Ingredients
This is an overview of the ingredients. You'll find the full measurements and instructions in the printable recipe at the bottom of the page.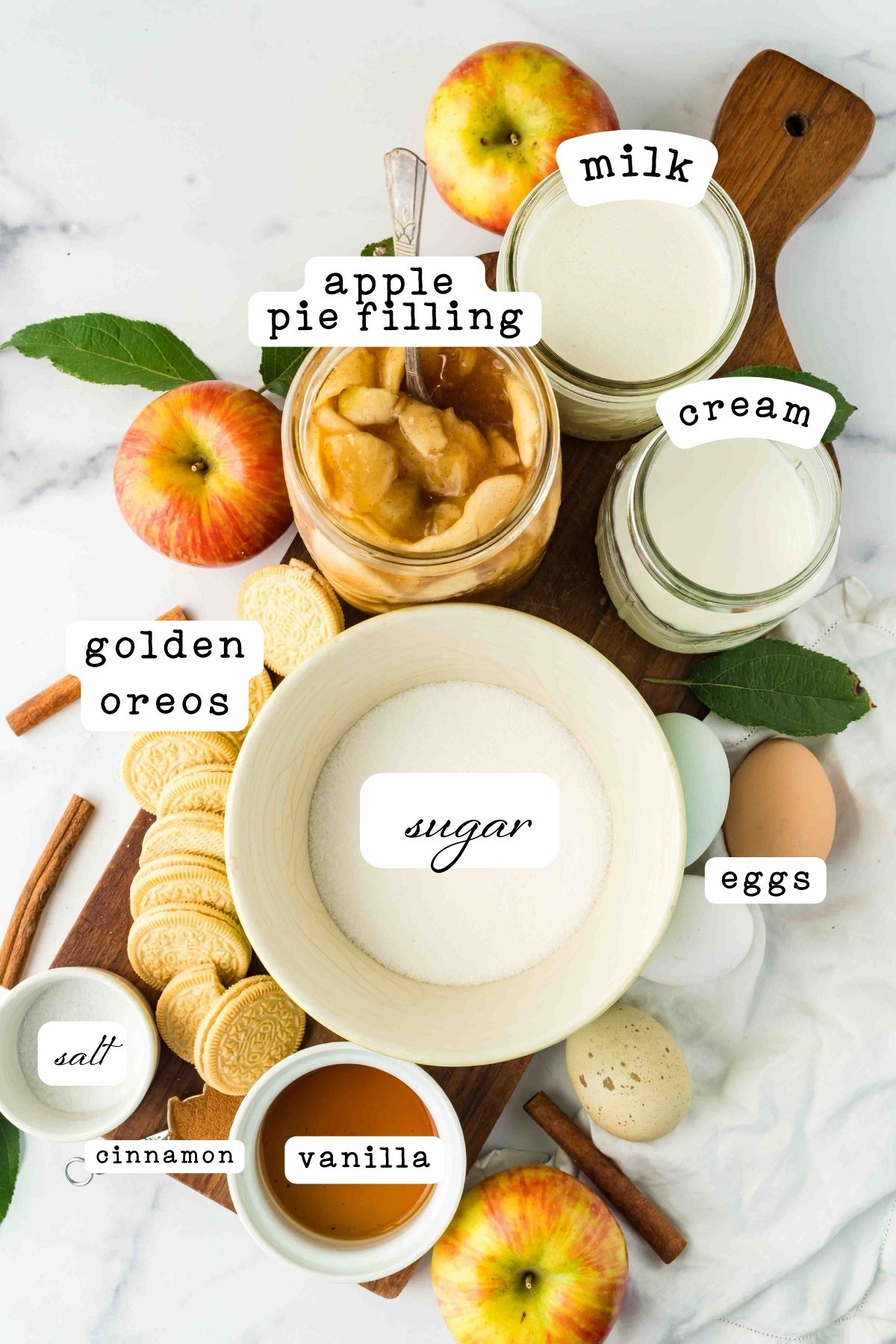 You'll need the following for this fall ice cream:
Whole milk
Heavy cream
Granulated sugar
Egg yolks
Ground cinnamon
Salt
Golden Oreos
Apple pie filling
🍴Instructions
Step One: start custard base
Get your milk, cream, and a portion of your sugar into a saucepan. We're aiming for a warm and steamy mix, so keep an eye on it.
While that's warming, beat those yolks and the rest of the sugar until you get a nice, light yellow hue. You'll see the change – it's pretty cool.
Step Two: temper and heat
This is where things get interesting. Pour half of the warm milk mix into the eggs. Then, it all goes back into the saucepan. This is the magic moment when everything becomes one.
With all the goodness in your saucepan, heat and keep stirring. What we want is a lovely custard consistency. Remember, no boiling!
Step three: strain and chill
Once you've strained your mix using a cheesecloth or strainer, pop it in the fridge. We want it super cold.
Step Four: churn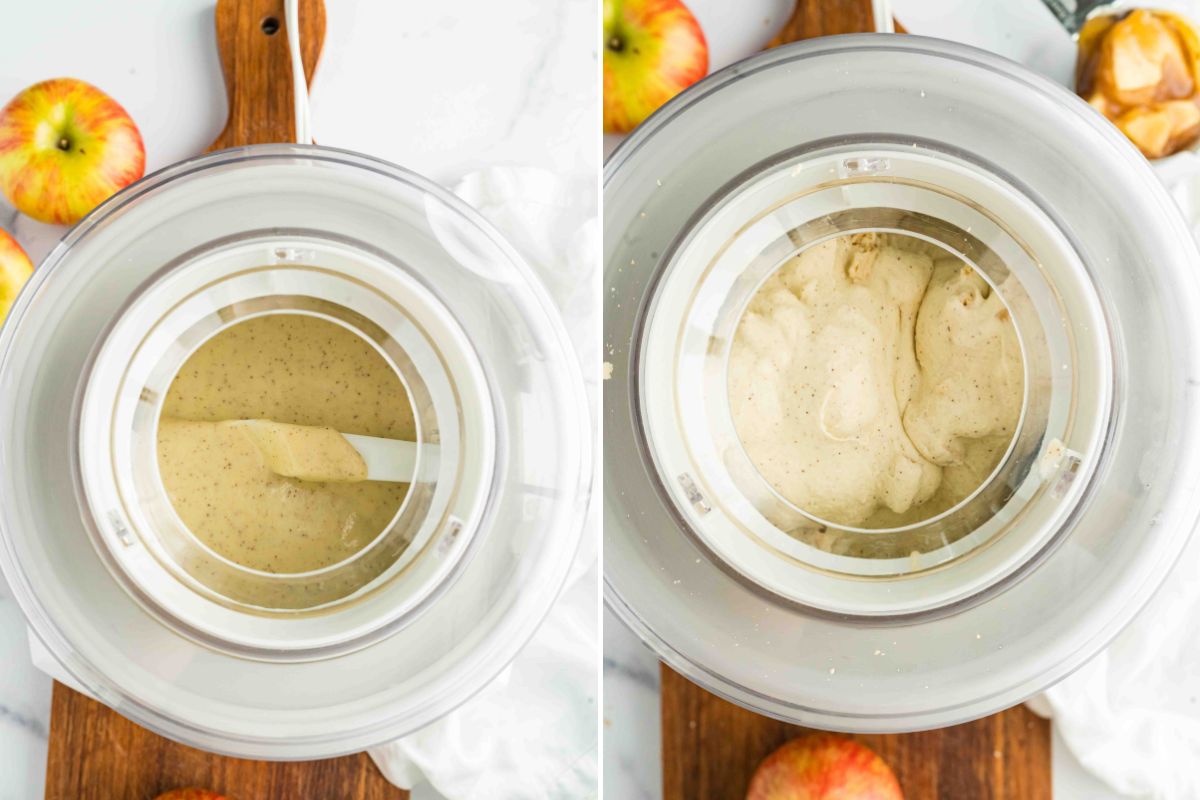 Now, pour that chilled custard into an ice cream maker.
Step Five: mix ins
Once you're at a soft serve consistency, it's time to introduce your crushed Golden Oreos and pie filling.
Step six: freeze until firm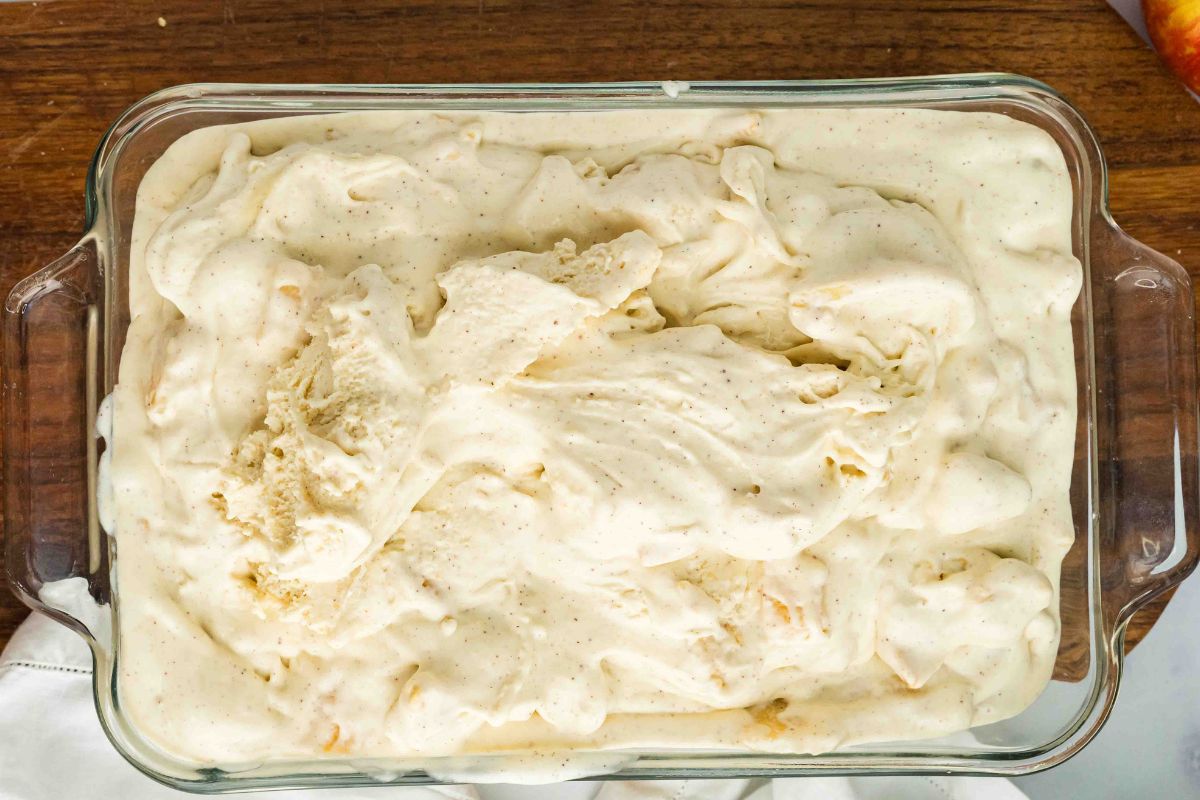 After following all the steps, scoop your ice cream into a loaf pan and cover with plastic wrap. Pop it in the freezer for around 30 minutes, so you get that perfectly swirled look without everything melting.
🥫 Storage instructions
Homemade ice cream is best enjoyed within a week. Keep it with plastic wrap tightly pressed on top.
👩🏻‍🍳 Expert tips
Always check your ice cream maker's instructions. Some require the insert to be frozen a day in advance.
Don't rush the chilling process; it ensures your ice cream is ultra-smooth.
Feel free to use another cookie! The Oreos add a delightful crunch and blend perfectly with the apple filling but gingersnaps are very good as well.
If you don't have cheesecloth, a fine strainer will do the job just fine.
📘 more fun ice cream recipes
🍽 Serve it with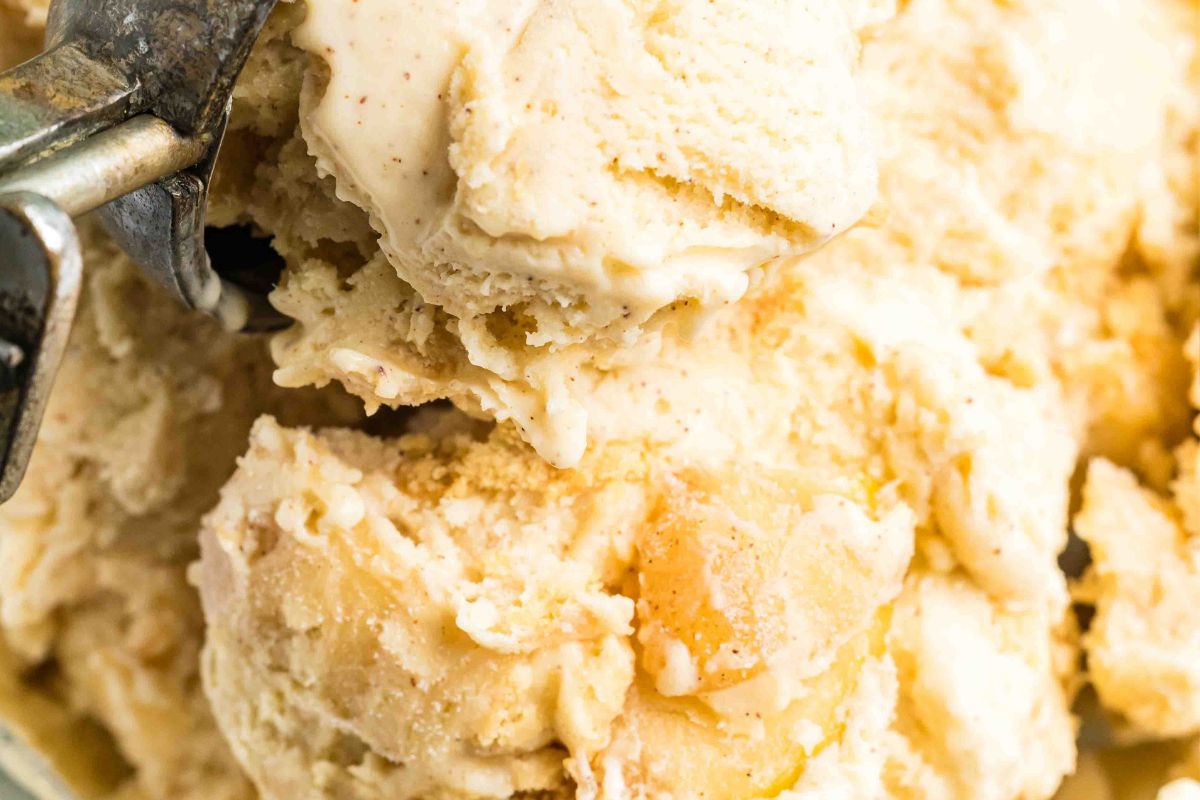 📖 Here's the recipe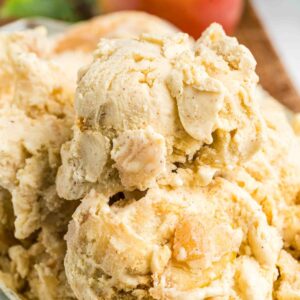 Apple Pie Ice Cream
Print Recipe
Sweet and creamy cinnamon ice cream with sweet apple filling swirled throughout. The best fall ice cream.
Click here for a FREE autumn cookbook (25+ Recipes!)
Ingredients
1½

cups

whole milk

1½

cups

heavy cream

¾

cup

granulated sugar

4

egg yolks

½

teaspoon

ground cinnamon

pinch

salt

15

Golden Oreos

⅔

cup

apple pie filling
Instructions
Heat the milk and cream. Heat the milk, cream, 1/2 cup of sugar, and vanilla bean in a saucepan over medium heat, until warm and steaming, or about 170 degrees.

Beat the eggs and remaining sugar. Meanwhile, beat the egg yolks and remaining 1/4 cup of sugar until light yellow in color and well combined. They will noticeably change color when mixed enough. (A hand mixer on low will work well.)

Temper. Temper the eggs by adding half of the warm milk mixture, a half cup at a time. Then add the egg mixture back into the saucepan with the rest of the milk and cream.

Heat. Heat the saucepan, which now contains all of the milk, cream, sugar, and eggs, over medium heat, stirring constantly, until it reaches 185 degrees. The custard is ready when it has thickened enough to coat the back of a spoon. Do not boil. Once off the heat, add a pinch of salt and the cinnamon.

Strain. Hold cheesecloth or a strainer over a bowl to strain the custard. Immediately place the custard into in the refrigerator to chill. Chill for 4-24 hours, until very cold.

Freeze and add Golden Oreos and pie filling. Add custard to an ice cream maker and churn, following manufacturer's instructions. When it has reached the consistency of soft serve ice cream, add the Golden Oreos, slightly crushing them as you go. Add the pie filling and let machine run for a minute or so until everything is just mixed. Scoop into loaf pan, cover with plastic wrap, and freeze about 30 minutes so you can add the swirls without it all melting together.
Notes
Feel free to substitute your favorite vanilla ice cream base!
Be sure to check your ice cream machine's instructions before beginning: many have a freezer insert that needs to be frozen at least 24 hours before churning.
Nutrition
Calories:
464
kcal
|
Carbohydrates:
58
g
|
Protein:
5
g
|
Fat:
25
g
|
Saturated Fat:
13
g
|
Polyunsaturated Fat:
3
g
|
Monounsaturated Fat:
7
g
|
Cholesterol:
153
mg
|
Sodium:
129
mg
|
Potassium:
160
mg
|
Fiber:
1
g
|
Sugar:
42
g
|
Vitamin A:
862
IU
|
Vitamin C:
3
mg
|
Calcium:
107
mg
|
Iron:
1
mg
Did you make this recipe?
If you loved it, please leave a review!