This apple bundt cake is perfect for fall and the holidays. The glaze is amazing and takes only a minute or two to mix up, so don't skip it!

I love Bundt cakes. They are simple to make, unpretentious, and can be packed up as gifts or sliced up for snacks and (ahem) breakfast. The only thing I like better than them are small bundt cakes. That way I can make a full recipe and divide it into either two or four cakes. One to give away, one to keep, one to freeze, etc.
This recipe is my favorite for fall. It's warm and sweet, and the glaze is amazing. It's adapted from King Arthur Flour. Here is the original recipe. I only doubled the volume, tweaked the spices, and added the glaze. The only unusual ingredient is the boiled cider, which is also delicious on pancakes or waffles instead of syrup.
This makes ONE standard Bundt cake, TWO small bundt cakes or FOUR "quartet" Bundt cakes. I used quartet here and for most recipes.
This recipe has a lot of ingredients but is easy to make. By the time you've taken all the ingredients out, you're almost done.
Apple Spice Bundt Cake with Cider Glaze Recipe:
You will need:
For the cake
-1/2 cup (1 stick) unsalted butter at room temperature
-1/2 cup vegetable oil
-1 1/2 cups sugar
-3 t. ginger, 3 t. cinnamon, 1 t. nutmeg, 1 t. cloves, 1/2 t. allspice
-1 t. salt
-2 t. baking powder
-1. t. baking soda
-4 eggs
-3 cups flour
-6 1/2 T. boiled cider
-6 T. molasses
-1 medium grated apple (I grate mine in the food processor using the shredding disk.)
Directions:
Preheat the oven to 350. Generously spray your Bundt pans with non stick cooking spray.
In an electric stand mixer, combine all ingredients up to and including the baking soda and blend on medium until light and fluffy, scraping down the sides once or twice. This will take at least 3 minutes of mixing time.
Add the eggs one by one, blending after each egg until it is incorporated.
Scoop in half the flour, then the boiled cider. Add the rest of the flour, then the molasses. Mix until thoroughly combined
Blend in the grated apple on low speed until blended.
Pour into the prepared pans, and bake. The time will vary depending on the size you have chosen. A standard Bundt pan will take about 60 minutes (start checking at 50), a small will be about 40 (check at 35), and a quartet will take about 30 minutes (check at 25). A toothpick should come out mostly clean, with perhaps a crumb or two.
Allow to cool in the pan ten minutes, then turn out onto cooling rack.
While the cakes are cooling, mix up
To make the glaze:
1 tablespoon boiled cider
1 tablespoon half and half or cream
1 cup powdered sugar
Small pinch of salt
Combine all ingredients in a small bowl. The glaze should be thick and barely pourable. Drizzle over cooled cakes. Will harden at room temperature.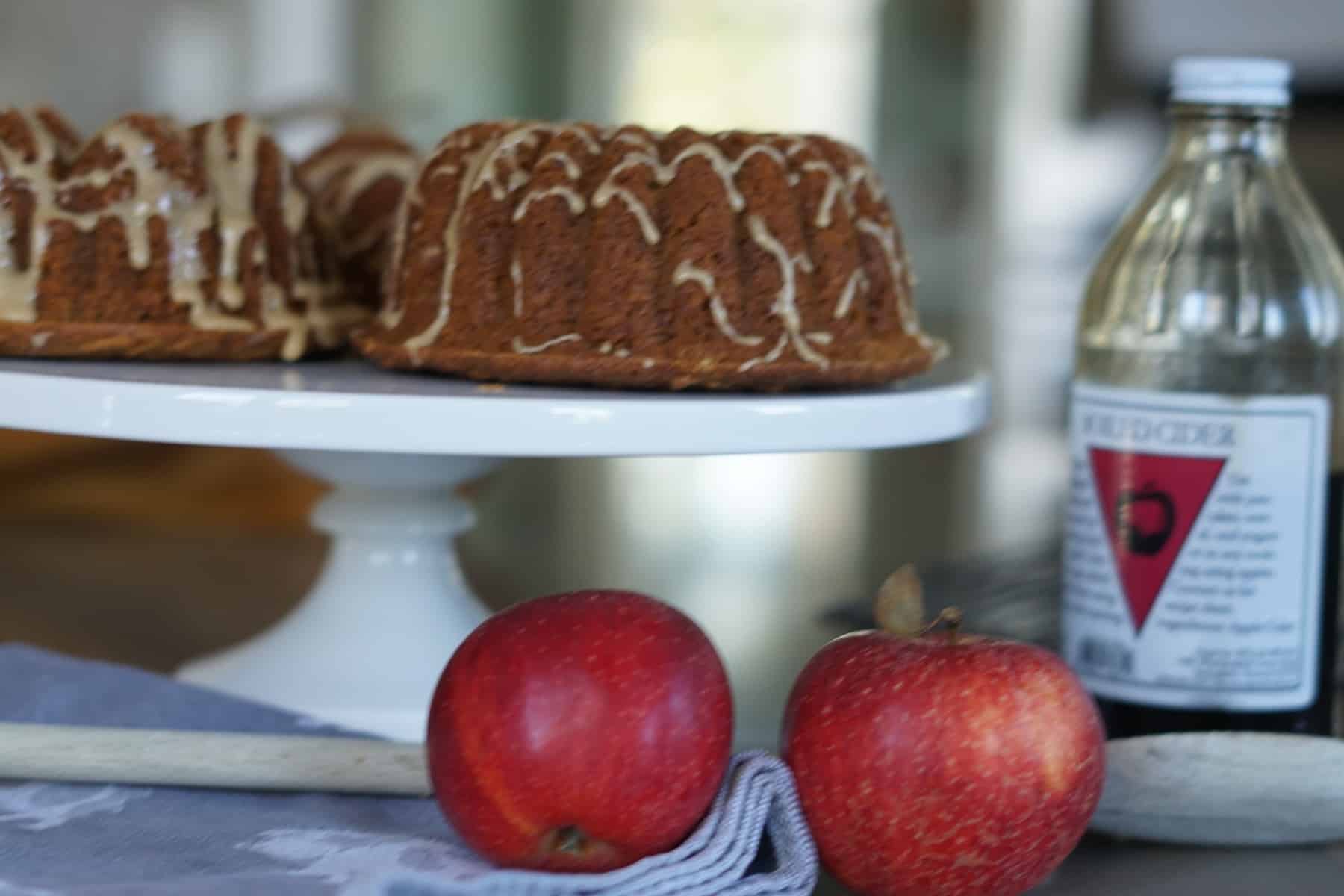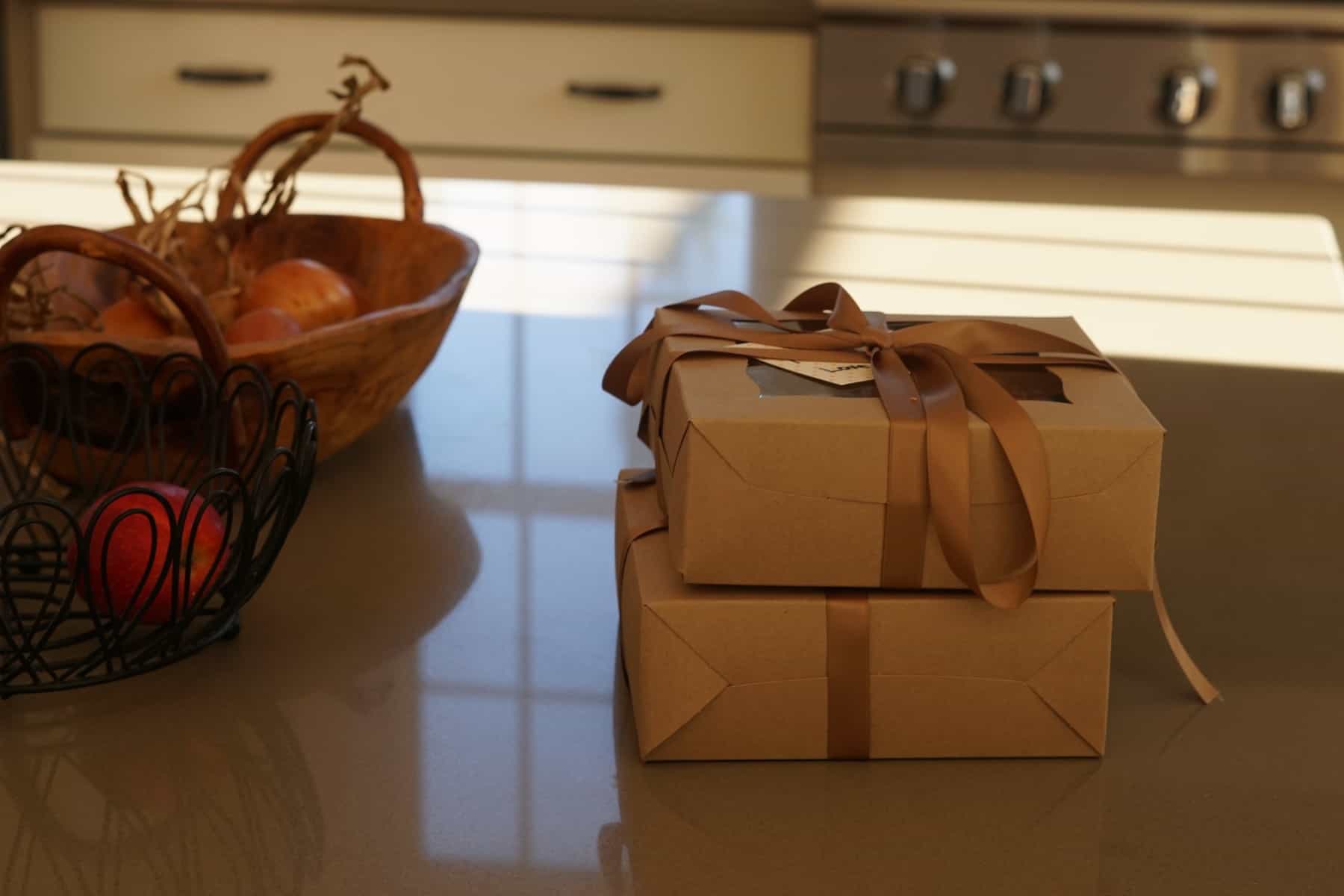 Print the recipe here