A look at the beginner canning supplies you'll need to begin one of the most frugal and rewarding hobbies out there.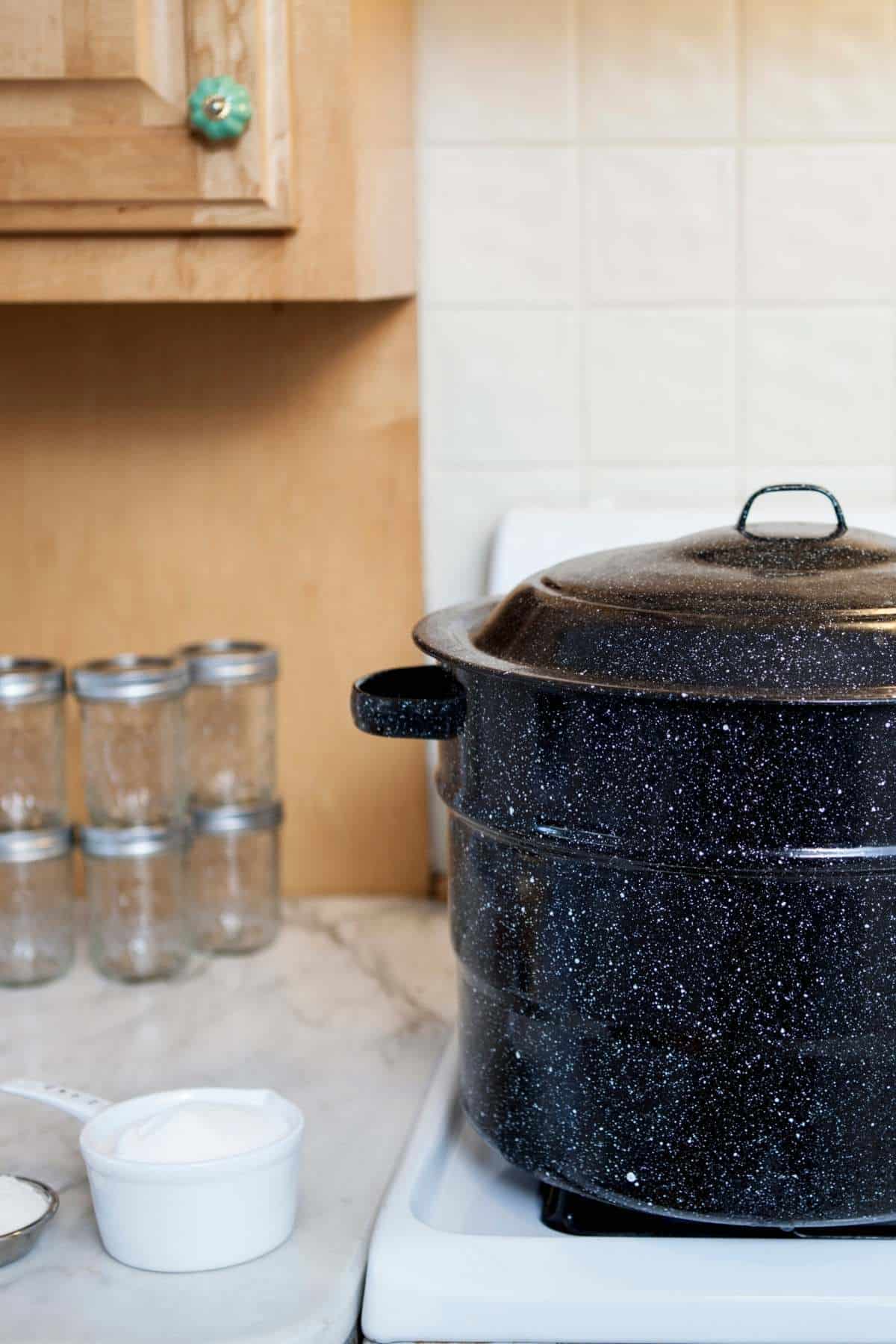 Table of contents
Whether you just had your first harvest in your garden or found a steal on fresh produce at the farmer's market, you now have to find a way to preserve it
Canning is the way to go, but it can quickly become an expensive activity, leaving you wondering whether or not canning your produce is worth the investment.
Let me settle your inner debate.
It is worth the investment in time and money when done the proper way. It can seem daunting and scary, learning the rules of this old-fashioned skill and how to use the tools properly, but I promise you will taste the reward when you open your first can.
(Whether you're new to canning or an experienced canner, I suggest you look at my tips to see the hard lessons I've learned when it comes to a full day of canning.)
Here I will share my beginner's guide to supplies for canning, including a few hacks if you can't find specific items or if you're not sure you want to purchase all of the equipment.
Tools you need:
💡 Want a shortcut to getting what you need? Simply get this canning starter set + a large stockpot + a set of jars! It's enough to get you started.
Canning jars
These should be at the top of your list. Remember that it's always best to invest in the smaller mason jars to preserve unless you know what you're canning will be eaten quickly once opened, then a bigger jar might be suitable.
Jams, jellies, and salsas are best in half-pint or pint jars, whereas green beans, marinara sauce, and maybe pickles would be better in larger mason jars like a quart.
Don't forget all the other ways you can use mason jars around the kitchen. You can never have too many.
Don't forget that jars come in both wide mouth and regular mouth. You'll need lids that fit whichever one get. I prefer regular mouth for canning and wide mouth for plain storage.
You can order them online for a good price, but I have had issues with breakage in the past. Check your grocery store produce section in the spring and summer for new jars. Each one will come with a lid and a rang.
Canning lids
Canning lids should be somewhere close to the top of your shopping list, too. For a proper seal, new lids are a must. So you'll need extra lids for each season. (You don't need new rings each time, just new lids!)
Make sure you pay attention to whether you are buying wide-mouth or regular mouth lids, and that they match your jars. (Again, it's nice to have some of each.)
There are reports of off-brand canning lids not forming proper seals. Invest in the Ball or Kerr brand. Make sure you shop around, as prices on these can skyrocket during times of scarcity.
Water bath canner or large stockpot
Water bath canning is the best way to start when you're new to canning. You can find a water bath canner and canning rack online as a set or sold separately. (Check to see if yours comes with a rack!)
They are typically tall, lightweight pots that are relatively affordable.
But if you're still not sure how much you want to invest in canning, then you can find a very large stockpot with a lid and use that instead of a water bath canner.
Keep in mind, if you decide to use a stockpot, you must make sure that the biggest jar you are using can have at least 2 inches of water coming over the top of the mason jar lid, and the stockpot lid can also rest securely on the top of the pot without any spilling.
Water bath canning rack
If your water bath canning pot didn't come with a rack or you're using a stockpot, you will need a rack for the bottom of your pot. You can easily grab a few canning rings and place them all along the bottom of the pot, then tie them together with something that will not melt.
A small pizza pan or round cooling rack for baked goods could also be a good suggestion for a makeshift canning rack.
If none of those ideas work, pull out the trusty aluminum foil and make a homemade round rack to rest at the bottom of your pot. You can start in a circle and then have multiple rows with even spaces in the middle of the circle for a makeshift rack. Just remember, the rack's purpose is to make sure the bottom of the mason jar does not rest at the bottom of the pot.
Pressure canner
Pressure canners can be found online or in stores. It can even double as a pressure cooker (although they are so heavy and unwieldy that's it's not a super realistic idea!)
Pressure canning isn't something I typically recommend to beginners, but it is essential to understand the difference between water bath canning and pressure canning.
Water bath canning is better and safe for high acid or high sugar foods, like fruit, tomatoes, or pickles. Pressure canning is for low acid foods, like meat and vegetables. The pressure cooker's ability to reach higher temperatures ensures safely preserved low acid foods.
If you know you want to get into pressure canning, the gold standard is the All-American Pressure Canner. (It's an investment, but it will probably outlive you!)
Canning funnel
A funnel is another excellent kitchen expense that, luckily, is typically on the cheaper end. Canning funnels are larger than the traditional funnel to fit into the wide mouth jars and the regular mouth jars.
If you don't have a funnel around, you can grab a plastic cup that can withstand heat and cut the bottom out of it to create your makeshift funnel.
Canning jar lifter
This unique set of tongs fits perfectly over the mason jars to keep everyone safe from harm.
I suggest a pair of these even if you're a beginner, but if you can't seem to find a set in time, I have a simple hack for you.
Place rubber bands all along the edges of a pair of metal tongs. The rubber bands will provide a grip to hold the can in place while pulling it out of the water bath. Without the rubber bands, the metal and glass would slip and cause a complete mess and possibly ruin your canning experience forever.
Clean kitchen towels
Canning can be messy; with food, hot water, and hot glass, clean kitchen towels seem like a no-brainer.
I promise you want to have a stack of these within arms reach when the water is boiling, and you need to set the hot jars somewhere but don't want to run upstairs and grab towels.
It would help if you also had a clean towel to wipe the rims of your jars before sealing.
Labels for cans
Label your jars as soon as they are cool. There are many options for beautiful labels you can print at home or use tape and a marker.
Recipes
Set yourself up for success with canning. Prep work may seem daunting, but it doesn't have to be. Research different recipes and choose the ones you know your family should enjoy.
Download and print my free canning planner to organize all the recipes you'd like to try!
Staple Ingredients
Once you know what recipes you will use, check your recipes to ensure you have all the ingredients. Here are some common canning ingredients needed in most recipes, and be forewarned, you might need a lot of one item.
Pickling salt
Pectin
Citric acid
Vinegar
Lemon juice
Distilled water
Sugar (Some recipes call for sugar in pounds! So make sure you have enough.)
Helpful tools:
Canning book
Canning books are an excellent resource for any person trying their hand at preserving. They often come with simple recipes and tons more tricks of the trade.
Food mill and strainer
A food mill and strainer are quick to grind or puree foods. If you don't want to deal with removing the skin from tomatoes, you can make a beautiful tomato sauce just by milling tomato halves.
This food mill has interchangeable discs to help you puree different fruits and veggies easily.
Kitchen scale
Most recipes call for produce weights, especially since determining volume can be challenging to measure with produce.
A kitchen scale is also just a great kitchen tool regardless of how you use it. It can be helpful when baking with sourdough, and is absolutely essential for soapmaking.
🍓 Related: The Best Waterbath Canning Recipes
Get excited!
Canning is so much fun!
Enjoy learning the art of canning. It might get tedious, but don't give up even when you start asking yourself if it's worth it?
There's nothing like opening a mason jar filled with a delicious jam and spreading it over a piece of warm sourdough bread in the dead of winter with the snow falling just outside.
I hope you enjoy your canning adventure, and feel prepared with these beginner canning essentials.