Tender and sweet classic scones studded with chocolate chunks and lightly flavored with orange zest.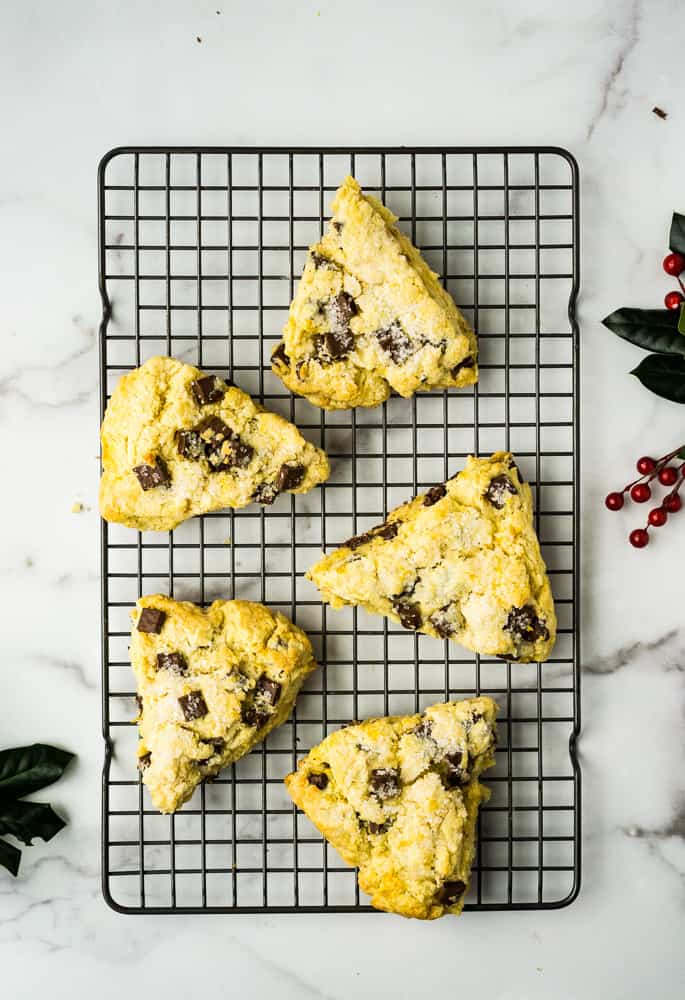 If you need a simple but delicious recipe to bake for a special morning, these scones are what you're looking for. Tender and slightly sweet with big chunks of chocolate and a subtle orange flavor.
For some reason, these scones just taste like Christmas morning to me. Maybe it's the combination of all the flavors inside your Christmas stocking: chocolate and then that little orange at the very bottom.
Tips for successful scones
Scones have a lot of butter, and these are weighed down with additional "heavy" things like big pieces of chocolate and moist orange zest. That means that in order for them to rise well, you need a lot of leavening. So the tablespoon of baking powder might seem high, but it is all necessary. Also make sure it's fresh!
The second piece of advice is to make sure that everything is cold. Sometimes I dice up the cold butter, place it on a plate, and put it back in the fridge while I'm blending the dry ingredients.
You can also make the scones, shape them, and then put the whole baking sheet back in the fridge to chill them more.
Make sure you don't over mix! The mixture will look a little dry and crumbly, and that's okay.
You might need:
Chocolate chunk orange scones, step by step:
Start with cold butter, cold cream, and cold eggs. You can pre-measure everything and put it back in the fridge until needed.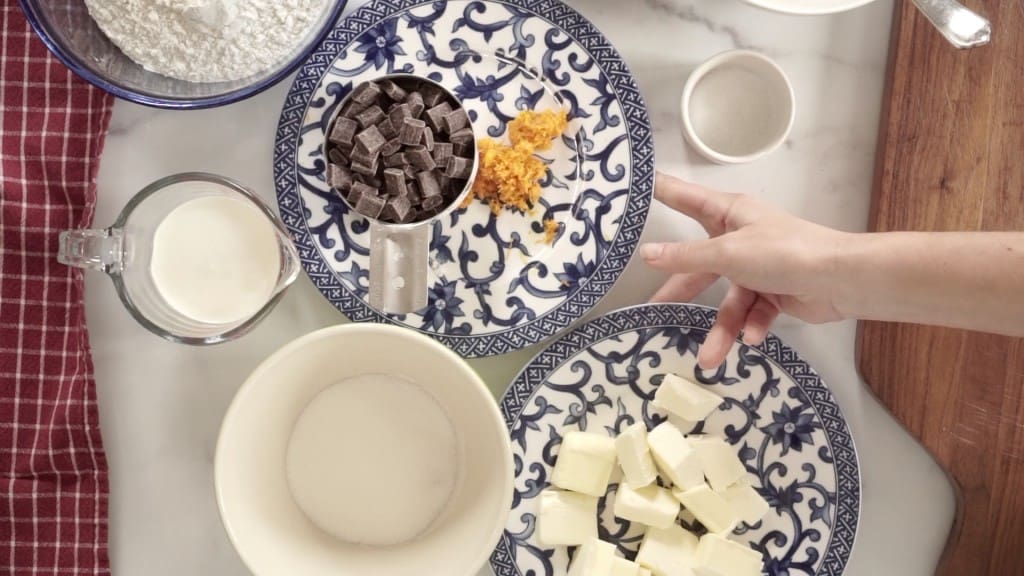 Combine all the dry ingredients either in a large mixing bowl or in the bowl of your food processor.
Then we add the butter. To cut the butter into the flour, you can either use a pastry cutter, two knives, or your food processor. You want the butter cut into small, pea-sized pieces. It should look like this: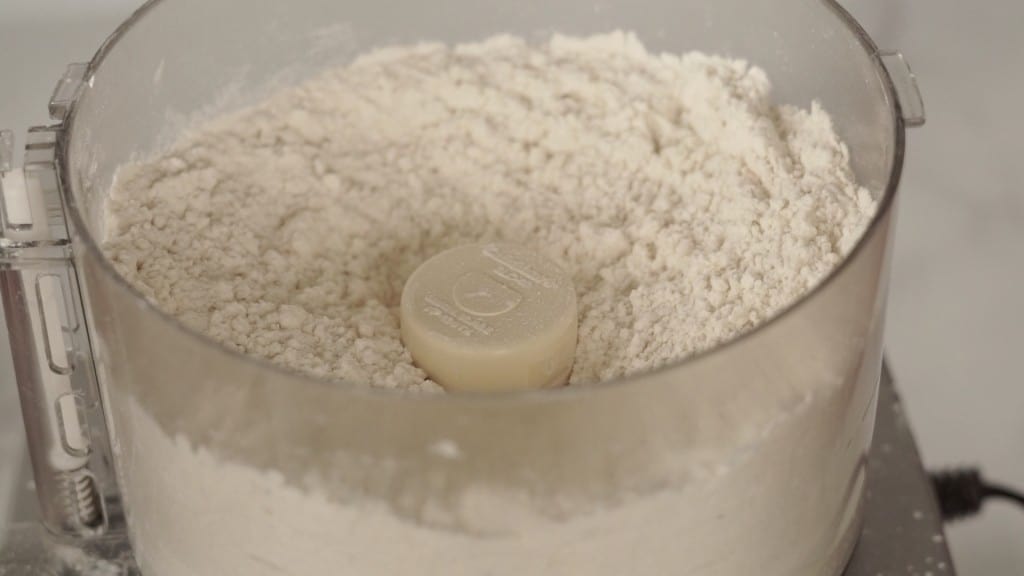 Turn everything out of the food processor, if you're using it, and put it in a large bowl. Now it's time to add the cream and eggs. First beat them together separately, then slowly add them in. Finally, mix in the chocolate chunks and orange zest. Try not to over mix!
Turn everything out onto the counter and gently press it into a 7 to 8 inch round. Cut into 6 big triangles, like a pizza. Place them on a parchment lined baking sheet and sprinkle with coarse sparkling sugar.
Bake at 400 for 15-18 minutes. They won't really brown, but the edges will turn golden.
What if my scones are flat?
Try baking them closer together, almost touching on the baking sheet. It may take them a little bit longer to bake, but they will held hold each other up and rise higher. Keep in mind that flat scones are still delicious and they are not a big deal, so don't worry about this all that much!
Also, keeping everything cold and using fresh baking powder will make a big difference too.
Here's the recipe!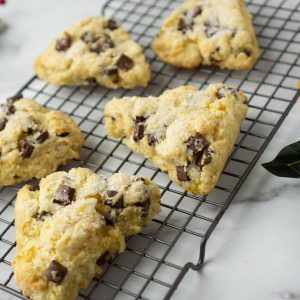 Chocolate Chunk Scones with Orange
Print Recipe
Tender and sweet classic scones studded with chocolate chunks and lightly flavored with orange zest.
Click here to grab a free mini-cookbook with my best seasonal recipes
Ingredients
2 1/4

cups

all purpose flour

1/4

cup

granulated sugar

1

tablespoon

baking powder

1/2

teaspoon

salt

2

eggs

12

tablespoons

cold unsalted butter

cut into 1/2 inch cubes

1/2

cup

heavy cream

1

cup

semi-sweet chocolate chunks

zest of 1 orange

sparkling sugar

for topping
Instructions
Preheat oven to 400 degrees with rack in the center.

Combine all the dry ingredients (flour, sugar, baking power, and salt) in in a large mixing bowl or the bowl of a large food processor, fitted with the chopping blade.

Add the butter and combine into the flour either with a pastry cutter or by pulsing the food processor. The pieces of butter should be pea-sized.

In a separate bowl, beat the eggs and cream together until well combined. If you were using the food processor to combine the flour and butter, transfer it to a large mixing bowl. Then slowly add the cream and egg mixture, and stir until just combined. Add the chocolate chunks and orange zest and gently stir. Try to mix as little as possible.

Turn dough out and gently shape into a 7-8 inch circle. Cut into 6 equal triangular pieces. Place on parchment-lined baking sheet. For best results, chill the triangles 15 minutes before baking. Bake for 15-18 minutes.
Notes
Keep everything cold for best success. You can pre-chill the ingredients or chill the dough before baking.
If your scones are still flat, try baking them almost touching each other on the baking sheet. It may take a few extra minutes of baking time, but being near each other helps them rise higher.
Make sure your baking powder is very fresh!
Nutrition
Calories:
299
kcal
|
Carbohydrates:
47
g
|
Protein:
7
g
|
Fat:
9
g
|
Saturated Fat:
5
g
|
Cholesterol:
82
mg
|
Sodium:
435
mg
|
Potassium:
85
mg
|
Fiber:
1
g
|
Sugar:
10
g
|
Vitamin A:
371
IU
|
Calcium:
146
mg
|
Iron:
3
mg
Looking for more special things to bake for breakfast?
Happy baking, my friends!