A melt-in-your-mouth Christmas cookie classic, you'll love Italian Chocolate Butter Cookies. You can pipe these, use a cookie press, or bake them as small drop cookies. For extra flavor and beauty, you can add a chocolate drizzle.
Sprinkle crushed nuts or candy canes on top if you'd like. These cookies are lovely on a holiday cookie platter but also great for a little treat any day.
You can make them smaller, larger, or different shapes, but you'll need adjust the baking time.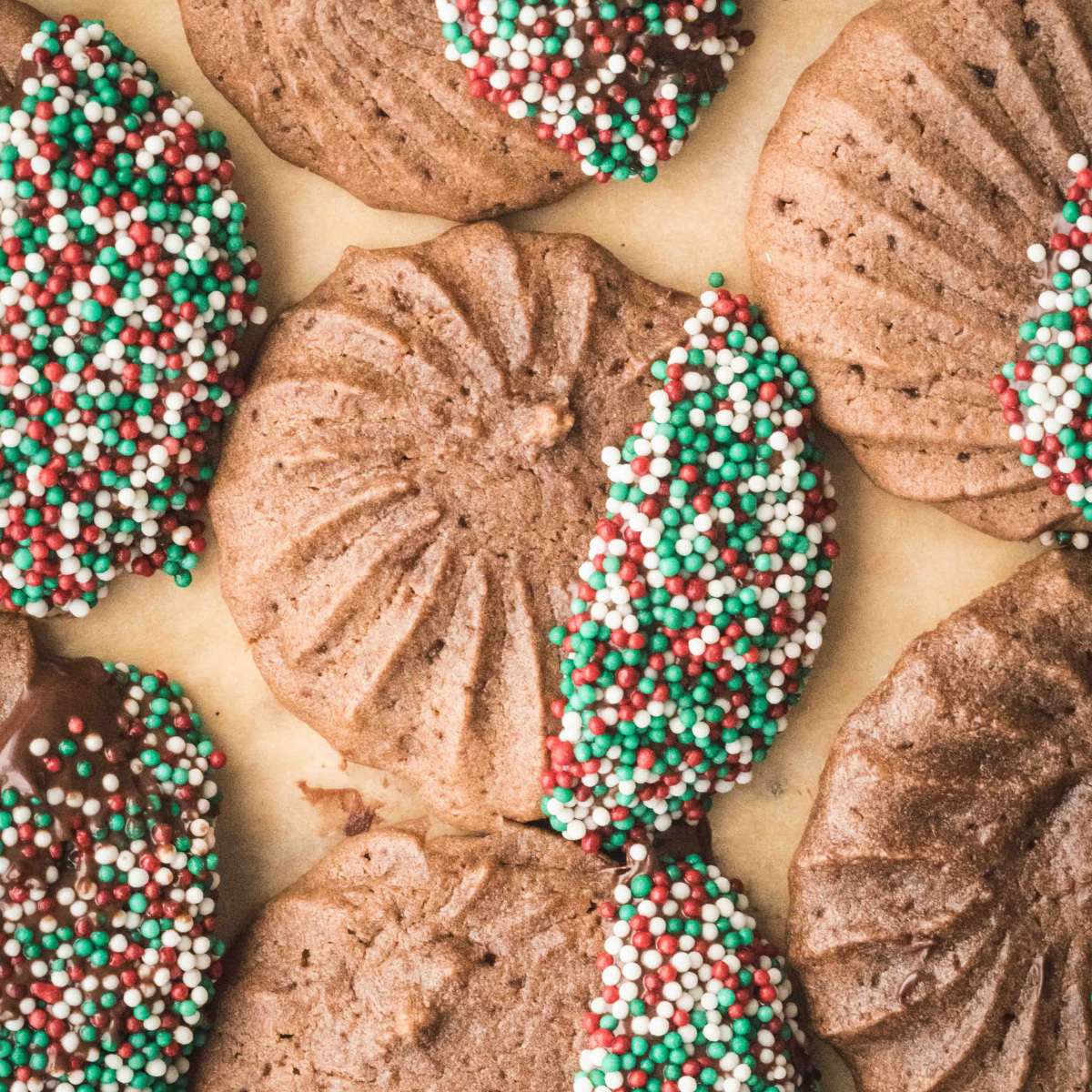 Want some free Christmas printables? Click here to grab 'em
Ingredients
Cookie Dough
½

cup

unsalted butter

softened

½

cup

granulated sugar

1

egg yolk

1

teaspoon

pure vanilla extract

1

cup

+ 2 tablespoons all-purpose flour

2

tablespoons

unsweetened cocoa powder

½

teaspoon

salt

1-2

tablespoons

milk
For Decorating
½

cup

chocolate chips or chunks

for melting (optional, for drizzling or dipping)

1

teaspoon

shortening

sprinkles or crushed nuts

optional, for garnish
Instructions
Prep. Preheat your oven to 350°F (175°C). Line a baking sheet with parchment paper or a silicone baking mat. Set aside

Cream butter and sugar with eggs and vanilla. In a large mixing bowl, cream together the softened butter, granulated sugar, egg, and vanilla until light and fluffy. This should take about 2-3 minutes with an electric mixer.

Add dry ingredients: In a separate bowl, sift together the all-purpose flour, cocoa powder, and salt. Gradually add the dry ingredients to the butter mixture, mixing until just combined.

Beat in the milk. Add 1 tablespoon of milk and beat into dough with the mixer. The dough needs to be very soft and pipeable, so add milk 1 tablespoon at a time until the right consistency is reached.

Shape. Using a cookie press or a pastry bag fitted with a large star tip, press or pipe the dough into desired shapes onto the prepared baking sheets. If you don't have either tool, you can drop the dough by rounded teaspoons onto the sheet.

Bake. Bake in the preheated oven for 10-12 minutes or until the edges are slightly golden. Make sure not to overbake, as these cookies should remain soft in the center. Remove from the oven and allow the cookies to cool on the baking sheets for about 5 minutes, then transfer to a wire rack to cool completely.
Decorating (Optional)
In a microwave-safe bowl, melt the chocolate chips and shortening in 20-second increments, stirring after each increment until completely melted and smooth. Dip each cookie halfway into the melted chocolate or drizzle the chocolate over the cookies using a fork or a piping bag.

If desired, sprinkle with crushed nuts, crushed candy cane, or sprinkles while the chocolate is still wet.

Allow the chocolate to set before serving.
Nutrition
Calories:
100
kcal
|
Carbohydrates:
11
g
|
Protein:
1
g
|
Fat:
6
g
|
Saturated Fat:
3
g
|
Polyunsaturated Fat:
0.3
g
|
Monounsaturated Fat:
2
g
|
Trans Fat:
0.2
g
|
Cholesterol:
24
mg
|
Sodium:
66
mg
|
Potassium:
20
mg
|
Fiber:
0.4
g
|
Sugar:
6
g
|
Vitamin A:
173
IU
|
Calcium:
6
mg
|
Iron:
0.4
mg
Did you make this?
Let me know how it was! Please see below for serving ideas, storage instructions, and substitutions.
Ideal for any occasion, these cookies will be a showstopper on your dessert table.
important tools and ingredients
Piping Bag and Large Star Tip: Essential for creating those beautiful shapes.
Electric Mixer: Makes creaming butter and sugar a breeze.
Baking Sheets and Parchment Paper: Ensures easy release of the cookies.
Wire Cooling Rack: For even cooling and avoiding soggy bottoms.
A star tip like this one is very handy but not essential.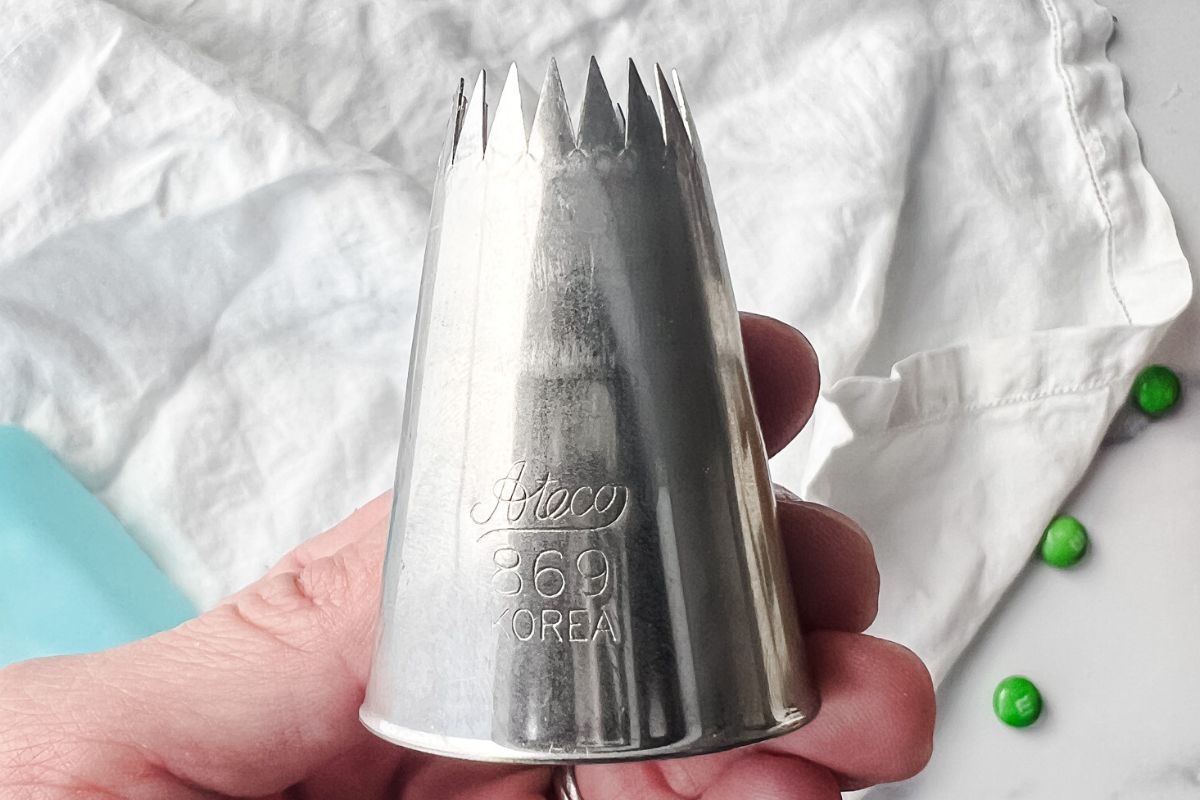 Ateco # 867 – French Star Pastry Tip .56" Opening Diameter- Stainless Steel
Fine Crushed Candy Dessert Toppings, Bulk Candies for Ice Cream, Cookies, Cupcakes, 2 Pack (Peppermint)
16 Pcs Reusable Pastry Piping Bags Silicone Icing Bags with 8 Coupler for Icing Frosting Decorate Cake, (10,12,14,16 inch)
Unsalted Butter: The foundation of these cookies, providing a creamy and rich base.
Cocoa Powder: Adds a deep chocolate flavor, turning simple butter cookies into a chocolate lover's dream.
Egg Yolk: Contributes to the richness and color of the cookies.
Vanilla Extract: Offers a subtle aroma that complements the chocolate flavor.
Pressed cookie tips
Creaming Butter and Sugar: Ensure your butter is softened to room temperature for easy creaming. This step is crucial for achieving the right texture.
Sifting Dry Ingredients: Sift the flour, cocoa powder, and salt to prevent lumps and ensure even mixing.
Consistency of Dough: The dough should be soft enough to pipe but firm enough to hold its shape. Adjust with milk as needed.
Baking Time: Watch the cookies closely as they bake. They should be just set.
Cooling: Let the cookies cool on the baking sheet for a few minutes before transferring them to a wire rack. This prevents them from breaking.
Storage and make ahead instructions
Here's how to keep your cookies fresh, whether you're enjoying them now or saving them for a later date.
Room Temperature Storage:
Cool Completely: Ensure the cookies are completely cool before storing them. This prevents condensation, which can lead to sogginess.
Airtight Container: Store the cookies in an airtight container. This keeps them from drying out and maintains their texture.
Stacking your cookies? Use parchment paper between each layer to prevent sticking or damaging decorations.
Shelf Life: When stored properly at room temperature, these cookies can last up to a week.
Freezing Instructions:
If you want to freeze the cookies, do it before adding chocolate dipping or drizzling. Decorations can become messy once thawed.
Freeze Individually: Place the cooled cookies on a baking sheet and freeze them for about an hour. This prevents them from sticking together later.
Once the cookies are frozen, put them in a bag or container that you can use in the freezer. This saves space and keeps them protected.
Label and Date: Don't forget to label the container with the date. You can store them in the freezer for up to 3 months.
To thaw cookies, take out the amount you want and let them sit at room temperature for a few hours. Decorate after they have completely thawed.
Making Ahead:
Prepare Dough in Advance: The cookie dough can be made ahead and stored in the refrigerator for up to 3 days. Be sure to wrap it tightly in plastic wrap to prevent it from drying out.
Before baking, you can freeze the cookies. Then, after thawing, add decorations. This is a great time-saver for events or holidays.
More holiday-perfect cookie recipes
Santa's going to love his plate this year
Enjoy this different variety of Italian Butter Cookies. They are filled with fruity jam, creating a delightful treat.
Enjoy the tangy burst of fresh cranberries in each bite of these homemade cookies. They strike a perfect balance between sweet and tart.
Get a heavenly crunch with every bite by trying Heath Bar Cookies. These cookies combine the classic candy bar with soft, chewy baked goodness.
Enjoy the nostalgia of Old-Fashioned Cut-Out Cookies. They are fun to decorate and delicious.