One of the best parts of Christmas is baking treats with your family in the kitchen. And yet…having little ones underfoot while baking sweet treats can also be a recipe for frustration! Here are some ways to create baking memories that adults and kids will both love.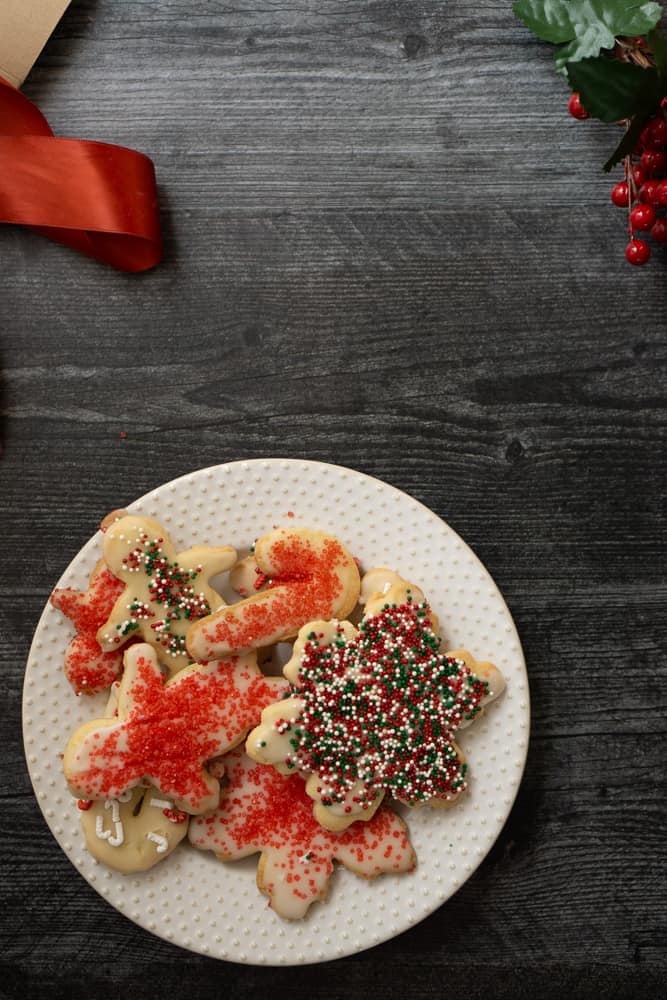 This post contains affiliate links, meaning that if you purchase something after clicking on a link in the post I may earn a commission at no additional cost to you. Heart's Content Farmhouse is a participant in the Amazon Services LLC Associates Program, an affiliate advertising program designed to provide a means for website owners to earn advertising fees by advertising and linking to amazon.com.
Before you get started, keep some things in mind:

Keep it simple!
Most kids have a pretty short attention span and won't want to make elaborate things from scratch. So I find that's the best to either start with something store bought and decorate it, or you can make it part-way and invite the kids to come help you with the fun part. Older kids may want to help with the more elaborate baking tasks, and that's great! But be realistic about what each age can handle, and remember that this is supposed to be fun.
Focus on the decorating!
We all know that's the fun part. So stock up on fun decorating items like:
Okay! Here are baking recipes that would be great to make with kids. Any of these would make a great Christmas project to keep at home and eat, or give as Chrisstmas gifts to family and friends.

The six best ideas for Christmas baking with kids!

1. Graham Cracker Gingerbread Houses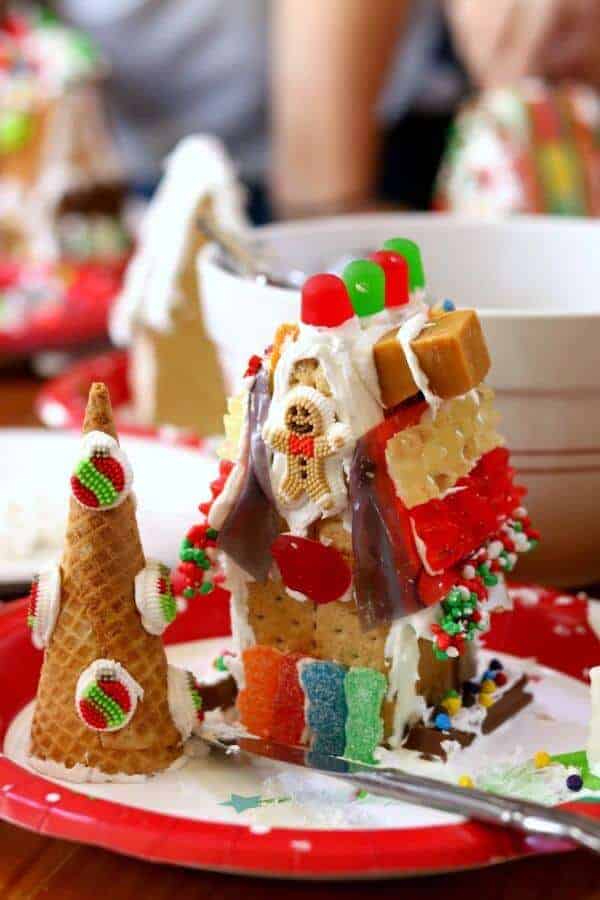 Wouldn't it be delightful to have homemade gingerbread houses with things like melted candy stained glass windows? Of course! But expecting kids to assemble real gingerbread houses is way too much pressure and I can guarantee you'll be hysterical over it because just baking the walls took you forever and now everyone is ruining them. (Can you tell I've tried it?)

It's time to realize there is a time for graham cracker houses, and this is it.

Here is a tutorial and supply list for setting up your own easy gingerbread house party for kids.

2. Sugar Cookie Decorating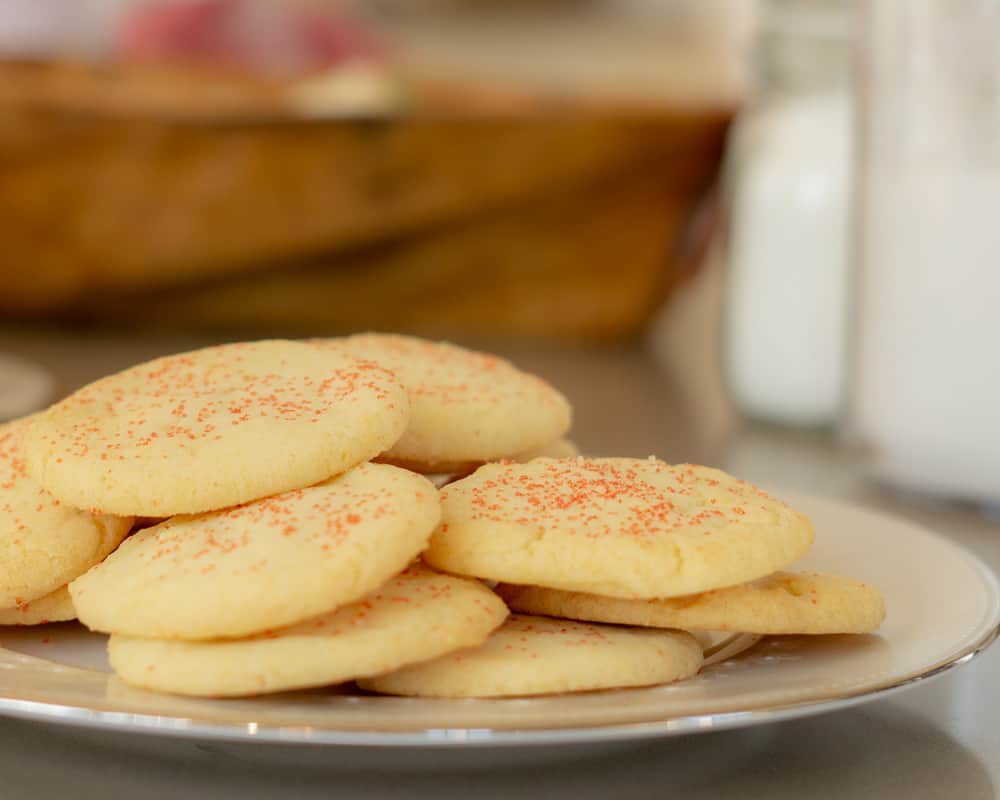 You may or may not know that sugar cookies are Santa's favorites. And if there is one time of year to make cut out cookies with all the decorations, it's Christmas. But… they are a ton of work. To avoid sugar cookies frustration, you have three options: buy pre-baked cut out cookies and just decorate them with the kids, bake your own ahead of time, or just do drop sugar cookies and roll them in colored sugar. Another option for decorating drop sugar cookies is this cute snow man design using candies.

I have a recipe for our favorite cut out sugar cookies, and our favorite drop sugar cookies, if you want to make them yourself.

And don't forget to pick up lots of options for decorating your festive treats!
3. Christmas Rice Cereal Treats
I am not personally a big fan of these, but my kids love them and they are the perfect thing to take to a class party. Rice krispies are svailable in festive red, green, and white colors that make a dessert look Christmasy without anything else added. If you can't find the holiday colored ones, you can always mix in Christmas candy or top with a simple red and green icing. These are good for really little kids because they are so easy and there's no hot oven to deal with.

If you want an even easier way to make a treat out of these, you can get a prepacked kit. This is usually not my thing, but with little ones who really want a christmas baking project of their own, its a solid choice.

4. Cupcakes to Decorate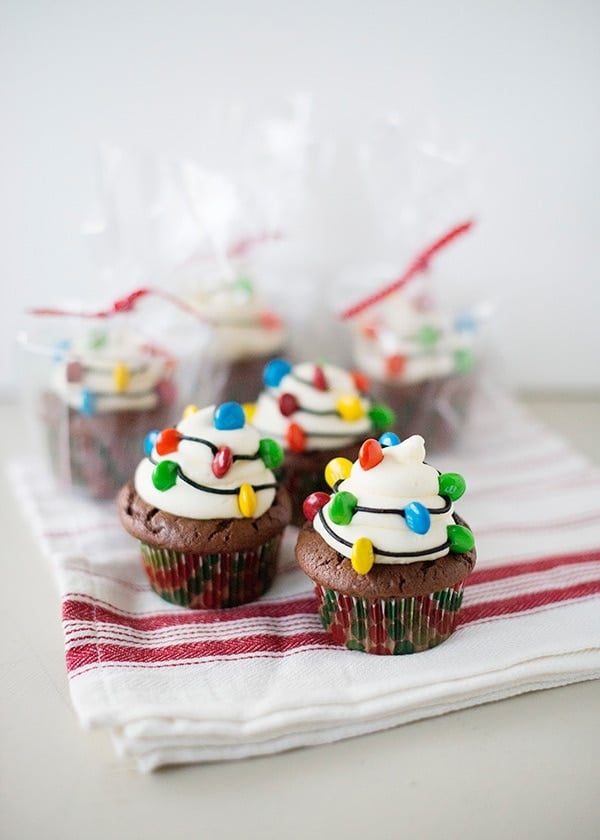 (Get the tutorial for this cute and easy Christmas cupcakes here.)
You can make them or you can buy them, but the important part is the decorating!
We love to sprinkle them with coconut to look like snow and then add simple things that candy cane sticks, gummies, and M & M s.
If you want to pipe frosting to decorate, I find it much easier to get all that set up for the kids and then put a clothespin on the top of the bag. Otherwise, frosting will often spill out of the top and get messy.
If you want to make the cupcakes from scratch, any of these cake recipes will be great as a base.

5. Molasses cookies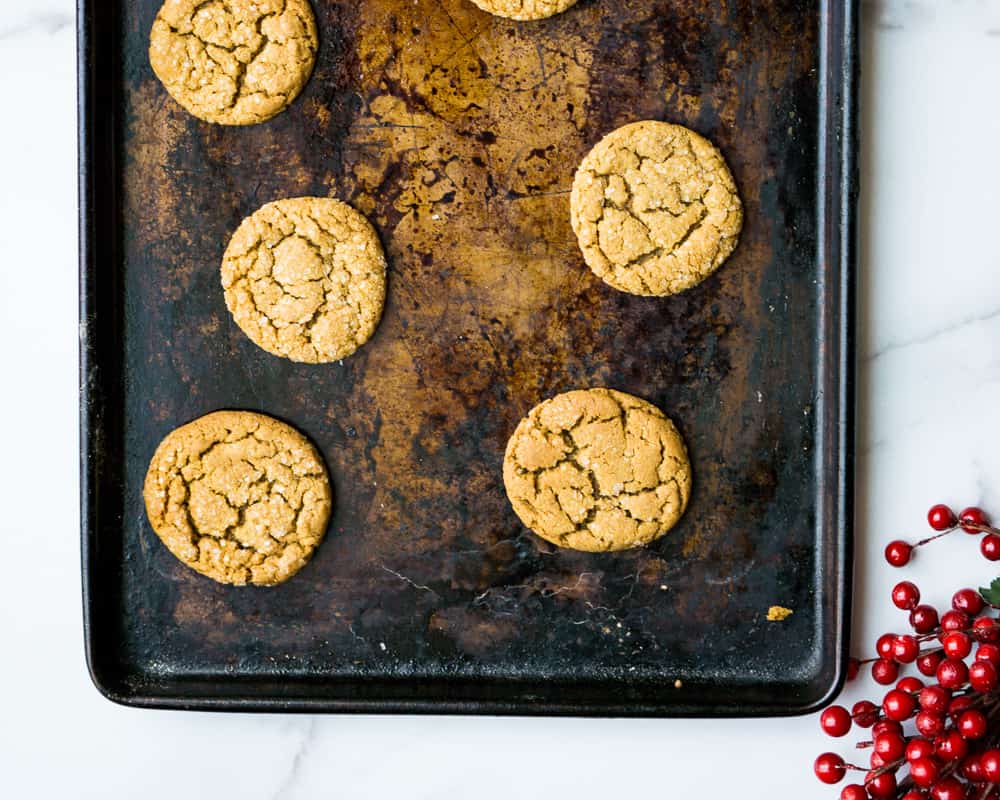 These are our favorite Christmas cookies and they are very kid-baking friendly. My kids are only enough to do these start to finish, but when they were younger they would just scoop them out and roll in sugar.

Having a cookie scoop is so helpful for these, especially with little kids. It makes sure the cookies are all the same size and keeps them from mashing down the dough too much.

6. Dipped pretzel rods
Okay so this isn't even a baking project. Oh well! Don't be afraid to do something super, super easy, like pretzel rods dipped in chocolate and sprinkled with Christmas decorations. They are super simple if you have the right supplies. All you need to do it melt, dip, ands sprinkle.
Here is a nice, simple tutorial on dipped pretzels rods.
Merry Christmas!
I hope you enjoy baking with your family this year. If you don't have kids, consider inviting some over for an afternoon of baking. I think most moms would love to drop their kids to visit and bake with a family friend.