Shopping for your spouse is hard. And it's especially hard to shop for stay-at-home moms. Will a vacuum make her mad? Maybe? Is a mug too generic? Probably. Should you buy her a fancy dress even though she barely leaves the house? No.
That's okay, I'm here to help 😊. The best presents are the ones that recognize all the hats she wears—from referee to chef to personal counselor—and still get that nod of approval because they're just right for her. From cozy must-haves to gadgets that'll make her day-to-day more delightful, I curated a list that has something special for every mom.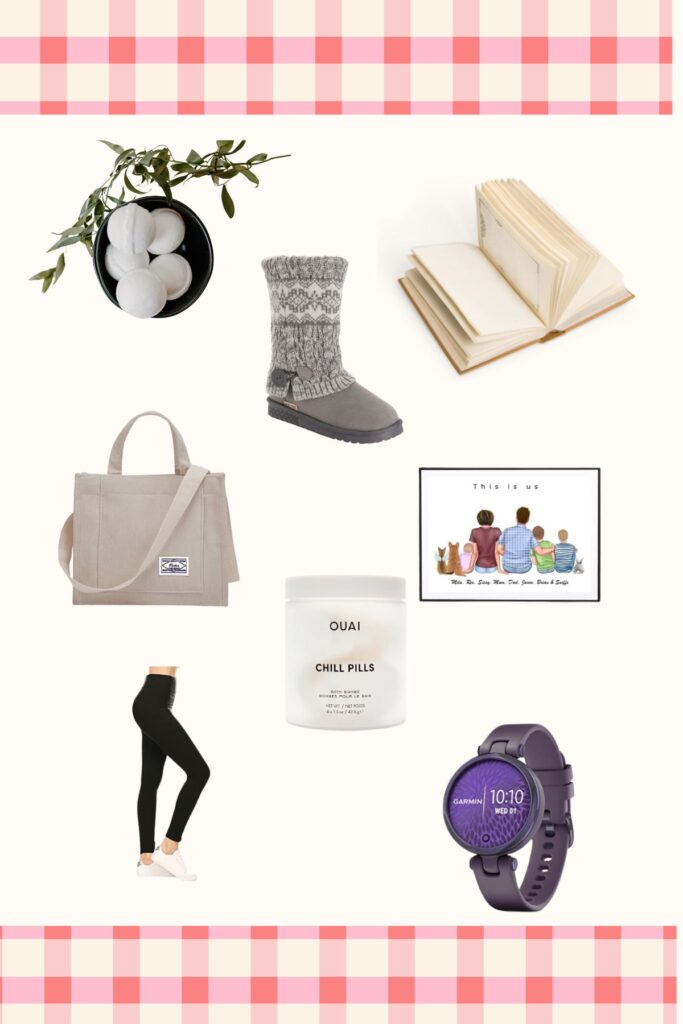 Let's make this Christmas unforgettable for the women who juggle it all at home. This handpicked list is about to make your holiday shopping a breeze.
Techy gifts for moms
Let's talk tablets and e-readers first. These are perfect for the mom who's always on the go, even if it's just from room to room. They keep everything she needs at her fingertips, whether it's a recipe for dinner, a how-to video for fixing the sink, or that novel she's been trying to read for months. Tablets are also great for keeping her brain sharp with puzzles and games, or for learning something new with online courses. And e-readers? They're for the mom who loves to read but can't deal with the clutter of books everywhere. Plus, let's be honest, reading on a screen after the kids are in bed is way easier than trying to hold a book open when you're exhausted.
Tablet Android 12 Tablets 8 inch, WiFi 6 Tablet Computer 2GB RAM 32GB ROM, 1280×800 IPS Touch Screen, 2+8MP Dual Camera, 4300mAh Battery, Google GMS Certified Tablet PC, Pink Amazon Fire 7 tablet, 7" display, read and watch, under $60 with 10-hour battery life, (2022 release), 16 GB, Black Amazon Fire Max 11 tablet, our most powerful tablet yet, vivid 11
Now, on to fitness trackers. For the mom who's into health and fitness, or maybe just trying to make sure she gets enough steps in while chasing toddlers, a fitness tracker is a solid move. It's not just about counting steps or calories; it's about encouraging her to take time for herself. It's a nudge to get outside for a walk, to take a moment to breathe and stretch, or to track her sleep to make sure she's getting enough rest. A fitness tracker says, "I care about your well-being as much as you care about everyone else's." It's a reminder that her health is important, too.
Garmin Lily™, Small Smartwatch with Touchscreen and Patterned Lens, Dark Purple , 1 inch Garmin Venu 2, GPS Smartwatch with Advanced Health Monitoring and Fitness Features, Slate Bezel with Black Case and Silicone Band , 27.9 mm Garmin Fenix GPS Watch Fitness Tracker for Smartphone, Black (Certified Refurbished)
Creative Personalized Gifts
How about personalized soundwave art? It's unique, it's modern, and it carries a message that's literally music to her ears. You could take a clip of her kids saying "I love you," or a snippet from a song she adores, and have an artist turn that audio into a visual piece of art. It's conversation-worthy decor and a deeply personal gift all in one.
I Love You Soundwave Art, Visible Voice Print, Bronze 8th Anniversary Gift for her or him, Valentines Day Gift from husband, Christmas Gift Personalised Family Print, Mothers Day git, Custom Family Gift, Family Dog Print, Personalized Family Portrait With Pets, Family Print Custom Family Portrait Painting on Canvas Birthday Gift Memorable Gift Family Portrait Canvas Print
Or, consider a custom-illustrated family portrait. No, not the posed, everyone-smile-for-the-camera kind of thing, but a quirky, hand-drawn illustration that captures her family's personality with a touch of whimsy. Think of the family's unique traits turned into art—perhaps the baby's new teeth, Dad's infamous barbecue apron, or even the family pet's goofy grin. It's a way to freeze time in a fun and joyful way.
Artistic and Creative Gifts
For the crafty mom, there's nothing like the gift of creation. Artisan craft kits are like a treasure box for the DIY mom. Whether she's all about sprucing up the home with some handcrafted decor or she gets a kick out of whipping up her own jewelry, these kits come packed with potential. They're not just materials; they're a Saturday afternoon of fun, a break from the routine, and a chance to make something that's all her own.
CRAFTBARN – Paint by Number Kit for Adults & Women – Arts and Crafts Projects, Easy Beginner Kits on Framed Canvas DIYDEC 8pcs Christmas Snowflake Diamond Painting Kits Double Sided 5D Diamond Painting Wind Chimes Tags Crystal Hanging Ornament Pendant for Xmas Winter Decor Diamond Art DIY Crafts Macrame Christmas Tree Craft Kit for Beginners, Beginner Macrame Knot Starter Kit with Step-by-Step Video Tutorials, Beginner Macrame Kit for Adults Kids, Macrame Knot Kit for Beginners 3 Color
Digitial art classes are another option mom can use to create from home. She can learn from experts in the field without having to leave the house, which is pretty crucial when you're on mom duty 24/7. Painting, drawing, photography — whatever she's into, there's a class out there for it. So it's not just giving her a gift; it's giving her an experience and an outlet for all that creativity she's got bubbling up inside her.
Bath and body Gifts
A stay-at-home mom often feels like she's working constantly, so let's talk about giving her the tools to take a timeout with a spa day right at home. A luxe bath set, complete with soothing bath bombs, salts, and oils, can turn her usual tub time into an escape from the daily grind. A top-notch face mask or a rich moisturizer can make her feel pampered and valued. It's not just skin deep—it's a way to recharge her batteries and feel good in her own skin, literally.
Sleep Well Bubble Bath Bombs – Melatonin Bath Bombs Infused Lavender and Chamomile – Essential Luxurious Bath Additives for Dry Skin Nourishment – Elevate Your Bathing Ritual with Our Relaxation Set Creamy Coconut Collagen Milk Bath Soak Powder Moisturize & Soften Skin – Vanilla Jasmine Luxury Spa Bubble Bath Salt Mother's Birthday Christmas Relaxation Gifts for Women Perfect Stocking Stuffers Molton Brown Neon Amber Bath & Shower Gel Two Sisters Oatmeal Milk & Honey Bubble Bath Bomb Large 99% Natural Fizzy for Women, Teens and Kids. Moisturizes Dry Sensitive Skin. Releases Color, Scent, and Bubbles. Handmade in USA Thymes Bubble Bath – 11.5 Fl Oz – Goldleaf OUAI Chill Pills – Bath Bombs Scented with Jasmine and Rose – Safflower, Hemp Seed & Jojoba Oil to Improve Texture, Calm & Moisturize Dry Skin – Includes 6 Relaxing Bath Bombs (1.5 Oz Each)
Now, onto subscription boxes. Imagine her getting a box of hand-picked relaxation goodies delivered to her doorstep every month. We're talking about the excitement of unwrapping a package, the anticipation of seeing what's inside, and the joy of discovering new products designed to help her unwind. It's a monthly reminder for her to take a step back and breathe. These boxes aren't just stuff; they're a nudge to slow down and savor a moment for herself, and let's be real, that's something every mom could use more of.
The Balanced Lifestyle Box for Women Mindful Subscription Box – Self-care Subscription Boxes for Women With Crystals, Aromatherapy, Beauty Products, Gemstone Jewelry and Spiritual Items Beauty By Francesca – Self-Care Subscription Box

Self-care is a big deal, especially for a stay-at-home mom.
Clothing Gifts
Cute loungewear. Nowadays, a set of stylish loungewear is perfect for the mom who wants to look good, feel good, and be ready to hop onto a last-minute video call or run to the store without changing. It's about those pieces that are easy to throw on but still make her feel put-together. You know, the kind of outfit that says, "I might be chasing kids all day, but I still got it."
Wovilon Lightning Deals Of Today Women's 2023 Fall Fashion Long Sleeve Sweatshirt Casual Crewneck Loose Fit Pollover Tops Oversized Sweatshirts Pink Leggings Depot Women's 3 CRZ YOGA Pima Cotton Long Sleeve Shirts for Women Workout Crop Tops Loose Cropped T-Shirts Athletic Gym Shirts Black Medium
A new tote bag! A mom's handbag is pretty much the command center, so getting her a new one isn't just a thoughtful gift—it's a practical one. But let's not grab any old tote. I'm talking about a bag that nails it on both functionality and style. One that's got enough pockets to store snacks, wipes, and whatever else she carries, but is also cute.
Niction Tote Bag Women Small Satchel Bag Handbag Stylish Tote Handbag for Women Corduroy Hobo Bag Fashion Crossbody Bag Handbag Bag Boczif Utility Tote Bag, Large Teacher Organizer Tote Bag With Exterior & Interior Pockets, Top Zipper Closure & Thick Bottom Support, for Women, Nurses, Teachers, Work & School kifasyo Mom Mama Bag Mother Gifts Momlife Tote for Hospital, Shopping, Beach, Travel
Gifts for readers
Book or audiobook subscriptions are a home run for the mom who's always got her nose in a book. Think about it: a new book shows up at her doorstep every month. That's like Christmas morning on repeat. No more scrolling through reviews to find her next read or running to the library ten minutes before closing time. It's about giving her a reason to take a break and dive into a different world.
✨ Purchase an Audible Gift Subscription Here ✨
Now let's talk inspirational reads. Sometimes, what a mom really needs is a book that's going to lift her spirits and light a fire under her. We're talking about books that pack a punch of motivation, that tell stories of triumph, that share wisdom on how to keep that head held high even when the cereal's been spilled for the third time this week. These kinds of books aren't just a good read; they're a companion for those days when she needs a pep talk. It's about giving her that little voice that says, "You got this," when she's feeling the weight of the world on her shoulders.
God Will Use This for Good: Surviving the Mess of Life Atomic Habits: An Easy & Proven Way to Build Good Habits & Break Bad Ones More Than A Mom: Finding Purpose In the Everyday Monotony Without Losing Yourself Or Your Sanity
More gift guides
And there you have it, a roundup of thoughtful Christmas gifts that any stay-at-home mom would love to unwrap. Remember, it's not about how much you spend or how flashy the gift is. It's about showing the stay-at-home mom in your life that you see all that she does and that it matters. Each of these gifts, from the cozy comforts of home to the subscriptions that feed her mind and soul, is a way to say thank you.