While everyone's busy pulling out their best cookie and pie recipes, let's switch things up with the best homemade Christmas ice cream recipes.
Whether you're hosting a party or want to indulge in a cold treat after dinner, these recipes will bring joy to your holiday table.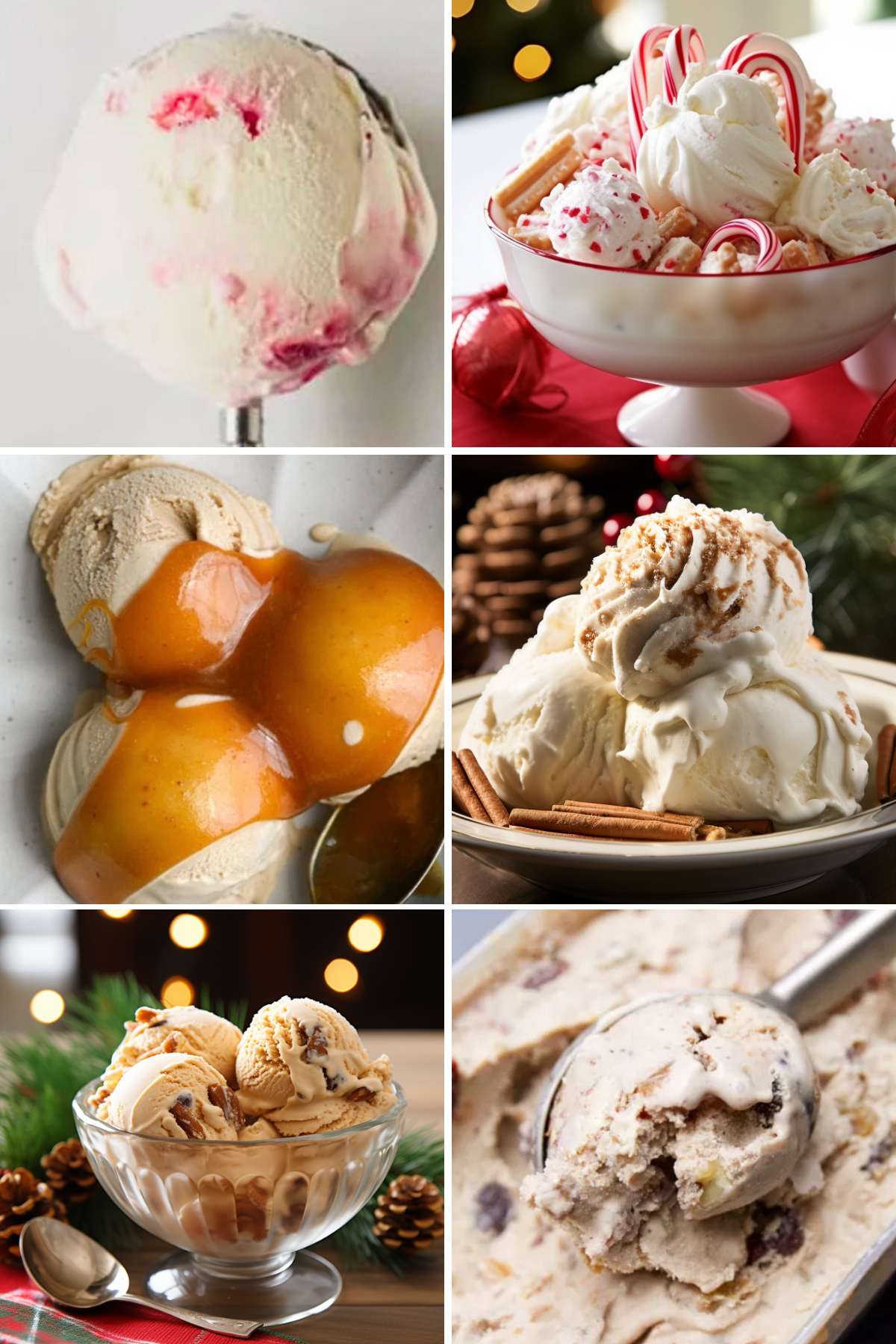 While I've gathered these delectable recipes for you, please note you'll be whisked away (like Santa's sleigh!) to another site for the full recipe.
The Best Flavors and Recipes
How to serve ice cream at Christmastime
Edible Bowls:

Hollowed-out apples or pears, lightly baked for a warm contrast.
Chocolate bowls are made by drizzling melted chocolate over the back of inflated balloons then letting them set

Festive Toppings (consider a DIY ice cream station!):

Crushed candy canes for a minty crunch
Edible gold or silver stars for a holiday sparkle
Caramelized nuts for added warmth and texture

Ice Cream Sandwiches:

Gingerbread cookies filled with eggnog ice cream
Chocolate cookies with peppermint stick ice cream
Mint Twists Crushed Peppermint Candy for Baking, 8 oz, Pack of 3 Brentwood Appliances Ts-1405bl Waffle Cone Maker, 750 Watts, Blue Medoore 60 Pieces Christmas Treat Snack Cups 9 Oz. Xmas Elements Paper Ice Cream Cups Disposable Dessert Bowls Snow Sundae Cups Party Supplies for Food, Soup, Candy, Yogurt, 4 Styles Elfin Around Spring Medley | Christmas Sprinkles | Cookie Sprinkles | Cake Sprinkles | Holiday Sprinkles | Jimmies | Manvscakes | 8 Ounce Bag (8 ounce) Lenox Holiday Small Bowl, 0.80, Red & Green Cuisinart ICE-21RP1 1.5-Quart Frozen Yogurt, Ice Cream and Sorbet Maker, Double Insulated Freezer Bowl elminates the need for Ice and Makes Frozen Treats in 20 Minutes or Less, Red
Warm Meets Cold:

Serve scoops of ice cream atop warm brownies or fruit pies
Drizzle warm caramel or berry compote over your ice cream

Festive Floats:

A scoop of cranberry swirl ice cream in a glass of sparkling cider
Eggnog ice cream in a glass of root beer or cola for a holiday twist on a float
More Christmas Desserts
Of course, sometimes you want a traditional holiday sweet. Don't worry, I have plenty of those too!
Whether you're scooping up memories with family or introducing a chilly delight to friends, these flavors promise to make your celebrations even sweeter.
I hope you have a beautiful holiday filled with all your favorite things ❤️.