This Classic Creamy Cucumber Salad is a quintessential dish that perfectly complements any meal. Light yet full of flavor, this salad is ideal for picnics and barbecues.
Looking for a refreshing side dish that's easy to make and packed with flavor? Look no further than this creamy cucumber salad.
With crisp cucumbers, tangy sour cream, and a burst of fresh herbs, this dish is a summertime staple that pairs wonderfully with grilled meats or a simple sandwich.
Best of all, it takes just minutes to prepare, giving you more time to enjoy the great outdoors or relax with loved ones. Whether you're hosting a barbecue, attending a potluck, or simply enjoying a meal at home, this creamy cucumber salad is sure to be a hit!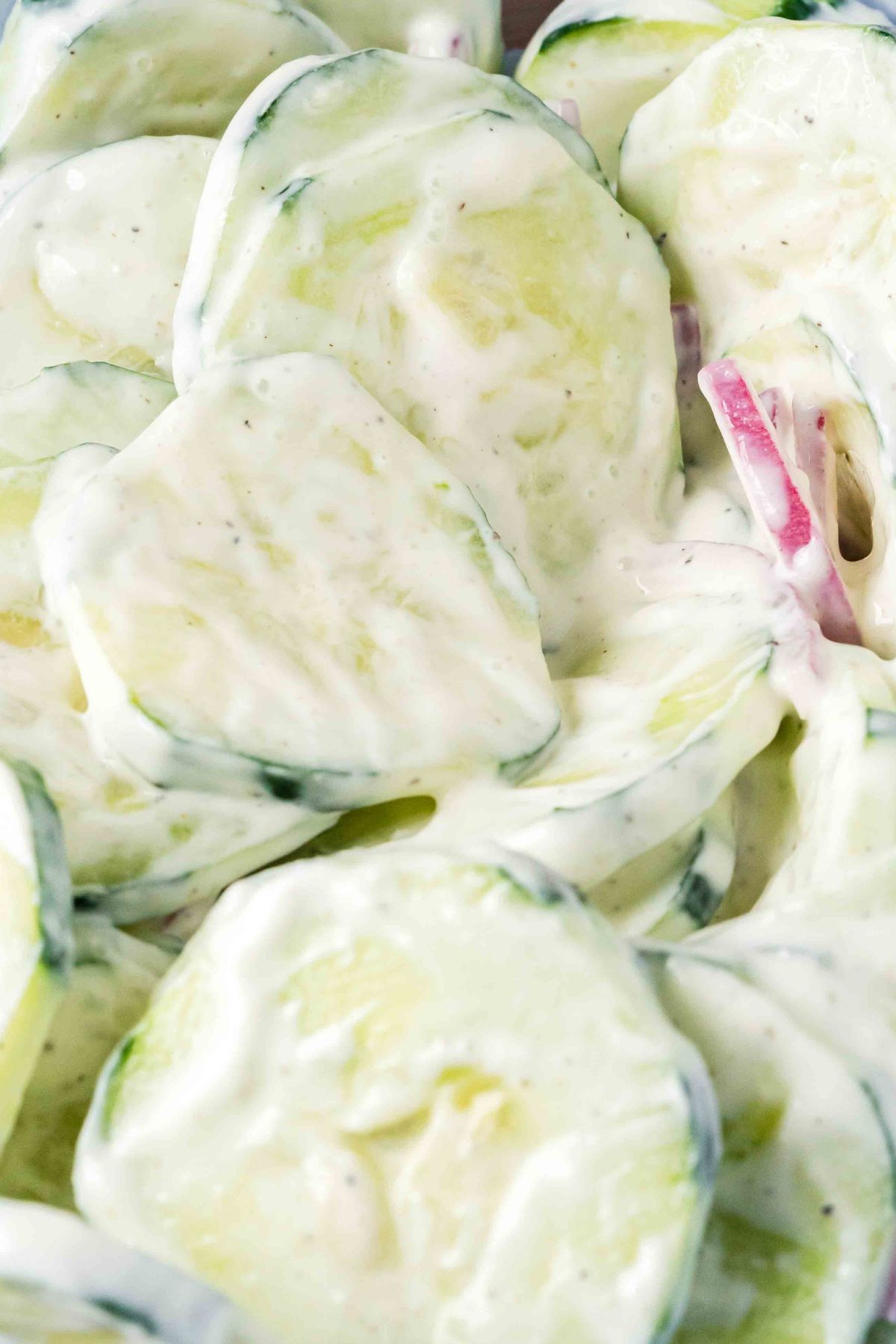 This recipe comes together in a snap. Perfect for busy weeknights or last-minute gatherings.
Spotlight on Key Ingredients
Cucumbers: The star of the show! Fresh cucumbers provide that crisp, refreshing crunch that makes this salad irresistible. Opt for medium-sized ones that are firm to the touch. If you can grow your own cucumbers, they'll be super crisp and perfect. If not, no big deal. 😊
Sour Cream: This gives the salad its creamy, indulgent texture. You can go for a low-fat version if you're watching your calories, but the full-fat version really brings that luxurious mouthfeel.
White Vinegar The tangy element that balances out the creaminess. You could also try apple cider vinegar for a slightly different kick.
Fresh Dill (Optional) While optional, dill adds a fragrant, herby layer to the salad. If you don't have fresh dill, dried dill works too, use it sparingly as it's more concentrated.
You probably already have most everything else in your kitchen.
how to make creamy Cucumber salad
Tackle the Watery Issue
One common issue people face with cucumber salads is the wateriness. You want the salad to be creamy, not soggy. A quick fix is pre-salting the cucumber slices. Lay them flat, sprinkle some salt, and let them sit for about 30 minutes. This process draws out excess water, which you can then drain off. Your salad will hold up much better with this simple step.
The Right Balance of Flavors
The dressing is a simple mix but getting the balance right is crucial. Always taste the dressing before adding it to the cucumbers. Feel free to adjust the salt, sugar, or vinegar to match your preference. You're the chef here; make it your own!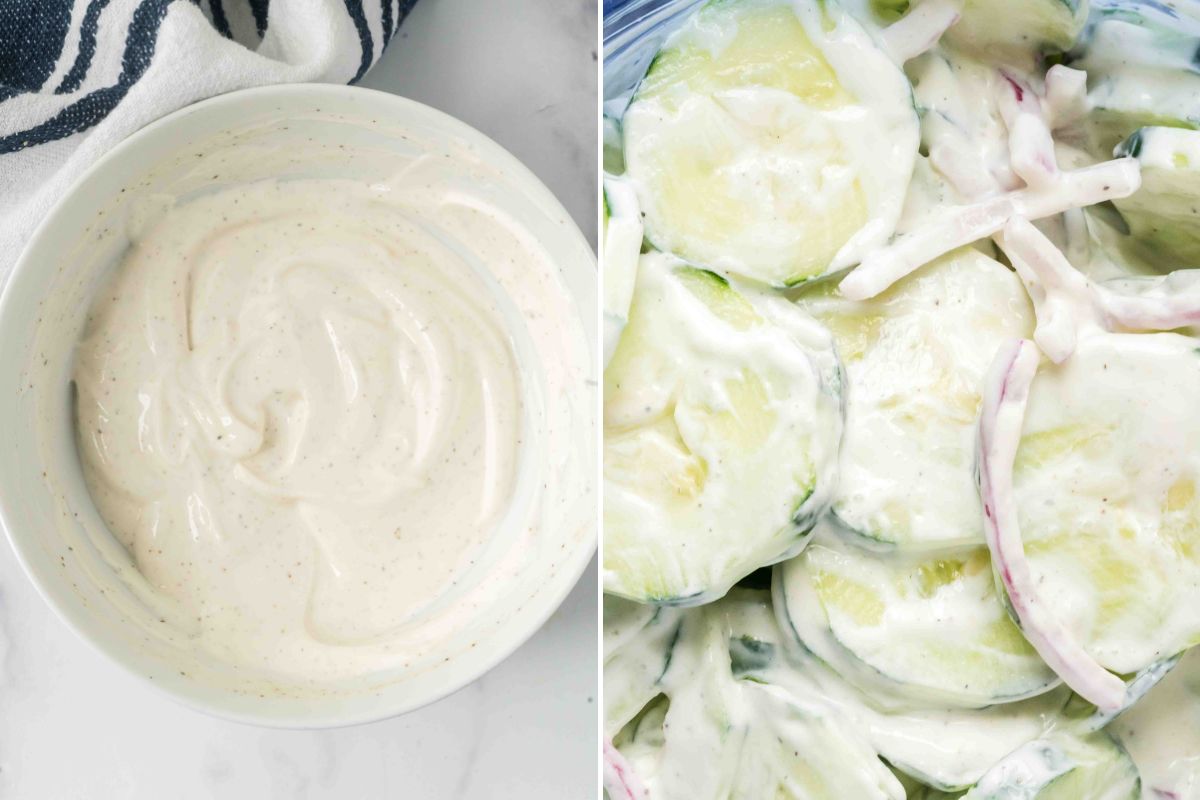 Chill Before Serving
Don't underestimate the importance of chilling the salad before serving. This isn't just about temperature; it gives the ingredients time to meld and infuse the cucumbers with flavor. Aim for at least 2 hours in the fridge, but if you can give it more time, even better.
Herb Choices
If you don't have fresh dill or want to try something different, you can substitute it with other herbs like parsley or chives. Just remember, dried herbs are more concentrated in flavor, so use them more sparingly.
can you use Greek yogurt for cucumber salad?
Absolutely, Greek yogurt can be a healthier alternative to sour cream and will still give you a creamy texture. Just note that it might make the salad a bit tangier than if you were to use sour cream.
What other herbs pair well with cucumbers?
If you don't have fresh dill, you can substitute it with dried dill. The general rule of thumb is to use a third of the amount of dried herbs as you would fresh. So for this recipe, you could use about 1 teaspoon of dried dill.
Summertime cucumber recipes
Cuke season? There's lots you can make with them! Try some of these recipes:
This Classic Creamy Cucumber Salad is not just delicious, it's versatile and oh-so-easy to make. Give it a try, and it might just become a staple at your family gatherings.
Print the recipe here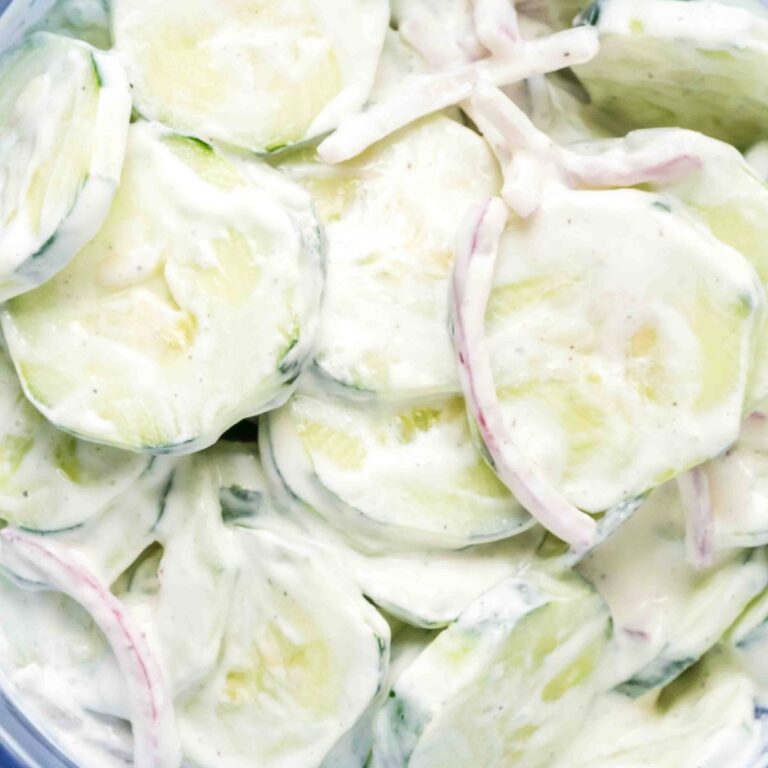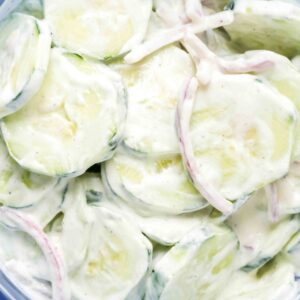 Classic Creamy Cucumber Salad
Print Recipe
This Classic Creamy Cucumber Salad is a quintessential dish that perfectly complements any meal. Light yet full of flavor, this salad is ideal for picnics and barbecues.
Click here for a FREE autumn cookbook (25+ Recipes!)
Ingredients
3

medium cucumbers

thinly sliced

1

small red onion

thinly sliced (optional)

1

cup

sour cream

2

tablespoons

white vinegar

1

tablespoon

sugar

1

teaspoon

salt

1/2

teaspoon

ground black pepper

1/2

teaspoon

garlic powder

1

tablespoon

fresh dill

optional
Instructions
Prepare the Cucumbers and Onion. Wash and thinly slice the cucumbers. If using, also thinly slice the red onion. Place both in a large mixing bowl.

Mix the Dressing. In a separate bowl, combine the sour cream, white vinegar, sugar, salt, ground black pepper, and garlic powder. Whisk until all the ingredients are well incorporated. Stir in the herbs, if using.

Chill. Cover the bowl with plastic wrap or transfer to a lidded container. Place in the refrigerator and let chill for at least 2 hours to allow the flavors to meld together.

Serve. Before serving, give the salad a good stir and taste for seasoning. Adjust salt and pepper if necessary.
Notes
If you find cucumbers to be too watery, you can pre-salt them. Lay the slices flat in a single layer, sprinkle with salt, and let them sit for about 30 minutes. Drain off the excess water before adding the dressing.
For an extra kick, add a dash of paprika or a sprinkle of red pepper flakes.
This salad pairs very well with grilled meats or hearty casseroles.
Nutrition
Calories:
86
kcal
|
Carbohydrates:
4
g
|
Protein:
1
g
|
Fat:
7
g
|
Saturated Fat:
4
g
|
Polyunsaturated Fat:
0.3
g
|
Monounsaturated Fat:
2
g
|
Cholesterol:
23
mg
|
Sodium:
400
mg
|
Potassium:
54
mg
|
Fiber:
0.1
g
|
Sugar:
3
g
|
Vitamin A:
245
IU
|
Vitamin C:
0.4
mg
|
Calcium:
40
mg
|
Iron:
0.1
mg
Did you make this recipe?
If you loved it, please leave a review!