Ready in 30 minutes using pantry ingredients, this state-fair treat will make everyone happy.
Get your apron ready because this classic fairground food is about to make an appearance in your very own kitchen.
❤️ Why you'll love this recipe
Quick and Easy: With a total time of 20 minutes, these corn dogs are a snap to make! You don't have to be a seasoned chef to pull off this recipe.
Kid-Friendly: Corn dogs are a hit with the young ones. It's a fun finger-food that they can help to make and most importantly, enjoy eating
Perfect for Parties: Homemade corn dogs are perfect for summer BBQs, picnics, or children's parties. They're an absolute crowd-pleaser!
🧂 Ingredients
This is an overview of the ingredients. You'll find the full measurements and instructions in the printable recipe at the bottom of the page.
You'll need the following for this state fair treat:
Yellow cornmeal
All-purpose flour
Granulated sugar
Salt
Baking powder
Milk
Egg
Hot dogs
Peanut oil or vegetable oil for frying
🥣 Equipment:
Skewers or wooden craft sticks
Paper towels
Deep fryer or Dutch oven
🍴Instructions
Step One: mix batter
Whether you're using an electric deep fryer or your trusty Dutch oven, we're going to heat that oil up to a sizzling 350℉. Have a plate or baking sheet lined with paper towels ready on the side to place your finished corn dogs.
Now, it's time to mix up our corn dog coating. Combine all the dry ingredients together, add in the wet ones, and give it a good stir. For easier hot dog dipping, pour the mixture into a mason jar or a tall glass.
Step Two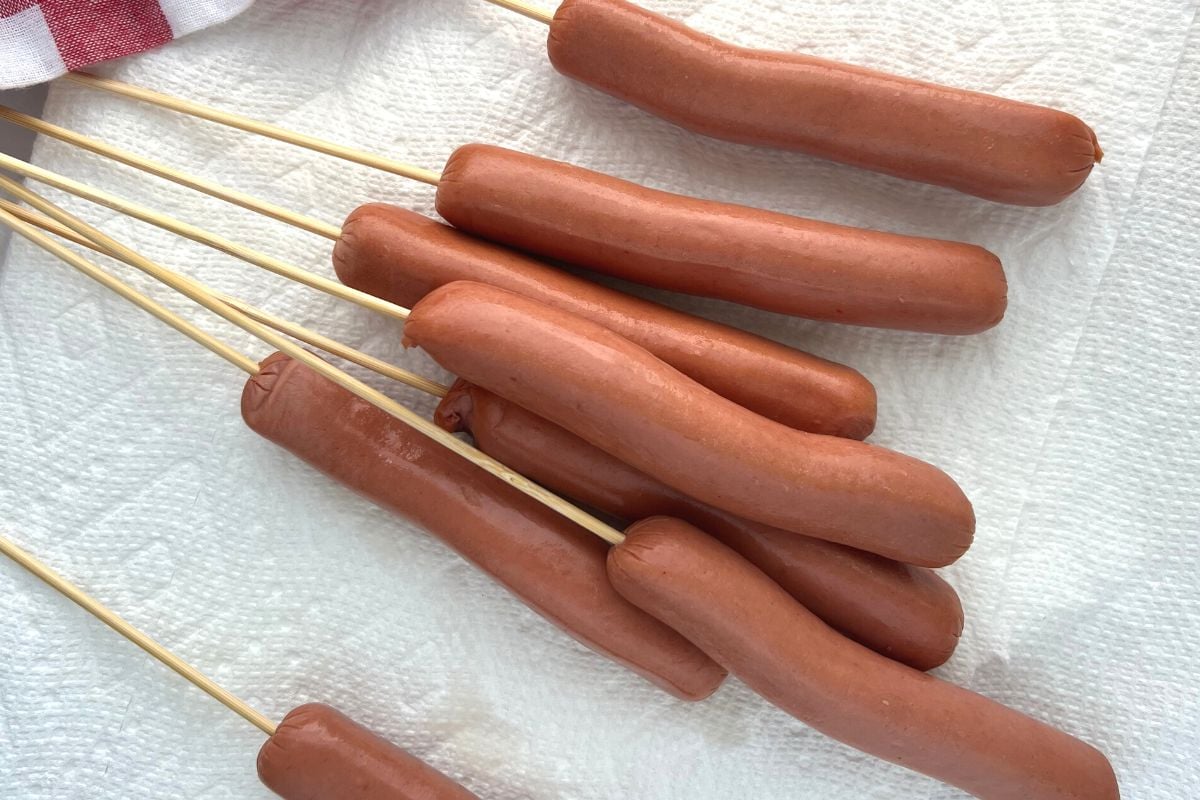 Make sure your hot dogs are dry before dipping. A quick pat with a paper towel does the trick. Then, insert skewers or popsicle sticks into each one.
Step three
Now for the fun part! Dip your skewered hot dogs into the batter, making sure they're thoroughly coated, then gently lower them into the hot oil. Give them a minute to set, then start flipping them over to ensure they cook evenly to a perfect golden brown.
Step Four: drain and serve
Once they're cooked, transfer the corn dogs to your lined plate. Serve them while they're hot!
🥫 Storage instructions
You can store your homemade corn dogs in the refrigerator for up to 3 days. To reheat, just pop them in the oven or an air fryer. But to be honest, they won't be the same!
🔍 FAQs
Can I use a different kind of meat? Something more grown up?
Absolutely! Feel free to use turkey dogs, veggie dogs, or even gourmet sausages. Just make sure they're cooked if necessary before starting the recipe.
Can I bake these instead of frying them?
Um, no. It's all about the frying in this recipe and that's what makes them good!
👩🏻‍🍳 Expert tips
Be sure to pat your hot dogs dry before dipping them in the batter. This helps the batter stick better.
Dip and cook one at a time. The batter will start coming off if you dip them all at once.
Check your oil temperature regularly to maintain it at 350℉ for a perfect fry.
If your corn dogs are browning too fast, reduce the heat a little.
Don't overcrowd your fryer; give each corn dog some space to fry evenly
📘 more deep-fried goodies:
Once you have the fryer set up, you might as well keep going, right?
🍽 Serve it with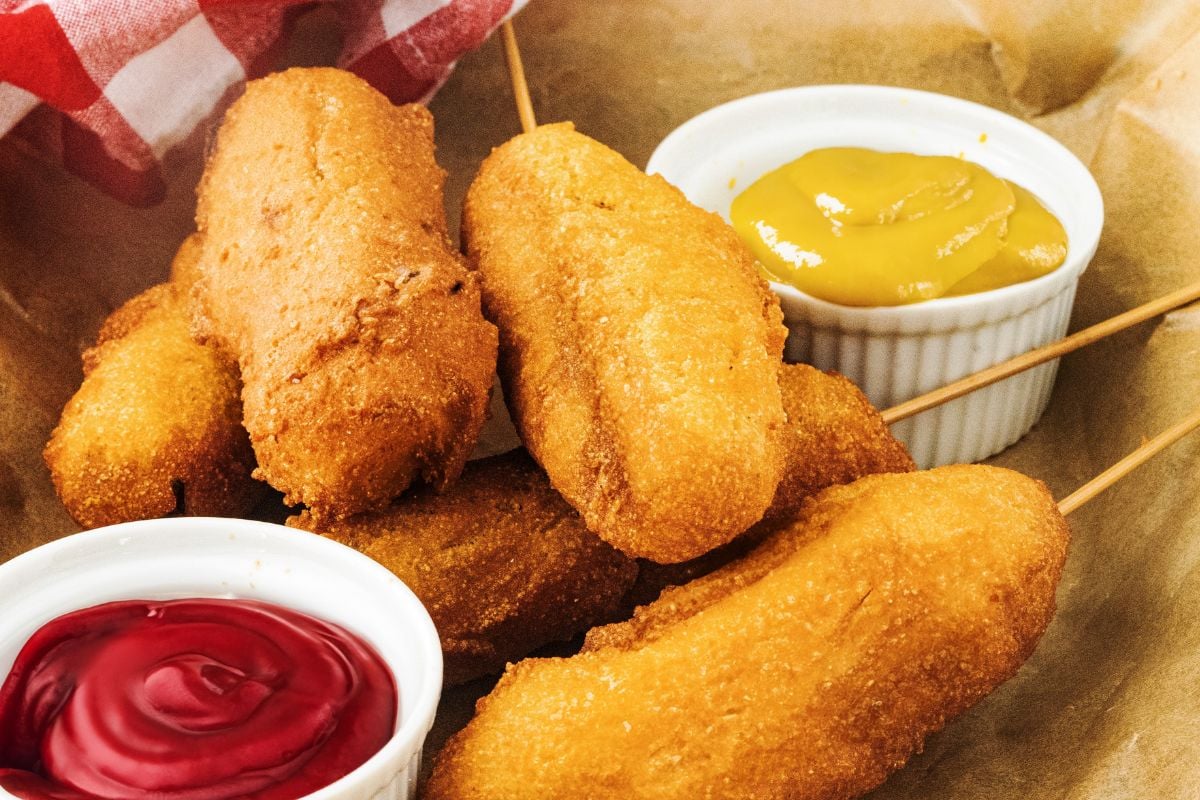 📖 Here's the recipe
Fried Corn Dogs
Print Recipe
Ready in 30 minutes using pantry ingredients, this state-fair treat will make everyone happy.
Click here for a FREE autumn cookbook (25+ Recipes!)
Ingredients
1

cup

yellow cornmeal

1

cup

all-purpose flour

½

cup

granulated sugar

¾

teaspoon

salt

4

teaspoons

baking powder

1¼

cups

milk

1

egg

8

hot dogs

peanut oil or vegetable oil for frying

(4-6 cups)
Instructions
Prep the fryer. In an electric deep fryer, heat oil to 350℉. (If you don't have a deep fryer, use a Dutch oven or other heavy, deep pot. Set a candy thermometer inside and heat oil on the stovetop.). Prepare a large plalte or rimmed baking sheet by lining it with paper towels.

Make the batter. Mix all dry ingredients in a mixing bowl and add wet ingredients, whisking well. Pour into a mason jar or tall glass for easier dipping.

Prep hot dogs. Pat the hot dogs very dry with a paper towel to help the batter stick. Insert skewers or popsicle sticks.

Dip and fry. One by one, dip the hot dogs into the batter and then into the hot oil. The batter will smooth out in the fryer. First let the batter fry to set for a minute or so, then begin flipping so that the corn dogs cook evenly.

Remove and serve. As each corn dog finishes, remove to the paper-towel lined plate. Serve immediately.
Notes
You may need to smooth out the batter with your hand if it's not sticking well to the hot dog.
Keep in mind the size of your fryer when inserting the skewers and trim them down as needed. You can want the corn dog to lay flat.
Leftovers will reheat okay in the oven or air fryer.
Nutrition
Calories:
324
kcal
|
Carbohydrates:
50
g
|
Protein:
10
g
|
Fat:
10
g
|
Saturated Fat:
3
g
|
Polyunsaturated Fat:
1
g
|
Monounsaturated Fat:
4
g
|
Trans Fat:
0.003
g
|
Cholesterol:
45
mg
|
Sodium:
761
mg
|
Potassium:
212
mg
|
Fiber:
2
g
|
Sugar:
15
g
|
Vitamin A:
91
IU
|
Vitamin C:
0.04
mg
|
Calcium:
182
mg
|
Iron:
3
mg
Did you make this recipe?
If you loved it, please leave a review!