I love staying home and caring for kids and the house,  but sometimes I feel myself going a little nuts with small frustrations.  In some ways the kids get easier as they get older, and in some ways harder.   Everything become physically easier but a tougher battle of wills, as food pickiness, homework resistance, and laziness emerge.  You can no longer excuse their bad behavior with their age, and this makes them more frustrating.  You are expected to feed all members of the household and clean up after them when they are perfectly capable of doing it.  And yet… you are a housewife.  Isn't that what you are here for?  And so on.  Small annoyances.  You can fix them.
I read somewhere to make a list of what bothers you and see if there aren't solutions.  Think of what advice you would give a friend with these complaints.  It sounded like a very silly exercise, but I did it.
Here is my list.
 Kids don't clean up after themselves and waste art supplies and create piles of paper.
The kids stain their clothes and are ruining them and they have to last for three girls.
I hate making lunches when everyone is home.
My husband piles his stuff up on the kitchen counter even though we have a mudroom.
So, on to the solutions.  They have an art cabinet in the breakfast room that was getting cleaned out and then messed up constantly.  I look everything out, labeled it, and told them everything must go in the correct box before they go up for baths.  They figured it out pretty quickly.  Having things labeled has made all the difference.  They produce a stack of art every day, and every  night I go through it, tossing most of it and keeping select pieces to go in their art folders that live in the drawer above this cabinet.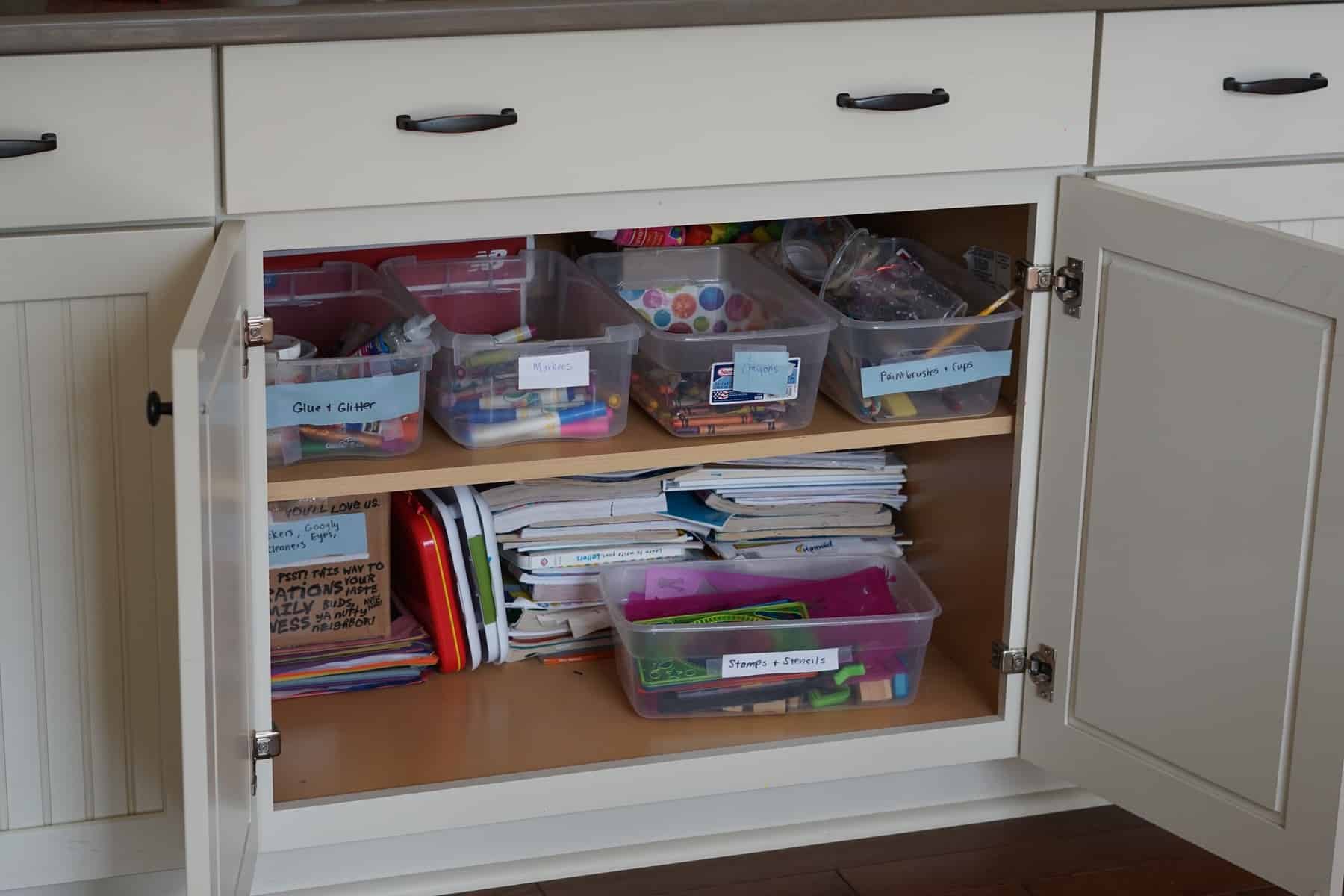 To keep them from staining clothes, I put a bundle of already stained or torn clothing in the mudroom and they must change into this before playing outside.  Maddie has to change into an old shirt before eating because she is destroying all of her clothing with hot sauce.
To deal with lunches, I have started having more ready to eat foods available so people can help themselves on the weekends instead of asking me "what's for lunch?" and driving me batty.  On kitchen days I cut up veggies and make a tuna or chicken salad, I boil eggs, make sandwich rolls to pop in the freezer, mix up salad dressing, and pre cook bacon so those of us on low carb diets can still eat something quick.
For the age old kitchen counter piling problem.  This is a problem I need to work on on my end, having some patience with someone who has just come home from a long day at work.  I also added the basket on the very left to at least corral the papers.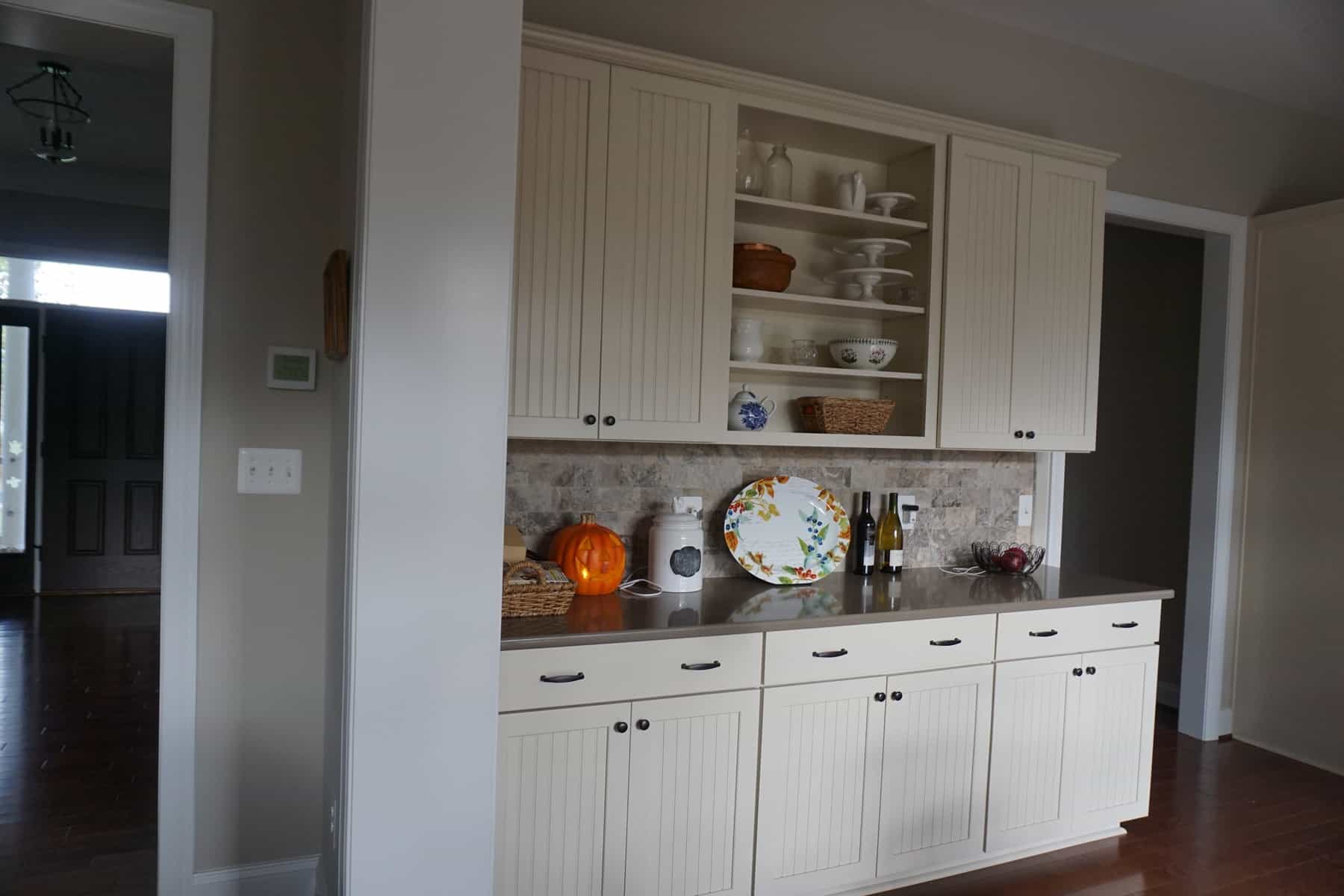 Then I got distracted and rearranged the open cabinet.  I am slowly realizing I despise color. There was a pretty red bowl in this shelf before but it was too… red.  It is a cabinet, and now everything is beige or white.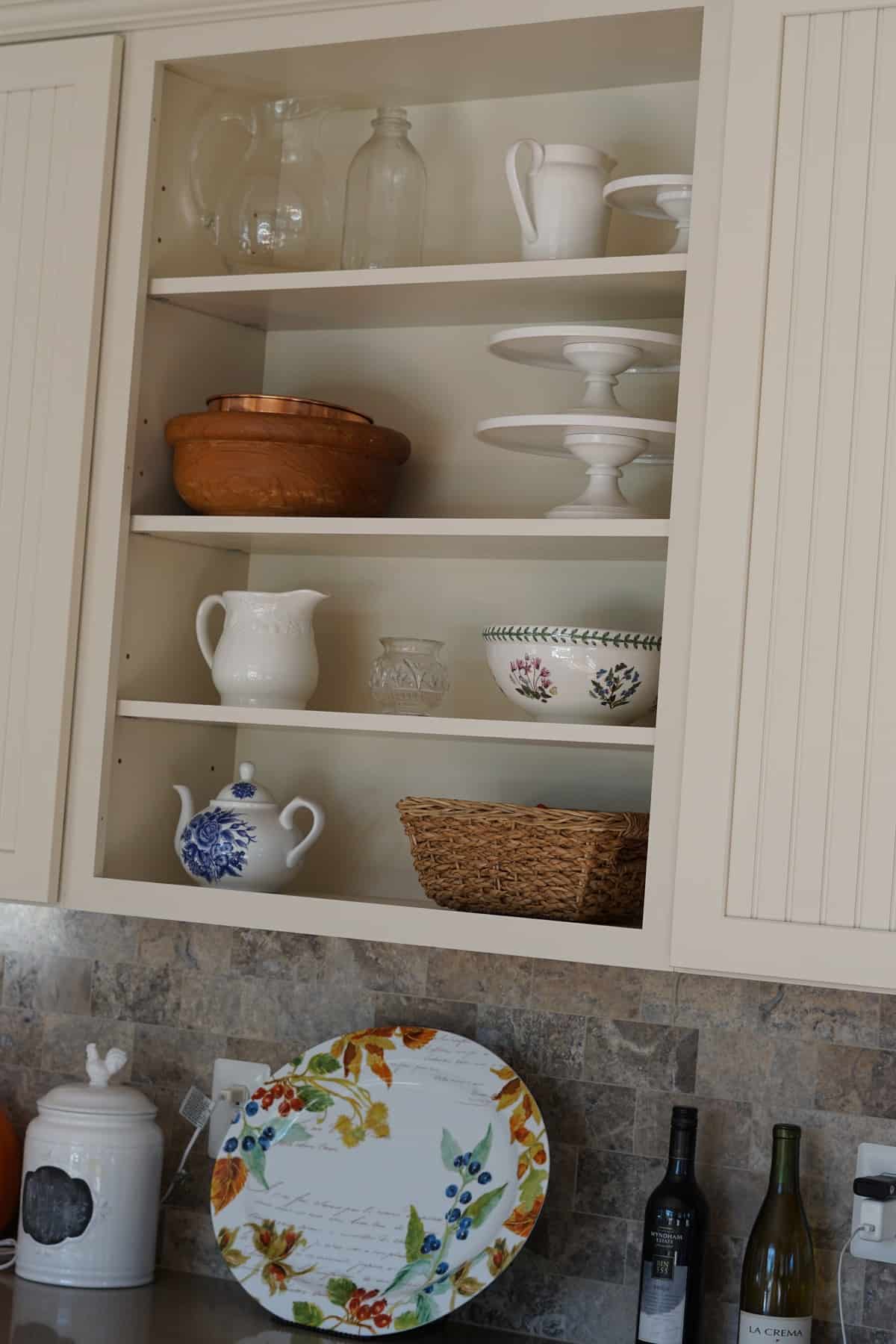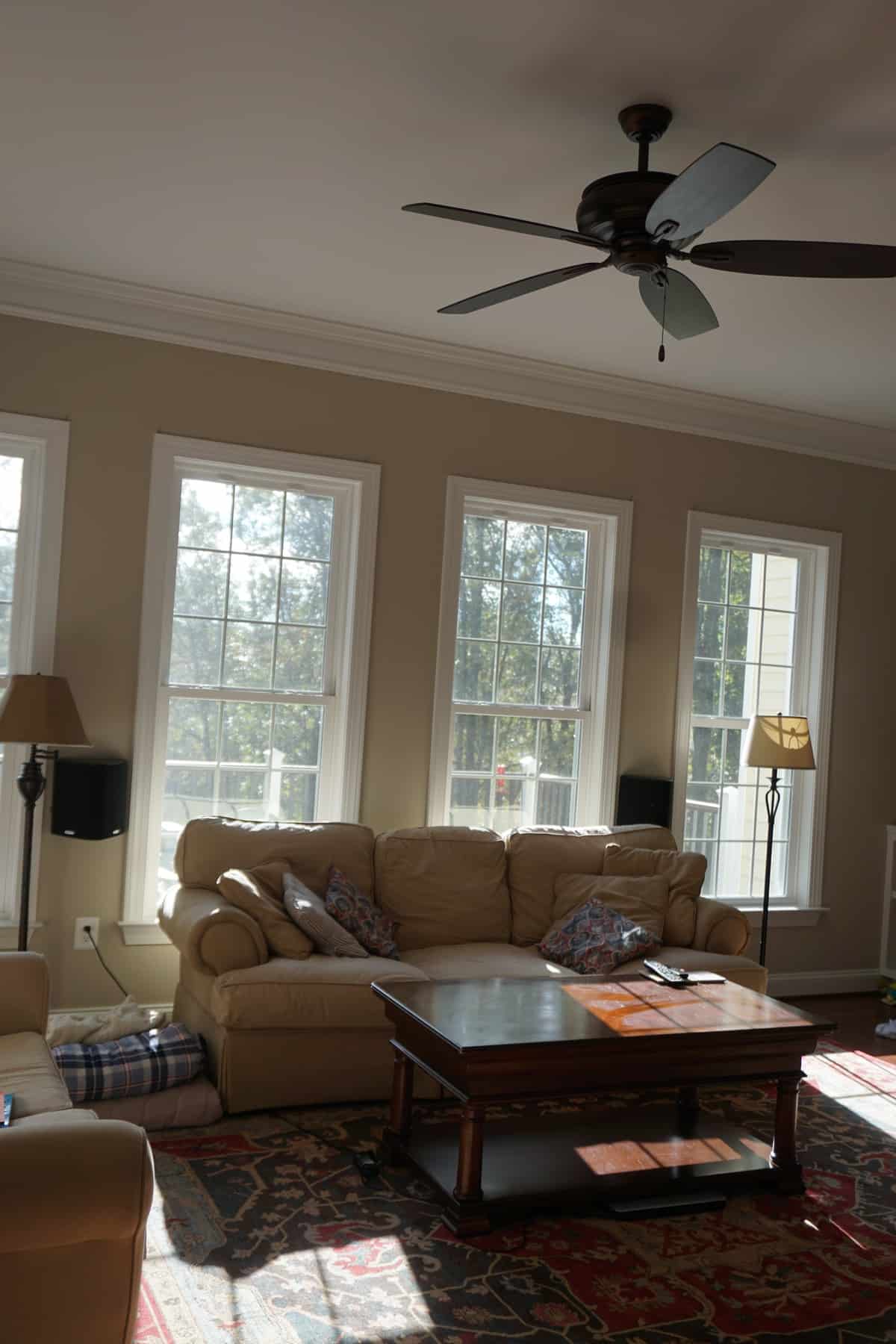 So beige. So dusty.  I just dusted two days ago.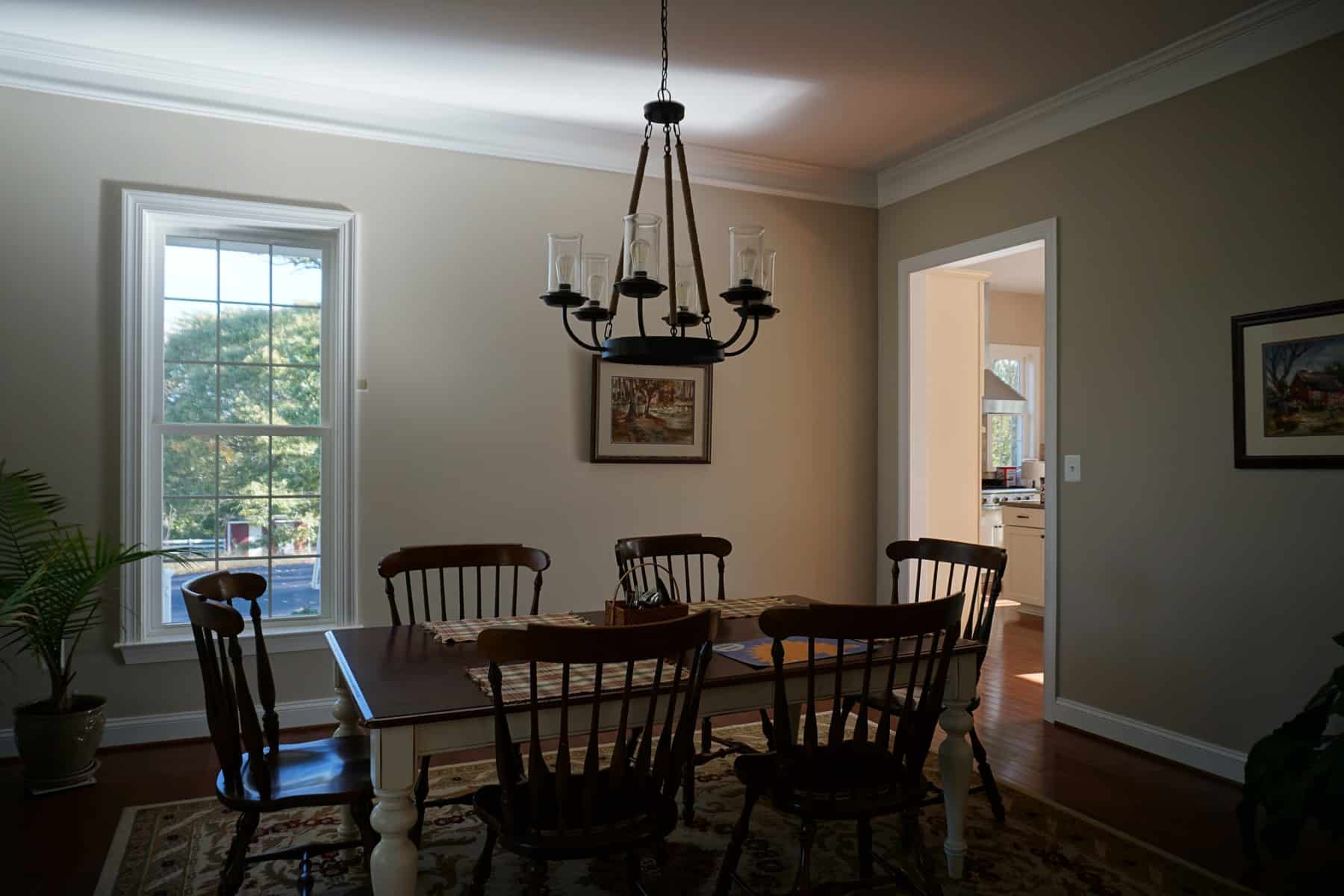 So beige!  Is this an acceptable decorating style?  I want to add white.  Brightness but no color.
I have ONE burgundy sunflower plant still blooming.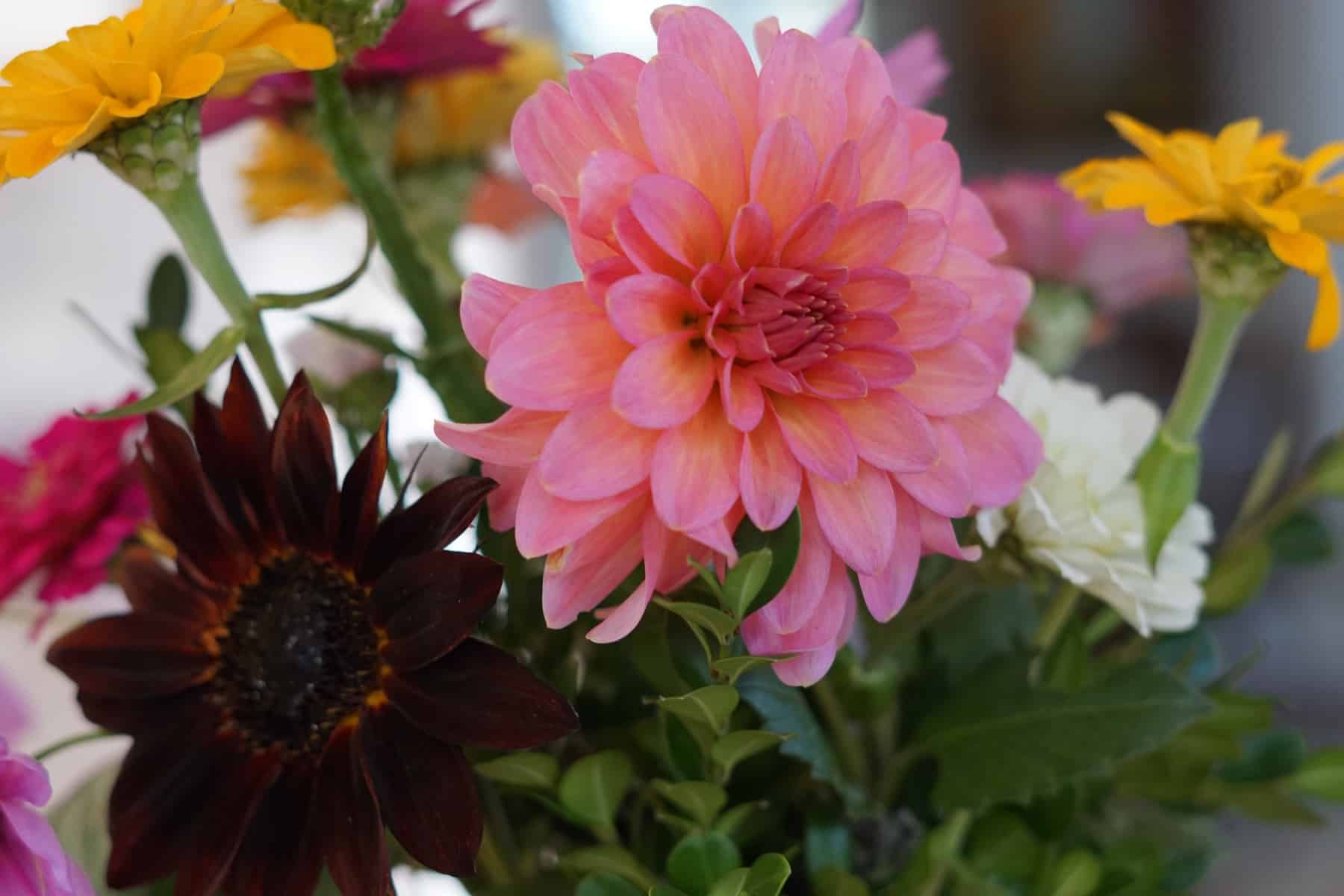 Colors are acceptable here.
What a masterpiece!