Indulge in a timeless treat with these Classic Heart Jam Cookies. These delicate, buttery delights are a comforting blend of tender cookie crust and your favorite jam, crafted into charming heart shapes that are perfect for any occasion.
Simple to make (yes, you do need to roll them out but there's no chilling!), these are fun for kids and perfect for tea parties, holidays, or any special occasion.
Want a free fall cookbook? Click here to grab a cookbook with 25+ of my best autumn recipes
Ingredients
For the Cookie Dough
1

cup

unsalted butter, room temperature

½

cup

granulated sugar

1

large egg

1

teaspoon

vanilla extract

3

cups

all-purpose flour

¼

teaspoon

salt
Assembly
½

cup

jam of your choice

raspberry, strawberry, apricot, etc.

powdered sugar

for dusting
Instructions
Prep: Preheat your oven to 350°F (175°C). Line two baking sheets with parchment paper and set aside.

Wet ingredients: In the bowl of a stand mixer fitted with a paddle attachment, cream together the butter and sugar until light and fluffy, about 3 minutes. Add the egg and vanilla extract to the butter mixture. Mix until well incorporated.

Combine Dry Ingredients: In a separate bowl, whisk together the flour and salt. Slowly add the dry ingredients to the wet mixture, mixing just until a dough forms. The dough might be slightly crumbly but should hold together when pressed. If it does not, add a sprinkling of water.

Roll out and Cut: On a lightly floured surface, roll out the dough to a thickness of about 1/4 inch. You can reroll the dough for the next set of hearts. Use a large heart-shaped cookie cutter to cut out cookies. Place half of these on your prepared baking sheets. With the remaining halves, use a smaller heart-shaped cookie cutter to cut out the center, creating a heart-shaped "window".

Bake: Place the assembled cookies on the baking sheets and bake for 10–12 minutes, or until the edges are lightly golden. Allow to cool before assembly.

Assemble: Spoon a small amount of jam into the base of each cookie, spreading it out to fill the space but not overflow. Sprinkle powdered sugar on the top hearts. Place the cookies with the heart-shaped "windows" on top of the full heart cookies, aligning them carefully.

Serve: Store any leftovers on a covered plate for 3-4 days.
Notes
You can substitute the jam for preserves a citrus curd for a different twist.
For longer storage freeze them up to 2 months (freezing full assembled is fine!)
Try these variations:
Nutty Heart Jam Cookies: Add 1/2 cup finely chopped nuts to the dough.
Spiced Heart Jam Cookies: Add 1 teaspoon cinnamon and a pinch of nutmeg to the dry ingredients.
Did you make this?
Let me know how it was! Please see below for serving ideas, storage instructions, and substitutions.
Pick your favorite jam and enjoy these simple little treats.
You Just need basic ingredients
Jam. Any jam is fine, but we like a smooth and seedless one.
Pantry ingredients. Just the basics for the dough.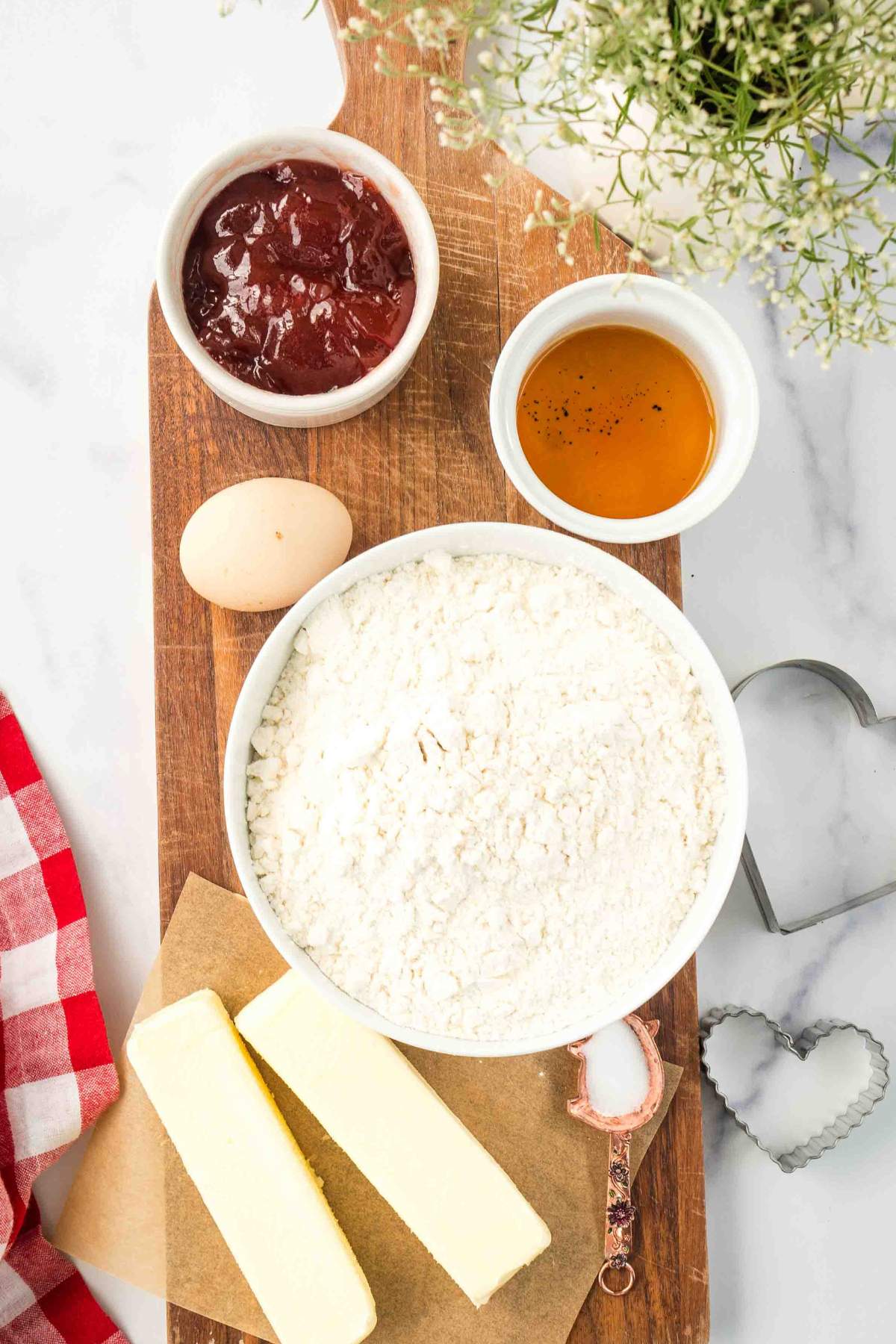 2 Different-sized heart cookie cutters. Be careful choosing these. They need to be the right sizes so enough jam is revealed but that the top "frame" heart is sturdy enough to bake.
Rolling pin. You do need to roll out the dough flat
Parchment Paper: For easy baking and cleanup
A hand mixer is just fine, no need for a stand mixer if you don't have one or don't want to take it out.
Wilton Nesting Heart Cutter Set"> NASNAIOLL Adjustable Rolling Pin with Thickness Rings Measurement Pastry for Baking Cookie Dough Pizza Pastry Pie Pasta, French Style Stainless Steel Roller <17 Inch> Comfylife 120 x Parchment Paper Sheets – No Curl, No Tear, No Burn Baking Paper (16 x 12 inch) – No Chemical Unbleached – Cookie Paper Precut Baking Sheets For Baking
Nothing fancy, right? 😊
Tips for sandwich cookies
Room Temperature Ingredients: Ensure your butter, egg, and even jam are at room temperature. This allows for better mixing and helps the dough come together smoothly.
Proper Mixing: Cream the butter and sugar until they're light and fluffy. This step sets the foundation for the cookie's texture.
Even Cookie Thickness: When rolling out the dough, use spacers or rolling pin rings to maintain a consistent thickness. This ensures that all your cookies bake evenly.
Jam Choice: Experiment with different jams and preserves to find your favorite flavor combination. Some jams might be sweeter or more tart, so choose one that suits your taste.
Dusting the Sugar: When dusting the top heart cookies with powdered sugar, use a fine-mesh sieve or sifter for a delicate, even coating. This not only adds sweetness but also a touch of elegance to your cookies.
Proper Cooling: Allow the baked cookies to cool completely on a wire rack before assembling them with jam. This helps the jam set and prevents it from oozing out.
Be Patient: While it may be tempting to enjoy these cookies right out of the oven, they actually taste even better once the flavors have
More Cookies with Jam ❤️
These are all great recipes for people who prefer a fruity cookie.