Super Soft Italian Bread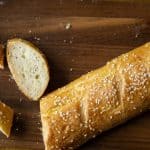 Ingredients
FOR THE BREAD DOUGH:
-3 cups bread flour
-1 cup of water
-2 tablespoons olive oil
-2 tablespoon dry powdered milk
-1 1/4 teaspoons salt
-1 teaspoon sugar
-2 1/4 teaspoons yeast (SAF instant)
FOR TOPPING THE DOUGH:
-1 beaten egg
-1 tablespoon sesame seeds
Instructions
Add all ingredients to a bowl or bread machine bucket, and knead until very smooth.  The dough should completely clear the sides of the bowl, and not seem wet or sticky.  Allow to rise in a warm place until doubled in bulk.
Divide risen dough into two or three equal pieces (depending on whether you are making baguettes or braids) and roll gently into 10 inch logs.  Allow them to rest, covered in greased plastic wrap, about 15 minutes or so.  This will make them easier to work with.
Pull them out a bit longer, to about 18 inches long.  Then begin your braid, or simply shape your loaves.
Place the loaf on a baking sheet either prepared with parchment or sprayed with cooking spray.  Brush the loaf with the beaten egg.  Sprinkle sesame seeds on top, pressing to help them stick.
Cover the loaf with greased plastic wrap and allow to rise.  Part of the way through the rising time, preheat the oven to 400 degrees.
Bake in 400 degree oven for 20 minutes for baguettes, or 30 minutes for the braid..
Cool on a wire rack before slicing.