A collection of the best ways to use up leftover bread. 19 recipes and ideas you'll come back to over and over.
There are ways to store bread to make it last longer. But sometimes you'd rather just be done with it! And whether you've made the loaf or bought it, it feels wrong to just throw it out.
Here are the best recipes for leftover bread that will help you use up any kind: from rustic sourdough to plain sandwich bread to hot dog buns.
Bread Pudding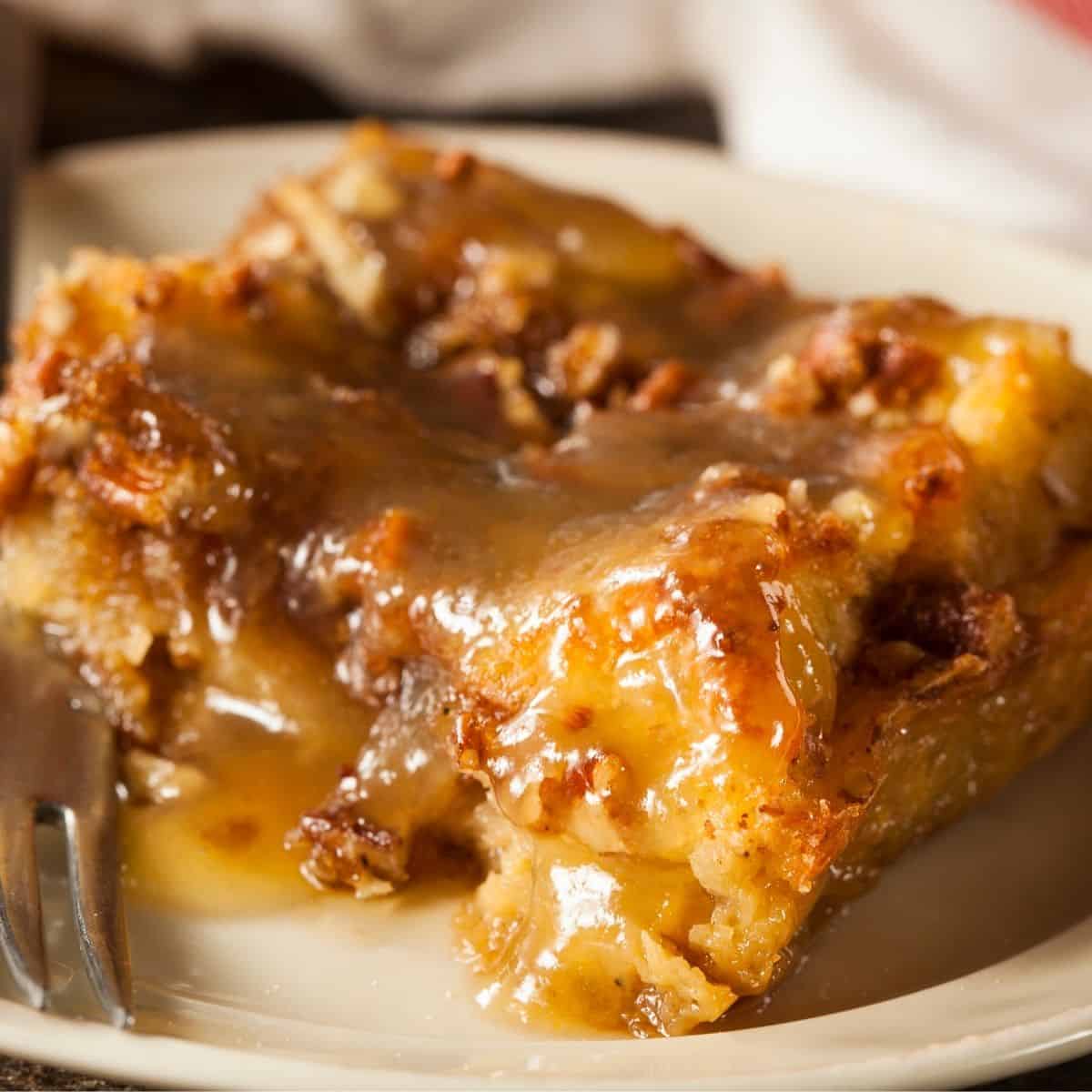 Bread pudding is a great use of leftover bread, and it's a versatile recipe because the type of bread doesn't really matter: you can use anything from a soft challah to a rustic sourdough. You will want a stale bread for this recipe.
It's easy to make and can be made ahead. You simple make a sweet custard of milk and egg, pour it over the cubed bread, and bake.
One of the best things about bread pudding is how many variations there are: you can make it plain, add chocolate chunks, or try one of these varieties
Breadcrumbs
You don't really need a recipe for these. You just put stale bread in the food processor and whirl until you have.. bread crumbs. You can use fancy artisan bread, plain old sandwich bread, or even leftover hot dog buns.
Breadcrumbs are perfect for everything from breading chicken to topping baked mac and cheese. And they are so easy to make, that when you don't feel like a big production they are a perfect way to avoid wasting your bread.
Pop these in a freezer bag and freeze what you don't use right away; they will last for months.
Croutons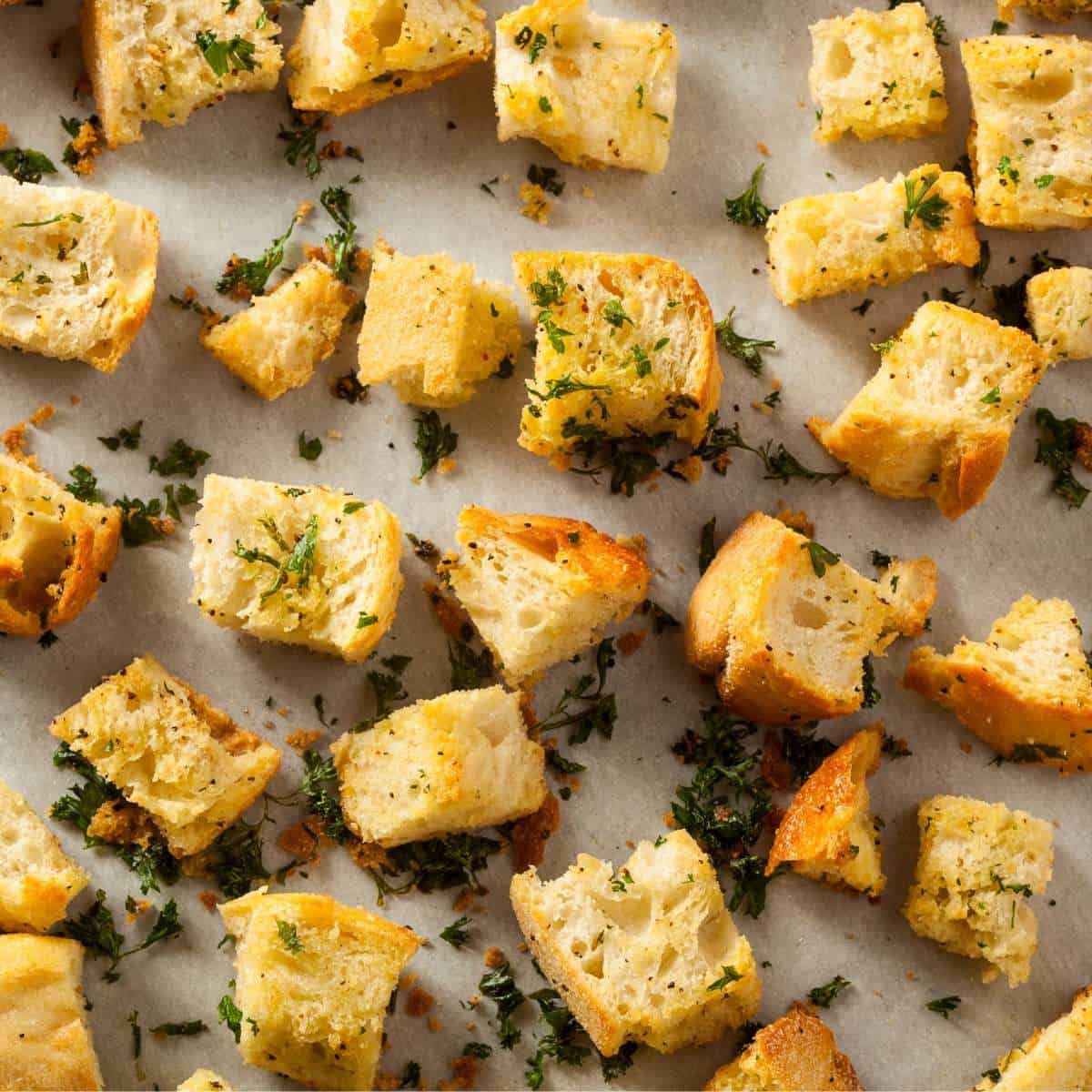 Croutons take a few minutes to make but are so useful. Even a super plain salad with nothing but lettuce and dressing feels special with some homemade croutons on top. And a good crouton is absolutely necessary for making the best French onion soup.
To make croutons, you'll want a sturdy bread that holds its shape when diced. A few days old is best. All you need to do is:
Dice the bread in cubes
Toss in olive oil or melted butter.
Sprinkle on some herbs.
Bake at 375 for about 20 minutes.
You can use my crouton recipe or you can just sort of eyeball it. It's not rocket science.
They freeze great too!
Panzanella (aka bread salad)
If you love Italian flavors, then you'll love panzanella. It's plate of stale bread which has been soaked in a mixture of olive oil, vinegar and tomatoes. You can add more herbs and seasonings if you want.
Panzanella is a recipe that's best with a sturdier bread. You want each piece to stay firm, not turn to mush. It's a bread salad after all, not a pudding!
Stuffing
Homemade stuffing is a leftover bread classic. It's simple cubed bread with some broth and seasonings that's baked and served alongside (or inside) meat.
You can use any kind of bread for more stuffing recipes, and even leftover cornbread is delicious.
Stuffing is traditionally made on holidays, but there's no reason you can't serve this for any family dinner. If you're a regular bread baker with lots of leftovers, you'll want to make stuffing more than twice a year. Comfort food at its best.
If you are looking for more ways to use a sturdy bread, try this recipe for sourdough stuffing.
French toast
You can use pretty much any bread for a French toast recipe, but if you happen to have leftover brioche or challah bread, you're in luck. The softer and sweeter the bread, the better your French toast will turn out.
This popular brunch dish is one of the few leftover bread ideas that uses bread slices. Topped with whipped cream or maple syrup, it's a crowd pleaser.
Breakfast strata
Breakfast strata is a breakfast casserole with big cubes of leftover bread with eggs and savory seasonings poured on top. The same technique as a bread pudding, but savory and breakfast oriented. One of the best things about these recipes is that they are completely flexible. You can add veggies, bacon, sausage, more seasonings, or anything else you wish.
They can also be made at night, popped in the fridge, and baked in the morning.
French toast casserole
These recipes are somewhere between bread pudding and strata. It's a dish that can be made in the morning or the night before, but it's sweet and custard based.
Most of these recipes do best with a sturdy bread like homemade sourdough, but if you're making it in the morning a softer bread will work too.
Some of our favorite French toast casseroles:
Slow cooker stuffing recipes
These are something you may never have tried, but they are easy and delicious dinners. Basically you spray your slow cooker liner with cooking spray, add cubed bread and meat, broth, and seasonings and let it slow cook.
These recipes are some of the best:
Crostini
It's just a fancy way to say little toasts with stuff on top. If you've ever had bruschetta, just think of the little toasted slices of bread served alongside it. Brushed with olive oil and baked or broiled, crostini are begging for a yummy topping. Spinach and artichoke dip goes from football food to gourmet dish when you pair with these little guys.
These are, obviously, easiest with a long and narrow loaf like a baguette.
Some dips and serving ideas for these yummy slices:
And that's all!
Hope you found a leftover bread recipe that's perfect for what you need.