When you first move into a new place, it feels like an exciting fresh start. But very rarely does it feel lived-in and cozy. Here are the ten best ways to make a new house feel like home.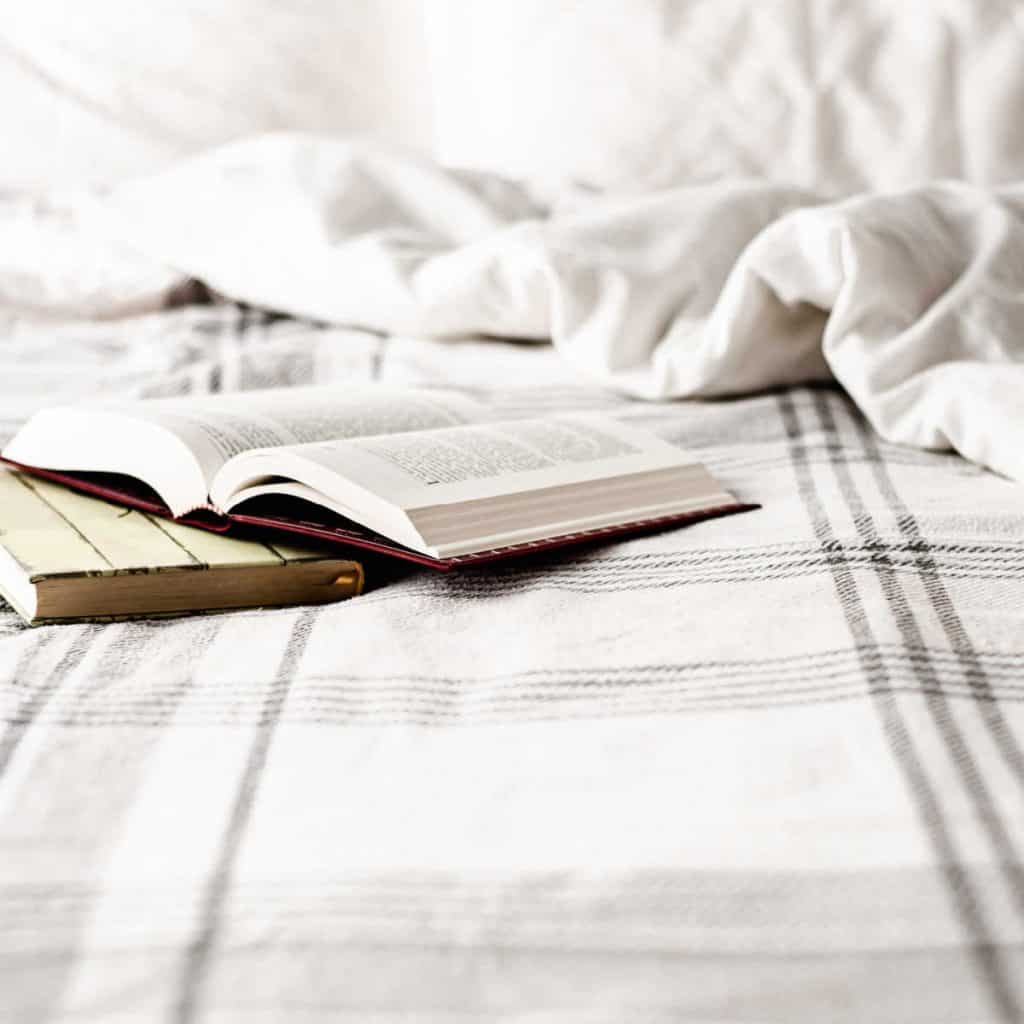 You have your keys, your paperwork, and a car full of boxes. Sure, you're excited about a new space. But then you open the door for the first time and see those open, empty floors, the scuffs on the wall that were hidden before, and all those paint colors picked by someone else.
And you feel…weird. Your old house, for all its flaws, was your home. You've been dropped into a new place, and it will take some getting used to
Brand new to keeping house? Check out my Homemaking 101 guide to give you a firm foundation.
Pick one room to unpack first
Get one room set up, 100%, on day one. Since the kitchen is probably too ambitious, the master bedroom is a good choice. That means everything from furniture to a tissue box on a side table in one particular room should be set up right away.
Why is this a good technique for making your space homey? When your whole house feels out of sorts and chaotic, you feel out of sorts too. And you get that feeling of doing a lot of work and not really making any progress. Each box you unpack seems to make more of a mess and makes things look worse, not better.
When one room is totally unpacked, you feel like you've made real progress. It gives you the motivation to keep going and a nice comfy place to rest when you need a break.
Make sure your first memories in your new home are nice ones by giving yourself a space that feels good right away. Okay, you can set up your internet. First things first.
Make it Fun for the Kids
It's important to take special care that your children are excited about your new home and neighborhood, too. Once you move, plan a list of family activities to try each week. Enjoy a picnic at the park and ice cream at your local creamery, or a trip to your local craft store so the kids can paint canvases to decorate their new rooms.
You also want to dedicate lots of time to playing in your new house so it feels like a fun and exciting change. A family game of hiding and seek will have everyone scrambling to discover the best new hiding spot. You can also explore your new home with a scavenger hunt or invite friends over for a playdate and home tour.
However you choose to celebrate your new home, prioritize family time throughout the move to help everyone relax and get excited.
Click the image below to download this free kids scavenger hunt for the first few days.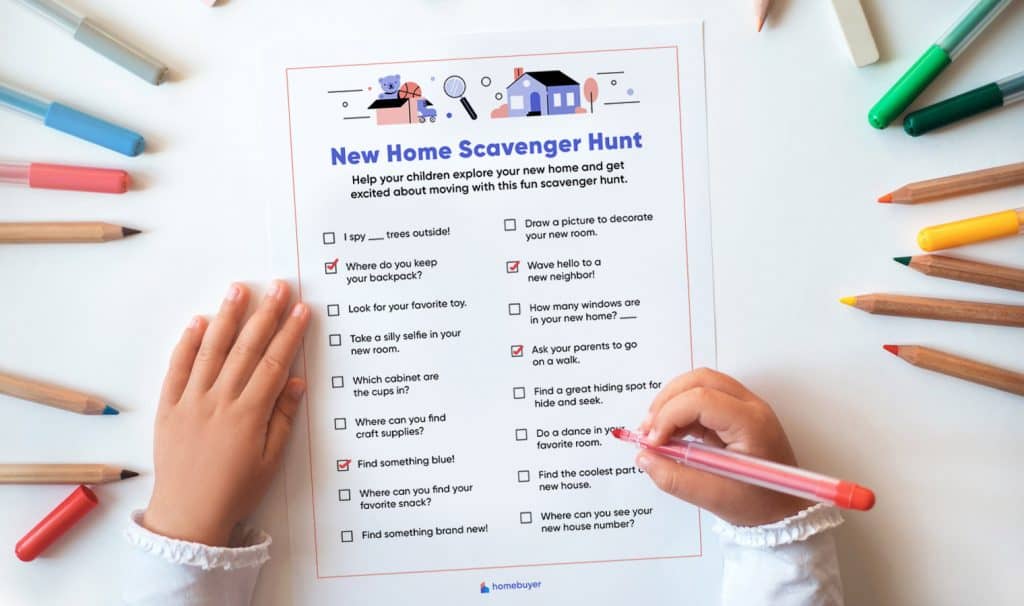 Pack a first night box, with extras
You've probably heard of this concept before: instead of rummaging through your silverware to find a roll of toilet paper, pack a box that holds very everything you need the first night for easy access. So you'll want coffee supplies, a few dishes, and, yes, the bathroom essentials.
But we can do a little better than this, right?
Add your very favorite books, your best family photos, and anything else that will make you feel happy on day one. Be honest about this! If you don't like reading or family photos, pick something else! Candles, a movie, your coziest slippers? Just choose some things beyond the necessities to give your new place that extra home feeling.
Go to the local grocery store
Unless you've moved down the street, you probably have a new grocery store. Exciting! Really. Go check it out and stock your fridge. After all, nothing says "fresh start" like a brand new set of condiments.
Whether it's a new city or just a new neighborhood, getting familiar with your local surroundings helps that new house feel more comfortable.
Hang art on the walls
This is standard new house advice, so common that it's easy to dismiss it as overly generic. But it's so, so true. Nothing says "just moved in!" like bare walls (except maybe unpacked moving boxes). Pictures are so awkward and bulky that it's just as easy to hang them up to store them somewhere else. Have an artwork hanging kit easily accessible, and hang them as you come across them. You can perfect the locations later. For now, just get them up.
Eat in the dining room
Yes, those first few nights will be eating takeout and using a box as a table. But try to limit the time you're doing this to a few days. As soon as you can, set up the eating area, you'll be using in your new house.
If it's your first week in the new place, for the love of Pete, make it a simple recipe.
Open the windows
There's something symbolic about fresh air and getting enough light into a space. . Out with old, in with the new.
Add living things
This is a classic way to bring life (literally) to a house that feels a little cold. It can be anything from your dog to some fresh flowers from the grocery store. If you've moved into a place with a yard, try introducing some greenery from the outdoors. As in, cut some green stuff from outside, stick it in a glass of water, and put it under the kitchen window.
There's something magic about flowers and greenery and what they can do to make a new house feel lived in.
Family photos + personal style
Even a new home that feels very unlike you will start seeming homier when adding your personal style. If you're comparing the new house to the old one, remember how different the old one looked when you moved out and it was stripped of your personal belongings.
Paint colors, plants, and other small details in home decor will add up over time and make a huge difference.
Invite people over
Being the host makes you feel at home. When guests arrive, you are in charge of your new place, which helps you settle in. They call it "housewarming" for a reason. Having a gathering of close friends really does warm the place up.
Besides, seeing familiar faces in a new space is cheerful.
Leave for awhile
There's something about leaving your home behind that makes it really feel like home when you get back. After a day or so away, you'll see that new place through fresh eyes. It won't seem so new anymore, just familiar. And that's a good thing.
Take pictures of your rooms
This is one of the best ways to get a realistic look at what your new house looks like. Super cluttered? Bare? Leftover boxes in the corner of the kids' rooms? A camera doesn't lie. If something still feels off, take some quick phone snapshots of each room; any glaring issues will be obvious.
How long until my house feels like home?
Annoying answer: it depends. Every time I have moved, it's taken about a year to really get there.
The more time you spend at home, doing simple everyday things like rearranging your photos and cleaning the fridge, the faster you will get there.
If you are feeling sad about leaving your old home behind, know that this is totally normal. Even if you were excited about this move and disliked your previous home, change is still hard. There will be new memories here too.
Enjoy your new house, and enjoy the adventure of making it inviting and happy. You will get there.