Last time I mentioned I just read Home Management: Plain and Simple, by Kim Brenneman.  A large focus of her book is having a home keeping schedule, which at first I ignored because I already had one that was (I thought) working well.
It was pretty much like this:
Mondays:
Wash the master bedroom sheets and vacuum and dust that room.
Make the menu plan and grocery list for the week, go grocery shopping and to the library
Tuesdays:
Clean the bathrooms
Wednesdays:
Vacuum and dust the living areas downstairs
Thursdays:
Mop the hardwood floors downstairs
Fridays:
Vacuum, dust and mop upstairs
Clean the kids rooms and wash their sheets
Saturday and Sunday off
I swept every day, did two loads of laundry every day, tended to the garden when I thought it needed it, cleaned the kitchen when I thought it needed it, and generally did things as needed beyond what was specifically scheduled.
Well… there were quite a few problems with this plan that I thought was working so well.  First I was wasting a lot of time by vacuuming and dusting different areas on different days instead of just doing it all at once.  It was time wasted taking out the vacuum and cleaning supplies, time wasted working up the energy to do it, and a lot of times it just didn't happen.  Especially the upstairs, since no guests ever saw it.
More importantly, a lot of things were NEVER getting done.  I never cleaned the windows unless there was a big smudge.  I never cleaned out closets or under beds until they were out of control and I was forced to.  The bathrooms got dirty in between Tuesdays and I felt like I should wait until Tuesday to clean them. The house was generally clean, always picked up, but I was skipping a lot of things and my children did NOTHING to help, not even put their own stuff away.
Things have changed. My new schedule is:
Mondays:
Laundry Day
(clean the laundry room/ mudroom, wash all sheets, catch up on all loads, and set towels to soak overnight)
Tuesdays:
Office Day
(make menu plan and shopping list, make any phone calls or appointments, order and wrap any needed gifts, pack library books to be returne in car, upload photos)
Wednesdays:
Errands Day
(go into town, this is exhausting and is all one day can handle)
Thursdays:
Kitchen Day
(deep clean kitchen and do extra cooking and baking)
Fridays:
Cleaning Day
(vacuum, dust, and mop everywhere, also do one hour per day of deep cleaning and organizing in rotating areas)
Saturdays:
Garden Day
(clean up porches and yard,thoroughly weed and fertilize one area of the garden, switch out cut flowers for the house, clean out the car, do garden projects such as planting containers)
Sunday:
-go to Mass and get each well behaved child a doughnut
One bathroom cleaning task is done each time I go in that room, and the bathrooms are deep cleaned once a month on cleaning day.
By giving every day a focus, I am wasting a lot less time flitting around from one task to the next.  When the vacuum is already out, how hard is it to go ahead and do the master bedroom too?  Why not the steps and the bedrooms upstairs?  When you have the step stool out in the kitchen and a soapy rag to clean the stove hood, why not do the top of the fridge? And why not refill your pepper grinder, and scrub and bleach the sink?  Might as well throw some bleach and water in the coffee pot.  And so on.
I can't say that this system has given me more free time because I am actually doing a lot more cleaning.  But I am wasting less time, and the house looks very good which brings satisfaction.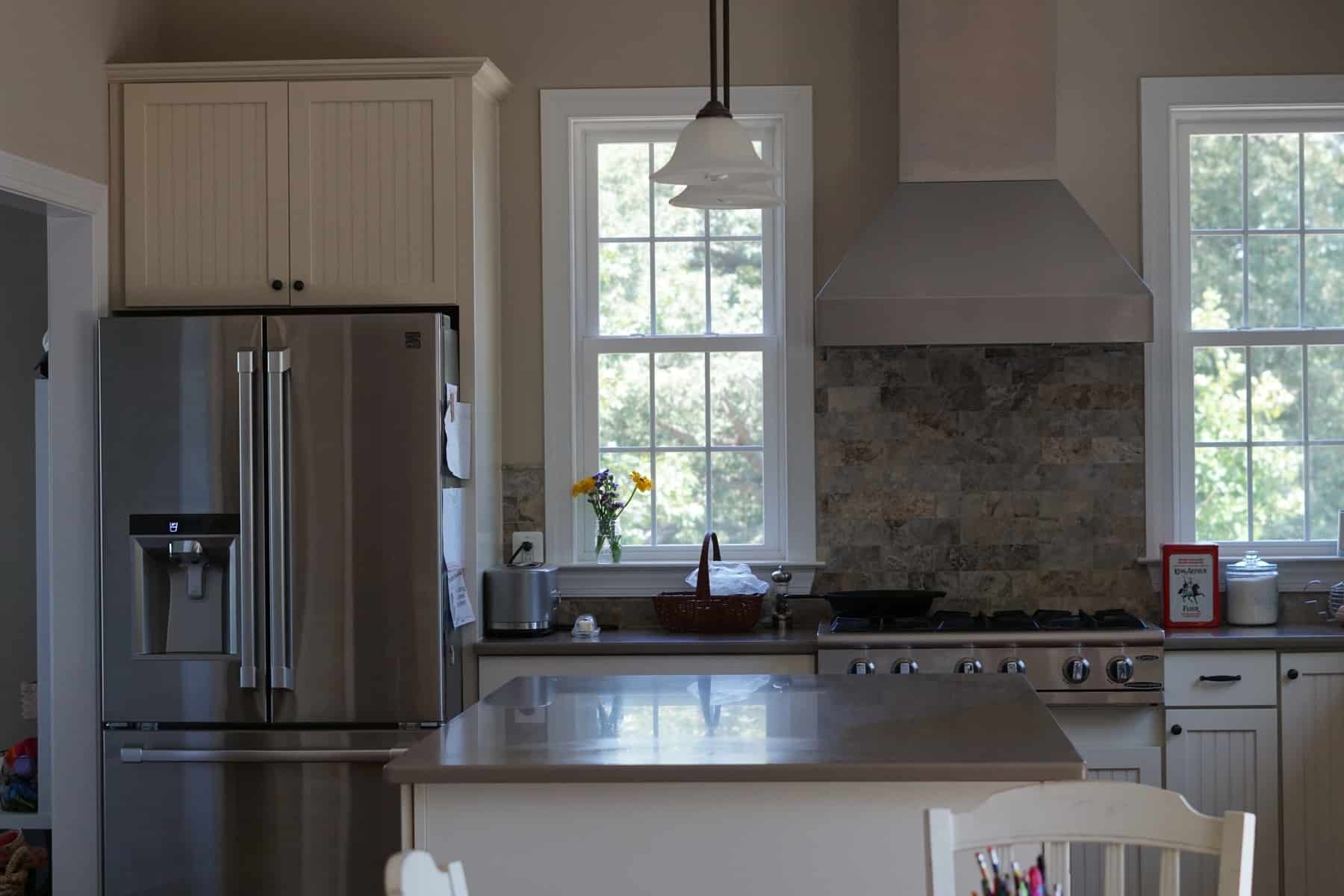 Today was kitchen day, which means:
-polish the appliances
-run stove hood filters through dishwasher and clean the outside of it
-clean the sliding glass door off the breakfast room
-clear off the counters and clean them
-bleach the sink
-run vinegar through the coffee pot to clean it (once a month)
-clean kitchen windows as needed
-do any canning or preserving in summer or fall (one thing per week, at most)
-cook extra bacon for potatoes and salads and hard boil eggs
-soap making or freezer cooking in winter or spring
-make a treat (cookies, pie, ice cream, etc.)
-organize one pantry shelf
-organize fridge, throwing out any trash and wiping shelves
-organize one drawer or cabinet
-wash trash and recycling bins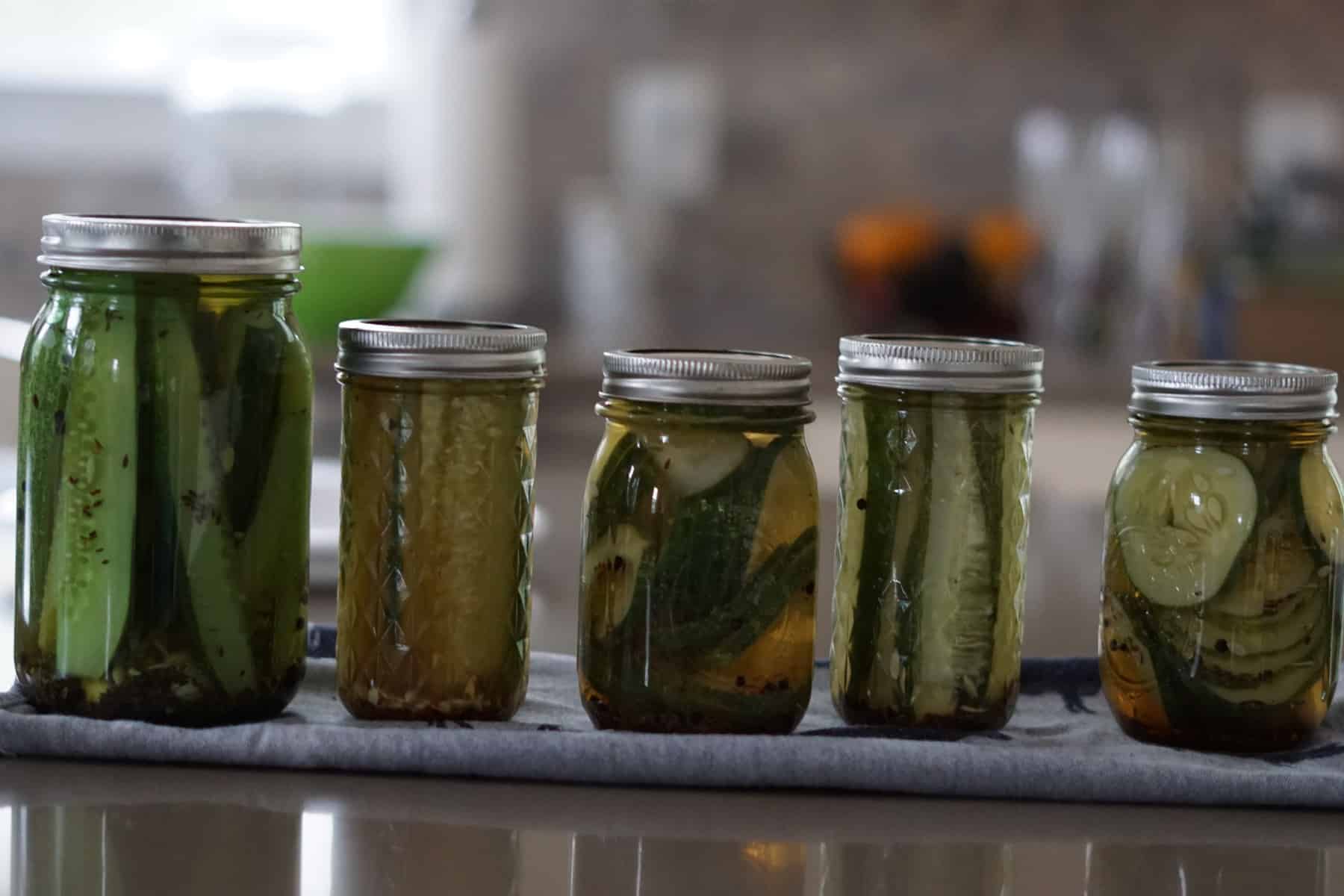 (These are just refrigerator pickles.  I can't quite face real canning just yet and might skip it this summer.)
The kitchen chores look like a lot all written out, but they truly don't take long if you just do it.  Not every thing is done every week, but most are. You will find there is real joy in knowing everything is getting done and there are no dark, dirty corners of your home.  It us interesting how housework can be its one reward when you try to find joy in it.