A look at Woodlawn Blue, the perfect color for almost any room, especially for color-phobes.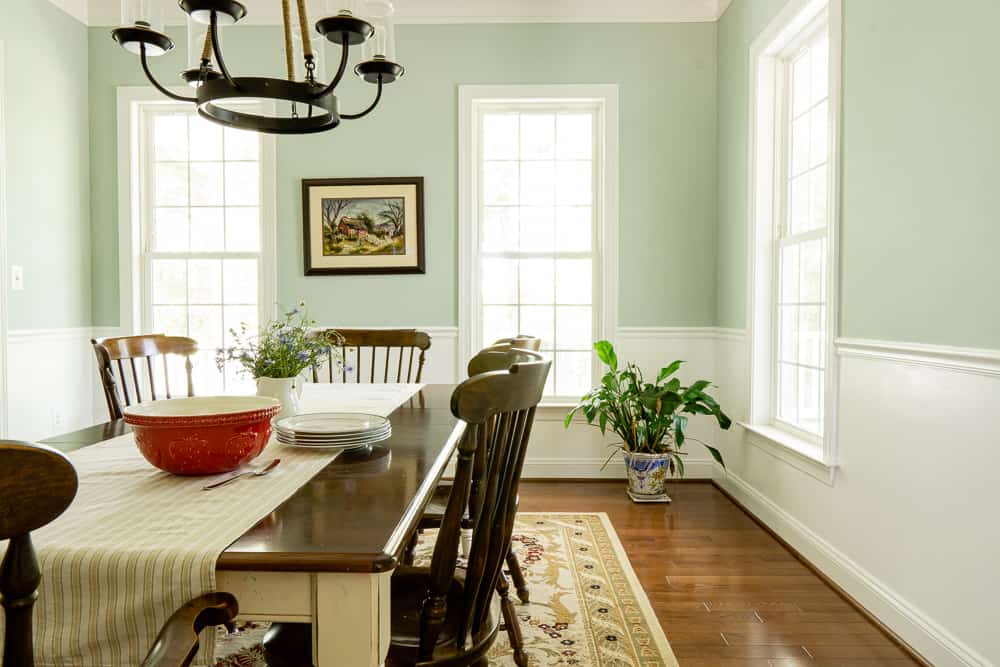 If your house is mainly neutrals but you would like to add some color, then Benjamin Moore Woodlawn Blue is one of the best colors you can choose. It is definitely a color, but muted, changeable, and beautiful. It is an especially good blue paint color in north-facing rooms because it has a lot of green in it. This keeps it from being cold, while the gray keeps it from looking babyish.
The best gray/ green/ blue paint color
Trust me when I tell you I have tried every grayish-greenish blue Benjamin Moore paint color known to man. I was on a mission to find the best.
There are three main families of them: The Wythe Blue family, the Woodlawn Blue family, and the Jamestown Blue family. (No, Benjamin Moore doesn't actually call them families… they are just the color strips I kept seeing over and over online.)
Jamestown Blue was a little too blue, Wythe Blue a little too green, and Woodlawn Blue just right. (If you are like me, and a paint-color Googling freak, you may want to invest in this paint swatch fan deck. It has all the Historical Collection colors. It's worth having.)
When I was looking for a color for this room, I knew I didn't want a neutral because I have those everywhere else in my house. The whole thing is Accessible Beige, which I like, but it was everywhere.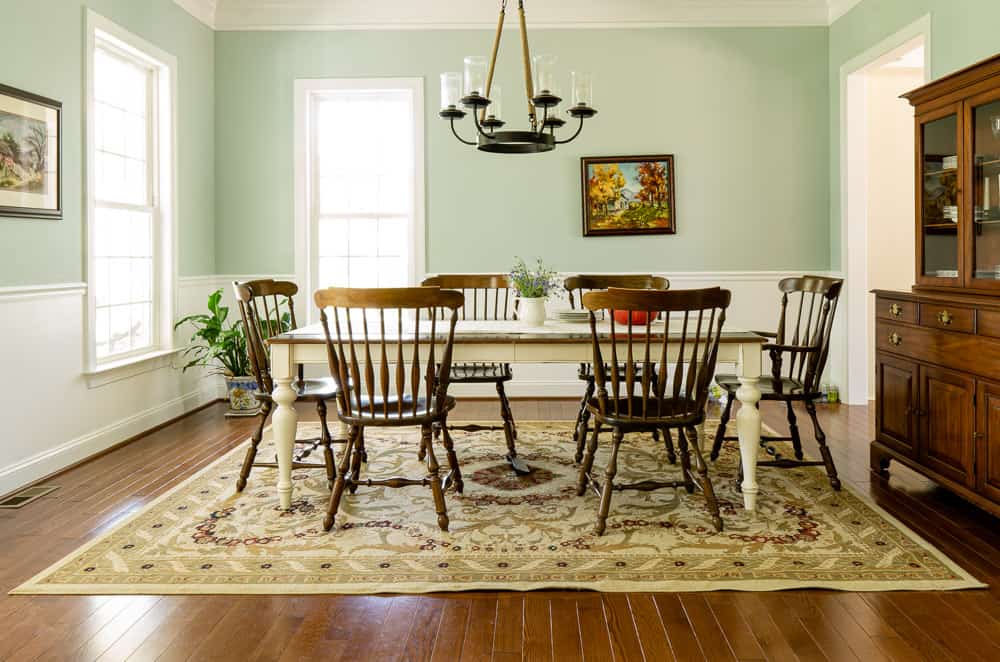 Two different looks for Woodlawn Blue
This color is part of the Historical Collection, and despite seeing it a lot of Modern/ Beachy rooms, it can look very historic.
Woodlawn Blue is one of Benjamin Moore's historical colors, which all seem to be a little bit gray to keep them from looking overly modern. (Which, as it turns out is not really accurate, as 18th century paint colors were actually very vibrant. Anyway.) As an avowed color-fearer, something with a little gray was what I wanted.
This room faces northeast and northwest, so it gets light early in the morning and late in the afternoon in the summer. In winter it gets some afternoon light but is mostly shadowed. Woodlawn Blue looks like a pretty, calm blue gray when there is no direct light: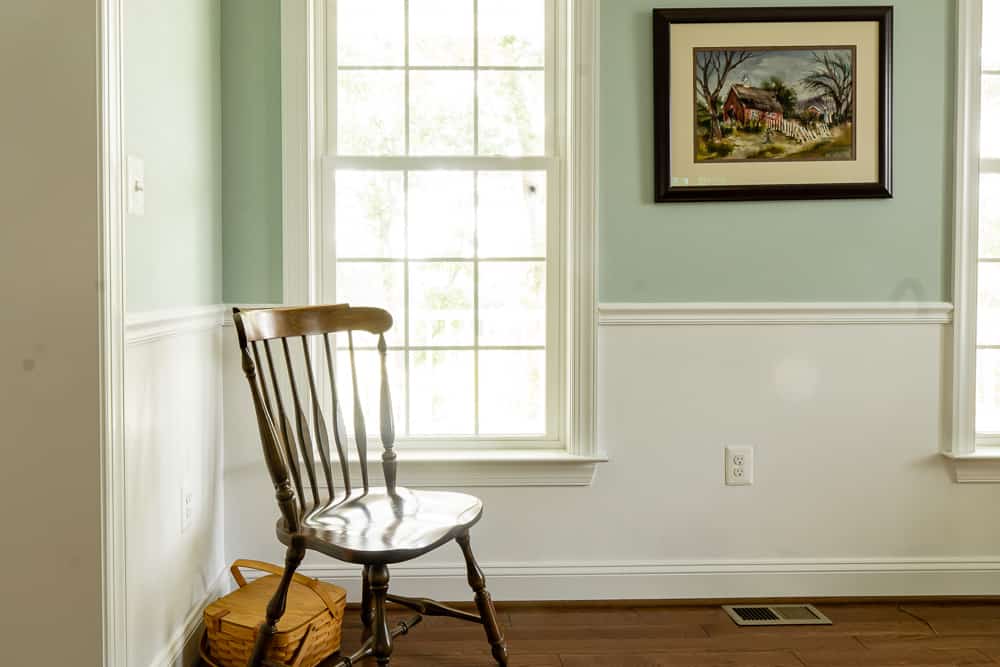 How it looks in different light
Woodlawn Blue seemed really light and bright on the chip, but it seems much darker and grayer in my dining room.
When there is direct sun, it warms up the color to more of a blue-green, and the gray seems to disappear.
Your lighting is such an important consideration. If you put a grayish blue paint color in a room with a lot of sunlight, the blue will seem bluer and greener. It will look more aqua and "beauty". But in a grayish, indirectly lit room, the gray will come out more and the color will seem very calm.
As a general rule, low light brings out the gray. More light will bring out the color. Direct light will bring out the warmth, and the green will start to show.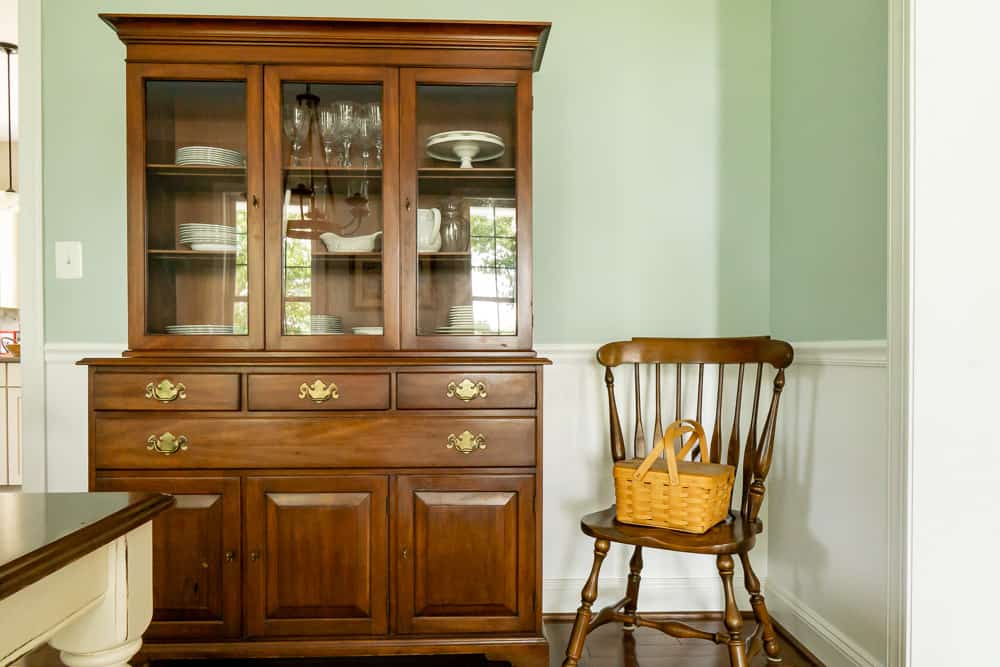 What white to pair with Woodlawn Blue?
This is almost 100% dependent on the light in room.
Just like with colors, low light and shadow adds gray. So if you are painting a dim, shadowy room, a brighter white will work and won't look blinding. In a brighter room, a little bit of gray or yellow will work and keep the white from being "too" white.
The white I chose for the bottom half is Benjamin Moore Chantilly Lace, one their whitest whites, with no gray. I would typically go for a warmer white, but I wanted something that would brighten up the gloom of this room and not look dull or dirty in the shadows. And Chantilly Lace is obviously a beautiful name and paint color names are important.
And now I promise not to talk about paint colors until 2019.
Rooms painted in similar Benjamin Moore colors so you can compare:
Choosing paint colors is fun and maddening all at once! But I hope this helped.