Just like the apple orchard: deep-fried cake doughnuts with fall spices.
Apple cider doughnuts are soft and tender cake doughnuts with plenty of fall spices and apple flavor. They are deep-fried either on the stovetop or in a deep fryer, then tossed in cinnamon sugar.

How to make fried apple cider doughnuts
Are you looking for a new and cozy recipe to make this fall? Apple cider doughnuts are the perfect treat to make when the weather turns. They're easy and quick to make, and absolutely delicious.
This is an easy recipe that anyone can do at home. If you can make cookie dough and fry something on the stove, you can do this. It only takes about 30 minutes total, so it's a great way to spend time with friends and family while creating something tasty together. Plus, there are tons of different ways you can customize them by adding cinnamon sugar or dipping them in a yummy glaze after frying.
What you'll need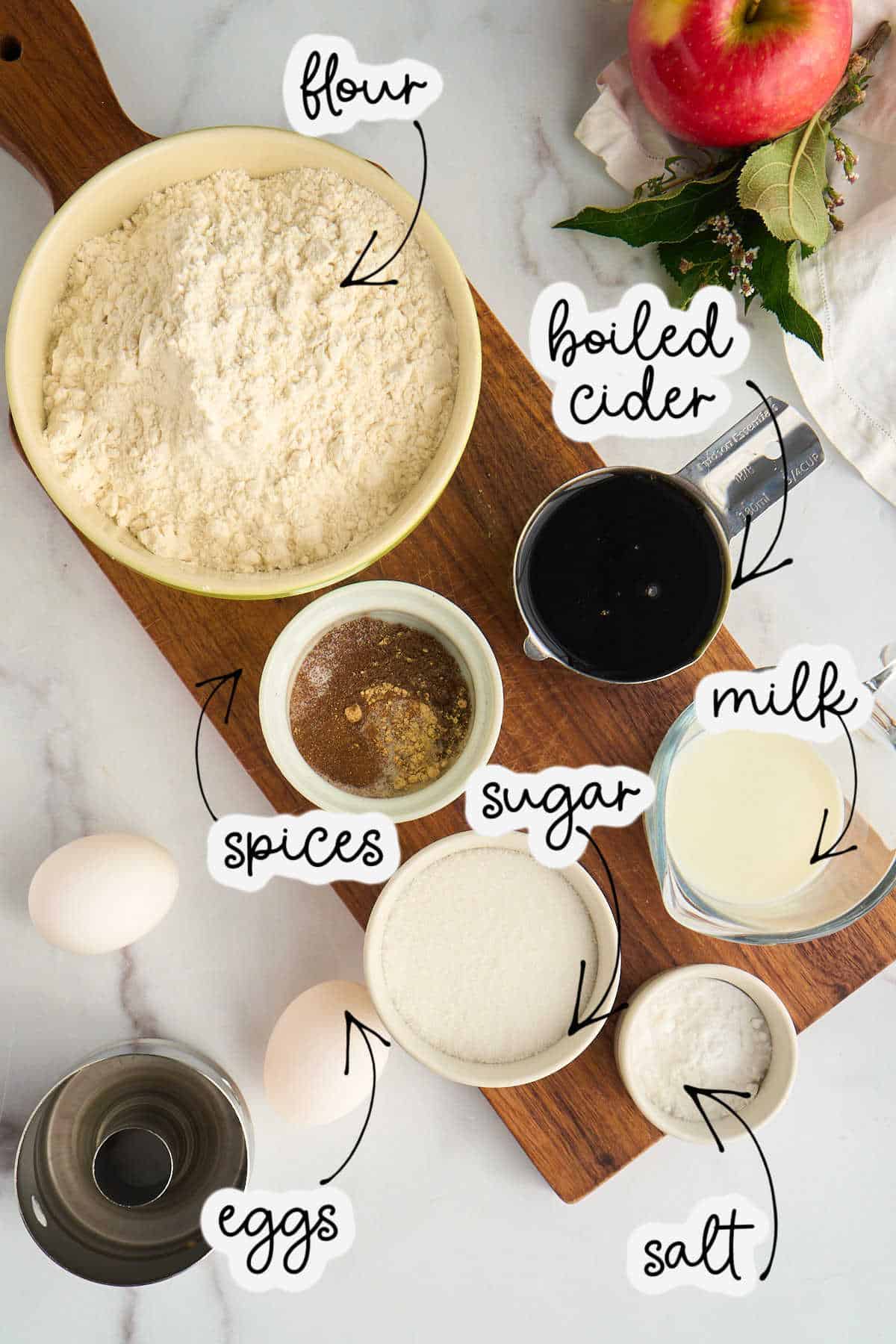 eggs:
boiled cider: Boiled cider is just reduced apple cider. It's cooked down until it's a thick syrup. You can make it at home, or just order some. It will make multiple batches of this recipe.
milk: any kind is fine
sugar
flour: all-purpose works great
baking soda: for a light and fluffy texture
baking powder: no yeast in these!
salt
cinnamon
cloves
teaspoon ginger
teaspoon allspice
Oil for frying: (I use peanut oil, but soybean or canola are fine too.)
You'll also need a doughnut cutter (or you can use 2 round cutters), and a deep skillet or Dutch oven for frying
The doughnut process
In the bowl of a stand mixer (or if you're using a hand mixer like I did), add your eggs and milk. Mix on low while you add sugar and the boiled apple cider.
Next, dump in the dry ingredients and keep mixing. You'll have a soft, sticky dough.
Leave the dough on the counter while you move on to the rest of the recipe. It will be easier to cut and more manageable if it has some time to rest.
Before you start rolling and cutting, let's make sure everything is ready to go for frying. The donuts cook very fast, so you don't want to be fumbling around while they are in the hot oil.
Prepare the cinnamon-sugar mixture, line a baking sheet with paper towels, and have your tongs at the ready.
Next, move on to rolling out the dough. Make sure you prepare a very well-floured surface and flour your rolling pin too.
Roll your dough out until it's about ½ inch thick.
Make sure you use a sharp cutter for the doughnuts, as that sharp edge will have a clean cut that will rise easier and puff up when it hits the hot oil. A dull cutter will seal down the edges and make it more difficult for everything to rise.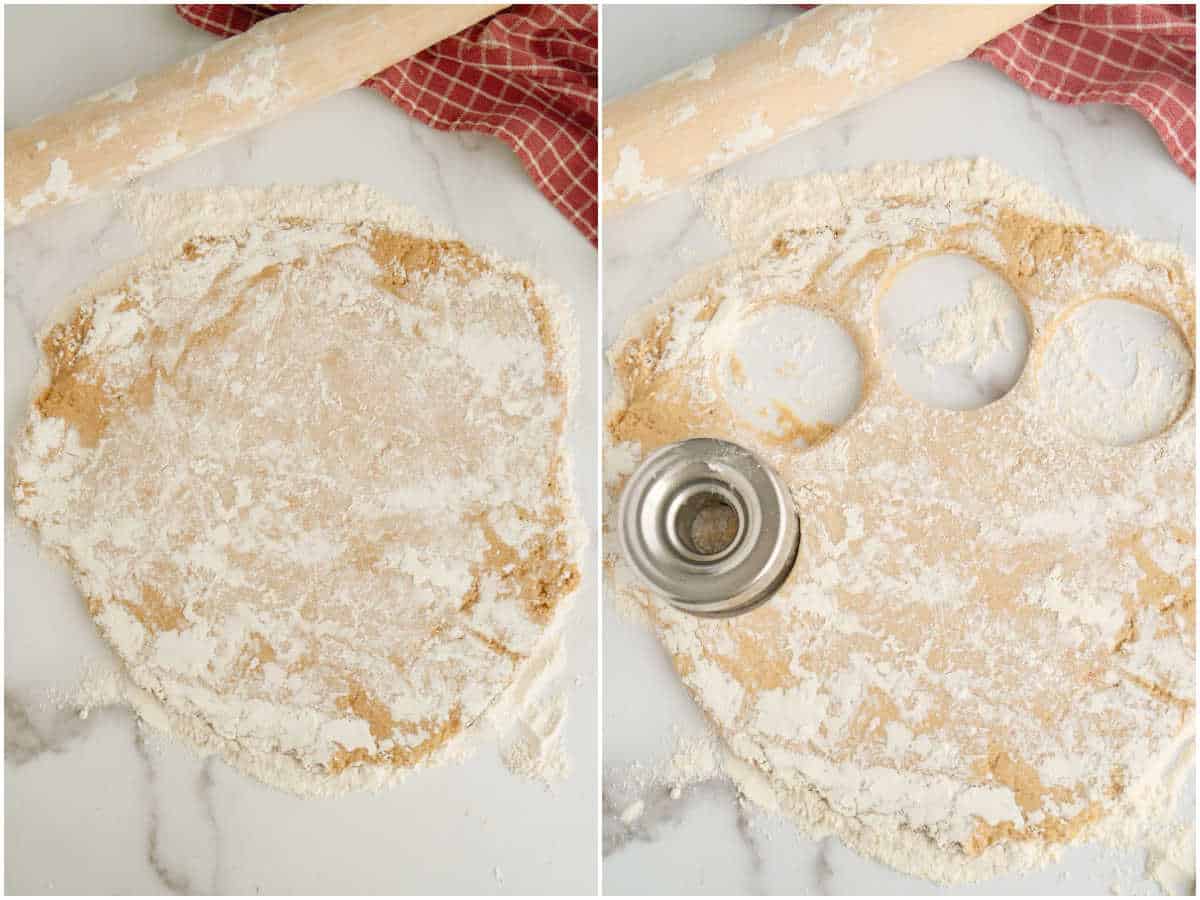 When it's time to heat the oil, check the oil temperature with a candy thermometer or instant-read thermometer.
Serving
You can serve these warm, or let them cool completely. Warm donuts are delicious, but not necessary!
To make ahead
You can prepare the dough let it rest in the fridge, covered, overnight. This will save you time in the morning in terms of clean-up, but you'll need to let the dough come to room temperature before you roll it out.
If you'd prefer, you can cut out the doughnuts and place them on well-floured parchment paper-lined baking sheets. This works very well and keeps your work in the morning to a minimum. The downside is that you'll have to make a lot of room in your fridge.
Apple cider doughnuts are a delicious fall treat.
More deep fried recipes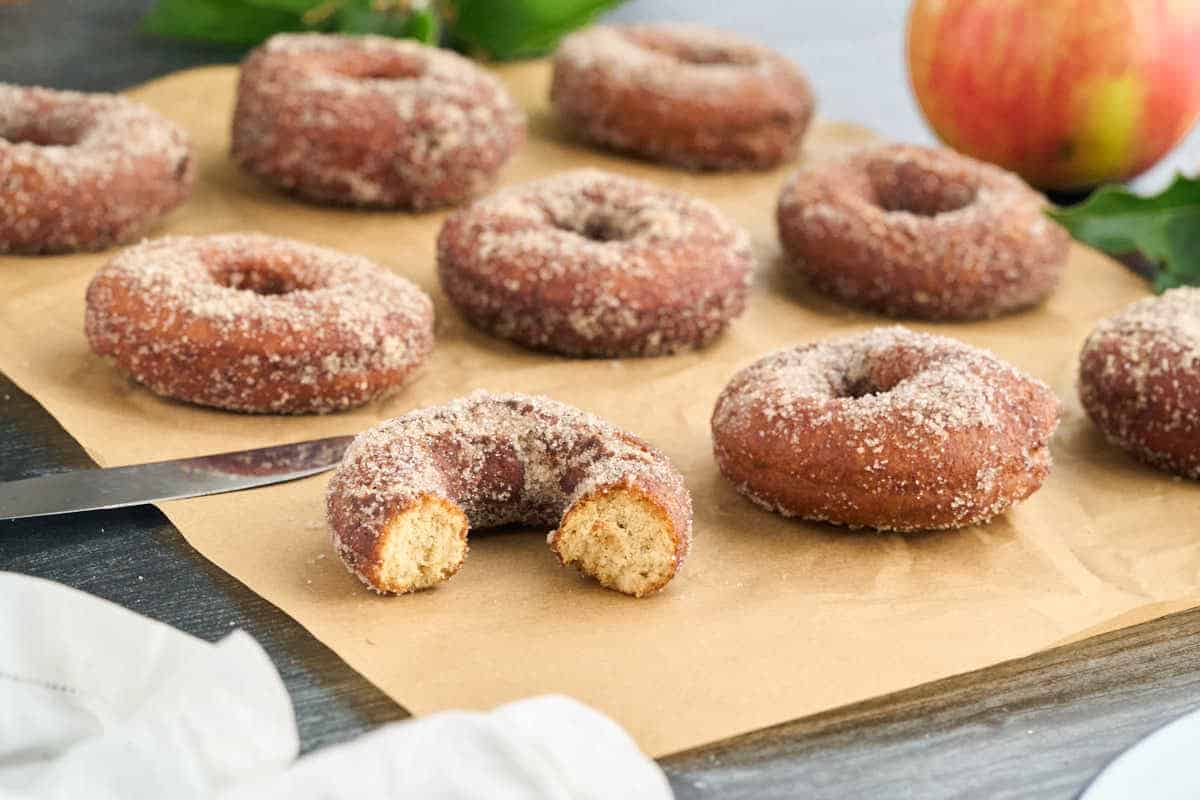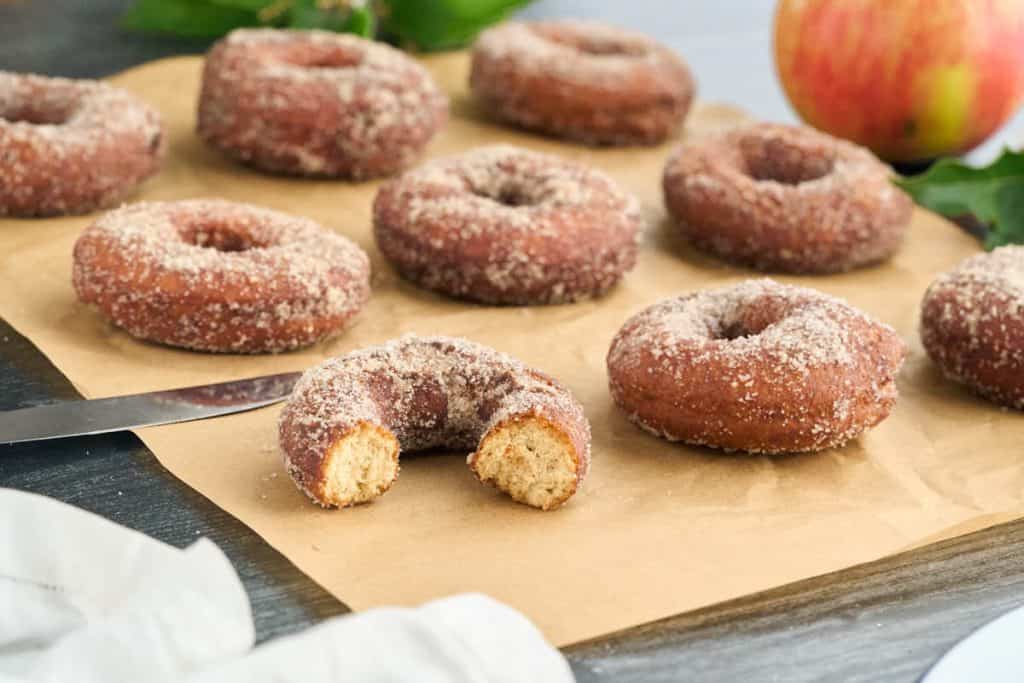 Recipe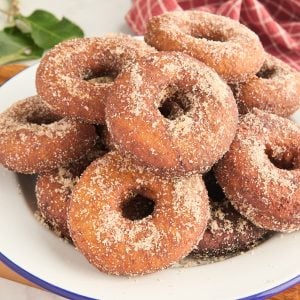 Homemade Fried Apple Cider Doughnuts
Print Recipe
Just like the apple orchard: deep-fried cake doughnuts with fall spices.
Click here for a FREE autumn cookbook (25+ Recipes!)
Ingredients
Oil for frying

peanut or soybean are both good choices
Dough
2

eggs

½

cup

boiled cider

¼

cup

milk

½

cup

sugar

3 ¼

cups

flour

2

teaspoons

baking soda

1

teaspoon

baking powder

¾

teaspoon

salt

1/4

teaspoon

cinnamon

¼

teaspoon

cloves

¼

teaspoon

ginger

¼

teaspoon

allspice
Cinnamon Sugar:
3/4

cup

white sugar

1

teaspoon

cinnamon
Instructions
Make the dough. Combine the sugar plus the wet ingredients (eggs, milk, boiled cider) in a large mixing bowl using a hand mixer on low. Add the dry ingredients (flour, baking powder, baking soda, salt, cloves, ginger, allspice, and cinnamon.). Mix on low until a soft dough forms. Let it rest on the counter while you heat the oil.

Prep for frying. In a Dutch oven or heavy skillet such as cast iron, pour frying oil until it is two inches deep. Line a rimmed baking sheet with paper towels for placing hot doughnuts. Mix the cinnamon and sugar for the topping in a large bowl and set aside.

Roll out and cut. Turn the dough out onto a heavily floured surface and roll it out with a floured rolling pin until 1/2 inch thick. Using a doughnut cutter or two round biscuit cutters, cut out the doughnuts. To avoid waste, cut close together. You can gather the scraps and re-roll them once.

Heat the oil and fry. Heat the oil over medium until it reaches 340 degrees. Fry the doughnuts for two minutes per side. Fry the doughnut holes for one minute per side. Remove and let them drain briefly on paper towels, then toss in cinnamon sugar while they are still warm. Serve immediately.
Notes
Boiled cider is simply a cider concentrate. You can order it here, or make your own from regular cider by following these instructions.
Prefer a glaze instead of sugar coating? Mix 1 tablespoon boiled apple cider, 1 cup powdered sugar, and a dash of milk.
Nutrition
Calories:
232
kcal
|
Carbohydrates:
50
g
|
Protein:
5
g
|
Fat:
1
g
|
Saturated Fat:
1
g
|
Cholesterol:
28
mg
|
Sodium:
162
mg
|
Potassium:
66
mg
|
Fiber:
1
g
|
Sugar:
24
g
|
Vitamin A:
56
IU
|
Calcium:
22
mg
|
Iron:
2
mg
Did you make this recipe?
If you loved it, please leave a review!