Classic fried yeast doughnuts with fall spices and apple cider flavor.
This is a recipe for real apple cider doughnuts. They are a yeast dough with plenty of apple and spice flavor, deep fried until golden, and tossed in cinnamon sugar.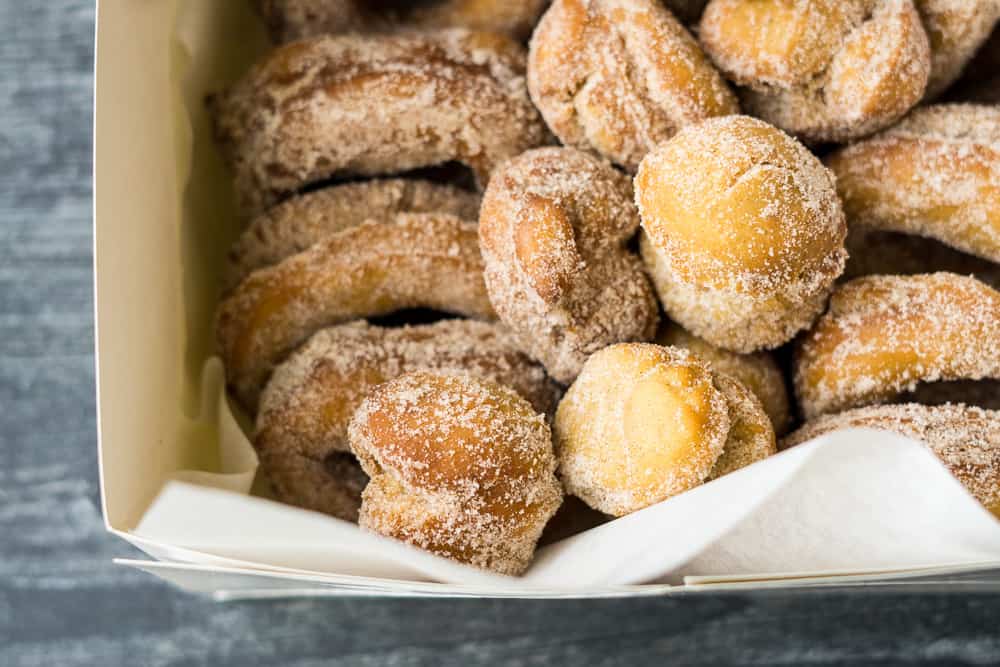 This post contains affiliate links, meaning that if you make a purchase after clicking on a link I may earn a small commission at no additional cost to you. As an Amazon associate, I earn from qualifying purchases.
Every fall, I hear people talking about apple cider doughnuts, but I had never been able to actually get one at a doughnut shop. I became totally obsessed with getting to eat one, and stalked our local shops try to find some. Some advertised them but by the time I got there, they were sold out.
So I started looking for recipes, and found that there were hardly any out there! Plenty of baked ones, but I was looking for a real doughnut. Last fall, I got this recipe close to how I wanted it, and just recently got it exactly how I imaged it should be.
And finally I was able to get an apple cider doughnut at one of our local stores, just a few weeks ago. It was good! But these are better.
How to get light and fluffy doughnuts
Doughnut making is similar to bread making. (Read this if you aren't familiar with the basic technique of yeast breads.) You knead dough, let it rise, shape it, let it rise again, and then deep fry. There are two keys to keeping them light: don't rush the rising process, and don't handle the dough too much.
One thing to keep in mind is that any time you add fats or sugars to a dough with yeast, the rising time will slow down. This recipe is heavy on both, so rising times may be slower than what you are used to. Always judge by the appearance of the dough, not by the times given in the recipe. If you think it needs more rising time, be patient, and give it the time it needs.
Make sure you use a sharp cutter for the doughnuts, as that sharp edge will have a clean cut that will rise easier and puff up when it hits the hot oil. A dull cutter will seal down the edges and make it more difficult for everything to rise.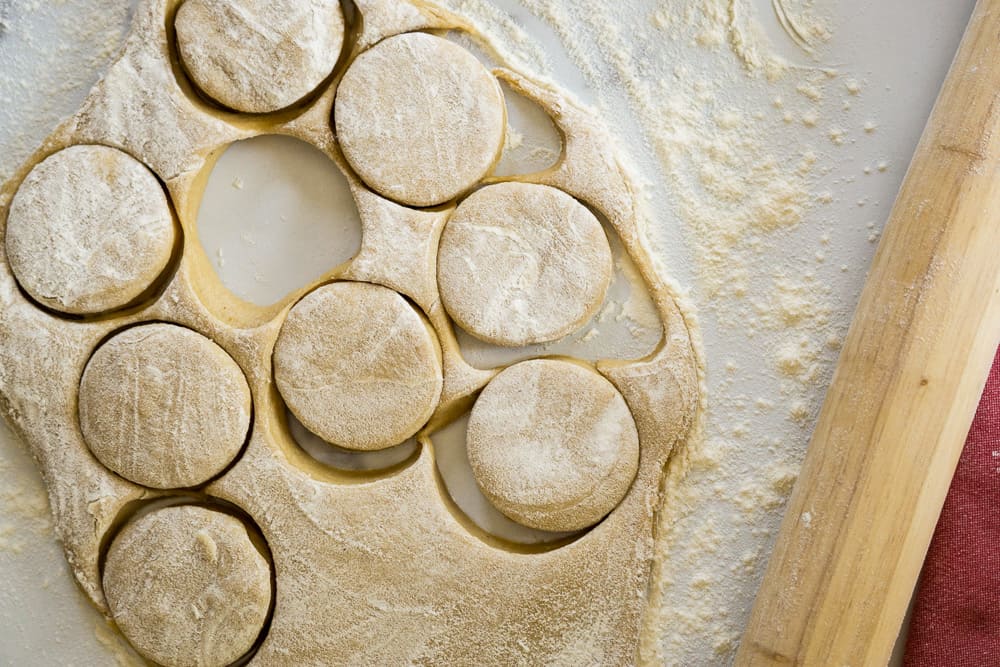 Step by step apple cider doughnut making
This recipe uses boiled cider for its concentrated flavor. If you want to use fresh cider, you can boil it on the stovetop until reduced by half. Or you can do 1/2 cup regular cider and a 1/4 cup of milk. The dough will be less tender, but as long as you have 3/4 cup of liquid, the proportions will still work.
Start with room temperature ingredients and knead the dough either with a bread machine or stand mixer with a dough hook. It is way too sticky to knead by hand!
The dough should clear the sides of the bowl and form a ball but may still stick occasionally, especially to the bottom. That's okay.
Once the dough has been kneaded and had time to rise, you need to roll it to be half an inch thick. Then you cut it out using a special doughnut cutter, or two round cutters. I used 2 1/4 inch for the larger circle, then 1 1/4 inch for the smaller.
Place the cutouts on parchment or wax paper so they are easy to get off. If they stick to the surface you place them on, you'll deflate them when you pick them up!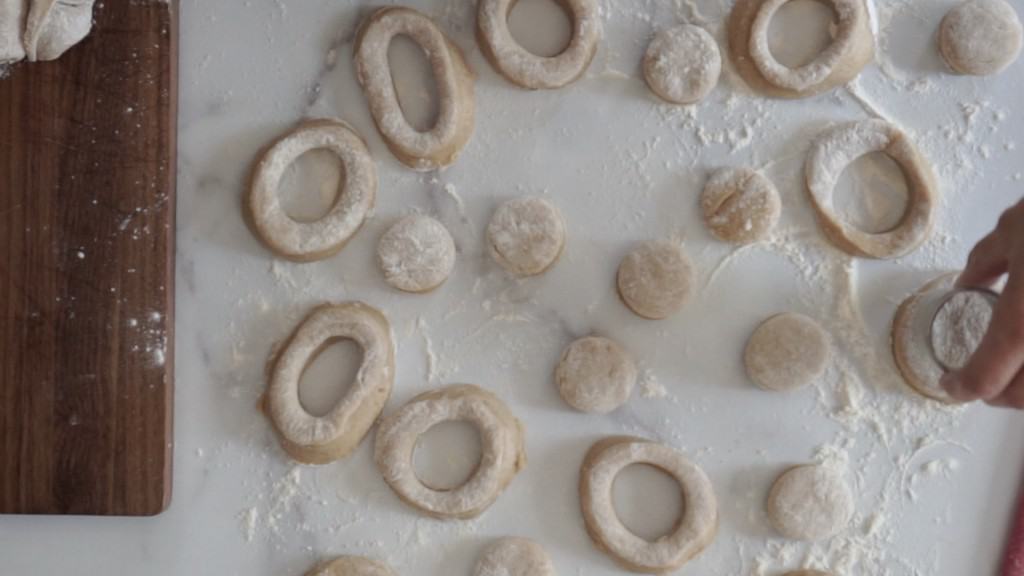 Cover them to rise with greased plastic wrap so it won't stick when you remove it. Give the doughnuts plenty of time for their second rise. They should look puffy before you move on to the frying stage.
If you have a deep fryer, the frying part is easy. If you don't, use a Dutch oven or heavy pot and fill it with at least 3 inches of oil. They will need to swim around and float.
There is a range of temperatures that will work for frying doughnuts. Anywhere from 325 to 375 is fine. Lower temperatures will take at least 2 minutes per side, and higher temperatures about 1 minute per side. Fry them in batches so there is plenty of room between them.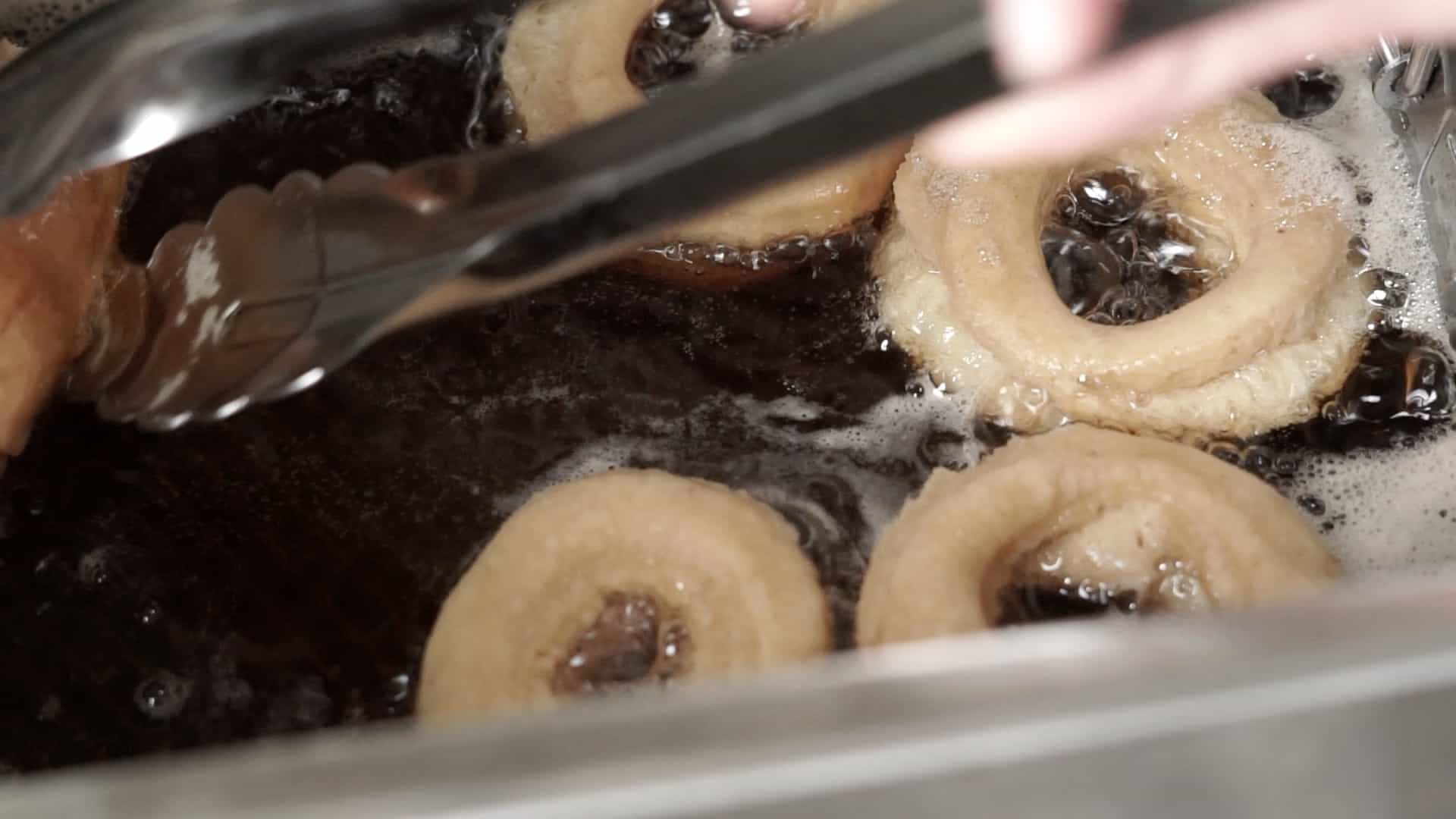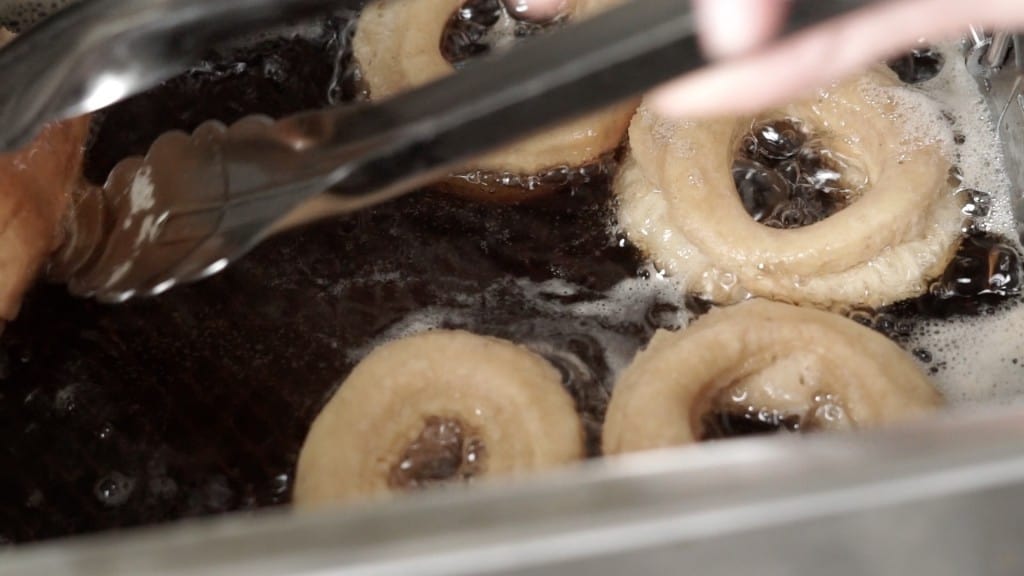 After they have been fried, drain them and toss them in the cinnamon sugar while still warm.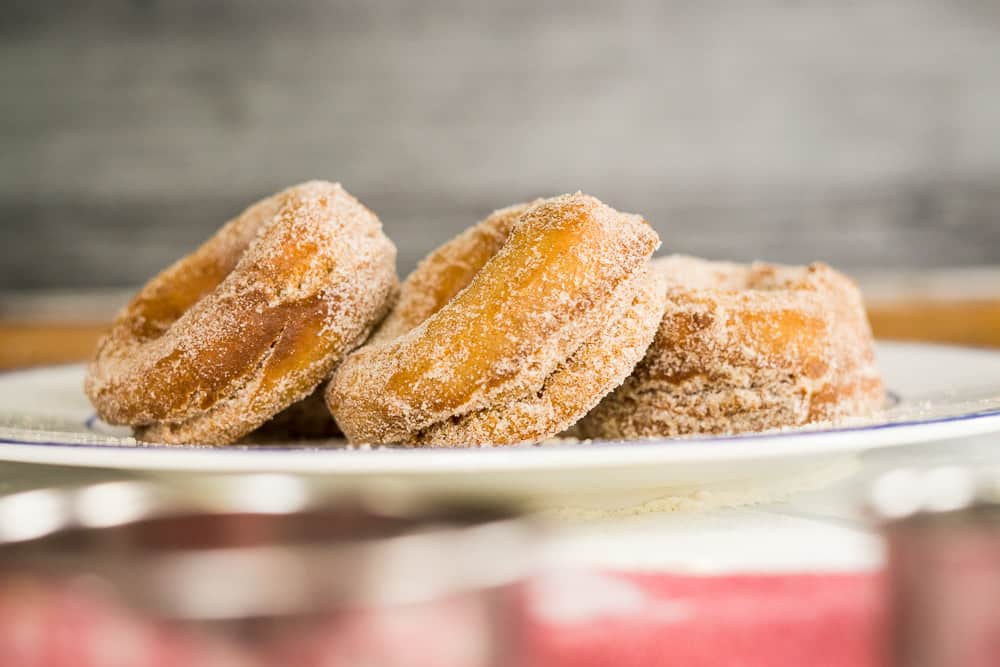 Helpful tools:
Boiled Cider, keeps for a year in the fridge and works for a lot of fall baking
More sweet breakfast breads you may like:
Here's the recipe and the video: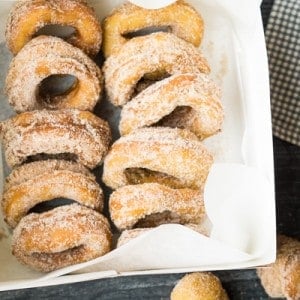 Old Fashioned Apple Cider Doughnut Recipe
Print Recipe
Classic fried yeast doughnuts with fall spices and apple cider flavor.
Click here to grab a free mini-cookbook with my best seasonal recipes
Ingredients
Dough
2

eggs

4

tablespoons

boiled cider

1/2

cup

milk

1/2

cup

sugar

2

tablespoons

yeast

3 1/4

cups

flour

3/4

teaspoon

salt

1/4

teaspoon

cloves

1/4

teaspoon

ginger

1/2

teaspoon

allspice
Cinnamon Sugar:
3/4

cup

white sugar

1

teaspoon

cinnamon
Instructions
Combine all dough ingredients in stand mixer or bread machine on the dough cycle. If dough is too wet to form ball, add more flour a bit at a time. Knead until smooth or atllow bread machine to complete its cycle.

(Skip this step if using bread machine, it will do this for you.) Turn dough out into oiled bowl and cover. Allow to rise in a warm place one hour or until doubled in bulk.

Stretch dough into approximately 10 x 12 rectangle. Cover and allow to rest 10 minutes. Flour work surface and rolling pin. Roll dough out into rectangle about 1/2 inch thick.

Using doughnut cutter or two round biscuit cutters, cut into doughnut shape. Cut as close together as possible to avoid wasting dough. Place on parchment paper squares, cover, at let rise at least 60 minutes, until very puffy.

Heat 3-4 inches of oil to 330-340 degrees and fry 2 minutes per side. Drain and coat in cinnamon sugar. Serve immediately.
Notes
Can also be topped with glaze of 1 tablespoon boiled apple cider, 1 cup powdered sugar, and dash of milk Best eaten the day they are made
Nutrition
Calories:
232
kcal
|
Carbohydrates:
50
g
|
Protein:
5
g
|
Fat:
1
g
|
Saturated Fat:
1
g
|
Cholesterol:
28
mg
|
Sodium:
162
mg
|
Potassium:
66
mg
|
Fiber:
1
g
|
Sugar:
24
g
|
Vitamin A:
56
IU
|
Calcium:
22
mg
|
Iron:
2
mg