If your skin is feeling dry or just needs a little extra love and care, you'll love this homemade olive oil sugar scrub.
A simple yet effective DIY, it combines the hydrating properties of olive oil with the exfoliating power of sugar, promising a spa-like experience right at home.
Ready with just a couple of ingredients and literal seconds of prep time. If you want something simple before diving into homemade soaps or lotions, start here.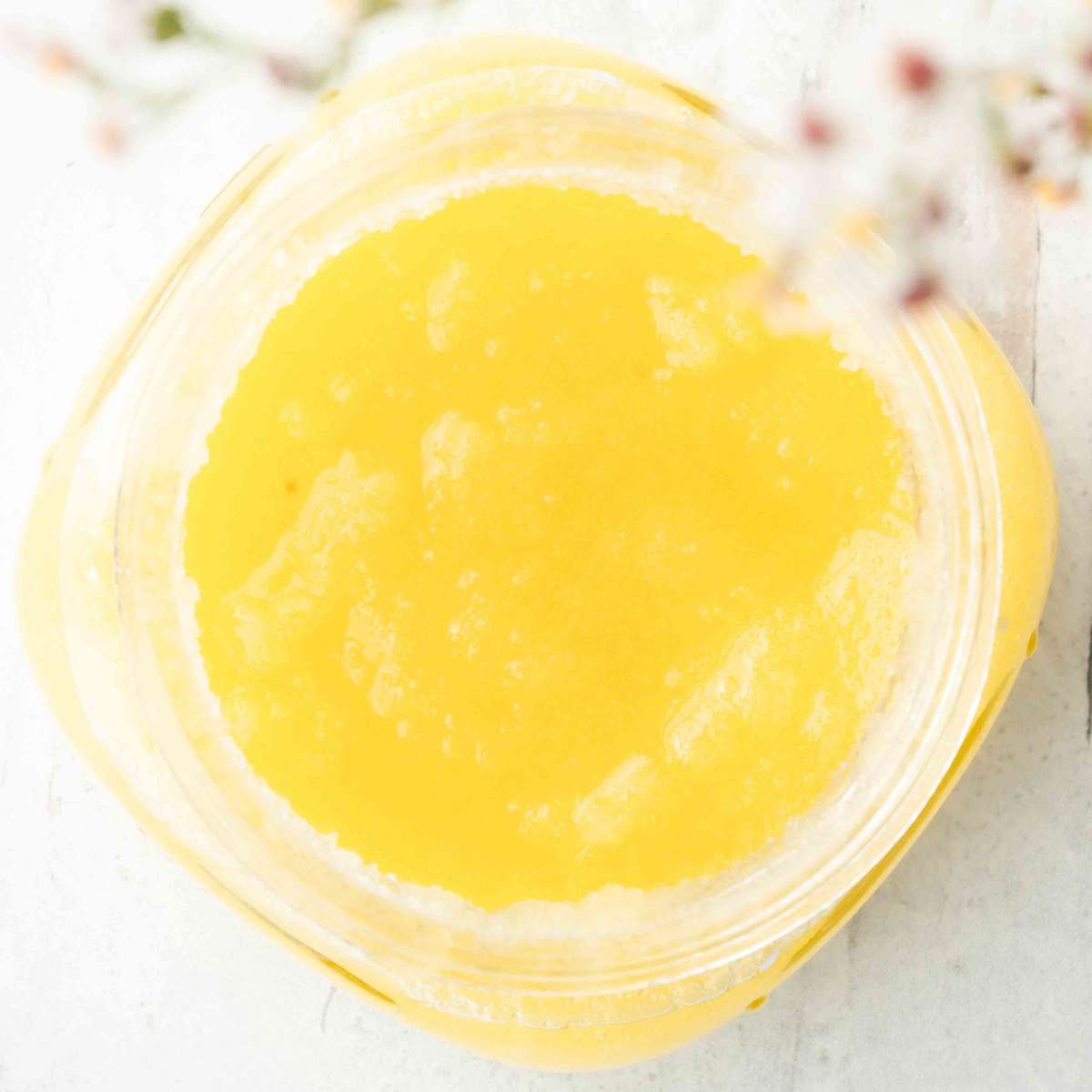 Want a free fall cookbook? Click here to grab a cookbook with 25+ of my best autumn recipes
Ingredients
½

cup

white sugar

¼

cup

olive oil

5

drops

essential oil
Instructions
Mix. Mix oil and sugar. You can combine them directly in the jar you'll be storing them in. Be sure to combine thoroughly so there are no dry spots of sugar.

Add essential oil. Drop oils directly into the container and stir again.

Cover and store. Place lid on jar. Will keep well at room temperature for up to 6 months.
Notes
Any skin safe oil that stays liquid at room temperature can be substituted for the avocado oil. Good alternatives are castor or almond.
If your house is very cool, the coconut oil may harden up. It will melt again in the heat of the shower.
Did you make this?
Let me know how it was! Please see below for serving ideas, storage instructions, and substitutions.
A few notes about what you'll need:
White Sugar: The granules help in exfoliating dead skin cells, leaving behind a smooth and refreshed surface.
Olive Oil: Rich in antioxidants and vitamins, it deeply moisturizes the skin, making it soft and supple.
Essential Oil: Not just for the pleasant aroma, but essential oils can have therapeutic properties depending on the type you choose.
Airtight Jar: Perfect for storing and ensuring the longevity of your scrub.
Wooden Spoon: For thoroughly mixing the ingredients without causing any chemical reactions.
Glass Mixing Bowl: Ensures that there's no reaction with the ingredients.
Measuring Cups: For accurate ingredient portions.
Dropper: Ideal for adding just the right amount of essential oil.
Tips for homemade sugar scrub
Choose Your Oil Wisely: The recipe calls for olive oil, but you're not restricted to just that. Almond oil can offer a subtle nutty scent and is excellent for sensitive skin. Castor oil, on the other hand, has anti-inflammatory properties that can soothe irritated skin.
Consistency Matters: The key to a perfect scrub is getting the consistency right. You want it grainy enough to exfoliate but not so thick that it feels abrasive. If you find the mixture too dry, add a bit more oil, and if it's too wet, sprinkle in some more sugar.
Adjust Essential Oil Drops: Depending on the strength and type of essential oil you're using, you might want to adjust the number of drops. For a milder scent, lessen the drops, and for a stronger aroma, add a few more.
Storage is Essential: Keeping the scrub in an airtight container will prolong its shelf life. Also, ensure it's stored in a cool, dry place. If using in the shower, try to keep water out of the jar to prevent contamination.
The next time your skin seeks a gentle touch of luxury, remember that a refreshing, spa-like experience is just a few affordable ingredients away.