An easy and delicious appetizer that you'll love to make and your guests will love to eat.
This recipe is the perfect blend of creamy, flavorful pimento cheese and soft bread, creating a delicious appetizer that will leave everyone craving more.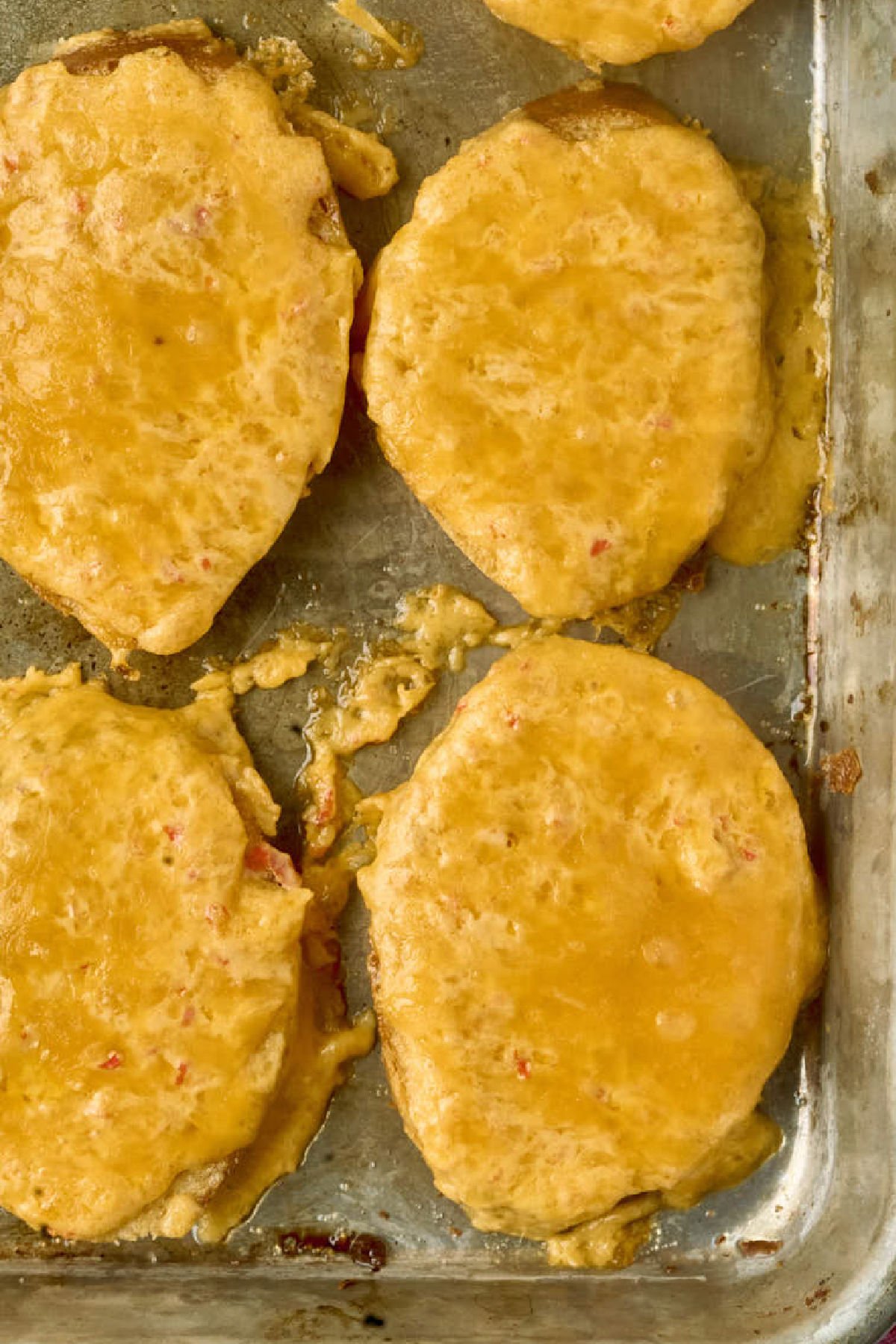 ❤️ Why you'll love this recipe
Easy to prepare: With just a few simple ingredients and steps, this Pimento Cheese Toasts recipe is quick and easy to make, making it perfect for a last-minute appetizer or a fuss-free snack.
Crowd-pleaser: The combination of creamy, tangy pimento cheese and crispy, golden-brown baguette slices creates a delightful contrast in textures and flavors that will appeal to a wide range of palates, making it a hit at any gathering.
Versatile: These Pimento Cheese Toasts can be served as a standalone appetizer, paired with a soup or salad for a light meal.
🧂 Ingredients
This is an overview of the ingredients. You'll find the full measurements and instructions in the printable recipe at the bottom of the page.
You'll need the following for this simple party recipe: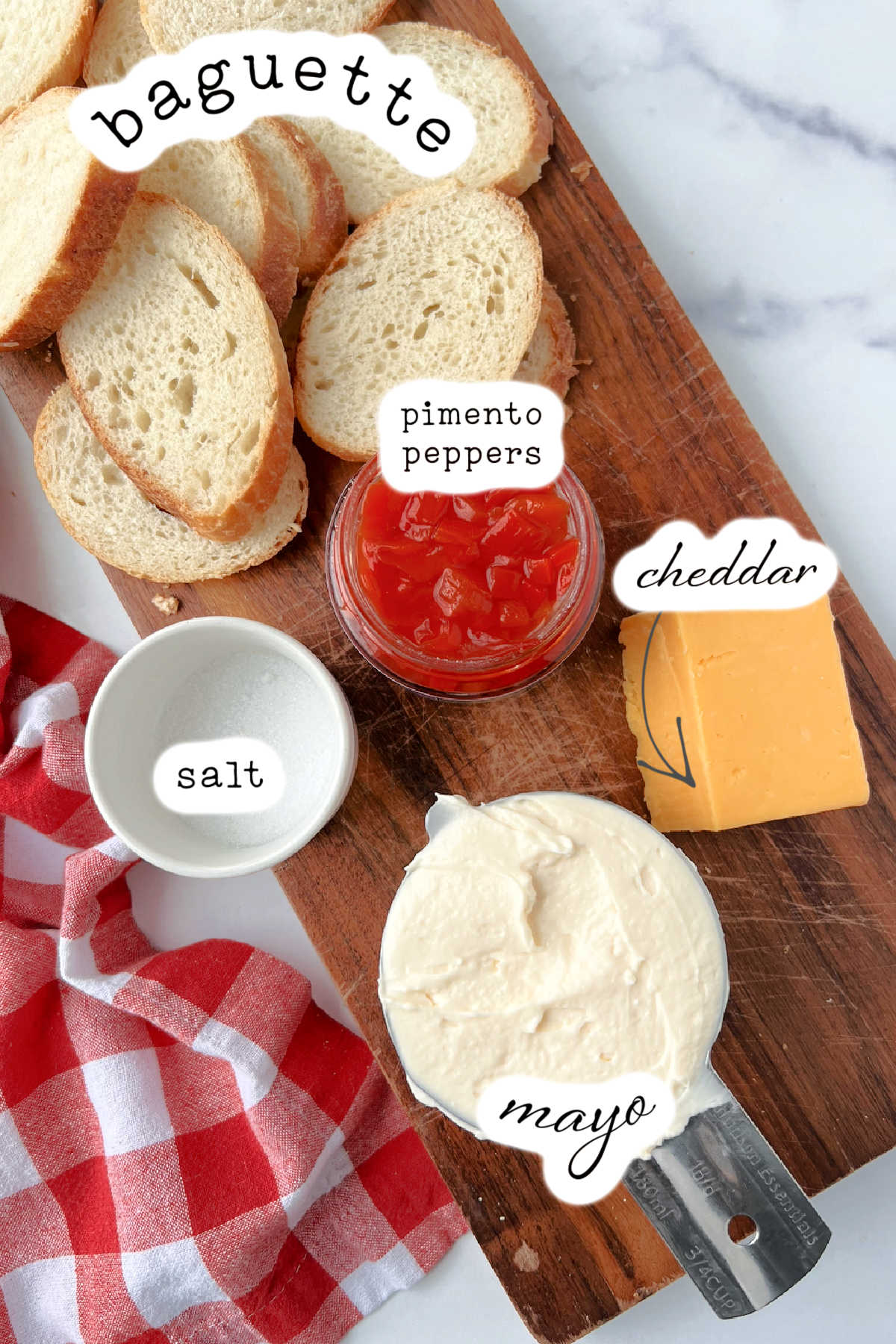 🥣 Equipment
🍴Instructions
Step One: mix
Shred the cheddar cheese: If using a food processor, attach the shredding blade and shred 4 cups of cheddar cheese. Alternatively, you can use a box grater to coarsely grate the cheese.
Chop the pimento peppers: Finely chop them after rinsing and patting the red pimento peppers dry. You can use a knife or add them to the food processor and pulse until finely chopped.
Combine ingredients: In a large bowl, mix the shredded cheddar cheese, chopped pimento peppers, 3/4 cup mayonnaise, and 1/4 teaspoon salt until well combined. Don't overmix, as this may cause the mixture to become too smooth.
Step Two: spread
Slice the baguette: With a serrated knife, cut the baguette crosswise into 1/2-inch thick slices. This will create enough surface area for the cheese mixture to spread evenly.
Spread the cheese mixture: Using a butter knife or a small spatula, spread a generous amount of the pimento cheese mixture on each baguette slice.
Step three: add cheese and bake!
Sprinkle the additional 1 cup of shredded cheddar cheese on top of the pimento cheese mixture on each slice, ensuring even coverage.
Arrange the toasts on a baking sheet, ensuring they are evenly spaced to allow for even browning.
Place the baking sheet in the preheated broiler on the middle or lower rack (depending on your oven).
Broil the toasts on low heat for about 2-3 minutes or until the cheese is melted, bubbly, and slightly browned. Keep an eye on the toasts during broiling to avoid burning.
Remove the baking sheet from the broiler and let the toasts cool for a minute or two before serving.
🥫 Storage instructions
This recipe is best enjoyed warm, right out of the oven. If they cool down and the cheese hardens, you can reheat them briefly under the broiler or in a toaster oven for a minute or two to re-melt the cheese.
🔍 FAQs
Can I use a different type of cheese instead of cheddar?
Yes, you can substitute cheddar with another type of cheese, such as Monterey Jack, Colby, or Gouda. Just make sure to choose a cheese that melts well and has a flavor that complements the pimento peppers.
Are pimento peppers spicy?
Pimento peppers are mild, with a slight sweetness and a subtle, tangy flavor. They are not spicy like jalapenos or other hot peppers. If you prefer a spicier kick, you can add a small amount of finely chopped jalapeno or another spicy pepper to the cheese mixture.
Can I use store-bought pimento cheese for this recipe?
While homemade pimento cheese is ideal for this recipe, you can use store-bought pimento cheese as a shortcut. Just be aware that the flavor and texture may vary compared to homemade. If desired, you can customize the store-bought cheese by adding more grated cheddar, salt, or finely chopped pimento peppers to taste.
👩🏻‍🍳 Expert tips
Choose the right cheese: Use a good-quality, flavorful cheddar cheese for this recipe, as it's the main ingredient. You can use sharp or mild cheddar, depending on your preference. Remember that different cheeses melt differently, so if you choose to use another type of cheese, ensure it has good melting properties.
Adjust the heat level: If you like a little heat in your pimento cheese toasts, consider adding a small amount of finely chopped jalapeno or another spicy pepper to the cheese mixture. Alternatively, you can add a pinch of cayenne pepper or a few drops of hot sauce for an extra kick.
Consistency matters: When mixing the ingredients, be careful not to overmix the cheese mixture, as it may become too smooth and lose its desired texture. You want the pimento cheese to be spreadable but still maintain some texture from the grated cheese and chopped pimentos.
Watch the broiling closely: Since broilers can vary in intensity and every oven is slightly different, keep a close eye on the toasts while they're under the broiler. The cheese should be melted, bubbly, and slightly browned, but not burned. Adjust the broiling time as needed to achieve the desired results.
📘 Related Recipes
📖 Here's the recipe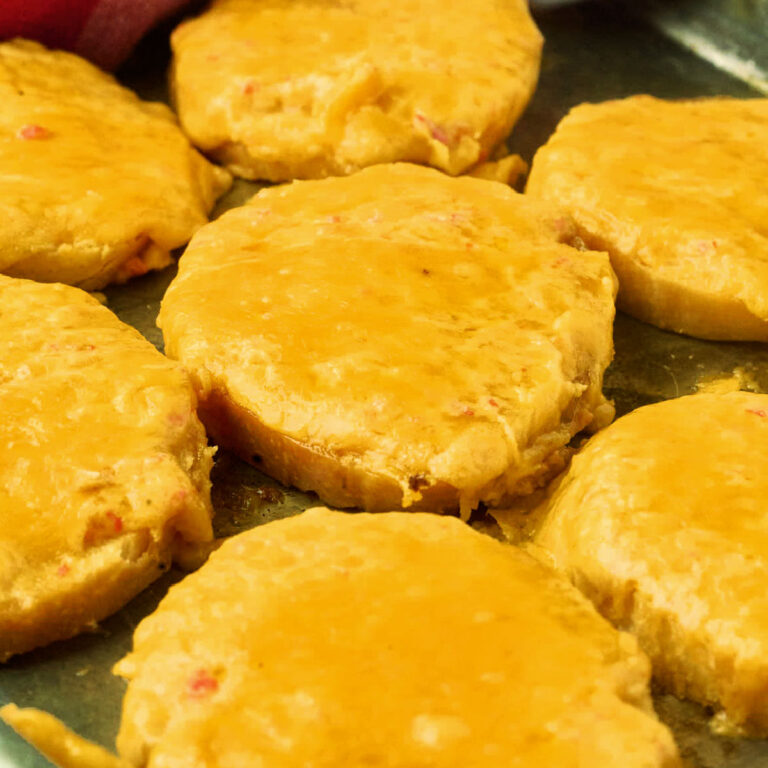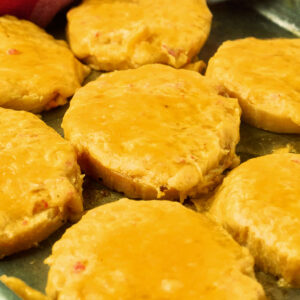 Pimento Cheese Toasts
Print Recipe
An easy and delicious appetizer that you'll love to make and your guests will love to eat.
Click here for a FREE autumn cookbook (25+ Recipes!)
Ingredients
4

cups

cheddar

coarsely grated

¾

cup

mayonnaise

¼

cup

finely diced red pimento peppers

rinse and pat dry first

½

teaspoon

salt
Instructions
Preheat broiler with the rack about 6 inches away.

Stir together all ingredients. You can use a food process first to shred the cheddar, then chop the pimentos, then mix everything. Be sure not to overmix; there should still be some texture to the spread.

Slice baguette crosswise 1/2 inch thick and spread with cheese mixture. Sprinkle with the additional cheese. Broil on low untl heat until cheese is browned, about 2-3 minutes.
Nutrition
Calories:
205
kcal
|
Carbohydrates:
7
g
|
Protein:
8
g
|
Fat:
16
g
|
Saturated Fat:
6
g
|
Polyunsaturated Fat:
4
g
|
Monounsaturated Fat:
4
g
|
Trans Fat:
0.02
g
|
Cholesterol:
32
mg
|
Sodium:
373
mg
|
Potassium:
39
mg
|
Fiber:
0.3
g
|
Sugar:
1
g
|
Vitamin A:
289
IU
|
Calcium:
214
mg
|
Iron:
0.5
mg
Did you make this recipe?
If you loved it, please leave a review!