Made with just three ingredients, this zesty, icy concoction is a breeze to prepare and a joy to serve.
Perfect for those hot summer days. Cold, refreshing, and sweet-tart, this cocktail is the ultimate adults-only treat.
❤️ Why you'll love this recipe
Refreshing Taste: This slushy perfectly combines the sweet and tangy taste of pink lemonade with the smooth kick of vodka, making it perfect for those sweltering summer days.
Effortless Preparation: This recipe is incredibly simple to make with only three ingredients and minimal steps. It's perfect for those who want a frozen treat with no blender and no fuss.
Perfect for Gatherings: This vodka slushy is a surefire crowd-pleaser whether a backyard barbecue or a summer garden party. It adds a fun touch to any event.
🧂 Ingredients
This is an overview of the ingredients. You'll find the full measurements and instructions in the printable recipe at the bottom of the page.
You'll need the following
Pink lemonade powdered mix
Water
Vodka
🍴Instructions
Step One: mix
Gather your ingredients: the pink lemonade powdered mix, water, and vodka. Open up a large zip-top bag (either 1-gallon or 2-gallon size would work). Pour all three ingredients into the bag. Make sure to seal the bag tightly after you've added everything.
After sealing, gently shake the bag. The goal is to dissolve the pink lemonade powder into the liquid, creating a uniform mixture. Shake the bag until you no longer see any undissolved powder.
Step Two: freeze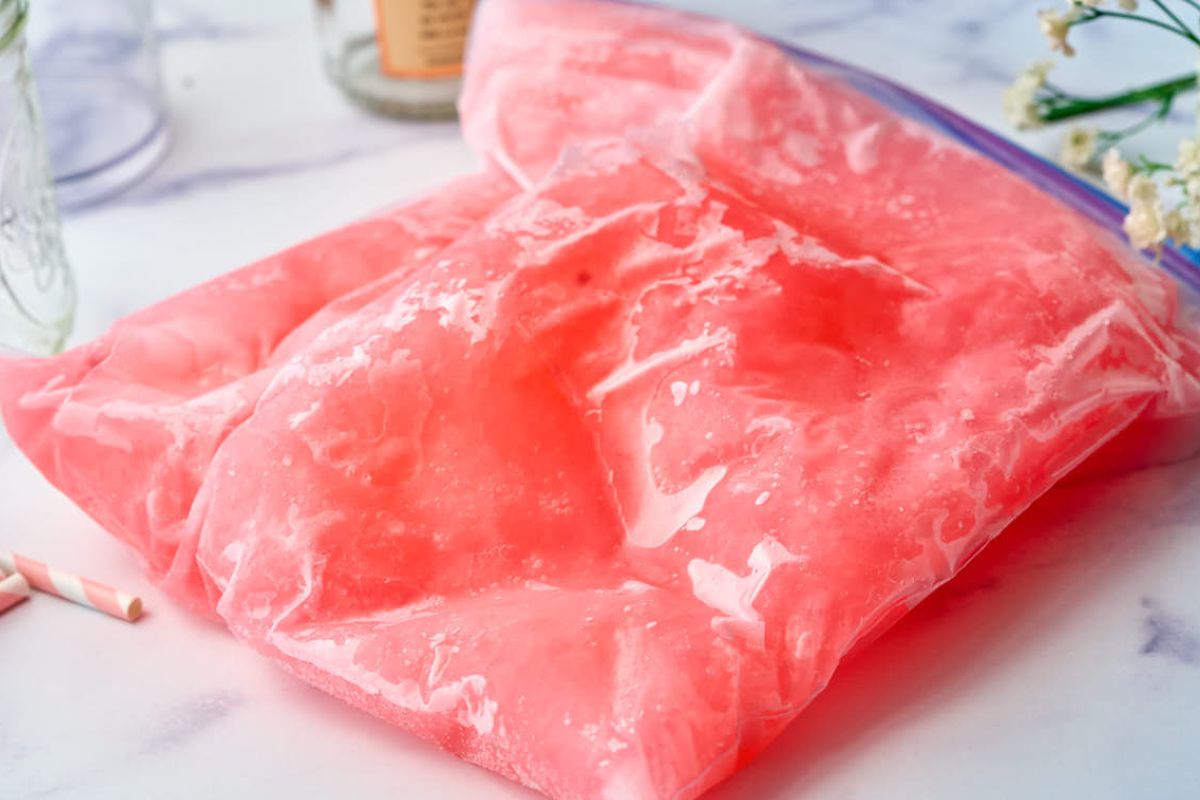 Place the sealed bag into your freezer. Leave it there for about 4 to 8 hours. The length of time you leave it in the freezer depends on how slushy you want your drink to be. The vodka in the mix will prevent the liquid from completely freezing, giving it that perfect slushy texture.
step three: serve
Once the mixture is at your desired slushy consistency, remove it from the freezer. Be ready with your serving glasses. Open the zip-top bag carefully and portion the slushy into the glasses. You can serve it immediately right out of the freezer, or let it sit for a few minutes to make it more drinkable.
🥫 Storage instructions
If you've made a larger batch of this slushy and want to store it later, simply leave the remaining mixture in the sealed zip-top bag and keep it in the freezer. Due to the alcohol content, it won't freeze solid and will maintain its slushy consistency.
🔍 FAQs
Can I use a different type of alcohol instead of vodka?
I use vodka because its flavor is neutral and doesn't compete with the taste of the pink lemonade. That said, you could use a different spirit if you prefer. Just keep in mind it may alter the flavor. A light rum or tequila could work well.
What's the best way to serve this slushy?
In a mason jar with a long iced-tea spoon!
I don't drink alcohol, can I make this recipe non-alcoholic?
Without the alcohol, the mixture might freeze solid. To maintain the slushy texture, try adding a bit more sugar, or stirring the mixture every hour or so while it's freezing.
👩🏻‍🍳 Expert tips
Mixing the Ingredients: It's important to ensure that the pink lemonade powder fully dissolves in the water and vodka mixture. Make sure to shake the bag well until you can no longer see any powder. This helps to create a uniform taste throughout the slushy.
Checking the Slushy Consistency: Depending on your freezer's temperature and how slushy you want your drink, the freezing time may vary. Start checking the slushy's consistency after about 4 hours. If it's not slushy enough, you can put it back in the freezer and check again every hour or so.
Serving Tips: Remember that this slushy will melt quickly, especially in the heat of summer. Have your glasses ready and serve it immediately once it's at your preferred consistency.
Experiment with Flavors: Feel free to experiment with different flavors by using flavored vodka
📘 more fun summer drinks!
🍽 Serve it with
📖 Here's the recipe
Pink Lemonade Vodka Slushy
Print Recipe
Made with just three ingredients, this zesty, icy concoction is a breeze to prepare and a joy to serve.
Click here for a FREE autumn cookbook (25+ Recipes!)
Ingredients
½

cup

pink lemonade powdered mix

such as Countrytime

5

cups

water

2

cups

vodka
Instructions
Mix all ingredients. Pour the water, vodka, and pink lemonade mix into a large zip-top bag (1 gallon or 2 gallon size.). Close it tightly and shake well until the lemonade powder dissolves.

Freeze until slushy. Plae bag into the freezer and freeze for 4-8 hours, until slushy. The vodka will keep. it from freezing solid, so there is no need to stir or shake it while it freezes.

Serve. Portion into glasses and serve with a fresh lemon wedge.
Notes
You. can use sugar-free mix if you'd like!
You can serve this with spoons. right out of the freezer or let it sit for a. few minutes to become more drinkable. It will melt so quickly in the summer that I wouldn't worry about letting it sit intentionally; it will melt enough on its own!
Nutrition
Calories:
185
kcal
|
Sodium:
13
mg
|
Potassium:
1
mg
|
Calcium:
7
mg
|
Iron:
0.01
mg
Did you make this recipe?
If you loved it, please leave a review!