This super simple spring wreath mixes artificial greens with natural flowering branches to create a natural looking wreath on a budget that can be updated with the seasons.
Of all the things I have been bad at in in life, wreaths are the worst. Anyone can wire some stuff on to a wreath form, but mine were always hideous! Not because I couldn't assemble things right, but because they were ugly and fake looking.
If you also find that the wreaths you make or buy are just a bit…too much… try this really simple wreath for spring.
The greenery Base
I dislike artificial greenery as much as the next person. But for a year-round wreath, real greenery is just too much work. I have a huge hedge of boxwoods so I thought making a real boxwood base would be no problem. It's a problem. The boxwood lasts only a few days before getting ugly. You could of course buy a preserved boxwood wreath, and they are lovely, but not exactly in my budget.
The boxwood base needs only three things. Any wreath form can be used, but I like these wire ones because they are easy to just slide things in. Don't forget to check thrift stores for cheap wreath forms. You can remove whatever ugliness is attached to it and just use the form.
The boxwood material will often come in bundles that are too big and puffy. I just rip them in half and I prefer how that looks. Any brand of artificial boxwood will work, and they are available everywhere. I used little bundles like these. You just rip in half and slide them in or wire them on. All in the same direction. Simple!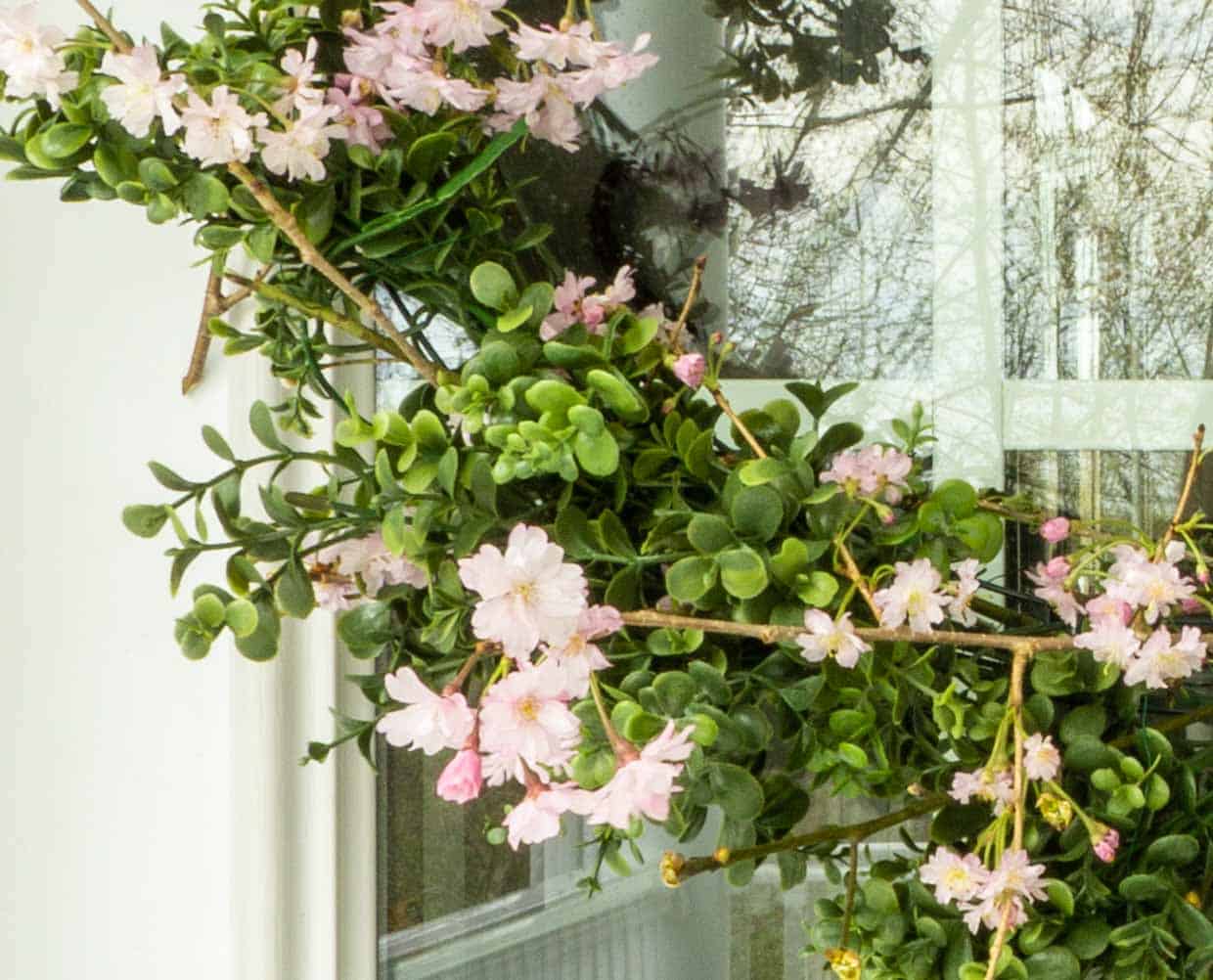 Adding Seasonal Spring Elements
Now, to avoid a fake and cheesy looking wreath, we want to add some natural elements.
The longest-lasting will be budding branches such as pussy willows or anything else that has not yet fully leafed out or bloomed. I added some kind of mysterious budding branch to mine and it is still looking fresh a week later.
But…anything leafy or flowering will not hold up so well. It will be a couple of days at most. But that's sort of the point. Spring is fleeting. Having plastic cherry blossoms for 1/6 of the year ruins the magic. Let them be beautiful, then throw them out.
First I tried lilacs that were still small and they looked pretty but the leaves wilted within the day. For this wreath, I used blooming cherry. It only lasted a few days, but it was worth it. Since you are only adding these natural branches as accents, it is easy enough to remove them when they are past their peak. You can pick something else, or leave the wreath plain for a while. Nothing to store, no plastic to accumulate in your basement.
SEMI-Natural Spring Wreath Video
Have you ever found a truly attractive store-bought wreath? I would love to know where! I'm always looking for simple inspiration for homemade wreaths.