A simple but perfect blend of eggs, sugar, butter, and lemon. Perfect for layering in between cake and spreading on biscuits.
This from-scratch recipe is the perfect addition to your homemade pantry. You only need a few, simple ingredients and the flavor is far superior to store-bought.
❤️ Why you'll love this recipe
It's so versatile. You can use this lemon curd recipe to top cakes, fill tarts, or just eat it by the spoonful. No matter how you enjoy it, this homemade lemon curd is sure to be a hit. It freezes absolutely beautifully, and you can make it shelf-stable by canning it if you'd like. (You'll find canning instructions below.)
Tart and delicious. Store-bought lemon curd tends to be overly sweet, loaded with preservatives, and lacking that true tart lemon flavor. (The reason for the preservative is that without them, it will start to brown at room temperature after a few months.).
It's easy. There are a few steps to take to ensure that it's smooth and creamy, but it's an easy process.
🧂 Ingredients
This is an overview of the ingredients. You'll find the full measurements and instructions in the printable recipe at the bottom of the page.
You'll need the following:
egg yolks
whole eggs
granulated sugar
fresh lemon zest
fresh-squeezed lemon juice (you'll need about 6 fresh lemons)
unsalted butter
🥣 Equipment
This article contains affiliate links, meaning that if you make a purchase after clicking on one, I may earn a commission at no extra cost to you. As an Amazon Associate, I earn from qualifying purchases.
🍴Instructions
Step One: get the juice and zest ready and set up the double boiler
Begin by prepping everything ahead of time. Zest the lemons first, then juice them. To get more juice out of the lemon, try microwaving them for ten to fifteen seconds.
Before you move on to the next step, make sure your double boiler is all set up. If you don't have one (I don't!), just set a bowl on top of a pan of water. The objective is that the curd cooks slowly so the eggs don't cook and get weird. Simmering water will create steam that hits the bottom of the bowl. The steam (plus your constant stirring!) makes sure everything heats slowly and evenly.
Step Two: make the lemon sugar
Step three: combine all ingredientts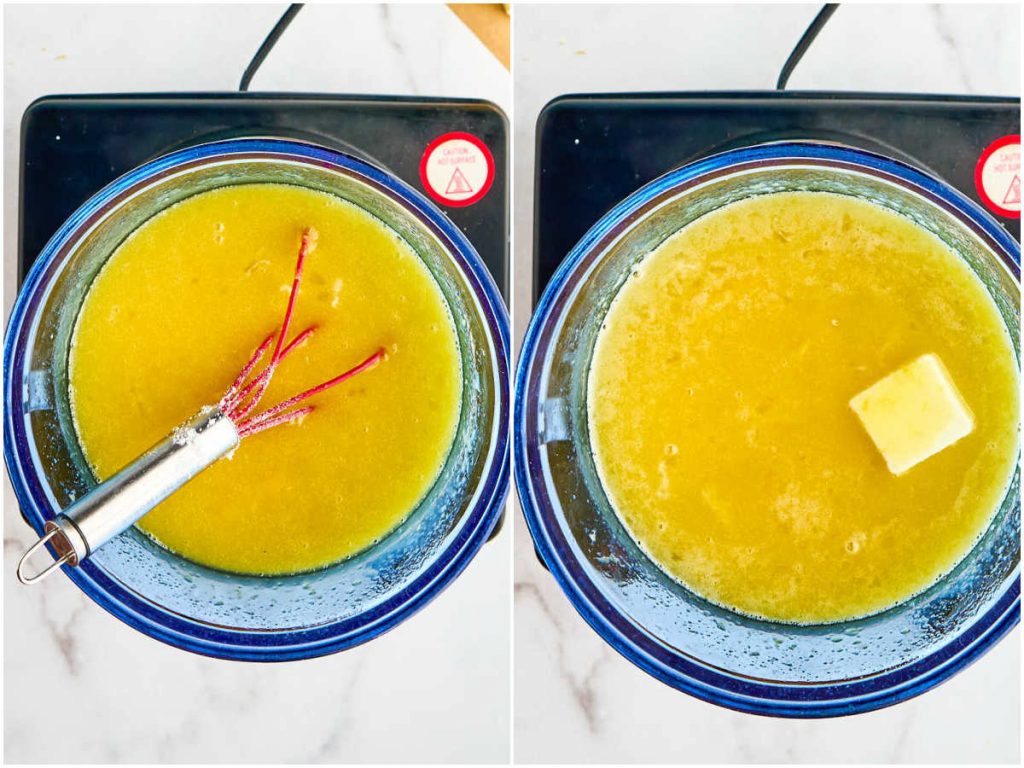 In the bowl portion of the double boiler, combine the egg yolks and whole eggs, whisking well. Then add the lemon juice, the zest, and sugar mixture, and turn on the heat. Add the butter, 1 tablespoon at a time, whisking each tablespoon in.
Step Four: heat and strain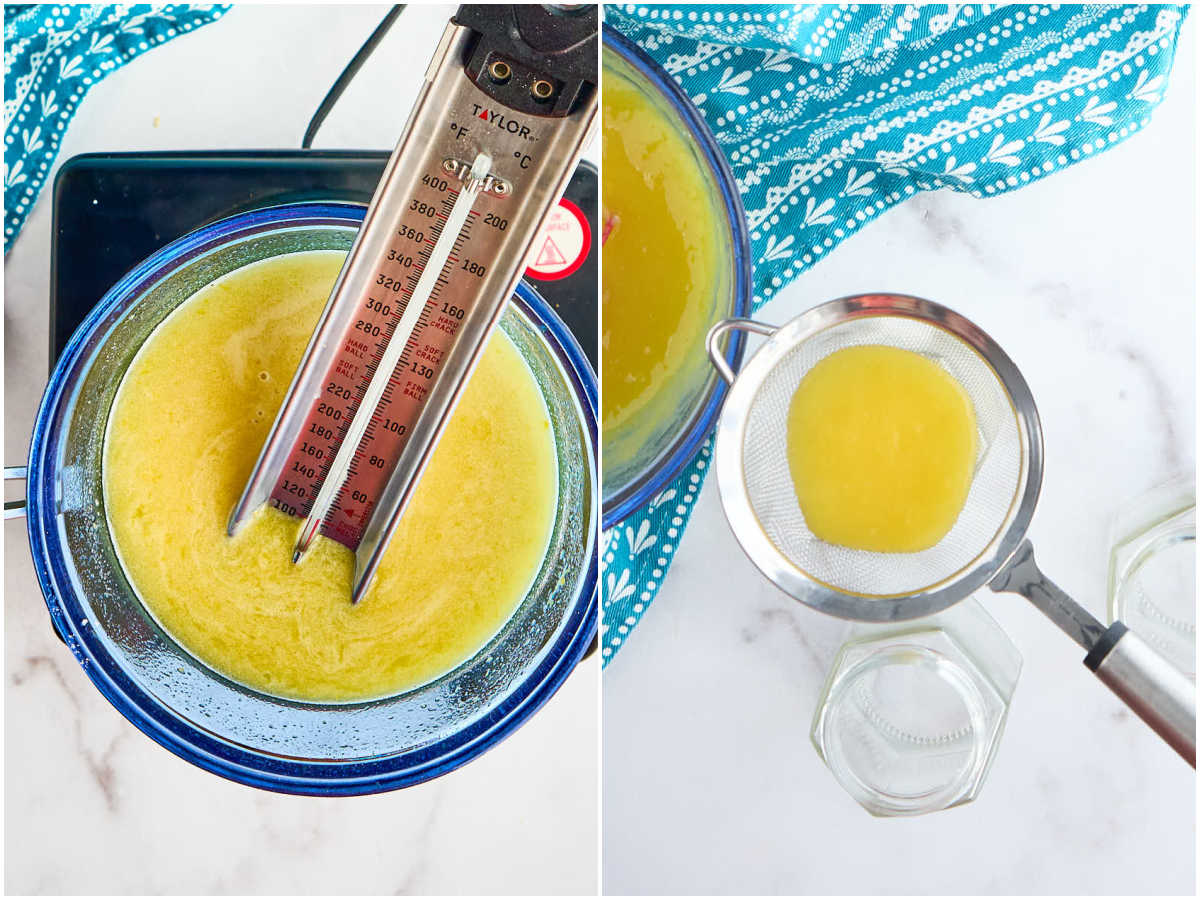 Heat over medium heat until it's 170. Stir occasionally with a rubber spatula to make sure you incorporate everything. Don't walk away, you need to be by the stove. Grab a book, a stool, and get comfy. This will take about 20-30 minutes.
And then remove from the heat and keep on stirring! The mixture thickens as it cools.
Strain it into half-pint jars to remove the zest.
You did it!
🥫 Storage instructions
Freezing (Recommended):
Place in a freezer-safe container, (leaving room for expansion if using glass), and freeze for up to 2 months. You can simply defrost at room temperature or in the fridge and it will be perfect!
Refrigerating
Simply place in a clean, air-tight container and place in the fridge for up to 5 days. Press plastic wrap directly on top of the lemon curd.
Waterbath canning (NOT recommended)
Canned lemon curd only lasts 2-3 months or so at room temperature, and then it slowly starts to turn brown.
It's perfectly safe to can this recipe due to the very high acidity.
However, it does not follow the typical water bath canning process.
Here's how to can lemon curd, if you're really determined:
Place the jars in the canner of hot (180 degrees) water. Heat the water until it boils. From the point that the water begins boiling, start timing. Processing times are:
15 minutes for sea level
20 minutes for 1000 ft- 6000 ft elevations
25 minutes for 6000+ elevations
Turn off the heat, then let the jars sit for 5 minutes in the hot water. Remove and allow to cool at room temperature until sealed.
To make this very clear: the jars go in when the water is hot but not boiling, stay in for the processing time while it is boiling, and then sit a bit longer.
🔍 FAQs
Why do I need a double boiler for lemon curd?
Why do I need a double boiler for lemon curd?
Because you are cooking a mixture with raw eggs. Too much heat too quickly, and you have scrambled eggs! Here's a secret: if you have a nice, thick-bottomed pot and keep the stove on low heat, you can get away without using it.
What is the best way to zest and juice a large number of lemons?
The best way to zest lemons is with a Microplane grater. You can then juice them with a simple citrus juicer. You can also juice lemons in the food processor. Peel them (not just zest them), toss them in the food processor, and strain out any solids.
How long does lemon curd last?
Refrigerated lemon curd will stay fresh for 5 days. Home-canned lemon curd will stay fresh for 2 months (after 2 months it will start to brown, but will still be safe for consumption for 1 year.). Frozen lemon curd will stay fresh for 2 months.
How can you make lemon curd thicker?
This recipe should not need additional thickening. Don't forget it will thicken as it cools, so don't be too quick to judge. If it does, it's probably undercooked. You can fix this with a cornstarch slurry. Mix a tablespoon of water with a teaspoon of cornstarch and stir it into the lemon curd. (Note: you can not can anything with cornstarch in it.)
Can you use bottled lemon juice?
No. Well, you can, but the flavor won't be nearly as good. It honestly won't be worth the effort with fresh lemon juice.
Can you freeze lemon curd?
Absolutely. It's the best way to store it.
👩🏻‍🍳 Expert tips
Zest the lemons first, then juice them.
To get more juice out of the lemon, try microwaving them for ten to fifteen seconds.
Stay away from high heat. Cooking the lemon curd too fast will cook the eggs.
📘 Related Recipes
🍽 Serve it with
🍅 make it along with me
Follow along step by step. The slides will turn every 7 seconds, or you can click ahead.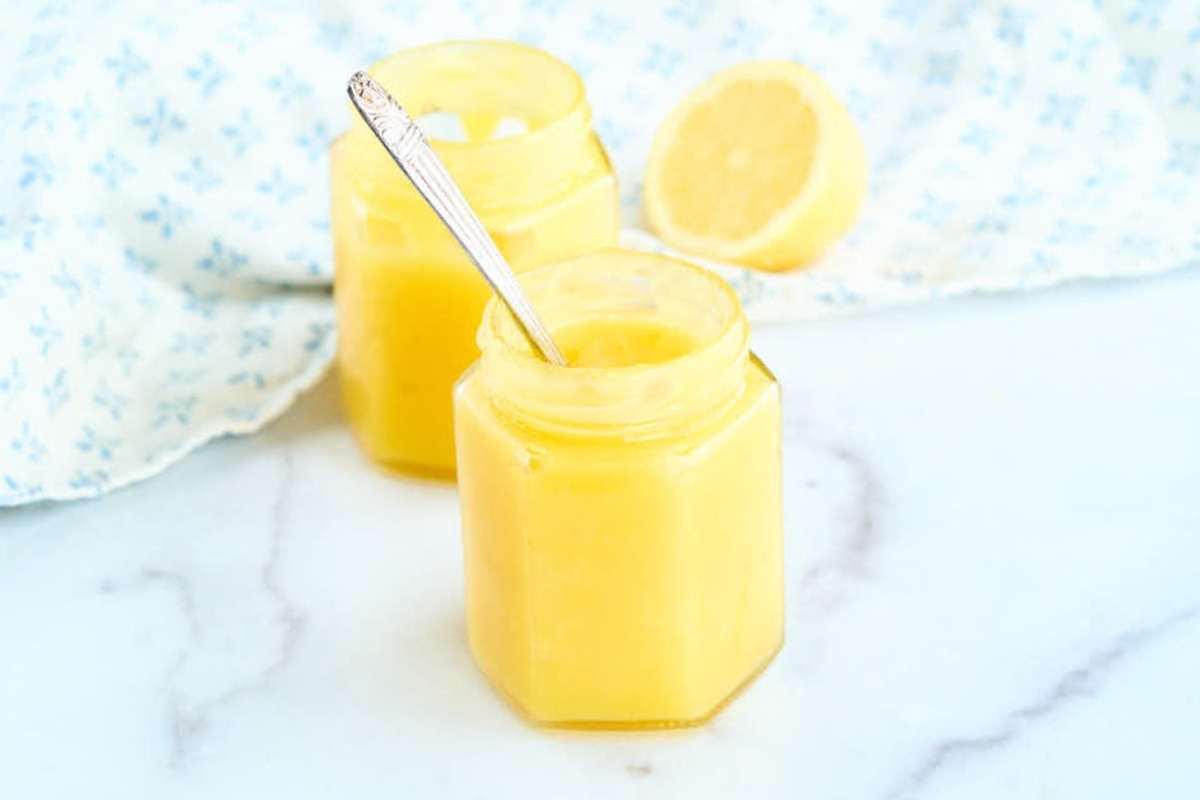 📖 Here's the recipe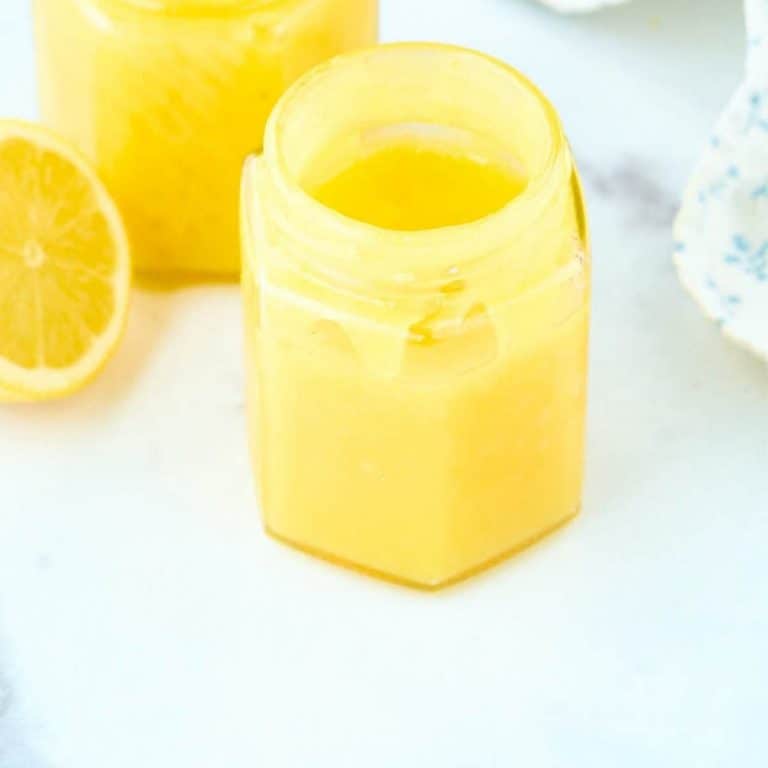 Small Batch Lemon Curd
Print Recipe
A simple but perfect blend of eggs, sugar, butter, and lemon. Perfect for layering in between cake and spreading on biscuits.
Click here to grab a free seasonal e-cookbook!
Ingredients
¼

cup

lemon zest

about 6 lemons worth

1 ¼

cups

granulated sugar

4

egg yolks

2

whole eggs

¼

cup

lemon juice

about 4 lemons worth

3

tablespoons

unsalted butter
Instructions
Mix the zest and sugar. Combine the sugar and lemon zest in a medium bowl and set aside for 30 minutes.

Combine all ingredients. Prepare a double boiler by placing 1 inch of water in the pan, and placing it on the stove on medium-low heat, until gently simmering. Combine the eggs and egg yolks in the bowl of the double boiler and whisk until well combined. Add the lemon juice and the zest/ sugar combination. Stir over the heat and add the butter, 1 tablespoon at a time.

Cook to 170. Cook in the double boiler, stirring occasionally, until the lemon curd reaches 170 degrees. A thermometer is necessary, as the texture will not noticeably change.

Strain. When the temperature is reached, remove from the heat. and continue to stir as it cools, for at least 5 minutes. The lemon curd will thicken as it cools. If desired, strain through mesh strainer to remove lemon zest.

Store. Pour into half-pint mason jars. Store in refrigerator for up to 5 days, or freeze for up to 2 months. If freezing, leave at least half an inch of space at the top of the jar.
Notes
To waterbath can: place in hot but not boiling (180 degree) water in canner, turn up heat until water is boiling, and then process 15 minutes (start timing when water is boiling). Higher elevations will require additional processing time, Will store well at room temperature for 2 months, after which the lemon curd will discolor and turn brown.
Did you make this recipe?
If you loved it, please leave a review!