The easiest and most delicious way to prepare flavorful, pull-apart pork carnitas. Versatile, delicious, and makes enough to freeze some for later.
Tons of flavor, super moist pork, and an easy, one-pot cooking method. You can use this in so many recipes, or just eat with a fresh tortilla and your favorite salsa.
❤️ Why you'll love this recipe
Super-simple to prepare, this dish is your perfect go-to for a busy weeknight or a relaxed weekend.
My recipe's unique blend of spices is soooo delicious.
It's not just about taste, this dish also offers fantastic versatility. From tacos to nachos or even salads, the ways you can enjoy it are endless.
Last but not least, this recipe makes enough to freeze some for later
🧂 Ingredients
This is an overview of the ingredients. You'll find the full measurements and instructions in the printable recipe at the bottom of the page.
You'll need the following for this yummy meat:
Pork shoulder
Ground cumin and cumin seed
Garlic
Jalapenos
Dried oregano
Salt
Ground black pepper
Olive oil
An orange
Limes
Chicken broth
Tortillas, cilantro, diced onions, and lime wedges for serving
🍴Instructions
Step One: prepare the pork rub
Start off by cutting your pork shoulder in half. You want to create two roughly equal portions. Don't forget to pat it dry with a paper towel before you begin.
In your food processor, throw in the cumin, cumin seeds, garlic, jalapenos, oregano, salt, and pepper. Blend it all together until you get a nice, smooth mixture. Spread this mixture all over your pork shoulder, covering all sides.
Step Two: brown the pork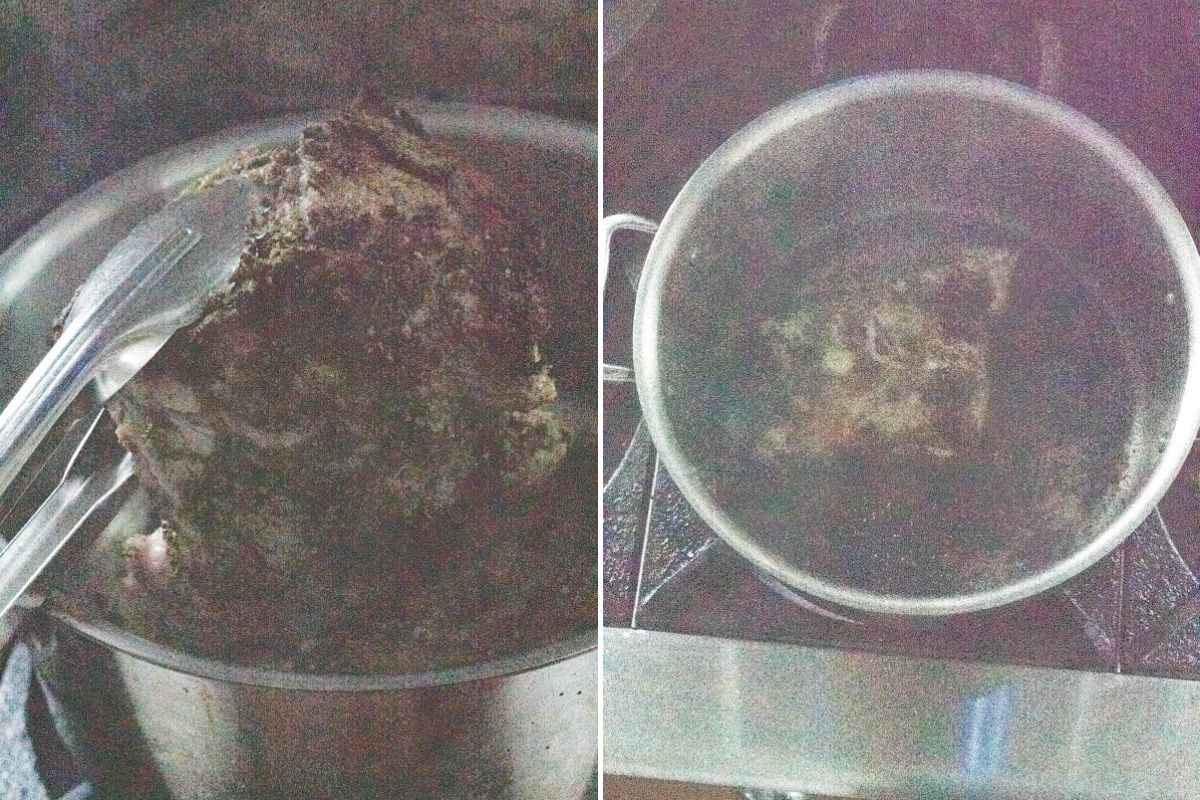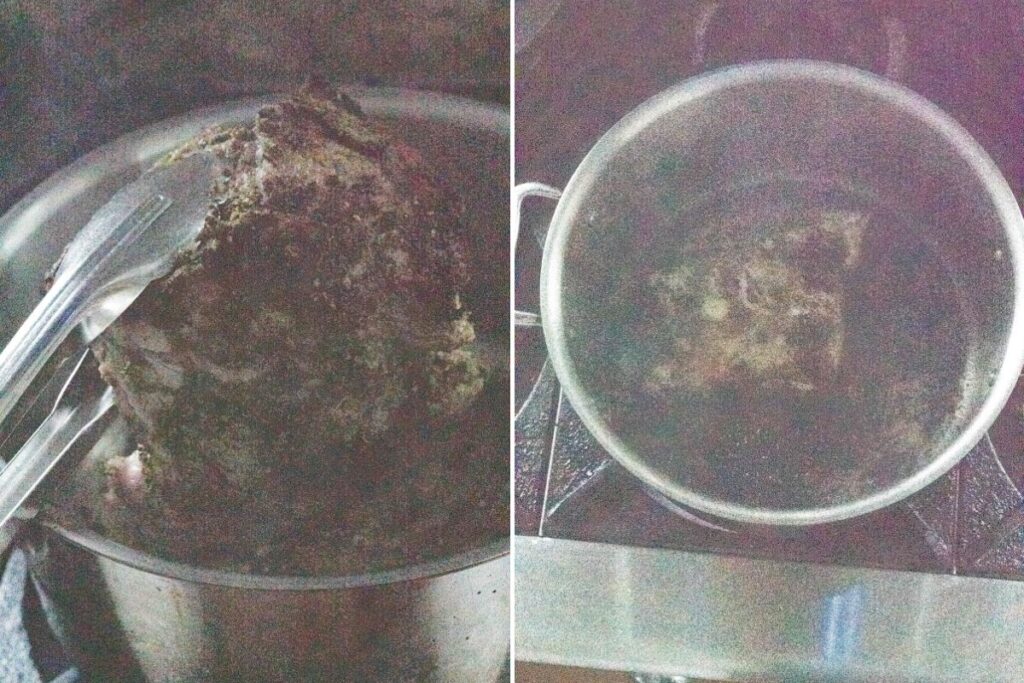 Next, you're going to brown the pork. Add olive oil to your pot, get it nice and hot, and then drop in your seasoned pork shoulder. Get a nice brown sear on all sides; this will take about 3-4 minutes per side.
Now it's time to add the liquids. Pour in the chicken broth, and squeeze in the juice of the orange and limes. These will mix with the spices and seared pork to create a delicious sauce as it cooks.
Step three: cook until tender
Cover the pot and cook on low heat for about 2-3 hours. You're looking for that perfectly tender meat that just falls apart when you poke it with a fork. If it's not there yet, be patient and let it cook a bit longer.
Once cooked, let your pork rest for a while (15-30 minutes should do it). Then, using two forks, shred it into bite-sized pieces.
🥫 Storage instructions
Let the carnitas cool completely before storing. You can refrigerate them in an airtight container for up to 3-4 days.
If you want to freeze, portion the carnitas into freezer-safe containers or bags, and they'll keep for up to 2 months. If you have a vacuum sealer, that will be perfect When you're ready to enjoy again, just thaw overnight in the refrigerator and reheat.
🔍 FAQs
Can I cook this in the slow cooker?
Yes, but why? You'll need to brown the meat on the stovetop and ash 2 pots. But if you'll be out of the house and want to use the crockpot, it will work just fine. Cook on low for 6-8 hours or high 3-4.
Can I use another part of pork?
You really want pork shoulder for this. Another cut will be too lean and will dry out.
Will it be spicy?
No. Even with the jalapeno, it's still mild. If you want it spicy, add a teaspoon of cayenne to the rub.
👩🏻‍🍳 Expert tips
When browning your pork, don't rush it. The browning adds great flavor.
If your pork seems tough, it's likely undercooked. Be patient, and let it cook a little longer.
Remember, the longer you let the cooked pork rest, the easier it will be to shred.
📘 related Recipes
🍽 Serve it with
Mix into a southwest salad.
Pile on top of warmed tortillas and top with thinly sliced onions and a squeeze of lime juice.
Enjoy with delicious carnitas nachos.
📖 Here's the recipe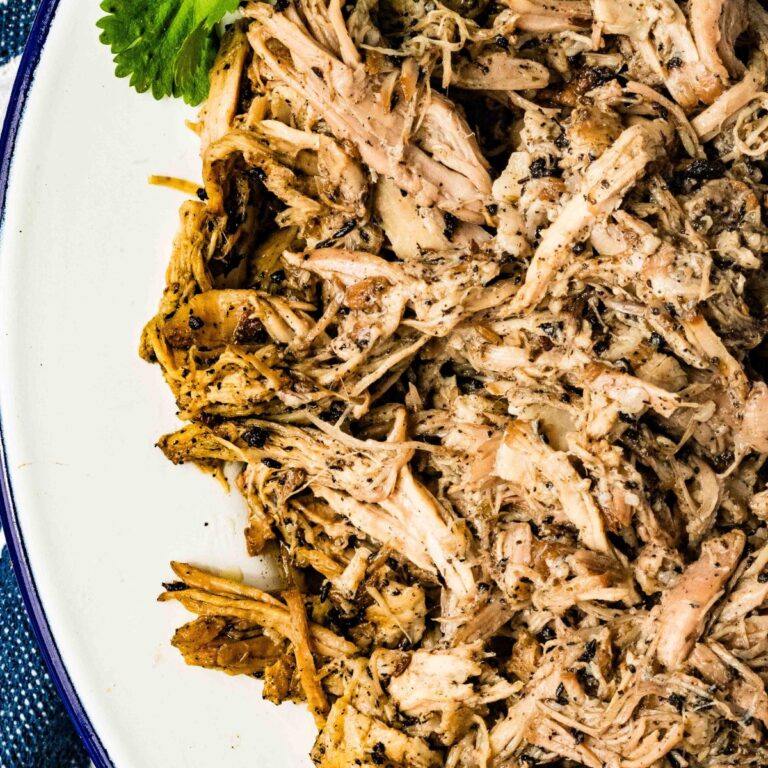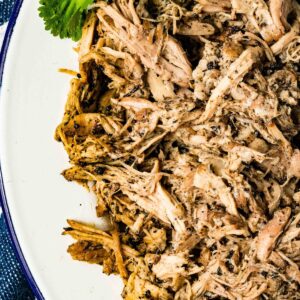 Simple Stovetop Pork Carnitas
Print Recipe
The easiest and most delicious way to prepare flavorful, pull-apart pork carnitas. Versatile, delicious, and makes enough to freeze some for later.
Click here for a FREE autumn cookbook (25+ Recipes!)
Equipment
Heavy bottomed pot with lid
Ingredients
For the Rub
1

tablespoon

ground cumin

1

tablespoon

cumin seed

3

cloves

of garlic

2

whole jalapenos

1

tablespoon

dried oregano

2

teaspoons

salt

1

teaspoon

ground black pepper
Cooking the Pork
4

pound

pork shoulder

trimmed of excess fat

1

tablespoon

olive oil

1

orange

juice only

2

limes

juice only

1

cup

chicken broth
For Serving
warm tortillas, cilantro, diced onions, lime wedges
Instructions
Prepare the pork. Pat the pork shoulder dry with paper towels and cut it in half to create 2 (2 pound) portions.

Season the pork. Combine the cumin, cumin seed, garlic, jalapeno, oregon, salt and pepper in the bowl of a food processor. Pulse until mixture is smooth and well combined.Rub the mixture all over the pork shoulder, ensuring to cover all sides.

Brown the pork. Heat the olive oil over medium heat in a large , heavy- bottomed pot with a tight-fitting lid. Add the pork shoulder to the pan and brown on all sides, about 3-4 minutes per side.

Prepare for cooking. Pour the chicken broth into the slow cooker. Squeeze the juice of the orange and limes over the pork.

Cook the pork. Cover and cook on your stovetop's lowest setting for 2-3 hours, or until the pork is tender and shreds easily with a fork. If it isn't. tender, let it cook longer.

Shred the pork. Remove the pork from the pot and let it rest for 15-30 minutes. Using two forks, shred the pork into bite-sized pieces. Serve with tortillas and pico, or on salads or nachos.
Notes
No food processor? You'll just need to mince the garlic, jalapeno, and cumin seed with a sharp knife. Mix everything else in by hand.
Any pork shoulder in this weight range is fine. Just cut it down into 2-3 pound pieces so it cooks through without drying out.
If your pork shoulder seems tough, it is likely undercooked. Let it cook a bit more. 😊
Nutrition
Calories:
241
kcal
|
Carbohydrates:
5
g
|
Protein:
28
g
|
Fat:
12
g
|
Saturated Fat:
4
g
|
Polyunsaturated Fat:
1
g
|
Monounsaturated Fat:
6
g
|
Cholesterol:
93
mg
|
Sodium:
798
mg
|
Potassium:
554
mg
|
Fiber:
1
g
|
Sugar:
2
g
|
Vitamin A:
75
IU
|
Vitamin C:
15
mg
|
Calcium:
48
mg
|
Iron:
3
mg
Did you make this recipe?
If you loved it, please leave a review!