An in-depth Walmart Plus review with everything you need to know. It's a great Amazon Prime alternative for busy families.
What do you get with Walmart Plus?
Walmart Plus is a paid membership program offered by the famous retail giant. It offers:
Free grocery deliveries from local stores (minimum order $35)
Express delivery (arrives in under 2 hours) for an extra $10 fee
Free 1 or 2 day shipping from walmart.com
Member gas discounts at Sam's club and Murphy USA
An in-store program known as "scan go", which allows members to scan and checkout in the store without waiting in line
This review contains affiliate links. If you make a purchase through one of these links I may receive a small affiliate commission at no additional cost to you.
Signing up
When you go to sign up for a Walmart Plus 15 day free trial , you need to enter your credit card information. So if you intend to cancel before you're charged, make sure you set a reminder for yourself somewhere. You are likely to be offered an extension, making it a 30 day free trial, if you agree to answer a few questions. They are mostly about how many people are in your household and their ages, nothing too invasive.
After signing up, you will receive a welcome email that includes a link directly to the grocery area.
Sign up here and see what you think!
The app and online experience
When you first access the Walmart website, it defaults to their normal online shopping website, where you order things from a central warehouse to be delivered via FedEx or something similar.
The grocery pickup and delivery side of their website is accessed by clicking on the upper left corner of the screen. (Free pickup for non-members is also available here.)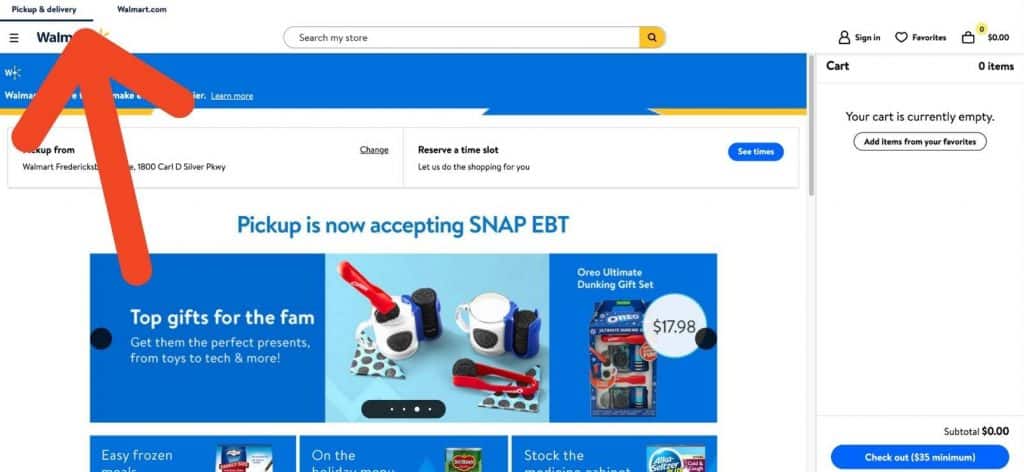 Once you access this, you can easily choose your local store and reserve a time.
The online ordering experience is very good, with a good search function and a shopping cart that sticks to the right side of the screen and keeps a running total of your order.
There is an app called Walmart+ that delivers the same user-friendly experience.
Once you are satisfied with your order, you check out. If you've placed an order before you will see suggestions from previous orders that you can add with one click.
Walmart Plus members get unlimited free delivery plus one free "express delivery" per month. An express delivery will be at your door within two hours. For a regular delivery, you will likely have a wide range of delivery windows. If you order in the morning, you will likely get a delivery time that afternoon as a standard free delivery.
You can check a box authorizing contact-less delivery, meaning your groceries will simply be left at the door. You can also leave any special instructions for your driver.
The ordering process is seamless and very user friendly.
After placing your order, you will receive an email stating that it has been received.
Substitutions and out of stock items
From time to time, you will order something that says it is in stock… but it's actually not.
You can set your Walmart Plus account to allow substitutions, or to not allow them. If you allow them, the store will choose what they think is acceptable, and you'll receive another email letting you know what they are. You can decline, or do nothing, and you will receive the substitutions.
Also occasionally, an order will go through but the item will be out of stock with no good substitute. In that case, your credit card will simply be refunded.
These are minor inconveniences and will probably lessen over time.
Delivery service
At this point, all you have to do is wait. A delivery driver will arrive and magically drop off your items. They will come in regular plastic Walmart bags. In my case, the driver is always an Uber driver. In more populated areas, there may be a different driver.
After your products arrive you will be asked to rate your driver with a thumbs up or thumbs down.
Walmart Plus vs Amazon Prime
Since this is a paid subscription service that offers free shipping, the most obvious comparison is to another popular membership service: Amazon Prime.
The pricing is very similar ($119 per year for Amazon Prime and $89 per year for Walmart Plus).
What are some of the differences?
Amazon Prime benefits
Amazon's free 2-day delivery delivery is only for items that are "Prime Eligible", which is not everything.
Amazon Prime membership offers access to Amazon Video and Amazon Photos.
Grocery delivery through Amazon is a separate service, Amazon Fresh, which has very limited delivery areas.
No fuel discounts
No tipping expected
Walmart Plus benefits as compared to Amazon
Walmart Plus recently introduced free 2-Day shipping that is competitive with Amazon for the online only products it carries
Member prices at gas stations
No digital content
Express delivery (within 2 hours) available.
Tipping customary
The main difference is access to the digital content provided by Amazon Prime vs the grocery services provided by Walmart Plus. If the Prime video services offered by Amazon Prime do not interest you, you will probably find that Walmart Plus is a better value for you. I personally find that Amazon Prime seems like less of a deal with each passing year.
They are really quite different, and most households can probably make good use of both.
If I had to choose (and I did!) I would keep Walmart Plus over Amazon Prime.
So what's the catch?
Well, $98 per year, or $12.95 per month, is nothing to sneeze at. Especially when you've already signed up for another delivery service plus streaming services plus other monthly subscriptions. It's easy to let monthly fees like this get out of control in the name of convenience.
Another consideration is tipping. There is a space for a tip for the driver, and I assume it is expected. I tip about 10% of my order each time. You do not have to tip, but I would certainly feel strange not tipping.
Can a service like this help you save money?
In my opinion, yes…and no…and here's why.
The simple act of staying out of a store will always help you keep your grocery total down. There are no impulse purchases, you can easily compare prices, and you can carefully watch your total to make sure you stay on budget.
So at the very least, you should try ordering groceries online and using Walmart's free pickup service. You can get the control of shopping online, the full selection of in-store Walmart products, and it's completely free.
Now why take it to the next level and pay for a delivery service?
Is Walmart Plus worth it?
The delivery aspect of this service is purely for convenience, and only you can decide if it's worth it.
If you hate grocery shopping, you will probably find that it is worth it. If you love Walmart prices but not the Walmart experience, you will probably find the membership valuable. If you work full time and are very busy, you will surely appreciate this service. If you have health concerns and want to stay away from crowded places full of shoppers, then this membership will be a good fit, both for the delivery and the access to scan go.
Also consider which Walmart will be delivering to you, and whether it is a place that has good produce, stays well stocked, etc. (We all know there are "good" Walmarts and "bad" Walmarts.). There is truly no benefit to getting this service if you can't count on the quality of what you are getting!
Click here to sign up for Walmart plus.
My personal Walmart plus experience
I originally signed up for a 15 day trial, intending to stock up on certain groceries that I love to get at Walmart, and then cancel. I love saving money on food and didn't look forward to another subscription fee.
But it won me over. I truly hate grocery shopping.
I also hate going to Walmart and had previously been paying $3 per pickup at our overpriced local grocery store. Being able to access Walmart's low prices without having to go there seemed magical. They have every product I need, from stocking stuffers for the kids to new socks for me, to my weekly groceries.
I can now get all my household essentials without ever leaving, which saves me a lot of time, frustration, and gas money. I even have chicken feed delivered to my door, saving me an awkward shopping trip pushing a 40 pound grocery cart.
When Walmart introduced new free 2 day shipping on their bigger selection of Walmart.com items, I was sold. I cancelled Amazon Prime and decided to keep Walmart Plus.
The good news for you is that there is a free trial. Sign up, set a reminder for cancel when the trial is up, and give Walmart Plus a shot. If it helps you, use that time saved to do something productive, like make some freezer meals. Go take advantage of the fuel savings and fill up all your vehicles. If it's not worth it to you, simply cancel.
Get started with your free trial.
Questions about this Walmart plus review?
Leave me a comment and I will do my best to help!