Salty, crisp, sourdough cheddar crackers made with your discarded sourdough starter- a quick and easy recipe!
A delicious way to use your discard sourdough starter, this recipe for sourdough cheddar crackers is ready in under thirty minutes. The perfect salty snack to serve with cocktails!
The age old problem of all sourdough bakers… what to do with the discard? There are many excellent ways to use sourdough discard, but this one might be my favorite. It uses a good amount of your unfed starter, it's ready fast, and this recipe is very easy.
I know making crackers might seem a bit nuts, but I promise they come together very fast. The dough is easy to handle because you are rolling it out in-between sheets of parchment, and since you mix it by hand there aren't too many dishes to deal with.
Give them a try! Not only will you happy you aren't wasting any sourdough starter, but you're actually making your own crackers. You should be proud.
These make a great snack to leave out when you are having friends over for drinks, or as a snack for you and your family that's free of any unwanted ingredients.
Tools and ingredients you'll need:
Let's make some crackers!
Mixing up the dough
Okay! This is quick and easy, promise. Preheat your oven to 375 degrees.
Begin by combining the butter and flour until the butter is broken up into bits. The best way to do this is the simply rub the butter and flour together. Then add the discard sourdough starter, and gently mix. Finally stir in the cheese. If you need too use your hands to get everything to come together into a ball, then go ahead.
Turn the dough out onto a piece of parchment paper.
Rolling out the crackers and baking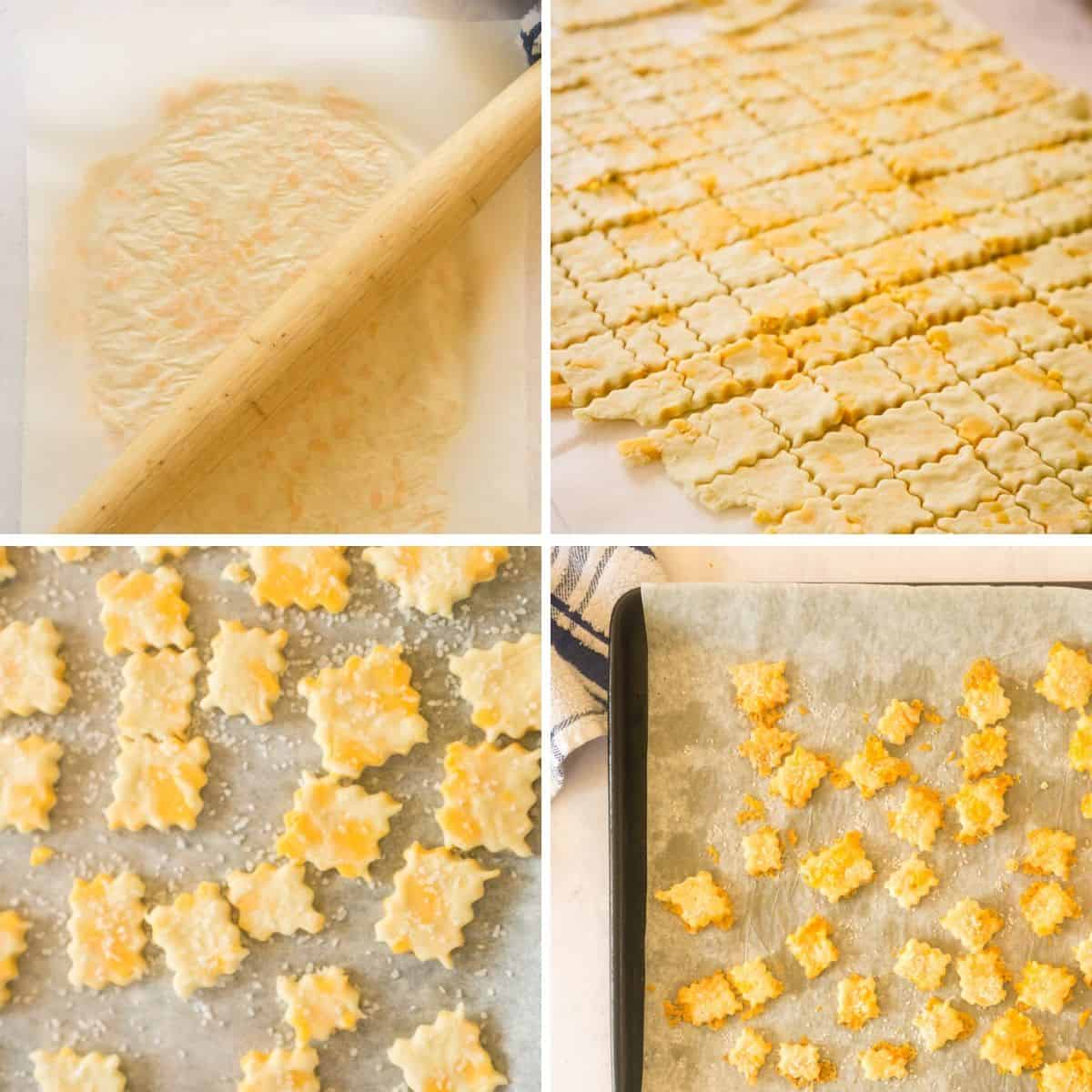 Place a second piece of parchment paper on top of the sourdough cracker dough and begin to roll it out. The thinner you can roll, the crispier they will be. I try to roll them until the cover the full piece of parchment paper.
Cut them into squares (or really any shape you'd like). You can poke a hole in the center which sometimes keeps them flatter.
Place them on two parchment-lined baking sheets, just using the same pieces of parchment that you used to roll the crackers out. They will not spread, so they can be placed pretty close together.
Make sure you sprinkle them with kosher salt before baking. Kosher salt sticks better and will add a lot of flavor.
Bake for 10-13 minutes until lightly browned around the edges.
They can cool right on the baking sheet, which won't take long. They are tastiest when served right away, but they can be stored in an airtight container for a day or so once they are fully cooled.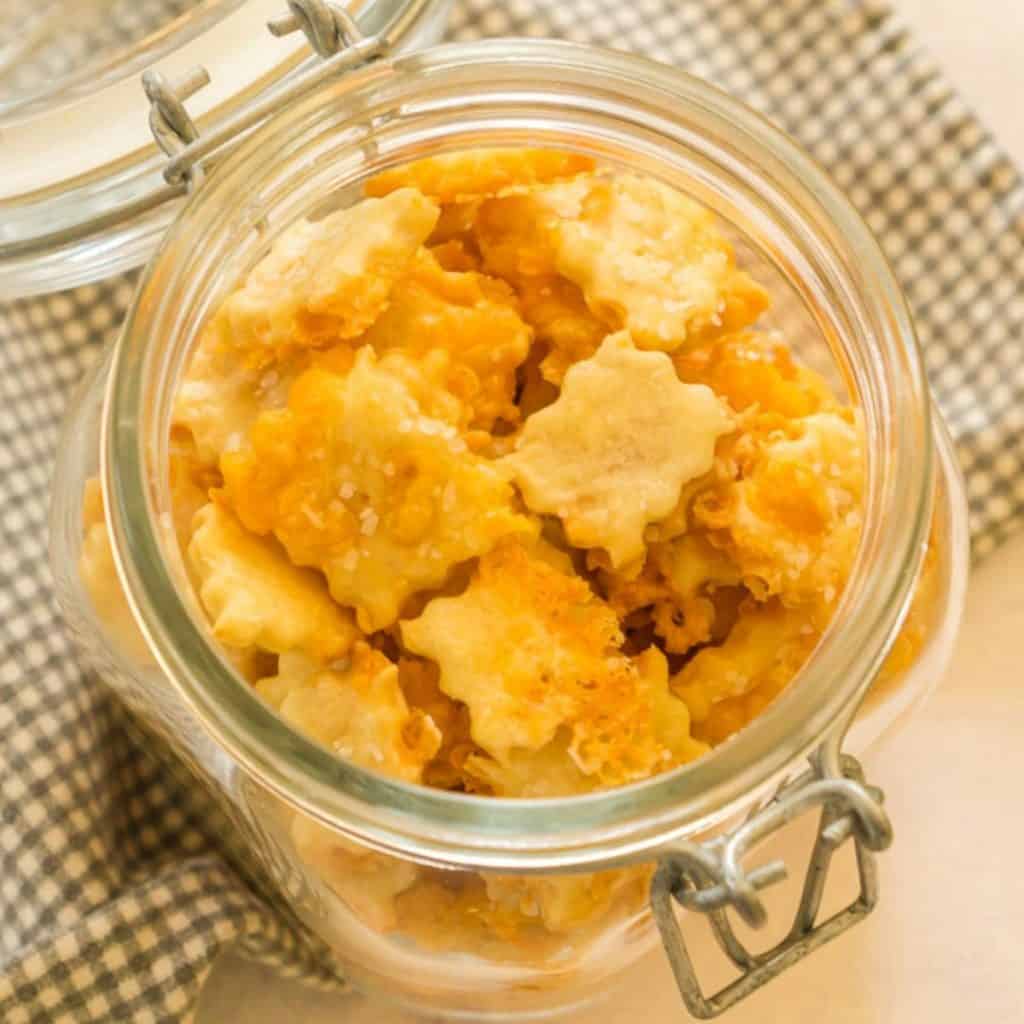 Need more sourdough discard recipes?
Looking for sourdough recipes that WORK, written in a language you understand?
Sign up for my sourdough email series that takes you from making a starter to baking all kinds of sourdough recipes! You can
grab it here
Print the recipe here
Sourdough Cheddar Crackers with Discard
Print Recipe
Salty, crisp, sourdough cheddar crackers made with your discarded sourdough starter- a quick and easy recipe!
Click here for a FREE autumn cookbook (25+ Recipes!)
Ingredients
2

tablespoons

butter

1

cup

all purpose flour

3/4

cup

discard sourdough starter

3/4

cup

shredded sharp cheddar cheese

Kosher salt

for sprinkling
Instructions
Preheat oven to 375 with two racks in, spaced relatively equally apart.

Combine the butter and flour in a medium mixing bowl. Using your hands, rub the butter into the flour until it looks like sand. Pour in the sourdough starter and gently mix. Add the cheddar cheese and combine. If necessary, use your hand to make sure the dough forms a ball.

Turn the dough out onto a piece of parchment paper and top with a second piece of parchment. Roll out as thin as you can using a rolling pin. Cut into squares using a pastry wheel and place the squares on two parchment-lined baking sheets. Sprinkle generously with kosher salt.

Bake for 10-13 minutes, switching the baking sheets halfway. The crackers should be crisp with slightly browned edges. Allow to cool directly on the baking sheet. Serve immediately, or let fully cool and transfer to airtight container and store for up to 2 days.
Notes
These are delicious served with any creamy dip or topped with sliced ham or turkey.
Try adding dried herbs to the dough before rolling out.
Nutrition
Calories:
204
kcal
|
Carbohydrates:
24
g
|
Protein:
9
g
|
Fat:
8
g
|
Saturated Fat:
5
g
|
Cholesterol:
23
mg
|
Sodium:
140
mg
|
Potassium:
64
mg
|
Fiber:
1
g
|
Sugar:
1
g
|
Vitamin A:
212
IU
|
Calcium:
166
mg
|
Iron:
2
mg
Servings:
4
dozen crackers
Did you make this recipe?
If you loved it, please leave a review!