Everyone loves homemade fudge, but most recipes are poor imitations of the real thing. They focus on being easy instead of being good.
Yes, old-fashioned fudge requires a candy thermometer, some stirring time, and a little patience. But it's not hard to make, and it's worth the small amount of effort.
If your grandma made fudge, I bet it was just like this recipe. If you're looking for more Christmas candies, I have a list of my favorites here!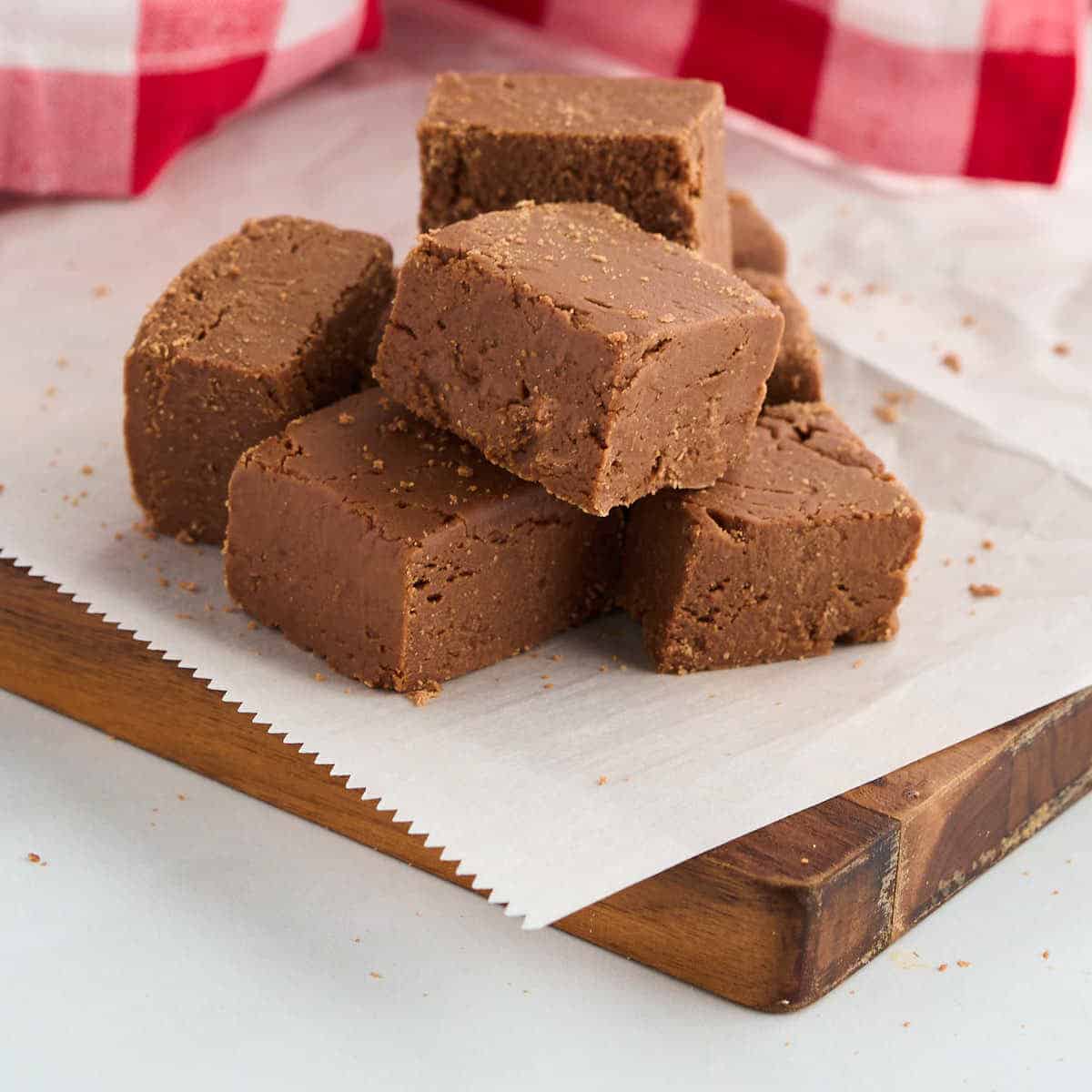 How to make fudge the old fashioned way: just minutes of your time plus a few dollars of pantry ingredients gives you a candy shop quality homemade chocolate fudge perfect for gifting (or keeping!)
Save
Saved!
Pin Recipe
Print Recipe
Rate Recipe
Want some free Christmas printables? Click here to grab 'em
Equipment
2 quart saucepan

Candy thermometer
Ingredients
2

cups

granulated sugar

1/4

cup

cocoa powder

Hershey's is fine

1/2

teaspoon

salt

2/3

cup

half and half

1

tablespoon

corn syrup

3

tablespoons

butter

2

teaspoons

vanilla extract
Instructions
Combine all ingredients except butter and vanilla. In a 2 quart saucepan, combine the sugar, half and half, cocoa, salt, and corn syrup. Mix well with a whisk and bring to a boil over medium-low heat. While the fudge is cooking, butter a plate or baking dish for pouring the mixture into later.

Heat until the mixture reaches 240 degrees. Let the fudge cook until it reaches 240 degrees, checked with a candy thermometer or instant-read thermometer. Don't stir during the cooking process. Once the temperature is reached, immediately remove the pan from the heat.

Place butter and vanilla on top and allow to cool. Place the butter and vanilla on top of the fudge and allow it to cool. Do not mix or disturb the pan. Let it cool about. 20 minutes until the side of the pan is warm but not hot to the touch.

Mix with a hand mixer until fudge begins to firm up. Using a hand mixer on medium-low, beat the fudge for 1-3 minutes until it just begins to firm up and lose its shine.

Quickly pour into a buttered dish, cool, and cut. Once the fudge changes texture, immediately pour it into a dish to set. Work quickly. It if is not pourable, just scoop it out and flatten in the best you can. Allow it to cool for 20 minutes and cut into one-inch squares.
Notes
For whatever reason, this recipe does not double well.
Don't attempt to make this without a thermometer!
Nutrition
Calories:
120
kcal
|
Carbohydrates:
27
g
|
Protein:
1
g
|
Fat:
1
g
|
Saturated Fat:
1
g
|
Polyunsaturated Fat:
1
g
|
Monounsaturated Fat:
1
g
|
Cholesterol:
4
mg
|
Sodium:
81
mg
|
Potassium:
39
mg
|
Fiber:
1
g
|
Sugar:
26
g
|
Vitamin A:
40
IU
|
Vitamin C:
1
mg
|
Calcium:
16
mg
|
Iron:
1
mg
Did you make this?
Let me know how it was! Please see below for serving ideas, storage instructions, and substitutions.
troubleshooting
Why didn't my fudge set up? It's gooey!
You undercooked it or under-mixed it. You can pour it back into the saucepan and cook it again, and it will usually turn out fine.
Why is my fudge grainy?
You stirred too much during the cooking process or stirred during the cooling process. Try dumping it back in the pot with a cup of water and trying again.
It's too hard to cut!
You probably overbeat it. That's okay. You can break it into squares for a rustic look. 😉
It tastes weird or burnt.
You probably used a pot that's too big or is thin-bottomed, and your ingredients scorched. Unfortunately, there's no fix for this. Invest in a nice-quality 2-quart saucepan. If you are really serious about candy making, copper is best. (I like all-Clad copper core for something more affordable.)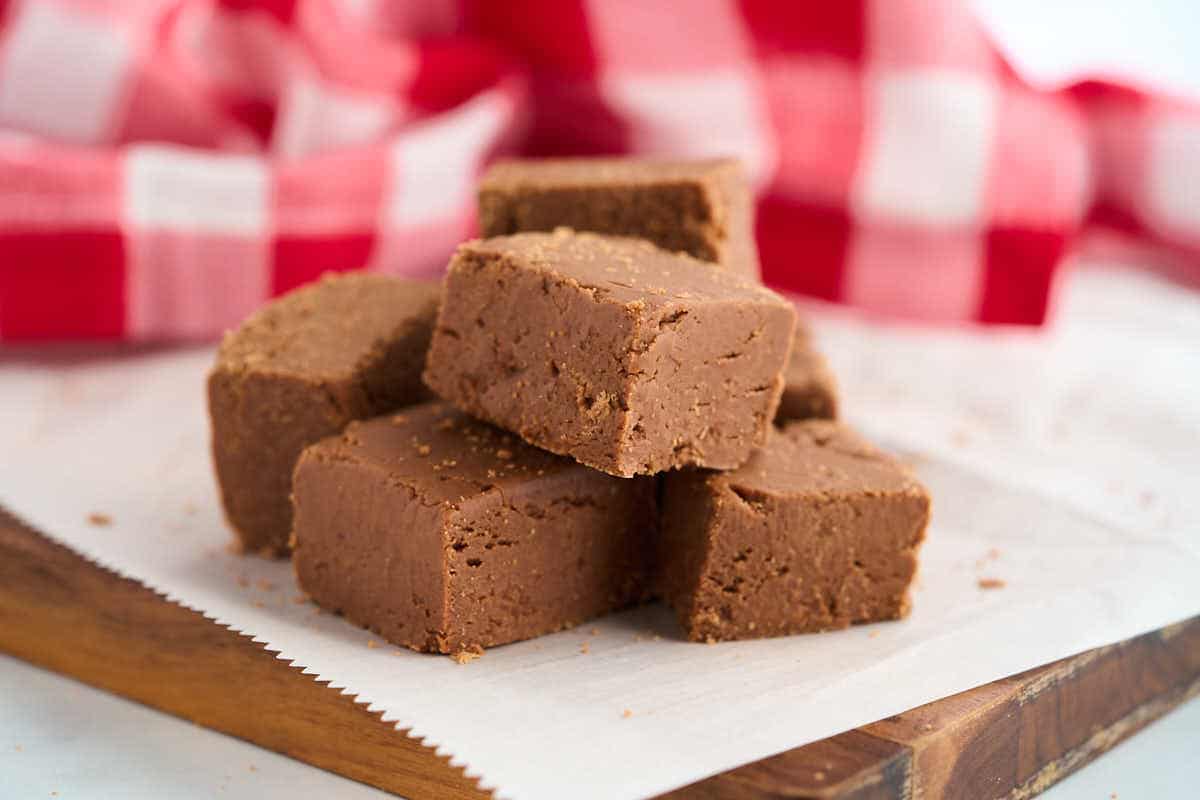 Ingredients and Tools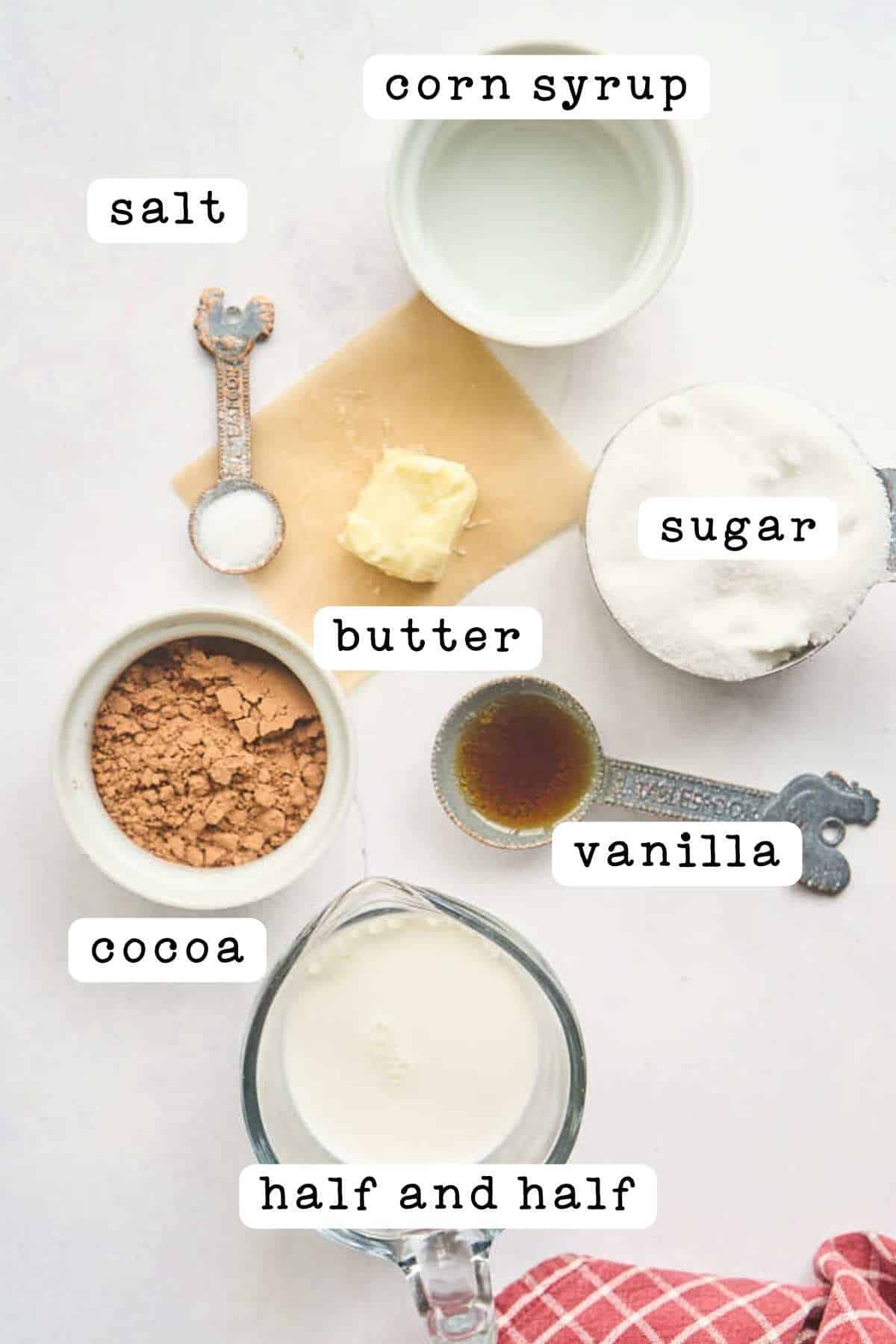 2 cups granulated sugar
1/4 cup cocoa powder (Hershey's is fine! No need to look for a gourmet brand.)
1/2 teaspoon salt
2/3 cup half and half
1 tablespoon corn syrup
3 tablespoons butter
2 teaspoons vanilla extract
You'll need a 2-quart saucepan for the fudge to cook properly
A candy thermometer or an instant-read digital thermometer will both work. But a candy thermometer is easier because you can leave it in the pot.
Storage and packaging
For gifting, line a tin with parchment or wax paper and store the fudge squares inside.
For eating at home, a plastic zip-top bag works just fine.
If your house is very warm, keep the fudge in the fridge.
You can freeze fudge for longer storage. Just cut it and pop it in a freezer bag.
Tips for Succesful Fudge
Use a good quality cocoa powder. Hershey's is fine for this recipe.
You absolutely MUST have a thermometer. It is almost impossible to gauge how hot the sugar mixture is based on time or appearance.
Use a heavy-bottom saucepan so the sugar doesn't scorch the bottom as it cooks
Keep a pastry brush and a small bowl of water next to the stove to brush down the sides of the pan, otherwise, you can get sugar crystal.
Work quickly once you beat the chocolate mixture; it will start to set up very quickly!
If you overcook or overbeat the fudge, it might be slightly dry and crumbly. It's still delicious, and many people prefer it this way.
More old fashioned desserts you'll love
Enjoy this recipe!