Golden and crispy on the outside, soft and fluffy inside, these waffles will be your new favorite way to use extra sourdough starter!
A deliciously simple recipe for sourdough discard waffles that turns your leftover sourdough starter into a sweet, crisp, golden brown breakfast.
Breakfast recipes plus sourdough starter are a match made in heaven. As you get into the habit of feeding your starter, it's easiest to remember to do it in the morning. And of course, you don't want to waste any of the discarded starter, so you'll be on the hunt for more and more sourdough discard recipes.
Recipe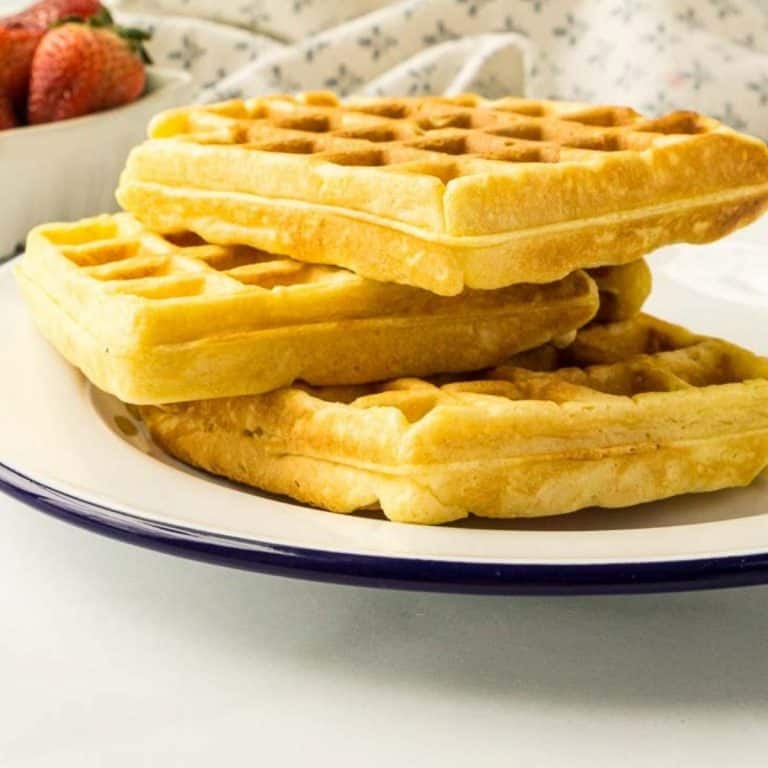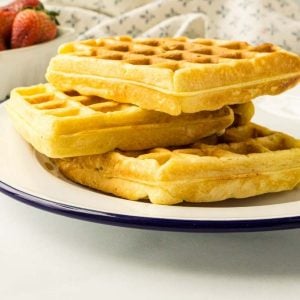 Classic Sourdough Discard Waffles
Print Recipe
Golden and crispy on the outside, soft and fluffy inside, these waffles will be your new favorite way to use extra sourdough starter!
Click here to grab a free mini-cookbook with my best seasonal recipes
Ingredients
2

cups

all purpose flour

2

tablespoons

sugar

2

teaspoons

baking powder

1/4

teaspoon

salt

1 1/4

cups

milk

2

eggs

1/3

cup

melted butter

1/2

cup

sourdough starter
Instructions
Preheat waffle iron and spray with non-stick cooking spray.

Combine all dry ingredients (flour, sugar, salt, and baking powder) in a large mixing bowl and stir until thoroughly combined. In a separate, medium bowl, combine the wet ingredients (eggs, sourdough starter, melted butter, and milk. Pour the wet ingredients into the dry and gently stir until jump combined. The batter will still have some lumps, but there should be no dry spots.

Scoop the batter into the hot waffle iron, about a half cup at a time, depending on the size of your iron. Cook until golden brown.

Remove waffles to a cooling rack while you cook the remaining waffles. Keep warm in a 200 degree oven if desired. Serve with syrup and butter or with whipped cream and additional blueberries
Notes
Try adding blueberries, chopped strawberries, or chocolate chips to the batter.
Fully cooked waffles free very well. Make sure they have completely cooled, then place in a freezer bag and simply reheat in the toaster.
Nutrition
Calories:
143
kcal
|
Carbohydrates:
26
g
|
Protein:
5
g
|
Fat:
2
g
|
Saturated Fat:
1
g
|
Trans Fat:
1
g
|
Cholesterol:
36
mg
|
Sodium:
169
mg
|
Potassium:
79
mg
|
Fiber:
1
g
|
Sugar:
4
g
|
Vitamin A:
97
IU
|
Calcium:
90
mg
|
Iron:
1
mg
These waffles are one of our favorites! Like any other waffles recipe, you simply mix, pour and eat! You can make the batter ahead of time if you wish, but it's absolutely not necessary.
Let's begin!
Related: the best fluffy sourdough pancakes!
Ingredients and tools
2 cups all purpose flour
2 tablespoons sugar
2 teaspoons baking powder
1/4 teaspoon salt
1 1/4 cups milk
2 eggs
1/3 cup melted butter
1/2 cup sourdough starter
You'll also need a waffle iron, nonstick cooking spray, and a large mixing bowl.
Step by step sourdough waffles
If you've ever made waffles before, you know what to do! The only difference with this recipe is the sourdough starter.
Before you mix up the batter, preheat your waffle iron and spray it with non stick spray.
In a large bowl, whisk everything together for the batter.
You can mix the dry ingredients first, then add the wet ingredients. But honestly, just mixing everything up together all at once works just fine!
There might be a few small lumps in the mixture and that's okay!
Once the iron is hot, scoop out the batter and pour it in. For this Belgian waffle maker, 1/3 cup of batter was just right. Cook until the waffles are golden brown, then put them on a cooling rack so they don't get soggy while you cook the rest. There should be no need to spray in between batches.
Serve with butter, maple syrup, whipped cream, fruit, or whatever you like!