The perfect kitchen soap recipe, this cold process formula is moisturizing, easy to make, and adds dried basil for a twist.
A recipe for cold process basil soap: affordable to make, with dried basil and basil essential oil. You'll love it next to the kitchen sink.
Recipe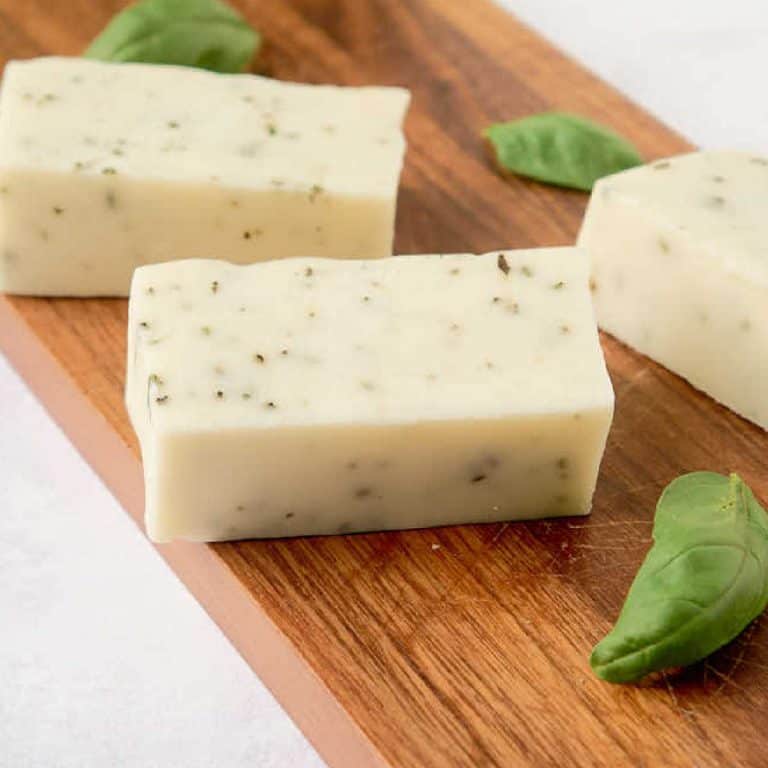 Summer Basil Cold Process Soap Recipe
Print Recipe
The perfect kitchen soap recipe, this cold process formula is moisturizing, easy to make, and adds dried basil for a twist.
Click here for a FREE autumn cookbook (25+ Recipes!)
Ingredients
4.28

ounces

lye

10

ounces

water

12

ounces

olive oil

11

ounces

coconut oil

3

ounces

avocado oil

2

ounces

shea butter

2

ounces

castor oil

2

teaspoons

dried basil

1

teaspoon

basil essential oil
Instructions
Measure out the lye and the water in separate, non-reactive containers, using a digital scale. Mix the lye and the water and stir until dissolved, adding the lye to the water, never the other way around. The lye solution will heat up as the result of a chemical reaction. Be careful of fumes, heat, and the corrosive solution. Set the cup aside to cool in a very safe place.

Measure out the oils in separate containers and place them in a pot. Melt over medium low heat until fully melted and about degrees. The shea butter will take longer to melt, but keep the oils over the heat until it is fully melted. Remove from the heat and set aside to cool.

Check the temperature of the oils and water. When they have cooled to 90-110 degrees, you are ready to blend. Before blending, have your soap mold, basil oil, and dried basil ready to go.

Pour the lye solution into the melted oils and blend with a stick blender until you reach trace. Trace is reached when the soap forms a batter and the stick blender leaves a trail when dragged across the top of the pot. Once trace is reached, add the basil oil and dried basil. Stir in by hand. Immediately pour the soap batter into the mold. Place on the counter or other safe, room temperature place to cure for 24 hours.

Turn out the loaf of soap and slice into bars. Allow to bars to cure in a well-ventilated space for at least 2 weeks before using. This soap has a high percentage of olive oil, so it may seem soft at first. It will firm up within the first two days, but allow to cure for at least 3 weeks for the best results.
Notes
Want to resize this recipe? Here are the percentages you'll need: olive oil- 40%; coconut. oil- 36.67 %; shea butter- 6.67%; castor oil- 6.67%; avocado oil-10%. The superfat percentage is 5%.
Be sure to observe all soap safety precautions! Always work in a well ventilated space, free of distractions. Wear eye protection, gloves, and long sleeves. Lye water and raw soap batter are both corrosive and can be fatal if consumed.
Love the idea of natural additions in your soap? You'll love this natural soapmaking course that dives into adding herbs, flowers, and more.
Did you make this recipe?
If you loved it, please leave a review!
Sourcing your materials
Customizing the basil soap recipe
If you'd like to resize it, you'll need to enter percentages into a lye calculator. It will put out the amounts of oil and lye you'll need to use. This is my favorite lye calculator.
The basil oil can be left out or substituted for another fragrance oil or essential oil. Each oil has its own usage guidelines that you'll need to refer to in order to see how much you need. Keep in mind that the basil oil has a very strong fragrance on its own and it likely to overpower anything else you add to it.
Adding a light green color would be beautiful.
Diving deeper into cold process soap
Never made homemade soap before? Don't be intimidated! But do read my beginners guide to homemade soap before you dive in.
Want to try other herbs? Go right ahead. Any dried herb will work well, especially thyme or mint. You can dry your own herbs, or just buy them from the spice aisle of the grocery store. No need to overthink this.
If you want to add fresh herbs, you'll want to puree them as you blend the soap batter. Bigger pieces of fresh herbs will shorten the shelf life of your soap.
Lemon zest in soap is a great choice as well. This recipe adds it in two places for a pretty, fresh-looking bar.
Enjoy your soap!