A balanced cold process soap recipe with fresh lemon zest for color and shea butter for moisture, this lemon soap recipe is refreshing and beautiful.
❤️ Why you'll love this recipe
Fresh and pretty. This is a great bar of soap to keep next to the kitchen sink. It is gentle enough to be used over and over on your hands and because the lemon zest is so refreshing and beautiful to look at.
Palm-free. This is a palm free recipe and it does have a large percentage of olive oil, which means it will seem slightly soft and sticky at first but will firm up nicely over a few weeks.
Beginner-friendly. This is not a difficult recipe and is suitable for beginners, as long as you first read up on the basics of the soapmaking process.
Nurture Soap is a great source for soap-making supplies. They carry the oils, fragrance, and molds you need for this project.
🥣 EQUIPMENT
Step by step
Step One: Measure ingredients in a safe place
Before you take out your first ingredient, make sure you have set aside enough time to do this project. You want be to be able to work distraction-free and not rush. Soap making requires time and precision. If you are rushed or distracted you will make mistakes and can hurt yourself.
Work in a well-ventilated area when you combine the water and lye: either next to a window, or outside. Make sure you have all. the ingredients and supplies you need so you aren't leaving things unattended to grab what you need.
Put on your googles, gloves, and long sleeves.
Step two: Make lye water and melt oils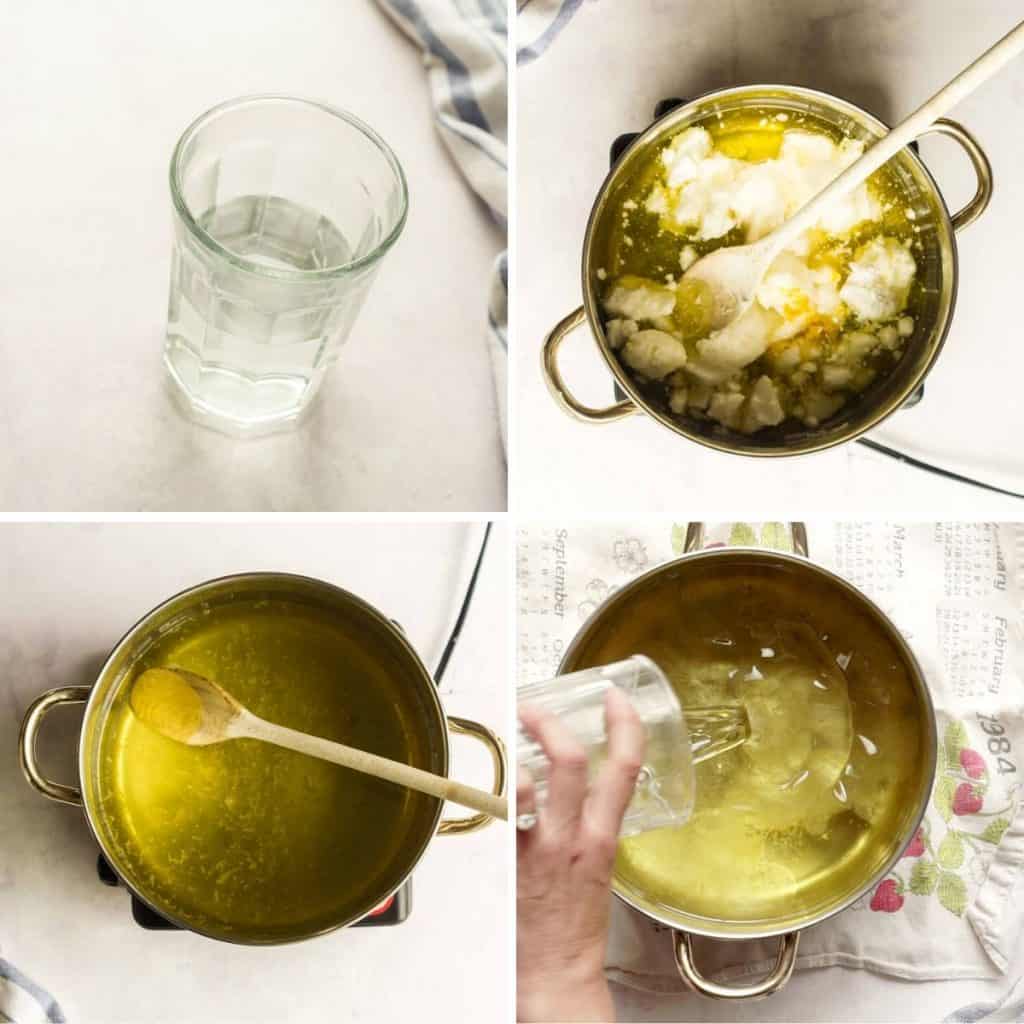 First measure out the lye and water, separately, using a digital scale. The water in soap recipes is flexible and anywhere from 8-11 ounces is fine for this recipe. It has a high percentage of olive oil, so the lower amount will help it cure faster.
Combine the lye and water by adding the lye to the water, never the other way around. To remember this, use the saying "snow floats on the lake". This will release a lot of fumes, and the lye water will become very hot. Stir until the lye flakes dissolve, and put the cup aside someone to cool. Choose a place where it will not be disturbed. This is very important, as if the cup spills it will ruin. your kitchen surfaces, burn skin very badly, and can cause blindness. It can be fatal if someone accidentally drinks it.
While the lye water is cooling, measure out the oils. It is best practice to measure them out in separate containers and then combine them in a pot. Put one teaspoon of lemon zest in the pot with the oils. Melt them over medium low heat until fully melted and 130 degrees in temperature. Set the pot aside somewhere to cool.
Step Three: Cool, blend, and pour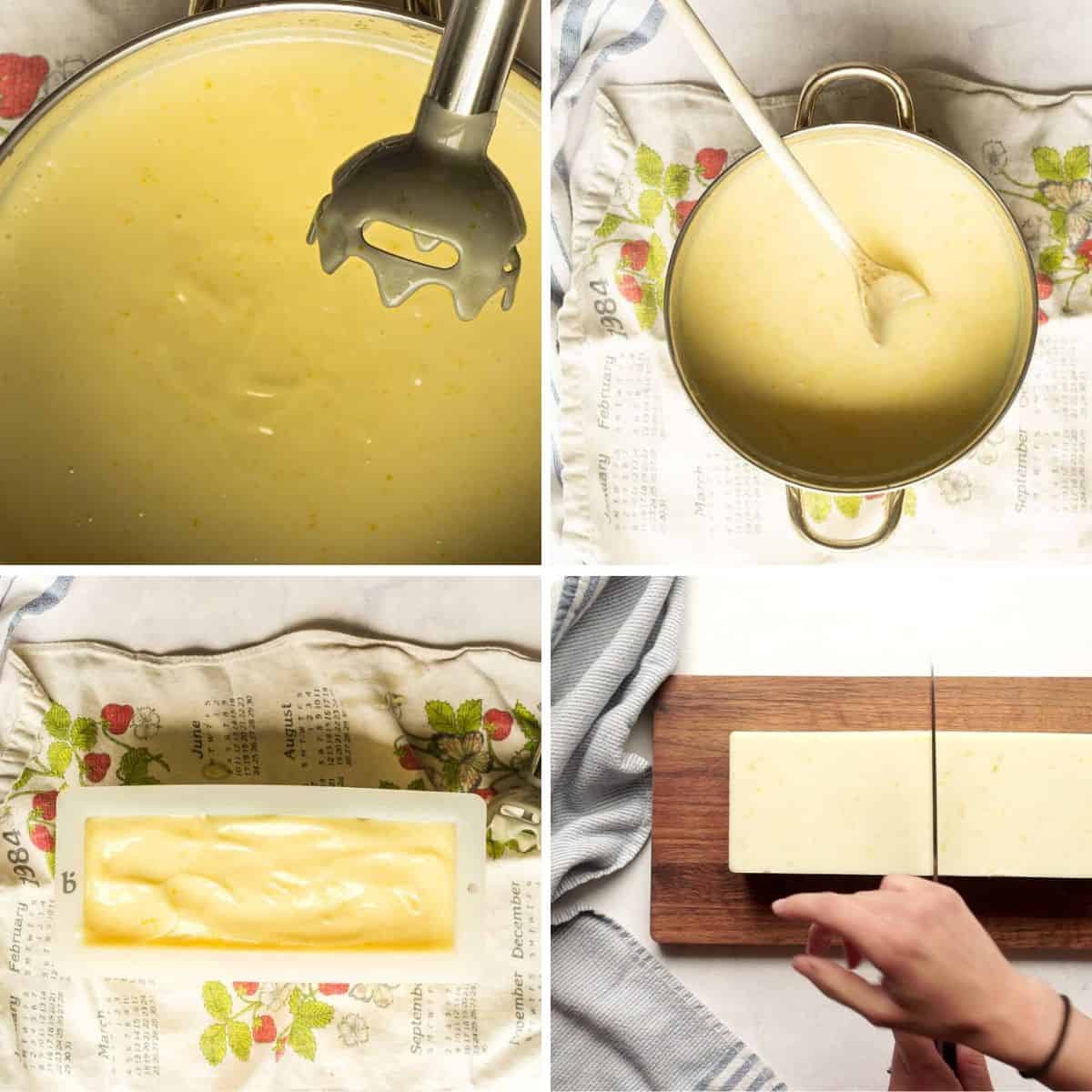 About an hour later, check the temperature of the lye water and the oils. You want them to be anywhere from 90 to 110 degrees before blending. It is best if they are very close together in temperature. If all is well, it's time to start blending. If not, let them cool more or heat up the oil just a tad more if it has cooled too quickly.
The lemon zest is added in stages: first to the oils. This zest mostly gets blended into the soap and adds beautiful yellow color. The rest gets stirred in by hand to give the speckled, lemony look to the bar.
Before blending, make sure you have your goggles on to protect your eyes. Pour the lye water into the pot of melted oils and begin to blend with the stick blender. Blend with the motor on for a few minutes, then turn it off and stir by hand for a minute to avoid burning it out. You will see the lemon zest become pulverized and the oils may become more yellow in color.
Keep stick blending until the soap batter reaches trace. This occurs when the solution thickens and no longer acts as a pure liquid. If you pick up your stick blender, you will see a trail or "trace" of soap batter resting on the surface rather than sinking immediately down into it.
When trace has been reached, add in the remaining lemon zest and stir by hand. If you would like to add fragrance or color, add them at this point as well.
Immediately pour the soap batter into your mold. This recipe will fit. perfectly into a 10-inch. silicone mold. If you are using a different shape or size, make sure you have an extra one to catch any overflow, just in case.
This soap does not usually gel. Put in a turned-off oven or another draft-free place to allow it to cure for 1-2 days.
When you un-mold it, it is a bit softer and stickier than you may be used to because of the high olive oil content. If it's too hard to get cleanly out of the mold, give it another day to cure.
When it's ready, slice into bars and allow to finish curing in a well-ventilated space for a few weeks. Make sure you store the bar on a breathable soap dish, such as a soap saver, to allow it to dry fully between uses.
Looking for more soap recipes?
📖 THE RECIPE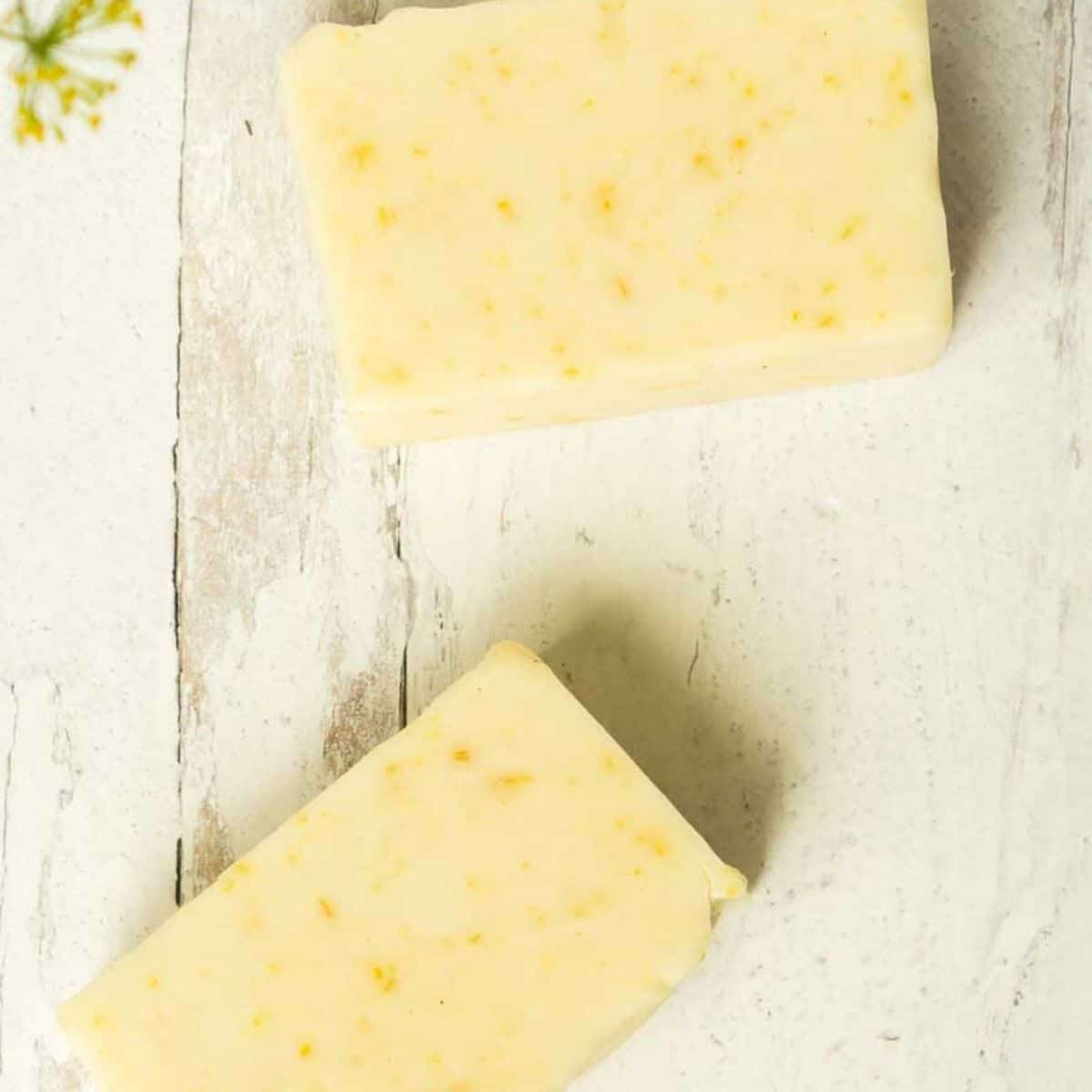 Want some free Christmas printables? Click here to grab 'em
Equipment
digital scale

safety equipment (goggles, gloves, mask)

soap mold
Ingredients
4.27

ounces

lye

9.5

ounces

water

11

ounces

olive oil

11

ounces

coconut oil

6

ounces

shea butter

2

ounces

castor oil

2

teaspoons

grated lemon zest

divided

0.4

ounces

sodium lactate

3

tablespoons

of fragrance oil

optional
Instructions
Measure out the lye and the water in separate, non-reactive containers, using a digital scale. Combine the lye and the water and stir until dissolved. The lye solution will heat up as the result of a chemical reaction. Be careful of fumes, heat, and the corrosive solution. Set the cup aside to cool in a very safe place.

Measure out the oils in separate containers and place them in a pot. Add 1 teaspoon of the lemon zest. Melt over medium low heat until fully melted and about 130-140 degrees. Remove from the heat and set aside to cool.

Check the temperature of both solutions after an hour or so. Before proceeding, they should be around 90-100 degrees. It is best if they are within ten degrees of each other. Add the sodium lactate to the cooled lye water. Before blending, have your soap mold, last teaspoon of lemon zest, and fragrance ready. Put on gloves and googles.

Pour the lye solution into the melted oils and blend with a stick blender until you reach trace. Trace is reached when the soap forms a batter and the stick blender leaves a trail when dragged across the top of the pot. Once trace is reached, add the fragrance and remaining lemon zest and stir in by hand. Immediately pour the soap batter into the mold. Place in a turned off oven or other draft-free place and allow to set for 24 hours.

Turn out the loaf of soap and slice into bars. Allow to bars to cure in a well-ventilated space for at least 2 weeks before using. Since this soap has a high percentage of olive oil, it will last longer if allowed to cure for 4 weeks.
Notes
Be sure to observe all soap safety precautions! Always work in a well ventilated space, free of distractions. Wear eye protection, gloves, and long sleeves. Lye water and raw soap batter are both extremely corrosive and can be fatal if consumed, cause blindness if splashed in the eyes, and will ruin clothing and kitchen surfaces.
To resize this recipe using a soap calculator, here are the percentages you will need: coconut oil 36.67%, olive oil 36.67%, shea butter 20%, castor oil 6.67%. 6% super fat
Did you make this?
Let me know how it was! Please see below for serving ideas, storage instructions, and substitutions.