A simple recipe for cold process bar dish soap that gets your dishes sparkling clean. Add lemon fragrance for a fresh scent.
❤️ Why you'll love this recipe
Cheap but works just as well. Whether you are trying to live sustainably or live frugally, this bar dish soap will help you get there. Store bought dish soap is shockingly expensive and always comes in big plastic containers. But bar dish soap takes up hardly any room, is packaging free, and works just as well.
Very cleansing. This recipe is almost all coconut oil, which is very cleansing but drying. I added a small amount of castor oil for extra lather, because everyone likes bubbles while washing the dishes. (For an even stronger soap, for use on laundry stains, you can try my homemade cleaning soap.)
You can add a fragrance of your choice. If you want to add fragrance, you definitely can! Just keep in mind that this will be touching plates, where you eat your food. Because of that, I chose to use orange oil instead of a synthetic fragrance oil. If you want to use an essential oil, make sure you look for one that won't fade as a the soap cures. (10x orange is a good one.)
It is calculated to a 1% superfat. This just means that there is very little extra moisture left over from the oils. They are almost all saponified, or turned into soap.
Because of the low superfat and high amount of coconut oil, this soap is not suitable for skin. But it leaves dishes sparkling clean! (Here is my best shower soap recipe.)
🧂 Ingredients
This is an overview of the ingredients. You'll find the full measurements and instructions in the printable recipe at the bottom of the page.
You'll need the following for this bar soap:
Fragrance or essential oil, optional (I used 10x orange.)
Individual bar soap mold (I used two of these bar soap molds.)
🥣 Equipment
🍴Instructions
Step One: measuring and combining ingredients
Begin by measuring out the lye and water separately, using a digital scale. Combine them by adding the lye to the water ("snow floats on the lake"). Stir until the lye fully dissolves, and set aside in a safe place.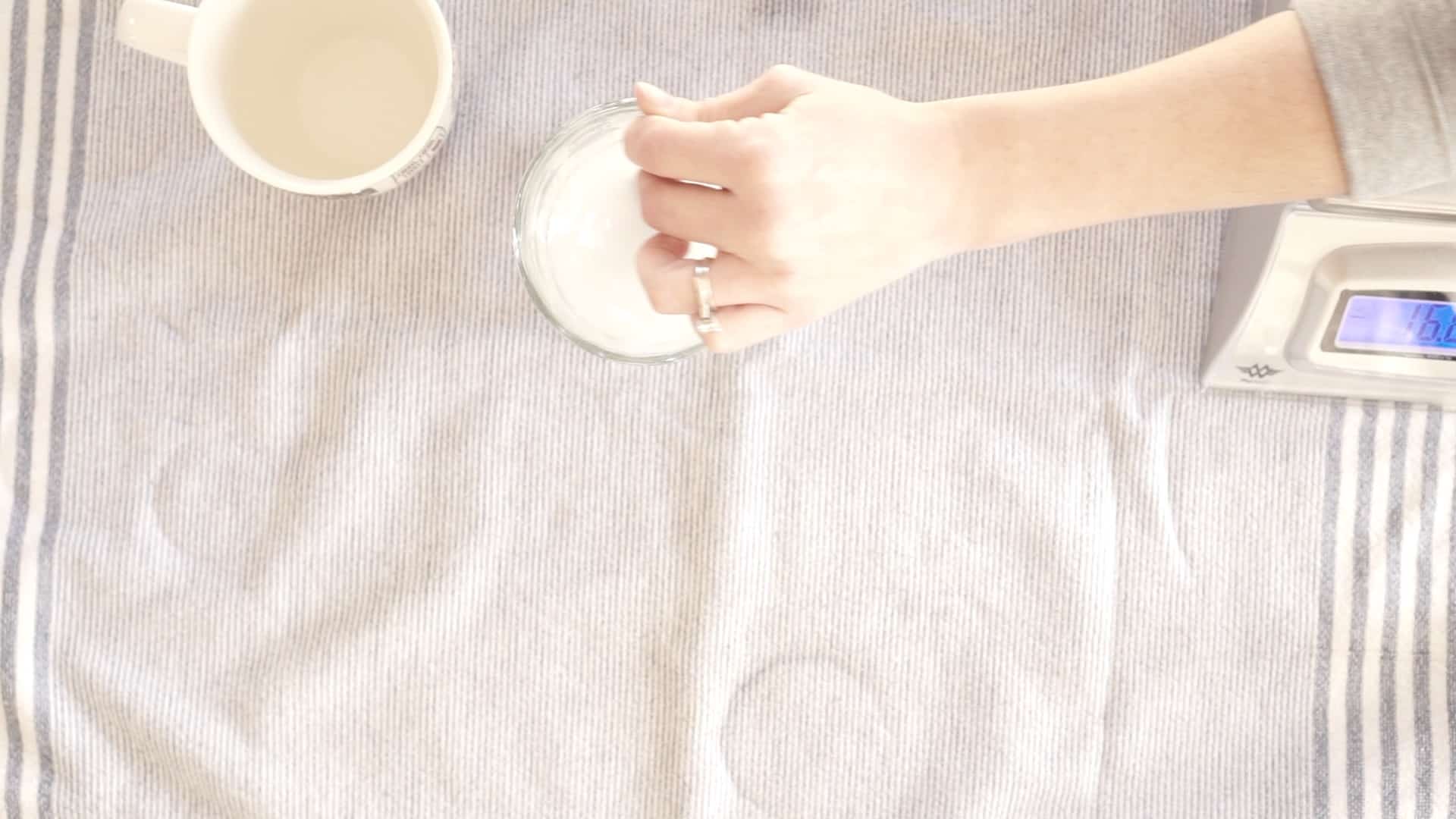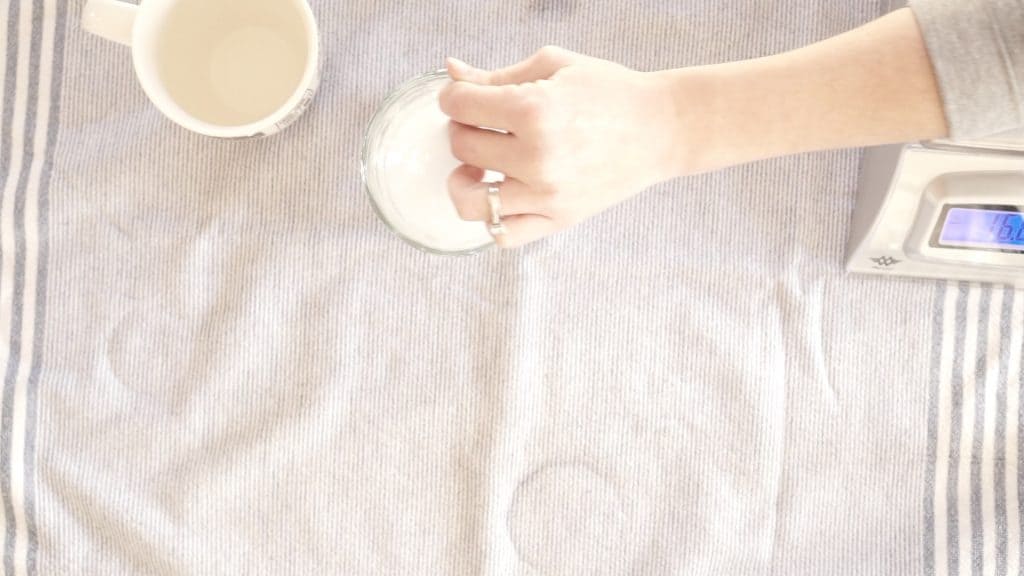 While the lye water is cooling, measure out the coconut oil and castor oil on the scale. They should technically be measured separately, but I just add them right to the pot I am melting them in.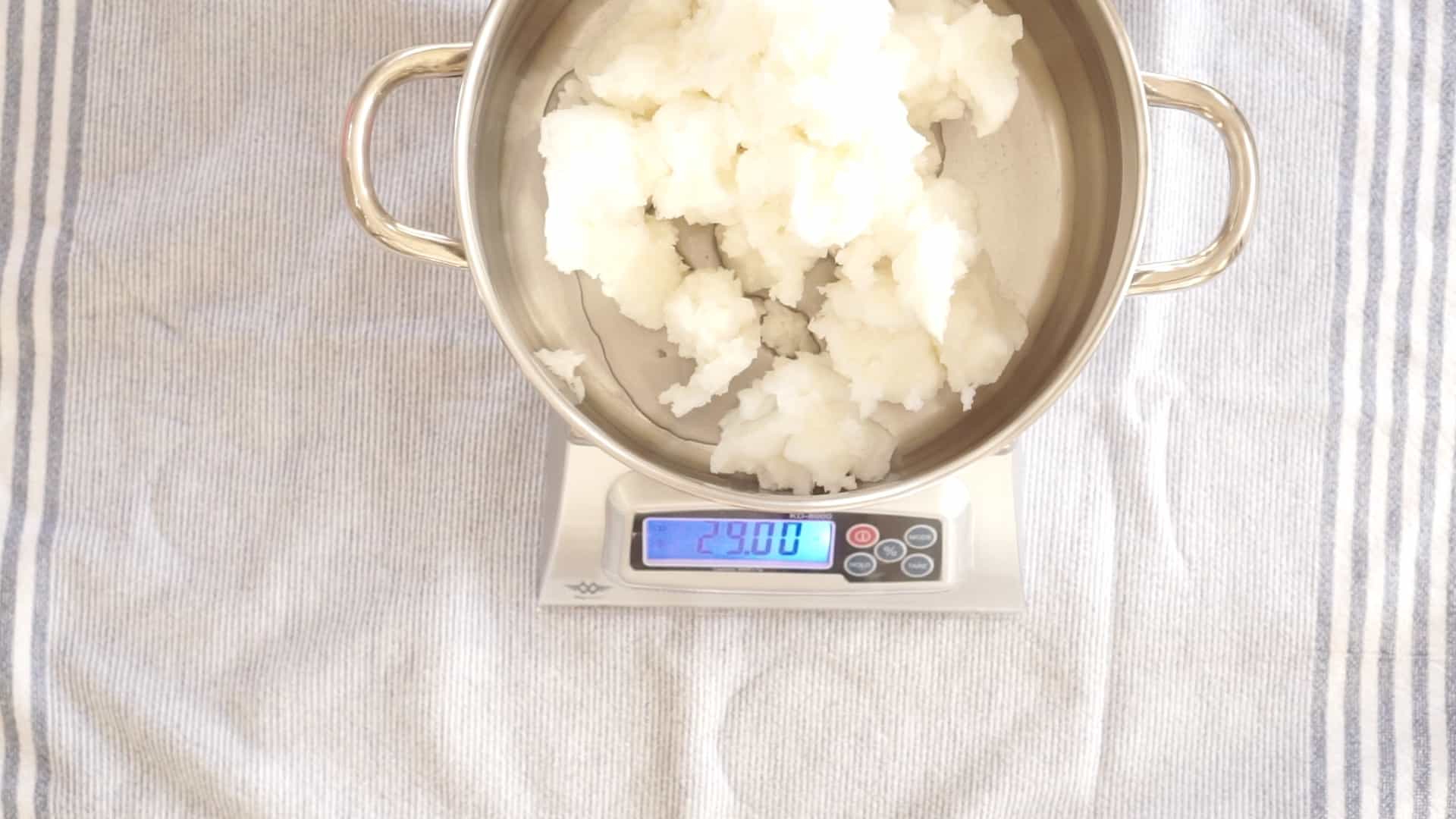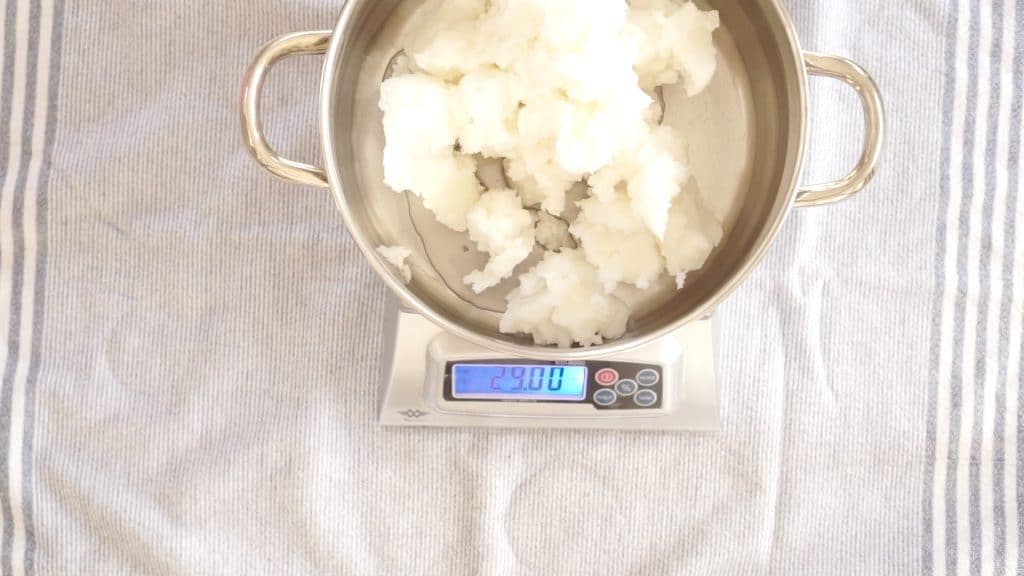 Step Two: melt and let it cool down
Set the oils on the stove to melt on low, until they are fully melted and 140 degrees.
Now you need to wait for everything to cool down. This will take two to three hours. Both components should be about 100-110 degrees before you blend them together. Ideally, they will be close in temperature, less than ten degrees apart.
Step three: blend
To blend, pour the lye water into the pot with the melted oils. Blend with your stick blender until a light trace is formed. That means that the blender leaves a trail (or "trace") when it is dragged through the batter. You shouldn't see any visible droplets of oil. It usually takes about 5 minutes of blending.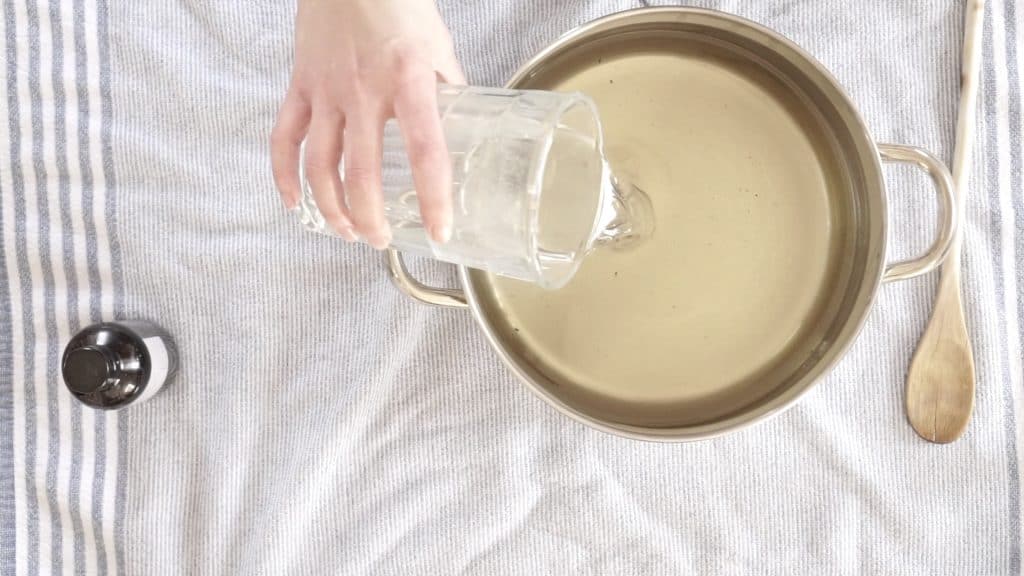 It will look like this
If you are adding fragrance, go ahead and do now and stir it in by hand.
Step Four: mold
Immediately pour into your soap molds and allow to harden for 24 hours before removing from the mold.
Let it cure for two weeks before using, otherwise it will dissolve too quickly.
🥫 Storage and usage instructions
Bar soap always lasts longer if it can dry in between uses. I use these soap savers to help air circulation.
Don't store your extra bars under sink. Put them in a dry closet or somewhere similar.
To help clean your dishes, this works well with either a wooden scrub brush or a dish cloth.
Again, don't use as a hand soap, it's too drying. But using it on your dishes won't dry out your skin any more than a store-bought dishwashing liquid.
🔍 FAQs
Can I make soap without using lye?
No. If it does not contain lye, it is not soap.
My soap has lost its smell really fast. Why?
Some fragrance and essential oils last longer than others.
Can I double a soap-making recipe?
As long the recipe is accurate, you can certainly double it.
👩🏻‍🍳 Expert tips
Soapmaking can be dangerous and the ingredients deserve respect. Make sure you are wearing gloves, eye protection, and long sleeves. Any splashes can burn your skin or damage your eyesight. The fumes are also dangerous, so work in a well-ventilated area.
Don't make soap when you are rushed or stressed. Just don't do it. You'll make mistakes, and they are hard to undo.
Keep all soap making ingredients away from children or pets. Anything with lye in it is dangerous until it has cured into a finished bar.
📘 Related Recipes
📖 here's the recipe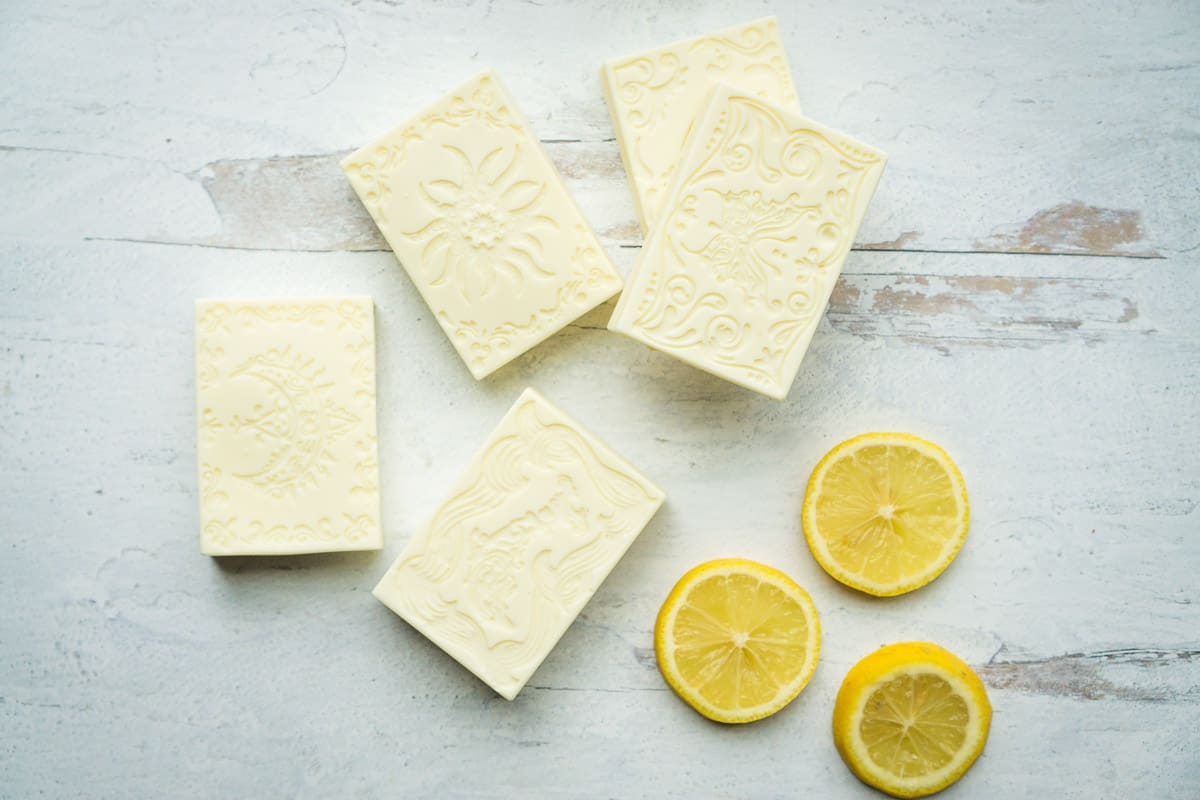 Servings:
12
3.5 ounces bars
Want some free Christmas printables? Click here to grab 'em
Ingredients
1

ounce

castor oil

29

ounces

coconut oil

5.41

ounces

of lye

8 to 11

ounces

of water

1

tablespoon

fragrance oil

optional
Instructions
Measure the lye and water in separate containers, using a digital scale. Combine the lye and water by adding the lye to the water, then stir until dissolved. The lye solution will shoot up in temperature and become hot. Set aside to cool in a safe place.

Measure the castor oil and coconut oil using a digital scale. Melt over low heat in a stainless steel pot until fully melted and 140 degrees. Set aside to cool in a safe place.

When the lye water and melted oils have cooled to about 110 degrees, combine them by pouring the lye water into the melted oils. Blend with a stick blender until a thin trace is reached. (The mixture will thicken slightly and no droplets of oil are visible.) Add the fragrance, if using, and stir in by hand.

Immediately pour into a soap mold with individual bars. (The soap dries too hard to cut easily if made as a loaf.). Remove from the molds after 24 hours and allow to cure 2 weeks more before using. Store the bar in a place that will allow it to dry as much as possible between uses.
Notes
To calculate with a different volume, use these percentages:
96.67% coconut oil
3.33% castor oil
1% superfat
Did you make this?
Let me know how it was! Please see below for serving ideas, storage instructions, and substitutions.