A soft and fluffy sourdough sandwich bread made with buttermilk. Lots of tangy flavor plus great texture make this a perfect sandwich loaf.
A simple recipe that combines buttermilk and sourdough for a tangy sandwich loaf. You'll love this soft bread.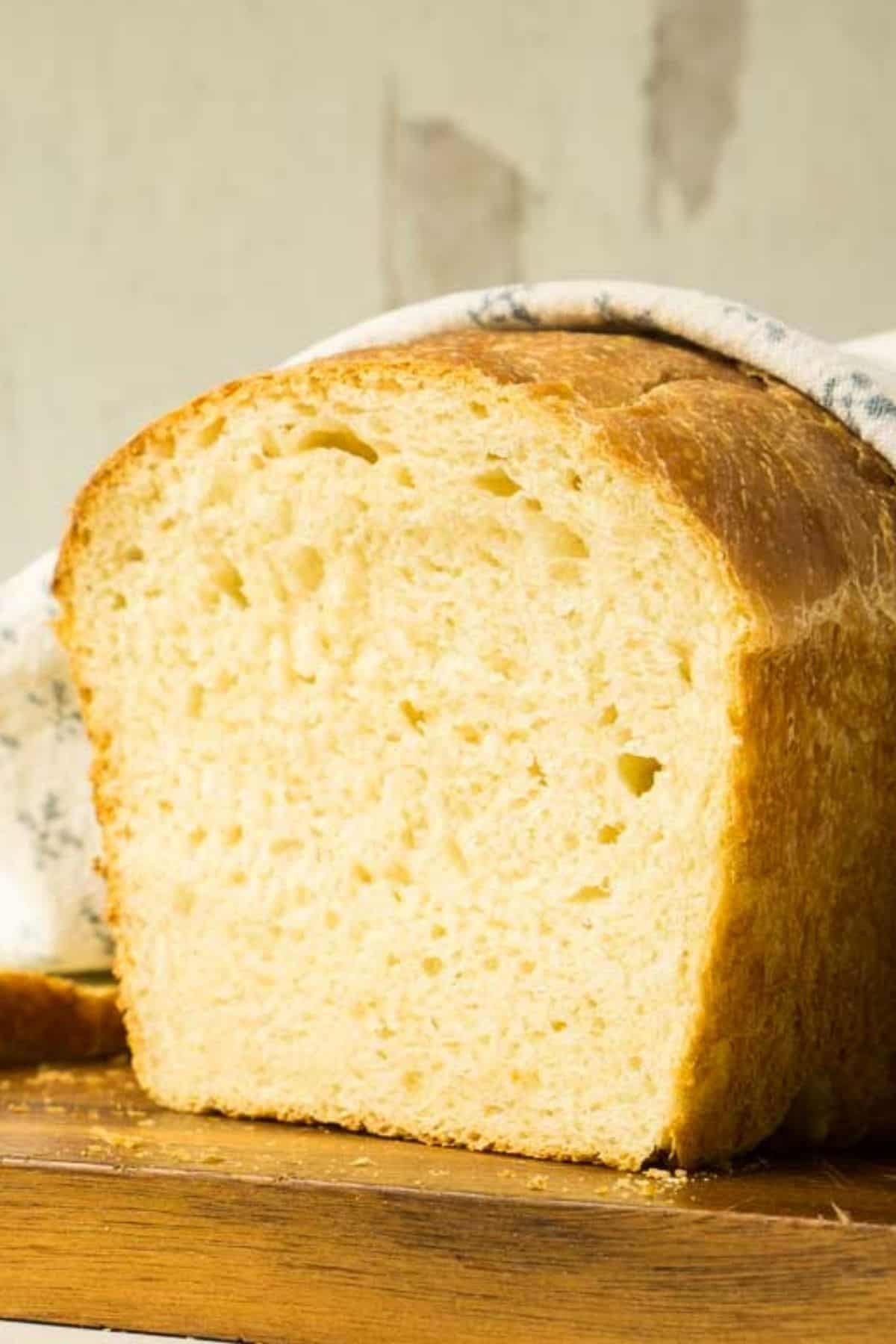 ❤️ Why you'll love this recipe
Great flavor. If you love a truly tangy sourdough bread, you'll love this bread even more. There's sourness from the sourdough starter and buttermilk, giving it a great, rich flavor. There's just enough brown sugar to keep it from seeming too sour.
Soft. A nice texture makes it a versatile, everyday loaf. (Try sourdough egg bread for another soft sandwich loaf!)
Easy to make. Like any sourdough bread, the rising times are long. But it's not hard. Let's begin!
🧂 Ingredients
This is an overview of the ingredients. You'll find the full measurements and instructions in the printable recipe at the bottom of the page.
You'll need the following for this simple bread:
For the Dough
all-purpose flour
brown sugar
buttermilk
active sourdough starter
softened butter
salt
🥣 Equipment
I use and recommend Gold Touch bakeware for the most evenly browned loaf.
8.5 x 2.5 x 4.5 sandwich loaf
large mixing bowl
stand mixer, bread machine, or patience
🍴Instructions
Step One: make the dough
Okay, my friends, let's start this bread. If you have made sourdough bread in the past, you'll be surprised how easy this is! Baking it in a loaf pan sort of simplifies the whole process and lets you have a wetter dough without worrying about it turning into a pancake. So don't be scared.
We start by just mixing up the ingredients (including the butter) in a big bowl. At first, it will look rough, lumpy, and sticky. That's okay. Cover it up and let it rest for thirty minutes.
Next, add in the salt and knead it in. This will take about five minutes. You want to make sure the salt is incorporated and no longer feels gritty in the dough. You'll notice that the dough starts to smooth out as you knead. It will still feel quite sticky, though!
Step Two: stretch and fold + shaping
Let it rise for about four hours, or until it is very puffy and has doubled in size. But don't just let it hang out in there without a little attention. Once or twice throughout the rising process, shape the dough back up into a ball as pictured in #5. This gives the dough just a little more structure so it can hold its shape better. Don't be overly particular about this. Just do it a couple of times.
Once your dough is nice and puffy, it's time to shape! Turn it out onto the counter and stretch it out into a long rectangle. Use your loaf pan as your guide. Then tuck the top corners in and then the top ("shoulders in, head down") and roll up your loaf. Tuck the ends under and pinch all the seams.
Spray your loaf pan and pop the dough in. Cover it with greased plastic wrap and back it goes into that slightly warm oven.
This second rise will take about 3-4 hours, but watch the dough, not the clock. Like any true sourdough recipe, the times will vary quite a bit. It's ready when the dough is 1-2 inches over the top of the loaf pan.
Towards the end of the rising time, place your oven rack in the center and preheat the oven to 350.
Step three: final proof and bake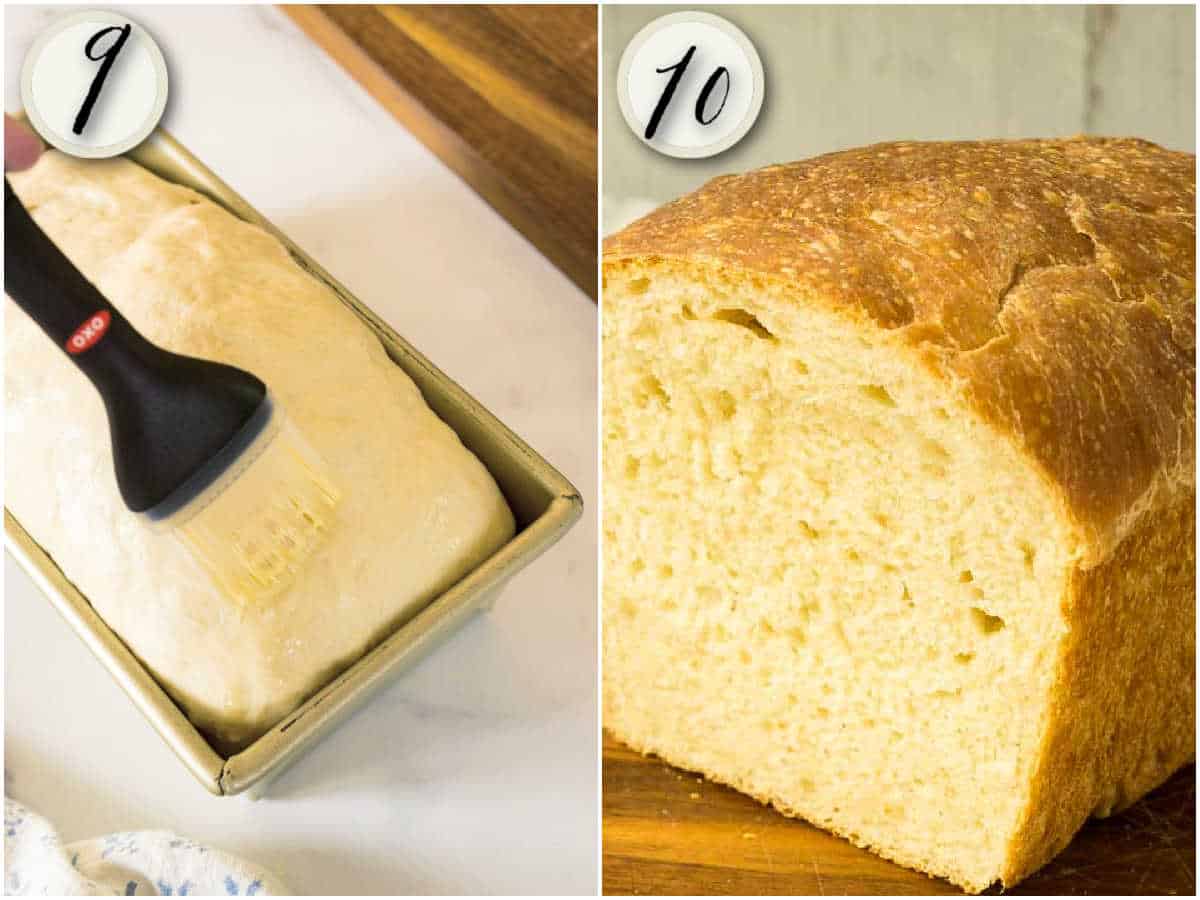 Cover it with a damp tea towel and place the whole bowl in a warm place (a slightly warm but turned-off oven is great!).
When your loaf is ready to bake, first brush with melted butter. Well, you don't have to! But it adds a little color and shine to your finished bread.
Pop that little guy into the oven and bake until it's about 200 degrees inside and very golden brown.
Let it cool on a wire rack for a few hours. If you can let it fully cool, you'll get the nicest-looking slices
🥫 Storage instructions
Any leftovers will keep well in a bread bag for 3-4 days on the counter.
Like any homemade bread, this freezes very well. Try slicing it, then freezing, so you can pull out what you need for toasting one slice at a time.
🔍 FAQs
Is this bread sour?
I wouldn't say sour, but yes there is a tangy flavor that's noticeable.
Why isn't my bread rising?
This dough rises very slowly. Try putting it in a warmer place and see if that works. If it's just not happening, chances are your starter wasn't active enough.
👩🏻‍🍳 Expert tips
If you're having a hard time remembering to do the stretch and folds, set a timer on your phone.
If t any time you're sick of dealing with your dough, cover it tightly and pop it in the fridge. You can continue in the morning.
📘 Related Recipes
🍽 Serve it with
This bread recipe makes great sandwiches or toast. Try it spread with homemade apple butter, or on the side with a cast iron skillet omelet.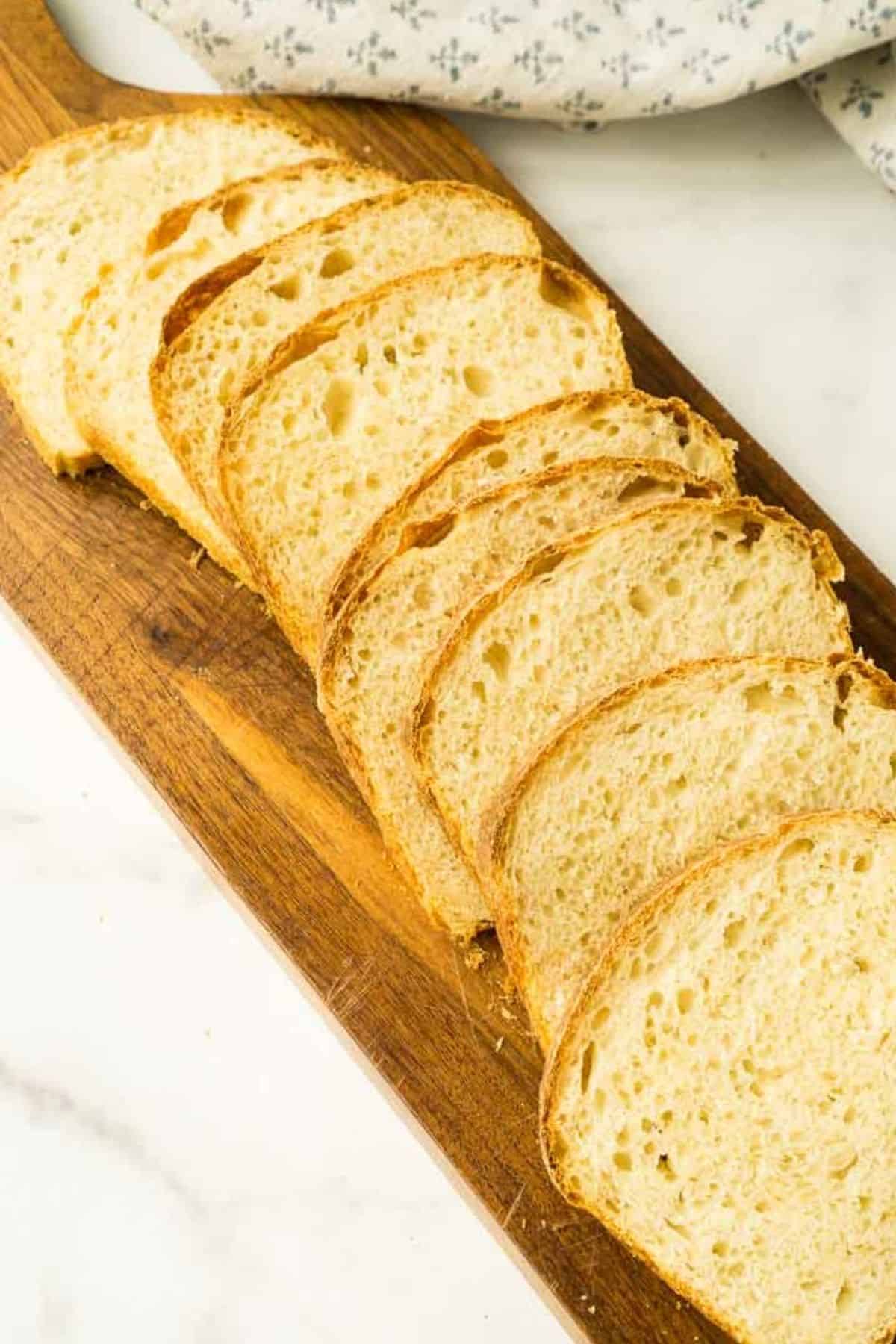 📖 Here's the recipe
Soft Buttermilk Sourdough Bread
Print Recipe
A soft and fluffy sourdough sandwich bread made with buttermilk. Lots of tangy flavor plus great texture make this a perfect sandwich loaf.
Click here for a FREE autumn cookbook (25+ Recipes!)
Ingredients
For the Dough
2 1/2

cups

all purpose flour

3

tablespoons

brown sugar

1

scant cup

buttermilk

1/2

cup

active starter (5 ouncces

2

tablespoons

softened butter

1 1/2

teaspoons

salt
For Topping
1

tablespoon

melted butter
Instructions
Combine the flour, brown sugar, buttermilk, butter and starter in a large mixing bowl by mixing until a sticky dough is formed. Cover with a clean tea towel and allow to rest on the counter about 30 minutes.

Add the salt and knead by hand, either on the counter or right in the bowl, abbout five minutes, until the salt is thoroughly incorporated and the dough begins to smooth out. It will still be relatively sticky and shaggy.

Cover with a damp towel and allow to rise in a warm place for 4 hours, or until doubled in size. Once or twice during the rising process, fold the dough back up into a ball to help build structure and help it rise higher in the second rise. If needed, re-dampen the tea towel to keep it from drying out.

Turn the dough out onto a clean surface and stretch into a long rectangle about 9 inches x 18 inches. Tuck the corners in and start rolling the dough into a log. Tuck the ends under and pinch the side and bottom seams. Place the the loaf into a greased loaf pan and cover with greased plastic wrap.

Place loaf in a warm place and allow to rise again, for 3-4 hours, or until the dough has risen 1-2 inches above the top of your loaf pan. Towards the end of the rising time, preheat your oven to 350 degrees with the rack in the center.

Remove the plastic wrap and brush the top of the loaf with melted butter. Bake for 35-45 minutes, until the bread is golden brown and 200 degrees in the center. Remove from loaf pan and allow bread to cool on wire rack. For neatest slices, let cool completely before slicing.
Notes
The rising times will vary depending on the strength of your sourdough starter, warmth of your room, and other factors. Let the dough be your guide!
You can spread the process over two days by placing the dough in the fridge overnight. It won't rise much in there, but it will allow you to continue the process in the morning.
Nutrition
Calories:
92
kcal
|
Carbohydrates:
17
g
|
Protein:
2
g
|
Fat:
2
g
|
Saturated Fat:
1
g
|
Cholesterol:
1
mg
|
Sodium:
236
mg
|
Potassium:
25
mg
|
Fiber:
1
g
|
Sugar:
2
g
|
Vitamin A:
63
IU
|
Vitamin C:
1
mg
|
Calcium:
6
mg
|
Iron:
1
mg
Did you make this recipe?
If you loved it, please leave a review!
Enjoy your bread!