A creamy and rich homemade vanilla ice cream with thick ribbons of fudge and caramel.  Better than store bought!
Homemade vanilla ice cream with delicious swirls of fudge and caramel that's even better than that expensive kind at the store.
❤️ Why you'll love this recipe
Home ice cream is the highest quality you can get. Feel like store-bought ice cream has gone way downhill in the past few years? It used to be that pretty much any brand you bought would be good, but now only the super-premium expensive ones are good. I know there are a lot of easy, egg-free, no-churn recipes out there, but it's just not the same. We can do this! If you're going to go through the trouble let's do it the right way!

Simple to follow. This method might use a few more dishes than you would like, but it's not hard. You can absolutely use homemade fudge sauce and caramel for this ice cream recipe, but it's not necessary and that would be a LOT of dishes. So I use store-bought jars here and it's delicious.

🧂 Ingredients
This is an overview of the ingredients. You'll find the full measurements and instructions in the printable recipe at the bottom of the page.
You'll need the following for this creamy treat:
whole milk
heavy cream
granulated sugar
1 vanilla bean or vanilla extract
egg yolks
salt
caramel sauce
prepared fudge sauce
🥣 Equipment
ice cream maker
strainer
saucepan
🍴Instructions
Step One: warm the custard
Get everything ready. Things move fast. Have your strainer set up and ready, have all the ingredients measured out.

First we are making the vanilla custard base. This is weird, heating up eggs part. Don't worry, it's no big deal. Begin by heating up the milk, heavy cream, vanilla seeds and pod, and ½ cup of the sugar in a saucepan over medium heat. We are just heating everything up to get it warm. The milk will start steaming and will be at about 175 degrees. This will take about five minutes.

Step Two: temper the eggs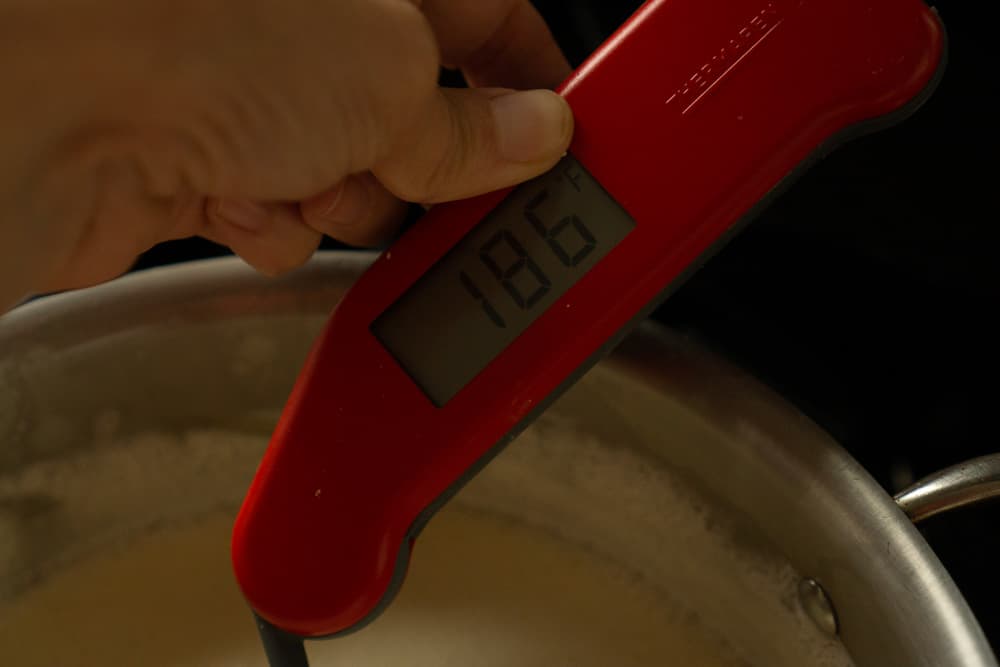 While the milk is heating, whisk the 4 egg yolks with the remaining ¼ cup of sugar in a medium bowl. I use a hand mixer for this. Keep whisking until the color changes to pale yellow.

Okay. So now we have to combine these eggs with hot milk without cooking the eggs. To do that, we have to temper the eggs, which just means adding the hot milk a little bit at a time so it warms up gradually. We only need to add half of the warm milk in. Do this a half cup at a time, whisking after each addition.

Once half the milk has been whisked in, the eggs are tempered. Now we just pour the bowl back into the saucepan. So all the ingredients (except the salt and vanilla extract, if using, are in the saucepan.)

We have to now cook the custard, which we will do over the stovetop on medium heat. This stage will take a few minutes longer than warming up the milk. Heat it to 180-185 degrees, stirringly constantly. Don't allow it to scorch or boil.

Step three: strain
Remove from the heat, add the vanilla extract, if using, and a pinch of salt. Stir, and then we need to strain to make sure we have perfectly creamy ice cream. You can layer cheesecloth over a bowl, or use a greek yogurt strainer, which is extremely handy.

If you have the stainer, you can place the whole thing in the fridge and let it cool while it strains. If you are using cheesecloth, let it strain in the sink and then cover the bowl of custard with plastic wrap to let it chill. Pop the vanilla bean back in!

And then it needs to sit in the fridge for at least 4 hours until it is very cold. I just let it chill overnight because we've already made a pretty big mess in the kitchen and let's save the rest for another time.

Go ahead and put your caramel sauce and hot fudge sauce in the fridge as well. Aren't you glad you aren't making them from scratch? Yikes.

Step Four: churn
In the morning, it's time to churn.

Assemble your ice cream maker and pour in your cold custard. We are going to churn the vanilla ice cream all the way before we add any of the caramel or fudge. If you want swirls, we can't mix it in with the machine, it will just become a light brown ice cream. Tasty, but not what we are going for.

After about 15 minutes of churning, the ice cream will look like soft serve ice cream. Pour it into a loaf pan, cover with plastic wrap, and let it firm up in the freezer for at least 3 hours.

I know, we've been doing this awhile.

Step Five: swirl
At last, it's time to add the caramel and fudge. Take the ice cream out of the freezer and pour 1/3 of a cup of each of the sauces right on top. Using a butter knife, gently stir everything together. It's better to under-stir, rather than over-stir, so that the ribbons of fudge and caramel are still visible. Once everything is combined to your liking, cover it back up and pop it back in the freezer for an hour or so.

And then… THEN… you can eat it!
🥫 Storage instructions
Homemade ice cream will keep well in the freezer for up to 1 week.
🔍 FAQs
Can I add more mix-ins to this?
Yes! Heath bar bits are sooooo good in this recipe!
👩🏻‍🍳 Expert tips
Be aware that this is going to take awhile. Not a lot of time in the kitchen, but a lot of time waiting for things to cool down in the fridge, or firm up in the freezer. You can't rush this, and if you are in a hurry to have ice cream, homemade is not the way to do it.
You will need an ice cream maker for this recipe. I have this one, which requires pre-freezing the canister for at least 24 hours. There are also fancier models, like this, which will freeze everything for you.
You will also need something to strain the custard in. Make sure you have either cheesecloth or, a very handy Greek yogurt stainer that can strain anything you would like. I use it for everything from keto Greek yogurt to dill pickle relish.
📘 Related Recipes
🍽 Serve it with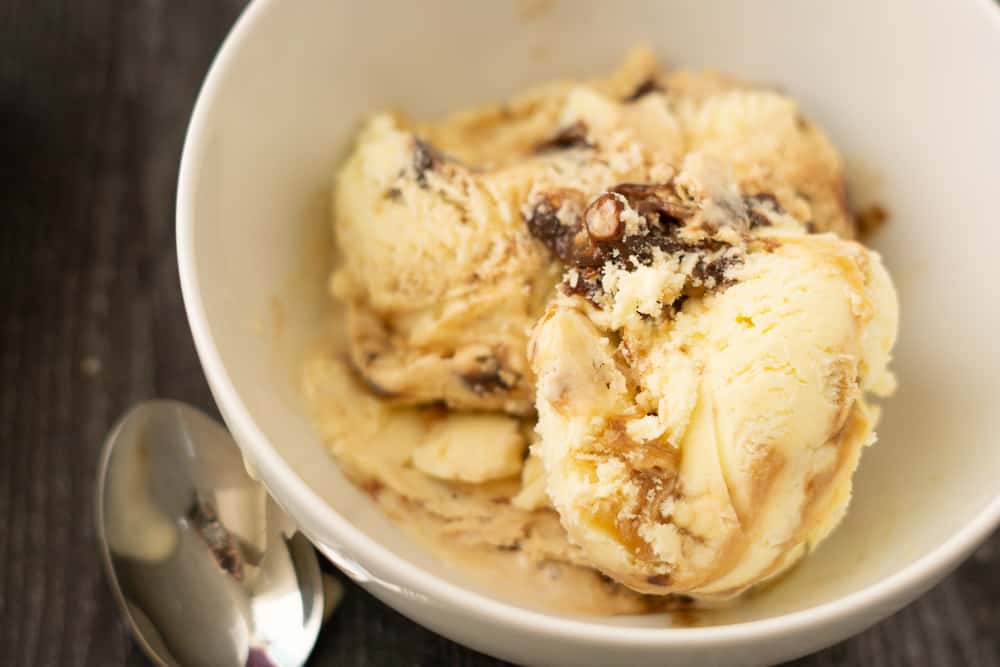 📖 Here's the recipe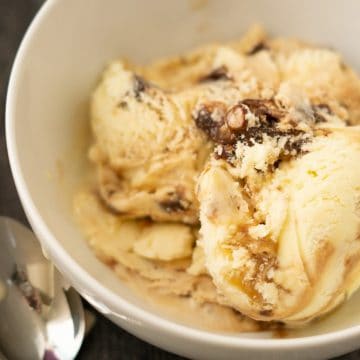 Vanilla Caramel Fudge Ice Cream Recipe
Print Recipe
A creamy and rich homemade vanilla ice cream with thick ribbons of fudge and caramel. Better than store bought!
Click here for a FREE autumn cookbook (25+ Recipes!)
Ingredients
1½

cups

whole milk

1½

cups

heavy cream

¾

cup

granulated sugar

1

vanilla bean

seeds remove (or 2 teaspoons vanilla extract)

4

egg yolks

pinch

salt

⅓

cup

prepared caramel sauce

⅓

cup

prepared fudge sauce
Instructions
Heat the milk, cream, 1/2 cup of sugar, and vanilla bean in a saucepan over medium heat, until warm and steaming, or about 170 degrees.

Meanwhile, whisk the egg yolks and remaining 1/4 cup of sugar until light yellow in color and well combined. (A hand mixer on low will work well.)

Temper the eggs by adding half of the warm milk mixture, a half cup at a time. Then add the egg mixture back into the saucepan with the rest of the milk and cream.

Heat the saucepan, which now contains all of the milk, cream, sugar, and eggs, over medium heat, stirring constantly, until it reaches 185 degrees. Do not boil. Once off the heat, add a pinch of salt, and the vanilla extract, if using.

Strain the custard using cheesecloth or a stainer, then immediately place in the refrigerator to chill. Place the vanilla bean back in the custard. Chill for 4-24 hours, until very cold.

Freeze ice cream according to manufacturer's instructions. When it has reached the consistency of soft serve ice cream, place into loaf pan, cover with plastic wrap, and freeze until firm. Place jars of caramel and fudge in refrigerator to firm up as well.

Remove vanilla ice cream from freezer and pour caramel sauce and fudge sauce on top. Gently stir with butter knife until swirls are throughout. Place back in freezer to firm for at least 1 hour. Allow to soften ten minutes at room temperature before serving. Will keep well in freezer up to 1 week.
Notes
Don't rush any part of homemade ice cream! It won't set up properly.
Try using salted caramel sauce for a twist!
Nutrition
Calories:
298
kcal
|
Carbohydrates:
26
g
|
Protein:
4
g
|
Fat:
20
g
|
Saturated Fat:
12
g
|
Cholesterol:
163
mg
|
Sodium:
41
mg
|
Potassium:
104
mg
|
Sugar:
25
g
|
Vitamin A:
860
IU
|
Vitamin C:
1
mg
|
Calcium:
92
mg
|
Iron:
1
mg
Did you make this recipe?
If you loved it, please leave a review!
Enjoy!