A dill pickle relish recipe that is not sweet, not oniony, and has a tad of sugar and heat.  Makes 8-10 half-pint jars.
This recipe is for a simple dill pickle relish using fresh produce. It is perfect as a condiment, as an ingredient in cold salads like potato salad, or for mixing up a batch of tartar sauce. It is so much better than store-bought! You'll find a pretty recipe printable at the bottom of the post.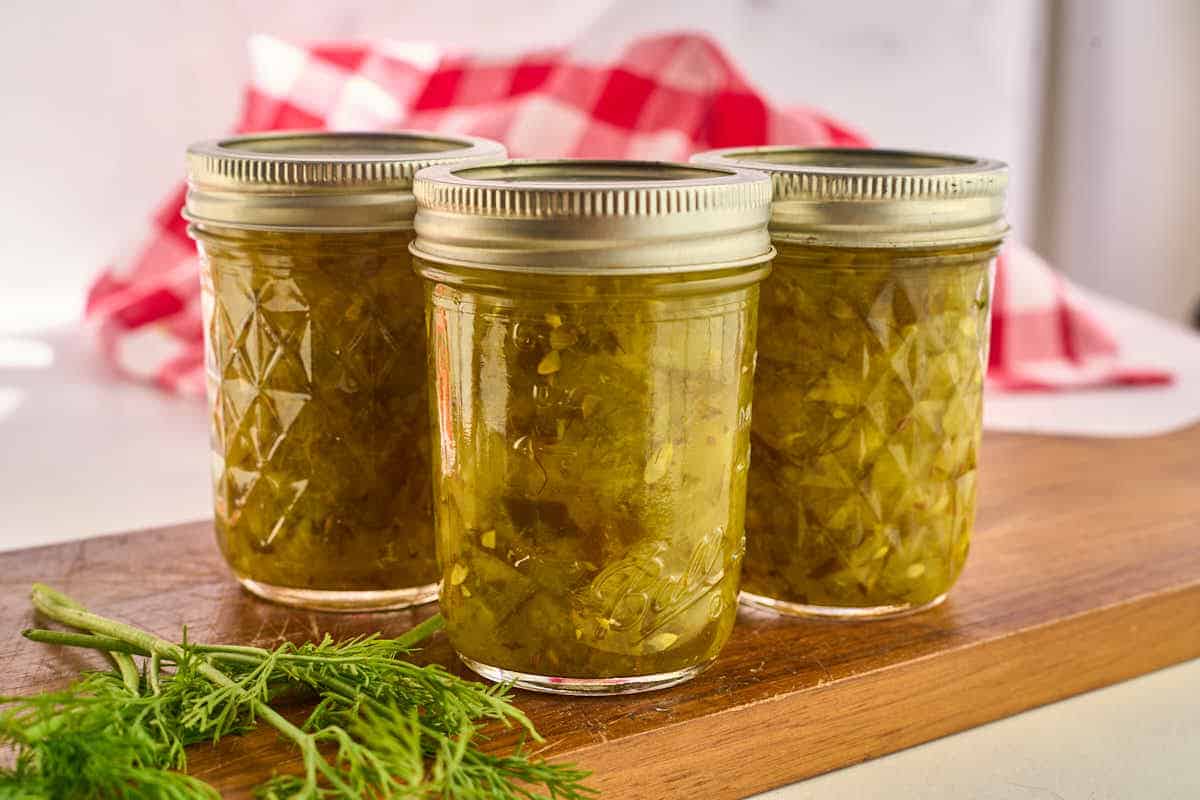 The only relish recipe you need
My grandmother was a big baker, quilter, canner, and all the rest. I did not appreciate it at the time because I thought I was going to be a lawyer. (I was, in fact, a secretary and then a housewife.) Anyway. Years after she died, I wished I had learned from her when I could. I do have one old gardening book of hers, out of which came a hand written recipe for relish.
It read:
Sweet relish, 6 pints

Prepare cucumbers and onions and cover with vinegar. Add sugar to taste.

Pour into hot jars and cool.
So that "recipe" was a no-go.
We love dill relish for homemade tartar sauce, as well as on hot dogs. I knew it would be a great use of our cucumbers, but I couldn't find the right recipe. I searched high and low for a recipe without weird ingredients and that wasn't too sweet or too oniony. It could not be found, so I made some simple tweaks to the Ball Blue Book recipe to suit my tastes.
This post contains affiliate links, meaning that if you make a purchase after clicking on a link I may earn a small commission at no additional cost to you. As an Amazon associate, I earn from qualifying purchases.
Dill Pickle Relish Ingredients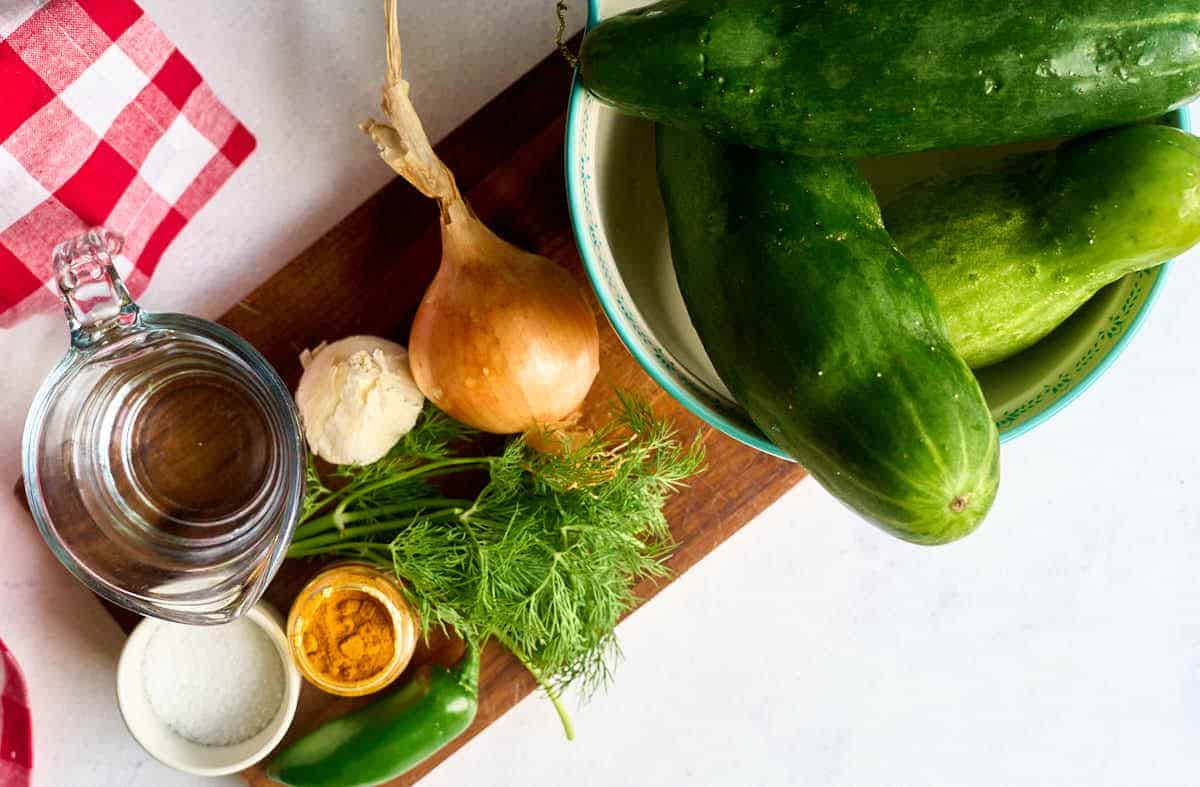 As you look through the ingredients, there are some things that may seem unnecessary. The turmeric seems strange, but I would not recommend leaving it out. I have done this recipe without it, and there is a difference in taste.
The sugar is not necessary for preservative purposes, but it does improve the flavor. This relish is not sweet, but the sugar definitely adds something extra.
The onions, jalapeño, and dill seed can be reduced if you do not like them. But the salt and vinegar cannot be altered as they are essential to preserving the relish.
Canning and pickling salt could be in two different places in your grocery store: either with the salt, or with the canning supplies. It looks like this: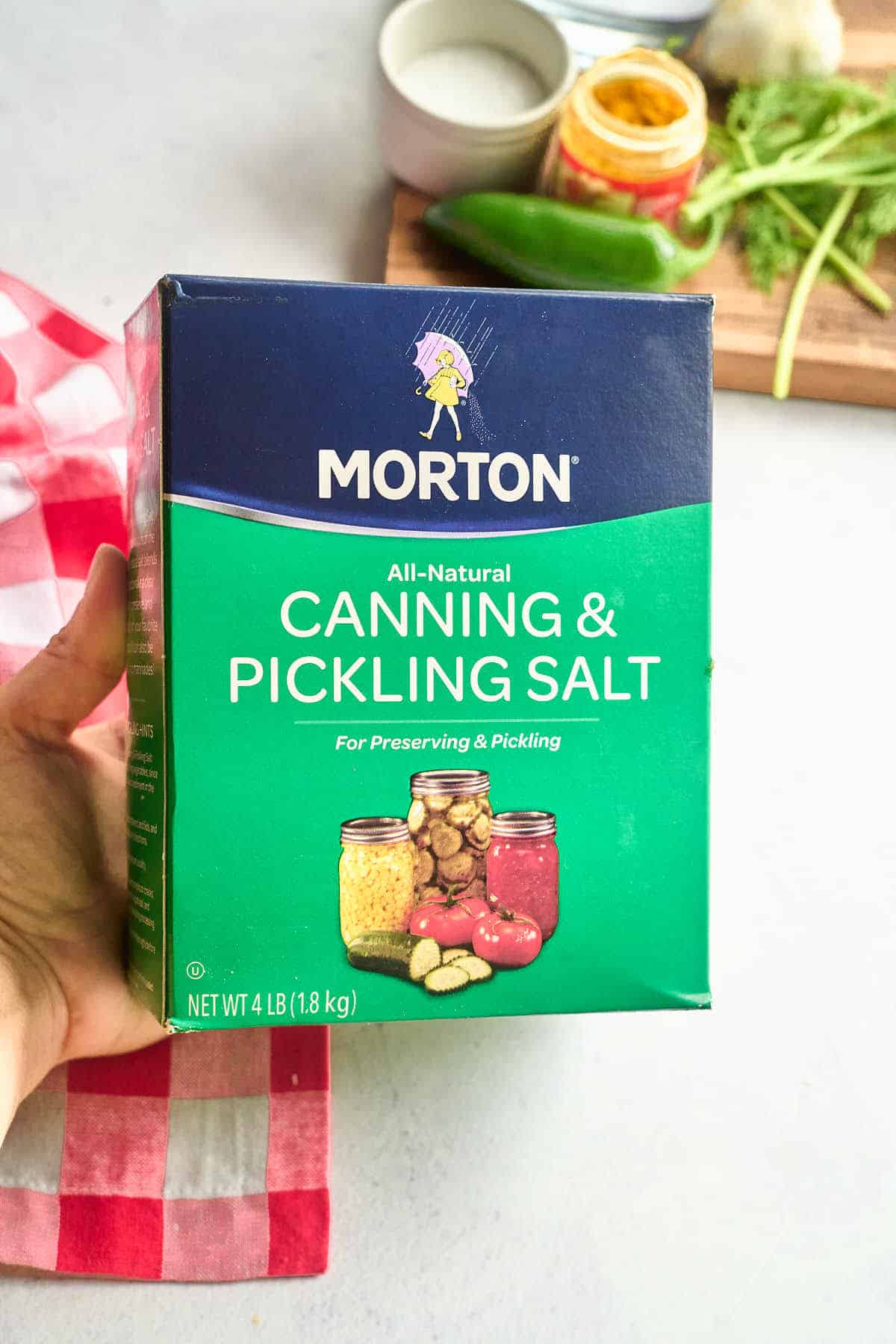 What kind of pickles to use for relish?
You can use pickling or regular cucumbers for this dill relish. Since you are chopping them up, the size does not matter. One consideration is that you will need to remove any seeds. Smaller pickling cucumbers will have few, if any seeds, so they will make things easier. If you don't have any, regular cucumbers will work fine–you'll just have to de-seed them.
Also, keep in mind is that many store-bought cucumbers are waxed. This will leave unpleasant bits of skin in the finished relish. Use garden cucumbers or farmer's market cucumbers to avoid this issue. If you have a garden, you know how cucumbers will take over and will produce more than you could possibly eat fresh. But if you don't have a garden, don't worry. Farmer's markets are filled with cucumbers all summer and fall for a very good price.
How to use dill relish:
Tuna Salad
Hot dogs!
As a sandwich spread on a turkey sandwich
Step by step relish making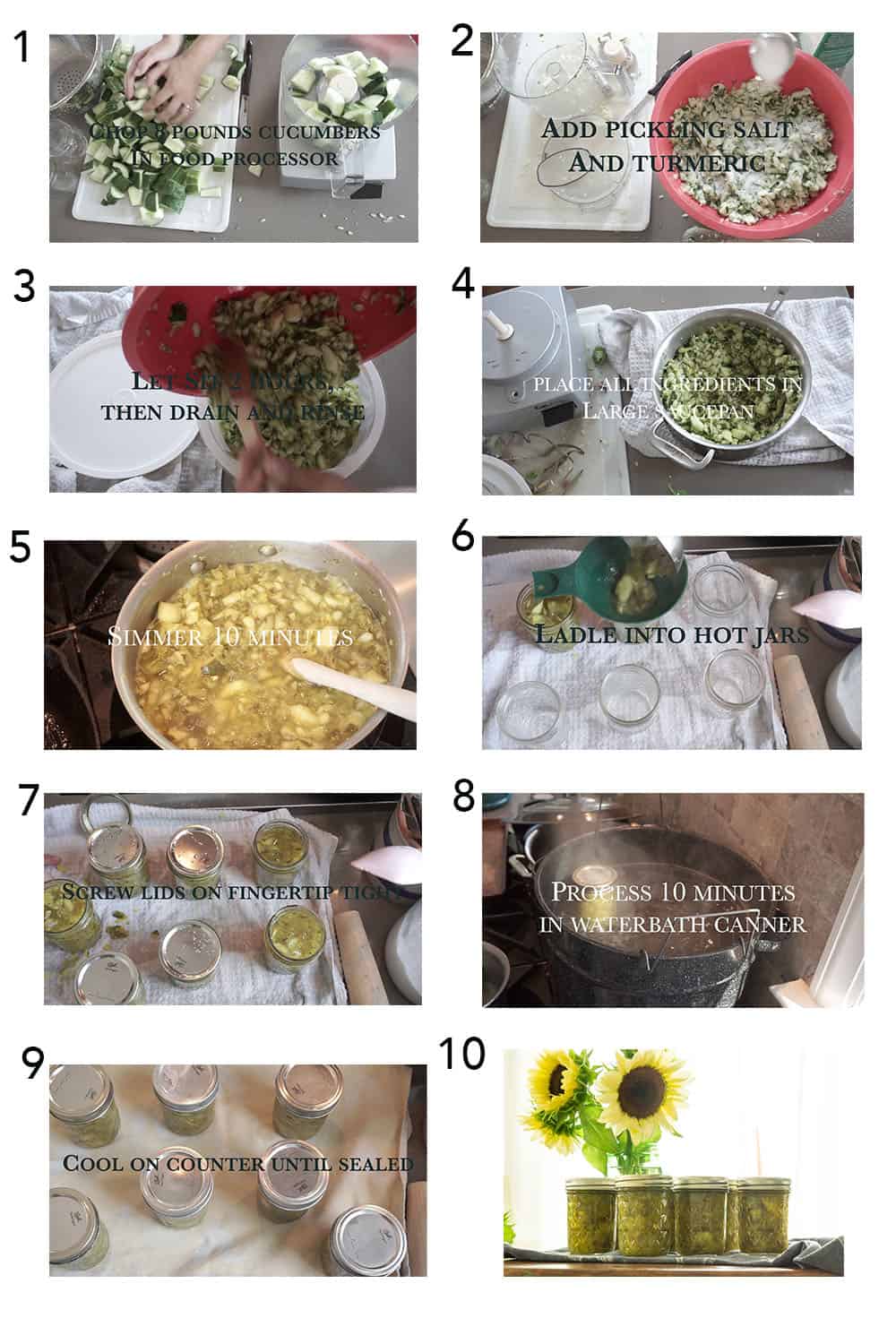 Some General Canning Talk
Think about when you want to prep your canner, jars, and lids in this recipe. There are a few steps that make good stopping points, but once you. add the final ingredients, you'll want all your canning supplies ready to go while the relish is hot.
You can easily cut this recipe in half and make about 5 half pints, which is plenty for most people.
If you don't want to can this recipe, you don't have to! It actually freezes very well. But don't be intimidated by canning. You have to be safe and careful, but it's not rocket science.
If you are not familiar with safe canning practices, here is a good resource to get you started canning. (The Ball Blue Book of Preserving is another good starting point!)
Intrigued by food preservation but canning is not your thing? Try my super sweet and candy-like dried strawberries.
If you like this recipe, print it out and make sure you have your free canning planner downloaded to keep it organized.
Click here or on the image below to get this pretty recipe!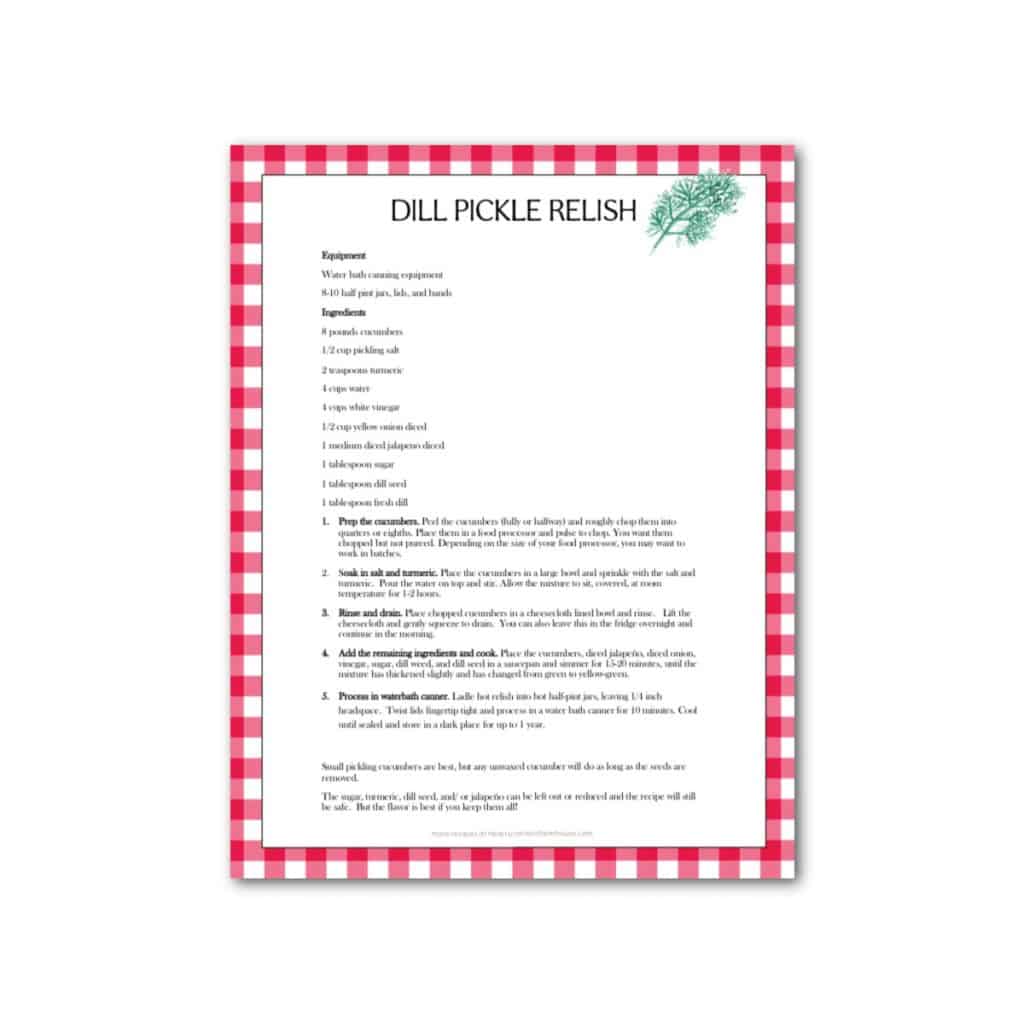 More Canning Recipes:
Small Batch Strawberry Jam
Full recipe and process
The Best Dill Relish Recipe + How to Can It
Print Recipe
A dill pickle relish recipe that is not sweet, not oniony, and has a tad of sugar and heat. Makes 8-10 half-pint jars.
Click here to grab a free mini-cookbook with my best seasonal recipes
Ingredients
8

pounds

cucumbers

1/2

cup

pickling salt

2

teaspoons

turmeric

4

cups

water

4

cups

white vinegar

1/2

cup

yellow onion

diced

1

medium

diced jalapeno

diced

1

tablespoon

sugar

1

tablespoon

dill seed

1

tablespoon

fresh dill
Instructions
Prep the cucumbers. Peel the cucumbers (fully or halfway) and roughly chop them into quarters or eighths. Place them in a food processor and pulse to chop. You want them chopped but not pureed. Depending on the size of your food processor, you may want to work in batches.

Soak in salt and turmeric. Place the cucumbers in a large bowl and sprinkle with the salt and turmeric. Pour the water on top and stir. Allow the mixture to sit, covered, at room temperature for 1-2 hours.

Rinse and drain. Place chopped cucumbers in a cheesecloth lined bowl and rinse. Lift the cheesecloth and gently squeeze to drain. You can also leave this in the fridge overnight and continue in the morning.

Add the remaining ingredients and cook. Place the cucumbers, diced jalapeño, diced onion, vinegar, sugar, dill weed, and dill seed in a saucepan and simmer for 15-20 minutes, until the mixture has thickened slightly and has changed from green to yellow-green.

Process in waterbath canner. Ladle hot relish into hot jars, leaving 1/4 inch headspace. Twist lids fingertip tight and process in a water bath canner for 10 minutes. Cool until sealed and store in a dark place for up to 1 year.
Notes
Small pickling cucumbers are best, but any unwaxed cucumber will do as long as the seeds are removed.
It is impossible to give you a number of cucumbers as their size varies wildly. You won't regret having a kitchen scale for canning!
The sugar, turmeric, dill seed, and/ or jalapeño can be left out or reduced and the recipe will still be safe. But the flavor is best if you keep them all!
Nutrition
Calories:
19
kcal
|
Carbohydrates:
3
g
|
Protein:
1
g
|
Fat:
1
g
|
Saturated Fat:
1
g
|
Sodium:
4
mg
|
Potassium:
142
mg
|
Fiber:
1
g
|
Sugar:
2
g
|
Vitamin A:
73
IU
|
Vitamin C:
3
mg
|
Calcium:
19
mg
|
Iron:
1
mg
Enjoy this relish recipe!