This recipe combines heavy cream and milk for a homemade yogurt that is low carb and high fat. Truvia is the perfect sugar-free sweetener, and vanilla adds to the sweetness as well.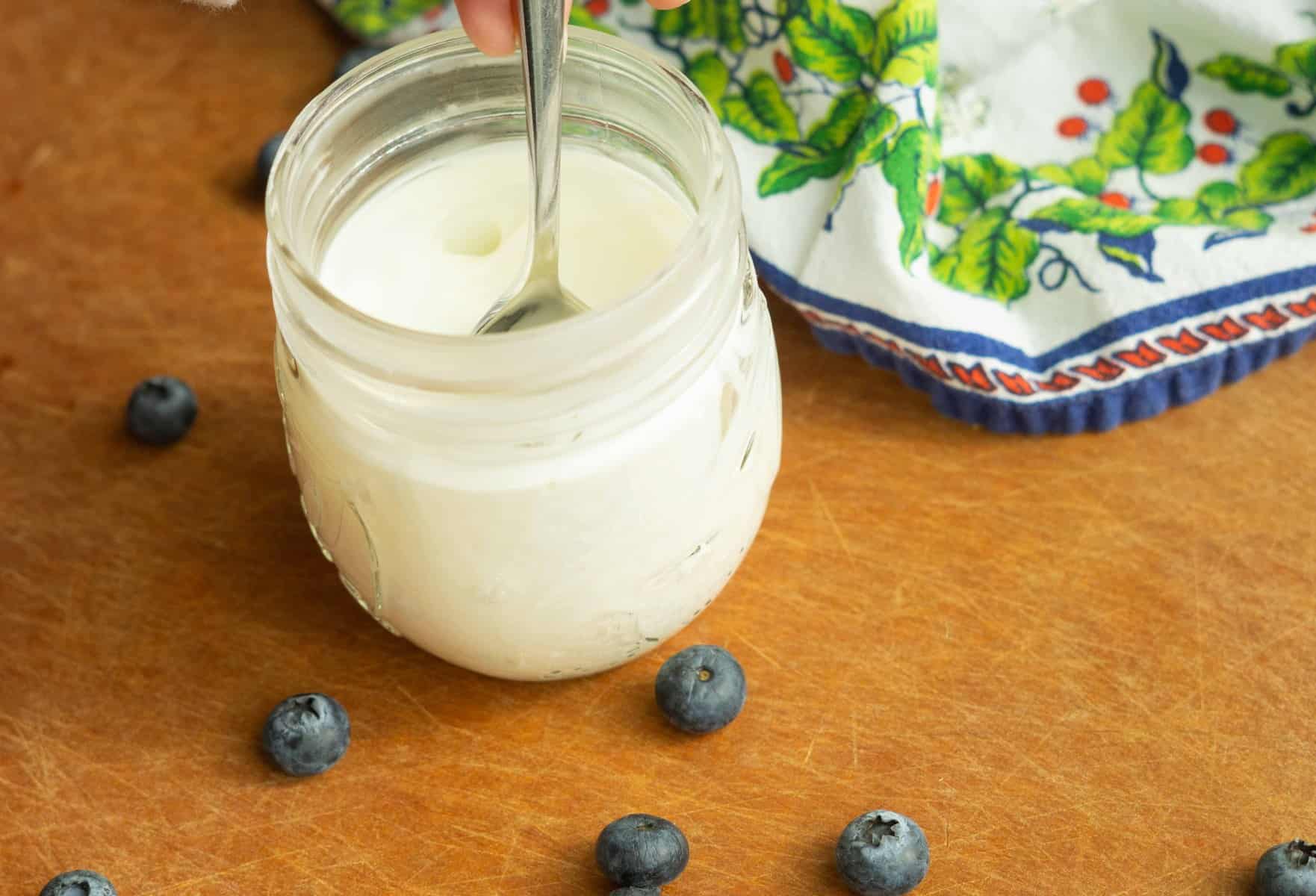 Making this recipe Keto-friendly
Despite constantly posting recipes for baked goods, I am a big believer in the keto diet. I typically eat keto during the week and then eat whatever I want on the weekend. But as a lover of sweets, there were a lot of things I missed. Vanilla Greek yogurt was one of them. Simply making whole milk yogurt was not working and was kicking me out of ketosis. So I devised this recipe by changing out some of the milk for heavy cream. Sounds weird, but tastes normal. Promise.
Yogurt is actually a very carby food. My beloved Chobani Flips have about 25 grams per serving, which is actually not bad. Plain old strawberry Yoplait has 33 grams! Greek yogurt tends to be lower in carbs because it is strained to remove the whey, which has carbs in it. Whole milk yogurt is also lower in carbs because as dairy products become fattier, they do down in lactose, which is a sugar. (Which I guess is why lactose intolerant people can still eat cream and butter?) But one cup of plain whole milk Greek yogurt, the lowest carb type of yogurt available, still has 9 carbs per cup serving. With no sweetener! ARGH.
So to bump the carbs down even less, I substituted 20% of the whole milk with heavy cream, which has zero carbs. This brings us down to 7.2 grams of carbs per cup. This is actually a big deal when you are trying to stay as low as possible.
I tested a few different sweeteners and liked Truvia the best. It is not all-natural, so if that is important to you, stevia was okay too.
Making the Yogurt
If you've never made yogurt before, you may want to watch the tutorial here that shows you what each step looks like.
There is no greasy taste or feel to this yogurt, although as you heat and cool the milk it is going to look a little weird. (This is the case with making any yogurt, but especially this one.). There will be a little fat visible from the cream, but after you incubate and strain the yogurt it will look perfectly normal.
I use this ultra-simple yogurt maker but the method is the same as making yogurt in any other way, only the ingredients have changed.
Video Tutorial:
Now to turn yogurt into Greek yogurt, it has to be strained. You can use cheesecloth or coffee filters, but I've found this reusable strainer to be well worth it.
As far as sweetening goes, it does not work to sweeten the yogurt in bulk and put it in the fridge pre-sweetened. It gets watery and weird. I wish it worked! But you will need to sweeten each individual serving right before you eat it. At that point, you can add vanilla, berries, sugar free candy. (Here are some ideas for toppings.)

Here's the recipe!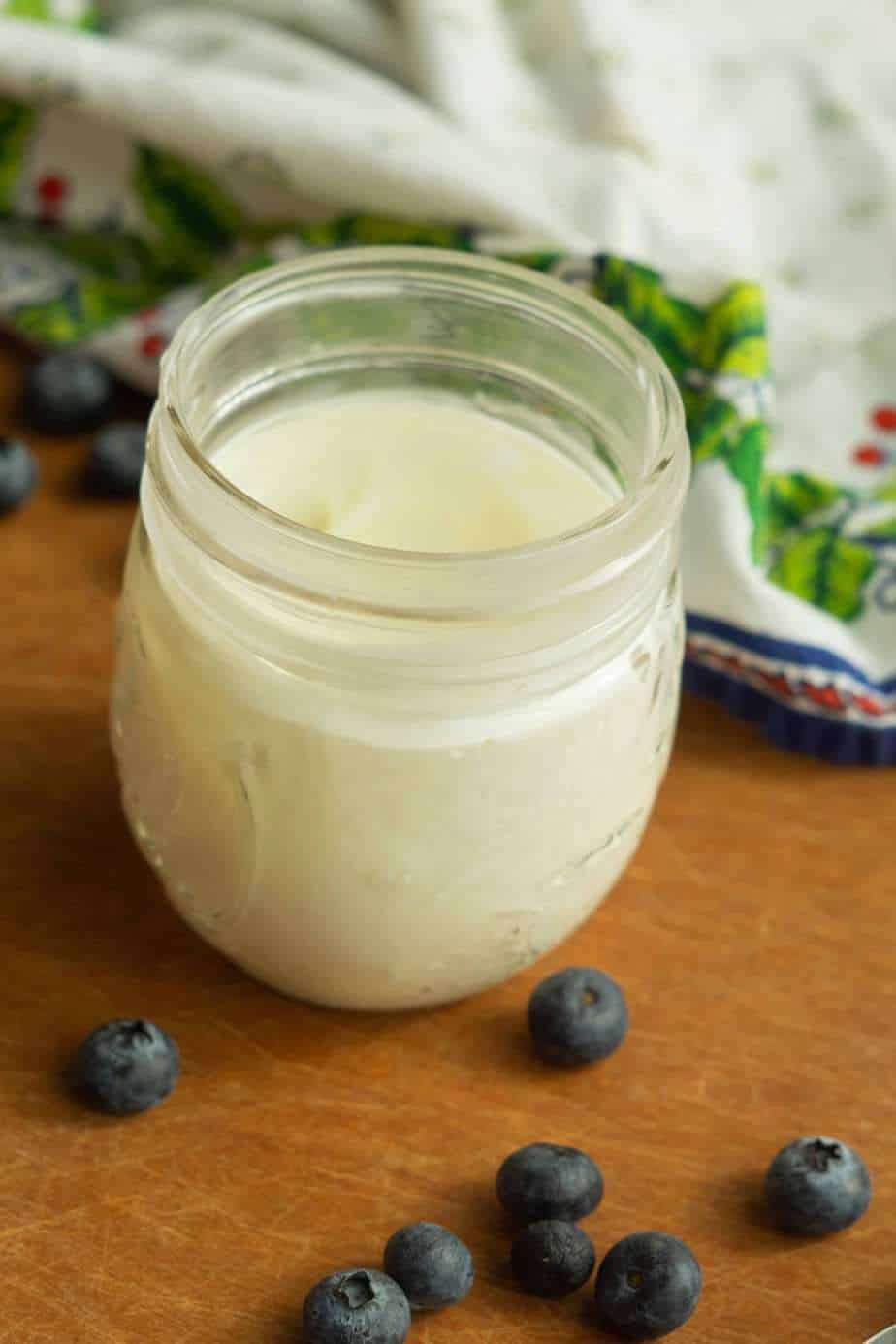 Want some free Christmas printables? Click here to grab 'em
Ingredients
Yogurt:
4

cups

whole milk

1

cup

heavy cream

2

tablespoons

active yogurt

(or packaged starter)
To Flavor Before Serving:
1

dash vanilla

1

teaspoon

Truvia

per cup of yogurt
Instructions
Heat milk and cream to 180 degrees over double boiler over low heat. Skin will form, leave it alone for now. This may take up to 45 minutes.

Remove milk and cream from heat and allow to cool to 90-110 degrees. Remove skin when it forms.

Remove 1/2 cup of the cooled milk and mix in your yogurt starter. Then add the starter mixture to the rest of the milk.

Pour into yogurt maker and set timer for 8 hours. To check if yogurt is done, put a spoon in the container. If it stands up, it is ready.

Pour yogurt into stainer and refrigerate while it strains. This will take 12-18 hours. The longest it strains, the thicker it will be.

Store Greek yogurt in one container in the fridge or portion out into small mason jars. Before serving, sweeten to taste (1 teaspoon of Trivia per cup of yogurt is a good starting point) and add vanilla if desired.
Nutrition
Calories:
142
kcal
|
Carbohydrates:
5
g
|
Protein:
4
g
|
Fat:
12
g
|
Saturated Fat:
7
g
|
Cholesterol:
42
mg
|
Sodium:
51
mg
|
Potassium:
147
mg
|
Sugar:
5
g
|
Vitamin A:
508
IU
|
Vitamin C:
1
mg
|
Calcium:
126
mg
|
Iron:
1
mg
Did you make this?
Let me know how it was! Please see below for serving ideas, storage instructions, and substitutions.
Want more Keto recipes?
Well I am far from a Keto food blogger, but I do eat low carb during the week.
Some of my favorite recipes are my Keto white chicken chili. and chicken breast topped with this red pepper and goat cheese topping.