An easy brown sugar shortbreead cookie dipped in chocolate makes a simple but elegant cookie, perfect for Christmas or any time.
Inside: a recipe for super easy shortbread cookies, dipped in melted chocolate. Add holiday sprinkles if you'd like!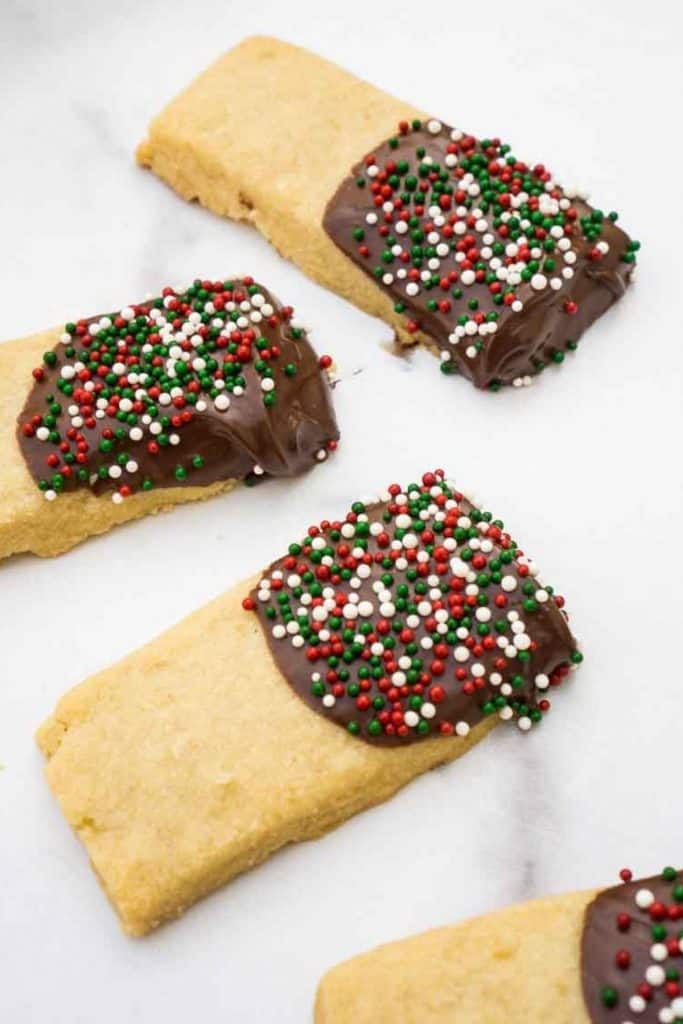 Why you'll love these cookies
Shortbread is nice and simple, but sometimes it needs a little extra… something. And in this case, the extra something is a layer of chocolate! These are a perfect Christmas cookie, but they are also adorable with Valentine, Fall, or spring sprinkles.
Once the chocolate coating has fully set, you can stack them up and they will transport just fine.
???? Ingredients you'll need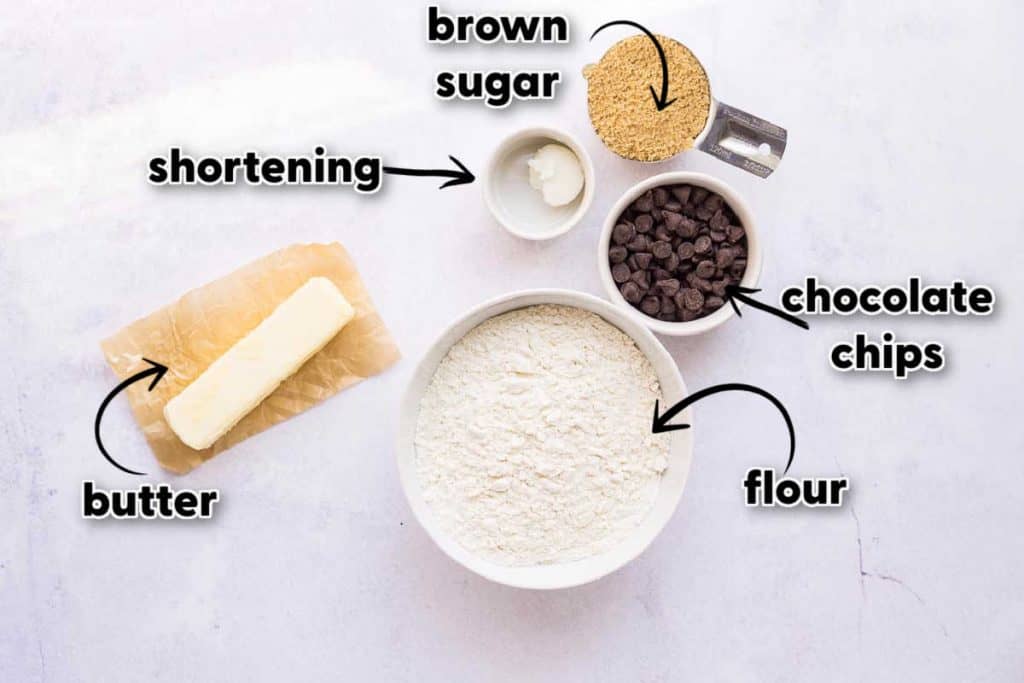 1 cup salted butter, softened
1/2 cup packed brown sugar
2- 2 1/4 all purpose flour
2 teaspoons shortening
1 cup semi-sweet chocolate chips
????????? Step by step
Making the cookie dough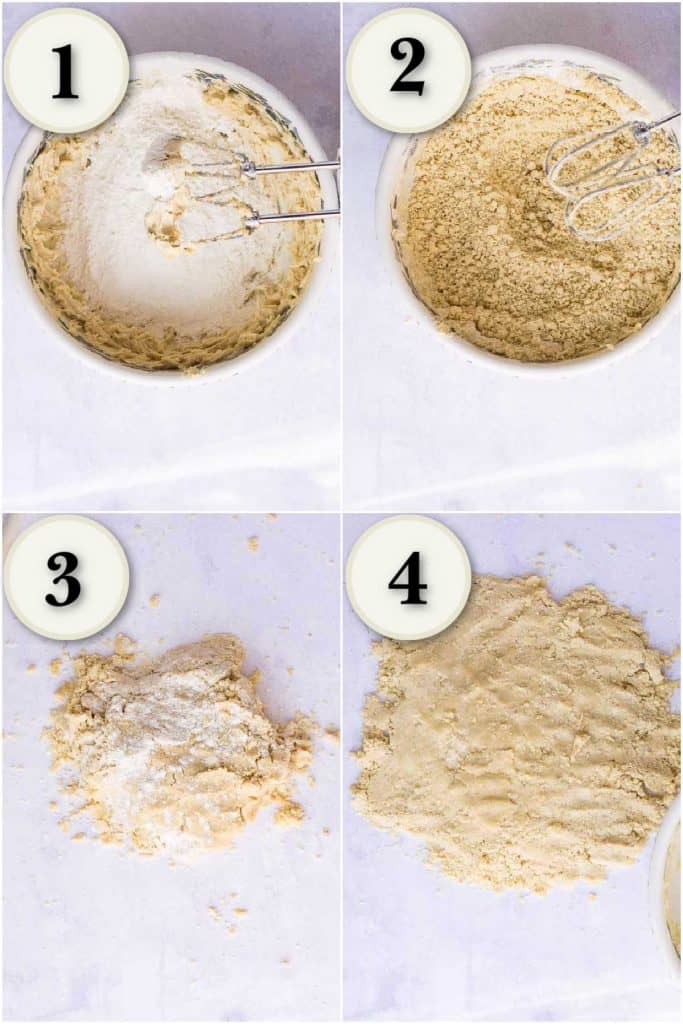 First, preheat the oven to 325 degrees with two racks in. The recipe as written will make 2 dozen cookies, which will fit nicely on two cookie sheets. Prepare them simply by laying down some parchment paper.
We begin by creaming the butter and sugar until light and fluffy. This will take about 3 minutes with an electric mixer. After that, add 2 cups of the flour and mix it in low. You don't want to over mix at this stage. Mix until just combined.
The dough will be very soft and crumbly. You may be tempted to add a liquid. Don't! It will come together as you turn it out and knead on the counter.
Sprinkle the countertop with flour and turn the dough out onto the floured surface. Add the remaining 1/4 cup of flour and knead it in by hand. The dough will begin to hold its shape.
At this point, roll it out with a floured rolling pin until its 1/2 an inch thick.
Cutting, baking, and dipping in chocolate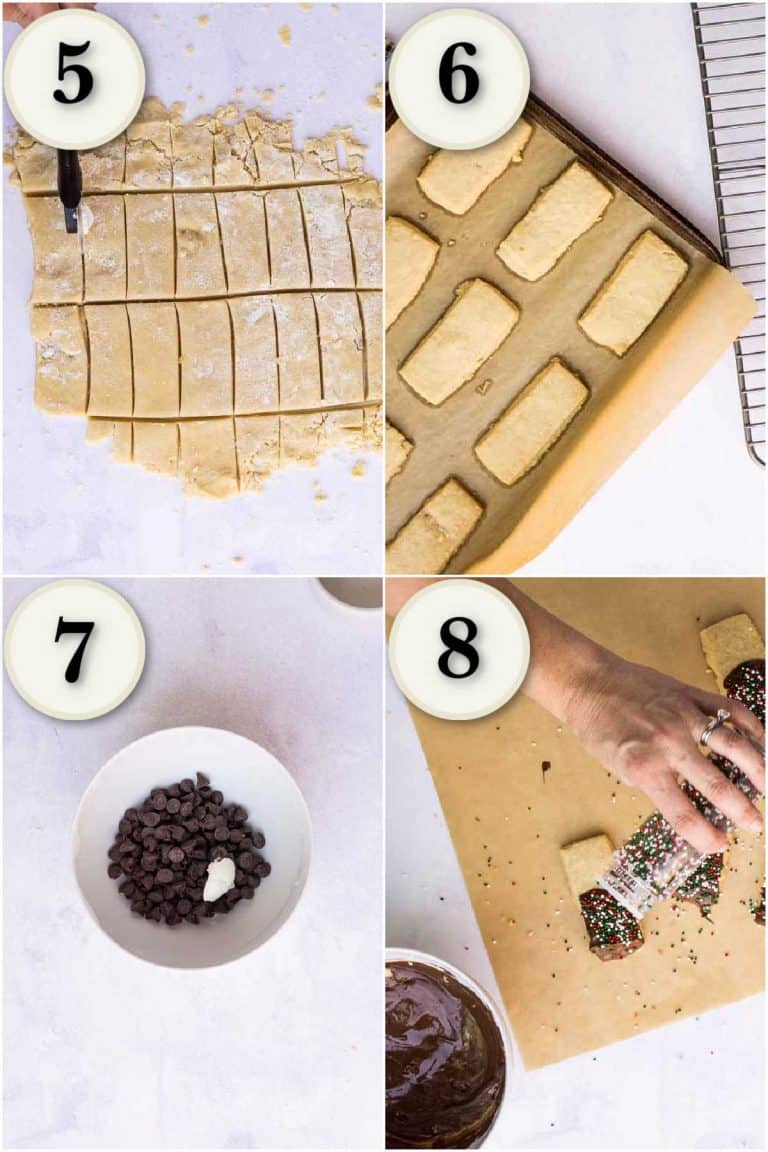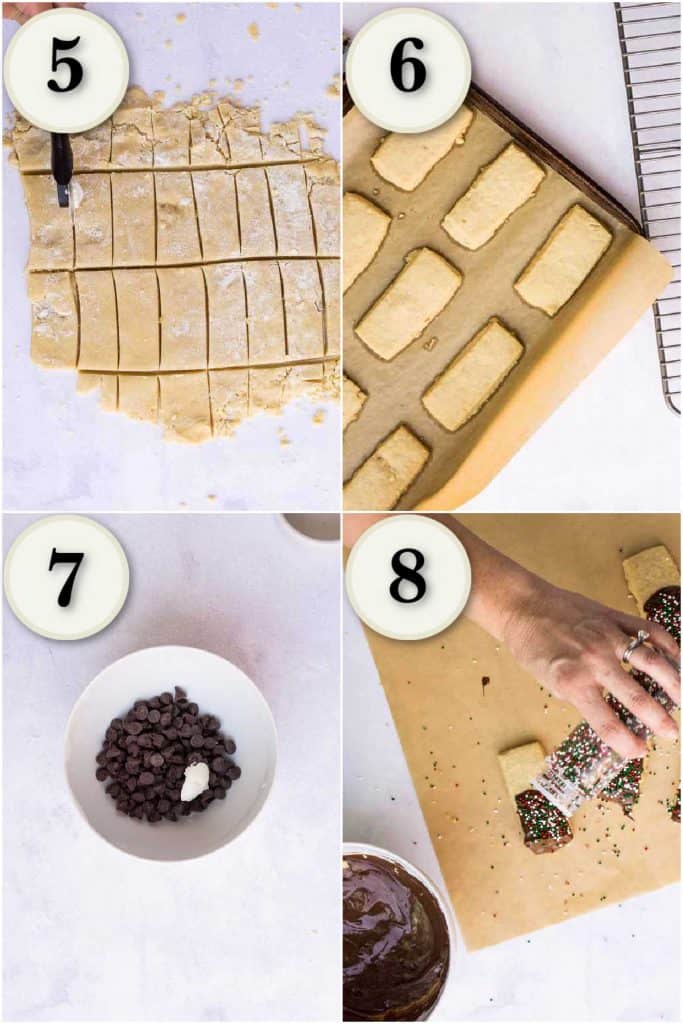 Cut the dough into strips 1 inch x 3 inches in size, or cut out using a floured cookie cutter. You can re-roll the dough once without worrying about the cookies being too tough.
Carefully lift them off the counter and place them on the baking sheet about an inch apart in each direction. Bake them until the edges are golden brown which take between 20-25 minutes. Rotate the baking sheets halfway through. Cool them completely on a wire rack before moving on to dipping them in chocolate.
To make the chocolate topping, place the shortening and chocolate chips in a microwave safe bowl and melt on low for 45-60 seconds, stirring halfway through.
Dip the ends of the cookies into the chocolate and them place them on a piece of wax paper or parchment paper. Sprinkle with any decorations before the chocolate cools.
???? Tips for success
Be careful when lifting the cookies on or off the baking sheet; they are delicate and crumble easily. An offset spatula works well.
There is no need to chill the dough at any point. But if you'd like to make it ahead, feel free to pop it in the fridge and come back to it later.
You can also use a cookie cutter instead of cutting out strips, but a simple shape such as a heart or circle will be the most successful.
More classic cookies you'll love
???? Print the recipe here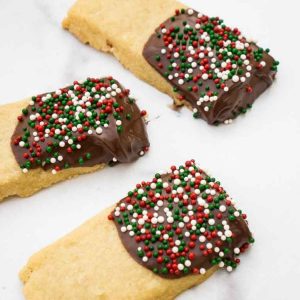 Chocolate Covered Shortbread Cookies
Print Recipe
An easy brown sugar shortbreead cookie dipped in chocolate makes a simple but elegant cookie, perfect for Christmas or any time.
Click here to grab a free mini-cookbook with my best seasonal recipes
Ingredients
1

cup

salted butter

at room temperature

½

cup

brown sugar

packed

2-

2¼ cups

all purpose flour

1

cup

semisweet chocolate chips

2

teaspoons

vegetable shortening

sprinkles

(optional)
Instructions
Preheat oven to 325 degrees with two racks in the upper middle and lower middle positions. Prepare two baking sheets with parchment paper.

Cream butter and sugar in an electric mixer until light and fluffy. Add 2 cups of flour and mix on low until flour in mixed in. The cookie dough will appear very crumbly. Turn it on onto a floured surface and mix in the remaining ¼ cup of flour by hand.

Roll the cookie dough out to ½ inch thickness, dusting the rolling pin with flour if the dough sticks. Cut into 3 x 1 inch strips. Place on prepared baking sheet. Bake for 20 minutes, until cookies are set and edges are golden brown. Cool on wire racks.

Melt the chocolate chips and shortbread in the microwave on LOW for 45 seconds, stirring halfway through. Dip the ends of the cookies in the chocolate and place them on a piece of waxed or parchment paper to set. Add sprinkles, if desired, while chocolate is still melted. If the chocolate hardens too soonm simply melt again in the microwave.

Store tightly covered at room temperature for 3 days.
Notes
Shortbread freezes well after fully baked, but save the chocolate and sprinkles for after they are defrosted.
The dough recipes doubles or triples easily if you have a stand mixer.
White chocolate is delicious as well!
Nutrition
Calories:
133
kcal
|
Carbohydrates:
8
g
|
Protein:
1
g
|
Fat:
11
g
|
Saturated Fat:
7
g
|
Cholesterol:
21
mg
|
Sodium:
70
mg
|
Potassium:
51
mg
|
Fiber:
1
g
|
Sugar:
7
g
|
Vitamin A:
240
IU
|
Calcium:
11
mg
|
Iron:
1
mg
Enjoy this recipe!