These cookies will bring you right back to Grandma's kitchen. The perfect thing to bake for your coziest Christmas ever.
Inspired by Grandma's kitchen, these are the very best old-fashioned Christmas cookies for a plate of vintage sweet treats this holiday season.
Christmas cookies! What's not to love?
Well, plenty. In an already busy time of year, the cookie expectations can be overwhelming. Piping bags? Meringue? Cookie cutters? No thanks. Even if you love to bake, it can all feel like a bit much.
The good news is this: some of the best holiday recipes are simple drop cookies and other old-fashioned favorites that you can make without a big fuss.
So say goodbye to trendy and complicated Christmas cookies. These vintage-inspired cookie recipes will make your holiday kitchen happy and cozy.
Find your favorite, grab a large bowl, and let's preheat that oven to 350 degrees and get to work.
Getting ready for baking
If you like to have a few big baking days leading up to the holidays, save all the cookie recipes you'll have. be using. Either print them, bookmark them, or save to Pinterest.
Then gather all your cookie-baking essentials:
🎄 Related: the best Christmas-inspired Bundt cakes for holiday baking 🎄
1. Classic Molasses Cookies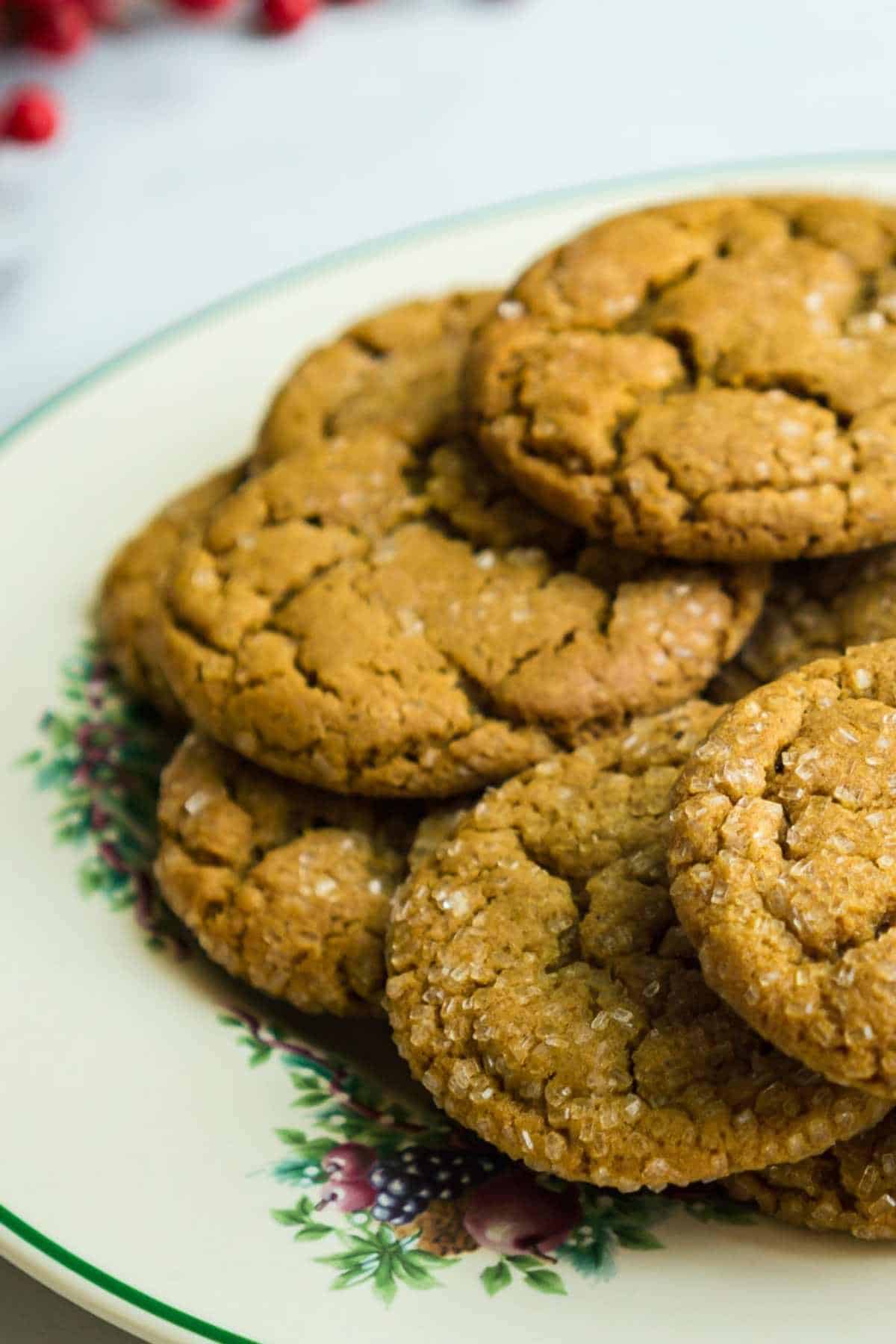 There's nothing like a classic recipe! This molasses cookie recipe makes no apologies for being made with shortening and rolled in sparkling sugar.
They are perfectly soft with slightly crisp edges.
As a bonus, the sweet smell of Christmas spices will make you happy while they're baking.
2. Christmas Snickerdoodles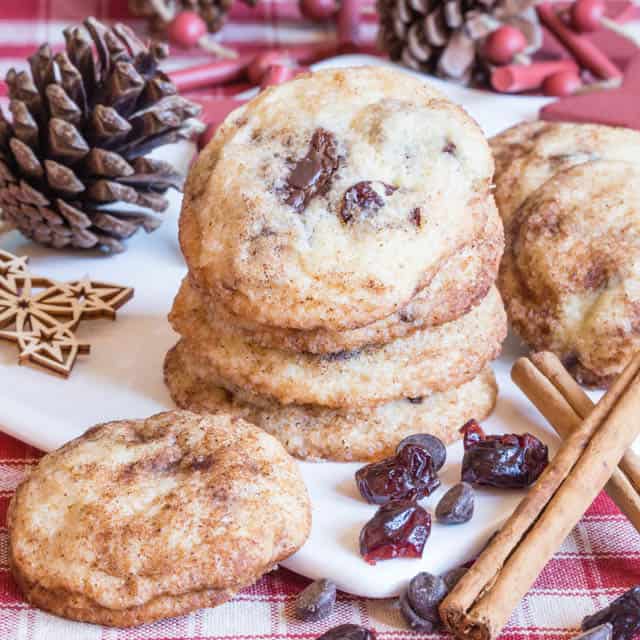 Christmas snickerdoodles are just like cinnamon-dusted holiday classic you know and love, but with a twist! These are loaded with chocolate chips and cranberry for a delicious twist. When you're looking for something delicious and vintage-inspired but with a little creativity, this recipe fits the bill.
3. Black Forest Crinkle Cookies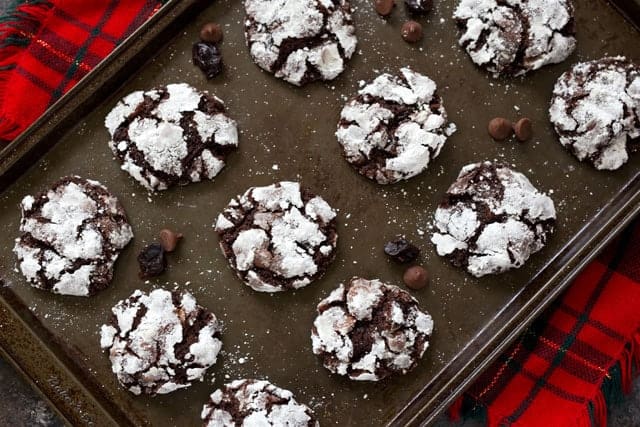 These are a soft, rich delicious chocolate cookie loaded with chocolate chips and tart dried cherries. They look extra festive and beautiful with their crinkly texture covered in powdered sugar.
A Christmas cookie recipe you will definitely want to try if you're looking for something new this year!
4. Spicy Gingersnaps
There are boring gingersnaps, and then there are these gingersnaps! Loaded with warm spicy flavor and a secret hot ingredient, these are a special twist on a Christmas classic.
They can be baked thin and snappy, or thick and soft, however you like them. If you don't like the idea of spice in your cookies, just leave it out. You will have a perfect classic gingersnap!
Related: 27 Old Fashioned Christmas Decorating Ideas
5. Grandma's Rum Balls
These have plenty of rum flavor and are the perfect thing to add a little variety to your cookie tray. Anyone who loves vintage recipes will adore these, guaranteed.
6. Potato Chip Cookies
Would you believe that potato chip cookies are an old-fashioned favorite? When potato chips first came out, housewives were encouraged to save the crumbs at the bottom for these cookies. And they are a delightful blend of sweet, salty, soft, and crunchy.
7. Christmas Spritz Cookies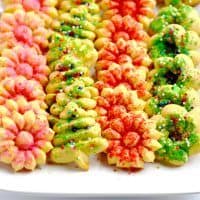 A true family favorite, these buttery spritz cookies are essential on every cookie tray. When you don't feel like cutting out shapes with cookie cutters, you can still have festive-shaped cookies with a cookie press, and this recipe is perfect!
You can even add food coloring to a portion of the dough for a little variety!
8. Polish Kolaczki Cookies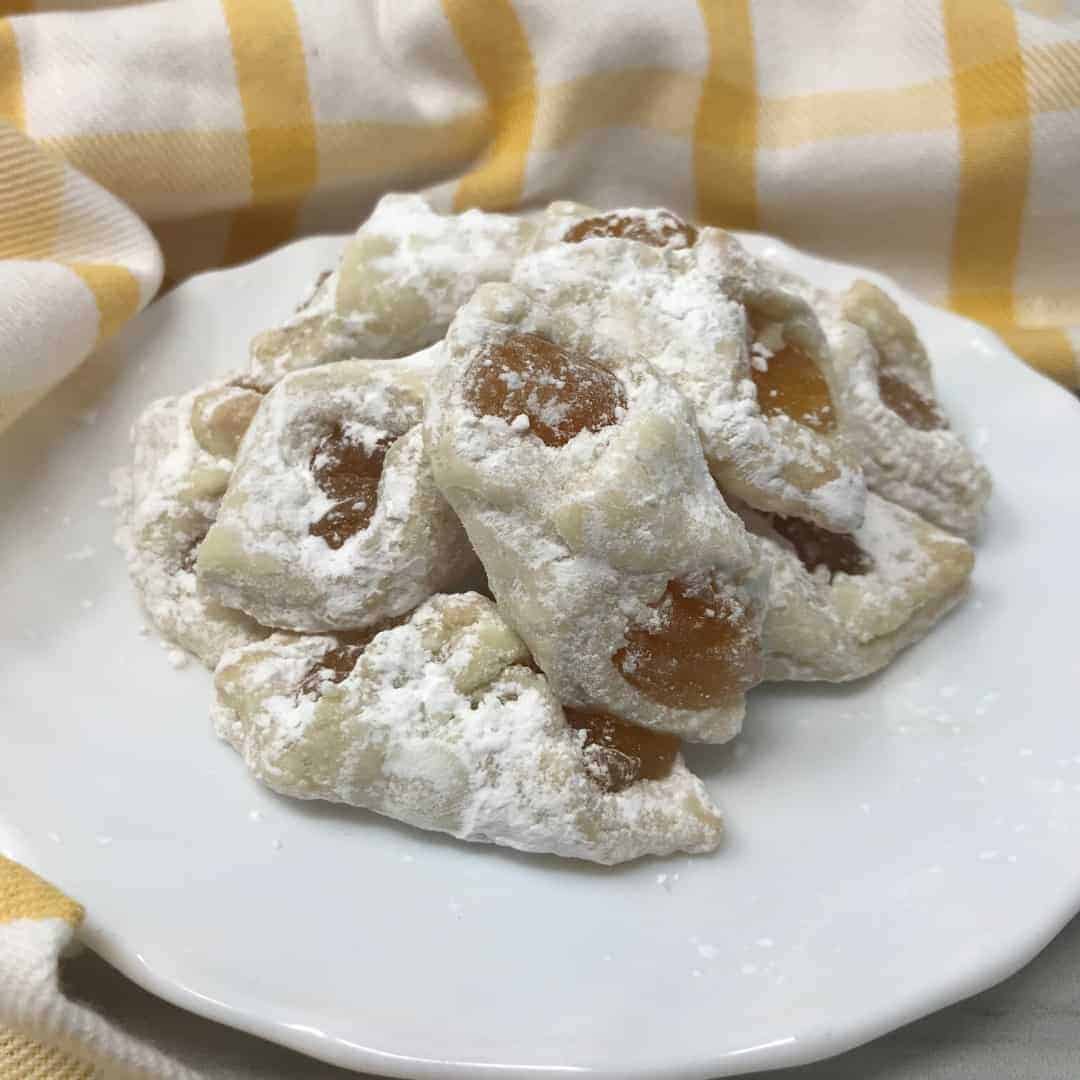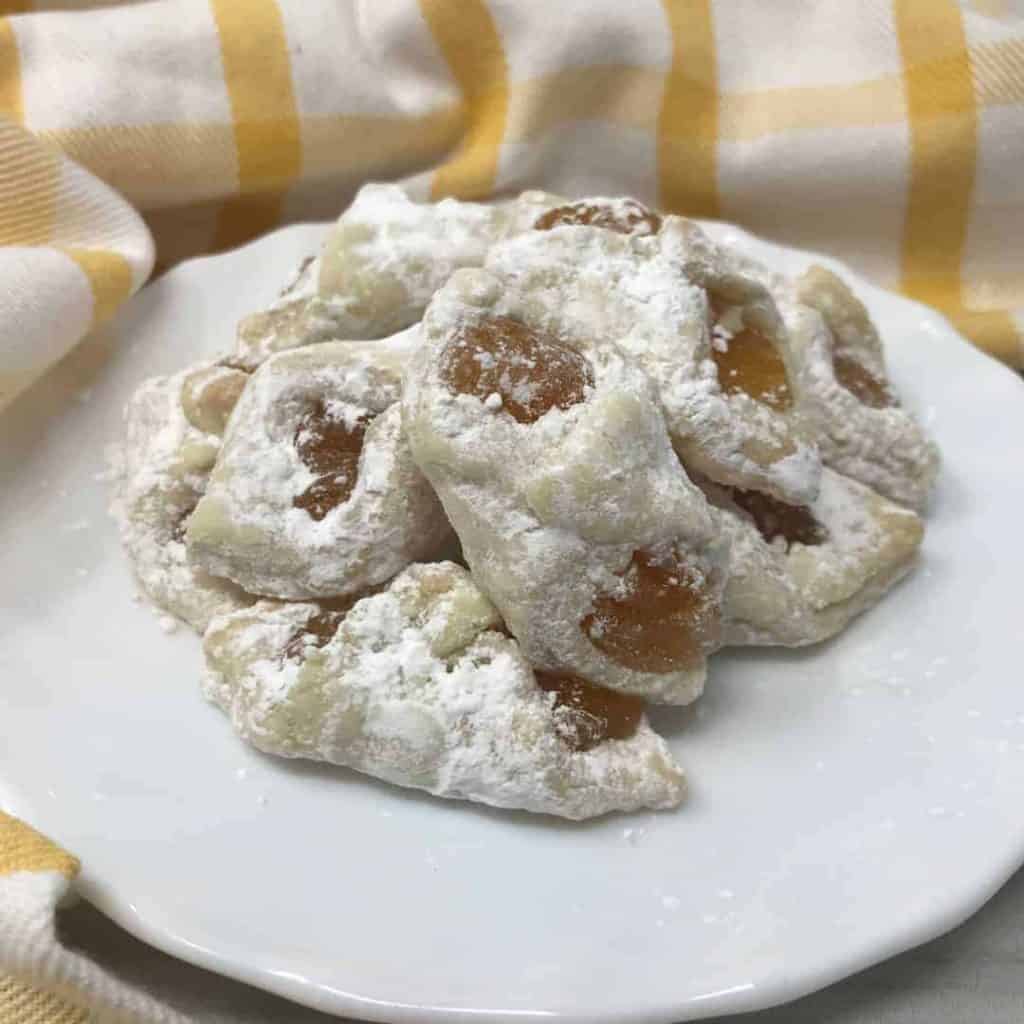 These are SO good and tender, as well as a great way to use up cream cheese!
They are rich and soft from butter and cream cheese, with a filling of any filling you choose. You simply mix and roll out the dough, then fill. One of our favorite Christmas treats.
9. Swedish Crescent Cookies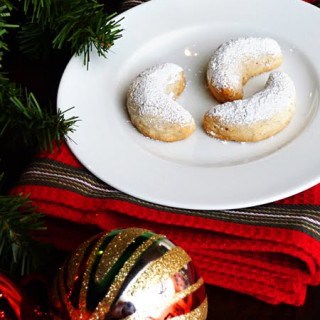 The subtle flavors of almond and lemon combine with a tender and buttery cookie for a cute treat with old-fashioned flavor.
Super easy to make; you just mix up the dough and shape these by hand!
13. Classic Snickerdoodles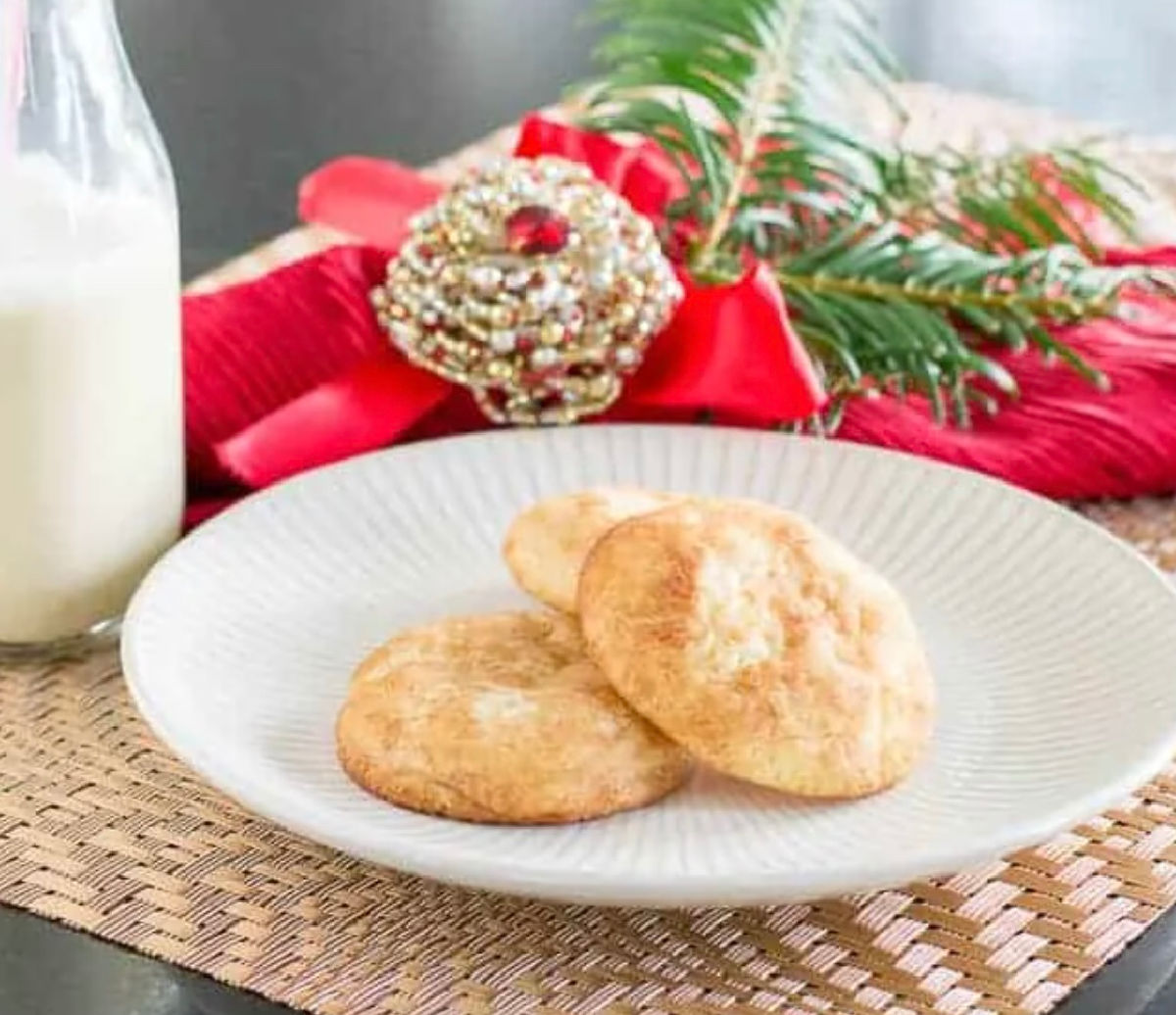 A great snickerdoodle recipe with a nice soft cookie and classic cinnamon sugar topping. You can use the basic dough and make it crispier or softer, depending on how you like it! This recipe is very flexible. Roll them in colored sugar for extra Christmas flair.
You'll appreciate the detailed instructions for making the dough ahead of time and freezing it for a bulk cookie-making day in December.
Probably one of the MOST popular Christmas cookies from the 60's and 70's.
14. Snowball Cookies with Macadamia Nuts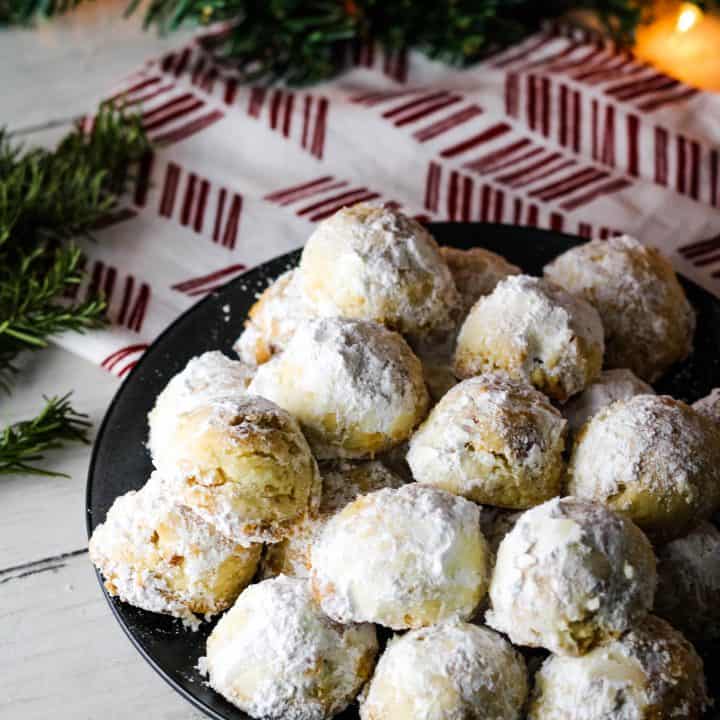 Snowball cookies have that vintage cookie look, don't they? This recipe has macadamia nuts for an extra sweet, buttery flavor. They look so beautiful on a plate of mixed goodies. One of those iconic holiday treats!
15. Raspberry Cheesecake Thumbprints
One of our VERY favorite recipes on this list! Classic thumbprint cookies with a hint of cheesecake flavor. Our favorite filling is the raspberry jam, but you could use any flavor you like.
This is another one that looks beautiful on a mixed tray. (But we also make these for Valentine's Day.)
16. Old Fashioned Sour Cream Cookies
So soft they are almost like little cakes; these sour cream cookies are topped with a glaze and whatever your favorite Christmas sprinkles might be.
They. are easy to make, and you can make the dough ahead of time and chill it until you're ready. Perfect for someone who doesn't like super sweet desserts.
17. Fruitcake Cookies
These are packed with goodies and much tastier than actual fruitcake. When you're trying to channel the past, this is the recipe you need! They can be a bit of a challenge to make compared to drop cookies, but oh so worth it!
18. Chocolate Covered Shortbread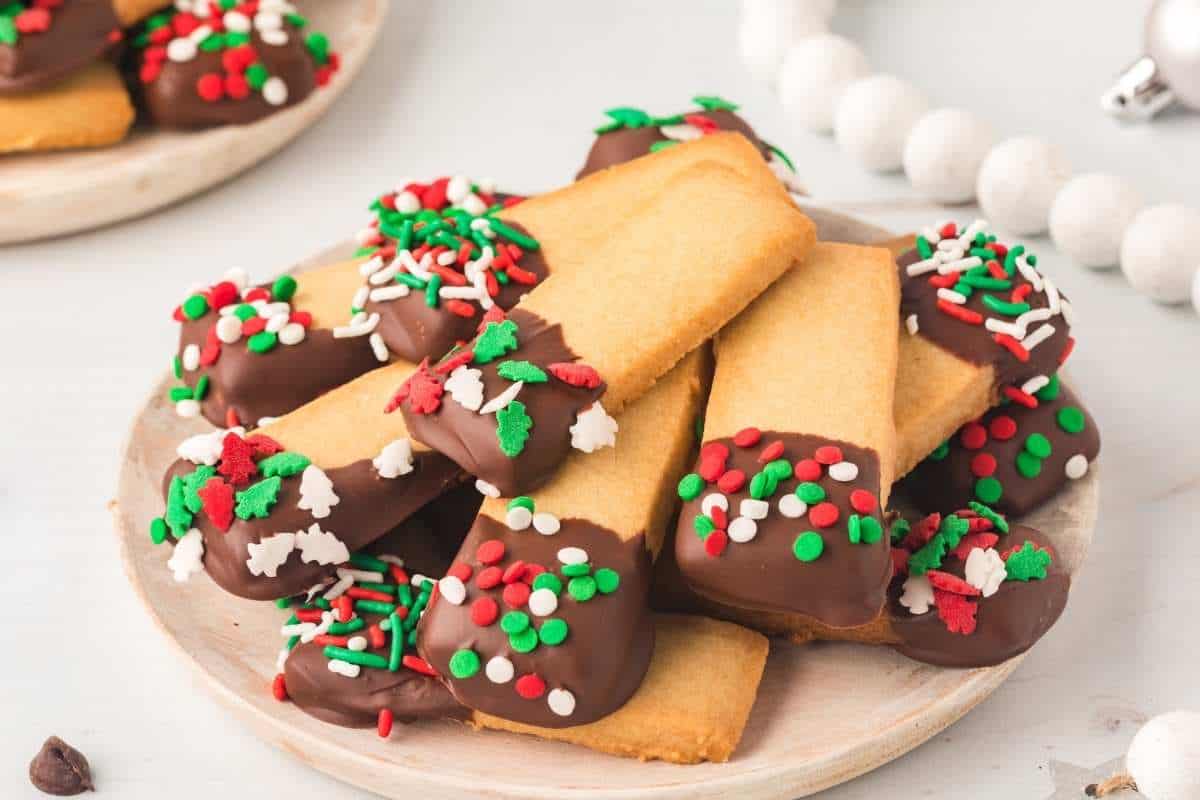 A recipe for super easy shortbread cookies, dipped in melted chocolate. Add holiday sprinkles and you've got a festive cookie without much fuss.
19. Speculaas
Traditional, beautiful, and loaded with holiday spices, this recipe is sure to please. The crisp edges and soft center combine to make everything you're dreaming of in a Christmas cookie.
20. Scandandavian Rosette Cookies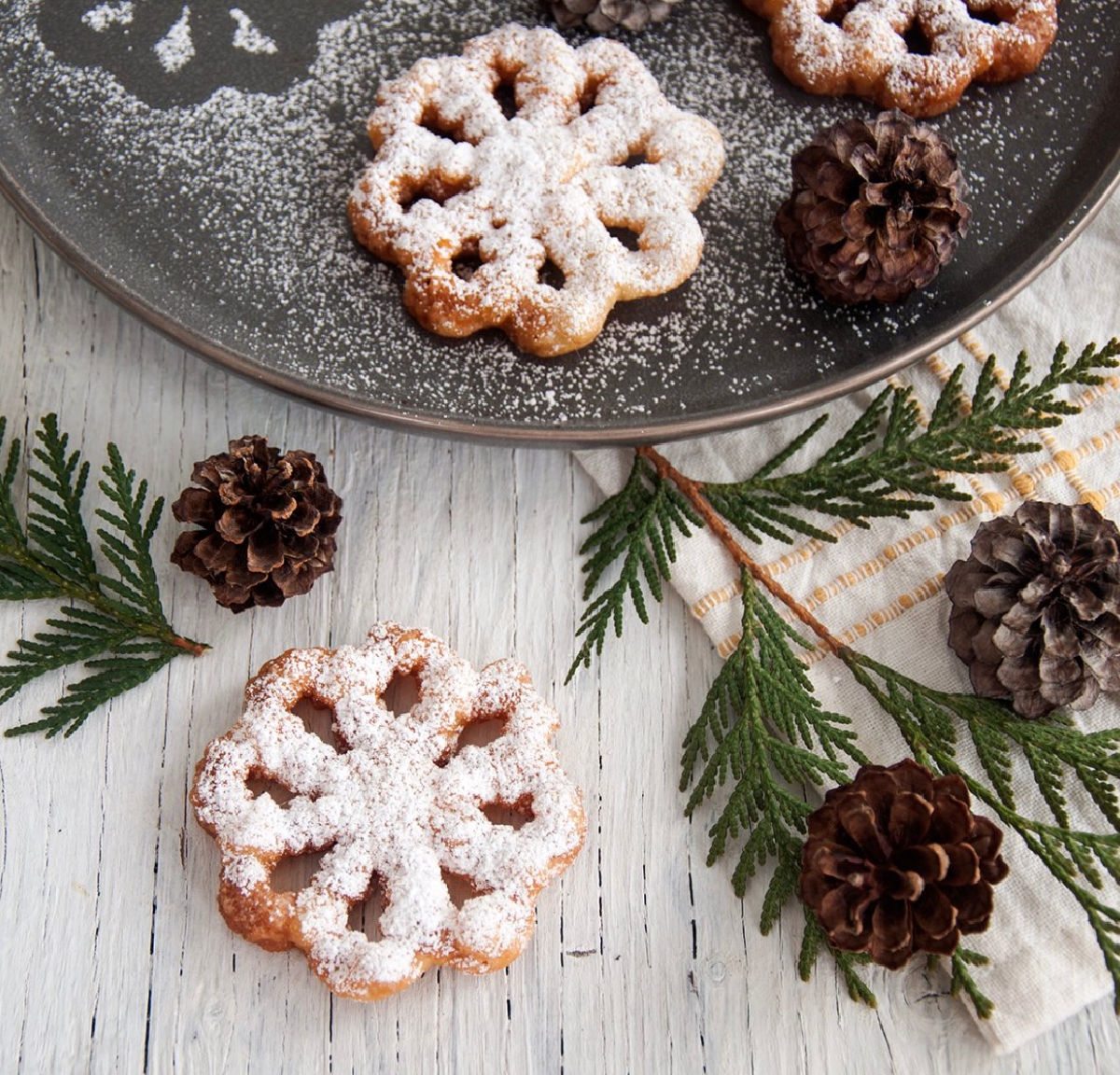 Aren't these beautiful? Their snowflake shape and powdered sugar is elegant and perfect for winter. You'll love the flavor, too.
22. Austrian Linzer Cookies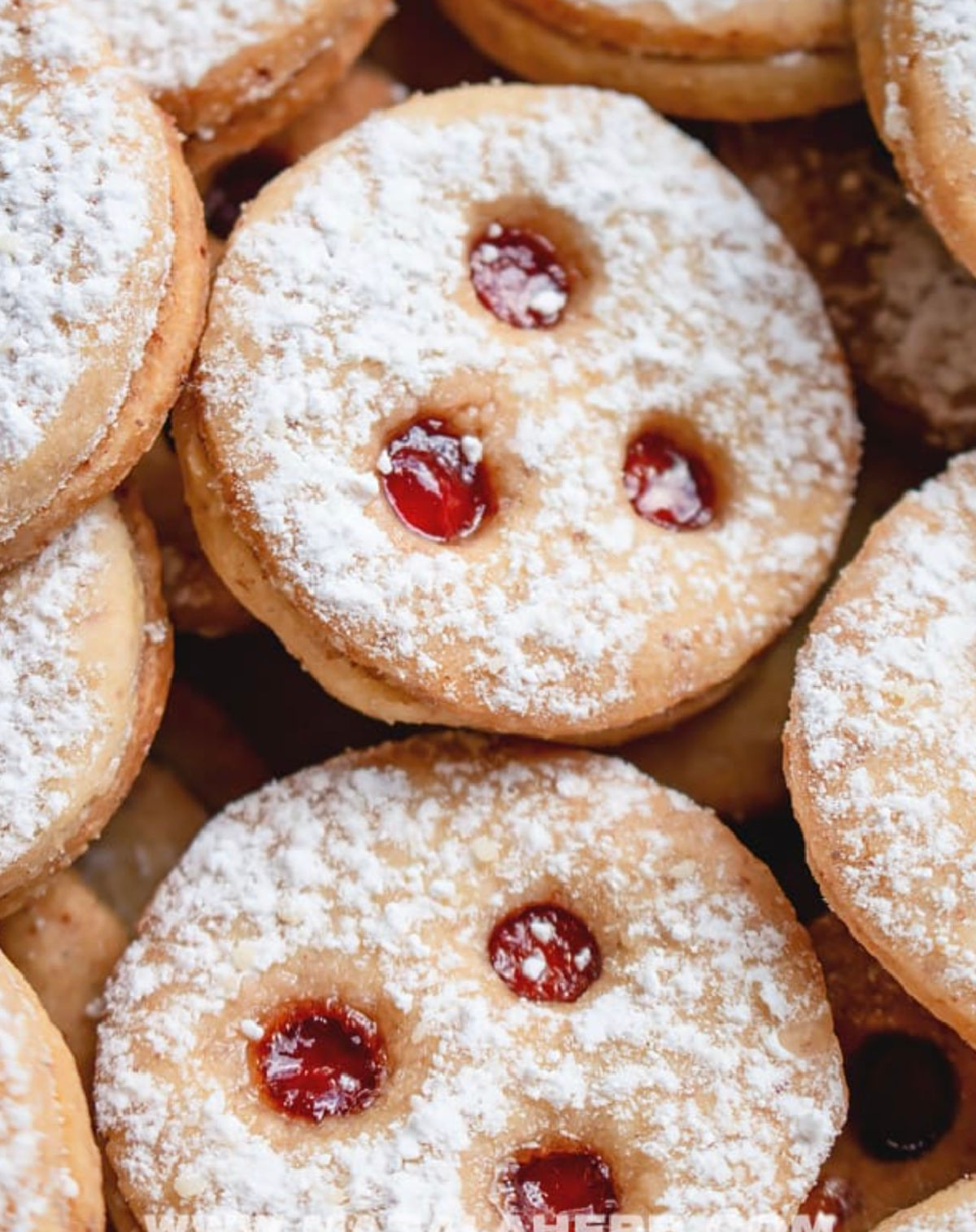 Linzer cookies are a classic, and for a good reason. Everyone loves the combination of buttery cookie and tart jam, and the almond flavor in these is perfect.
23. Pignolis
This recipe deserves a place in your cookie rotation, an Italian classic with pine nuts and a buttery cookie base. They are easy to make and the texture is amazing.
24. fudge-dipped crescent cookies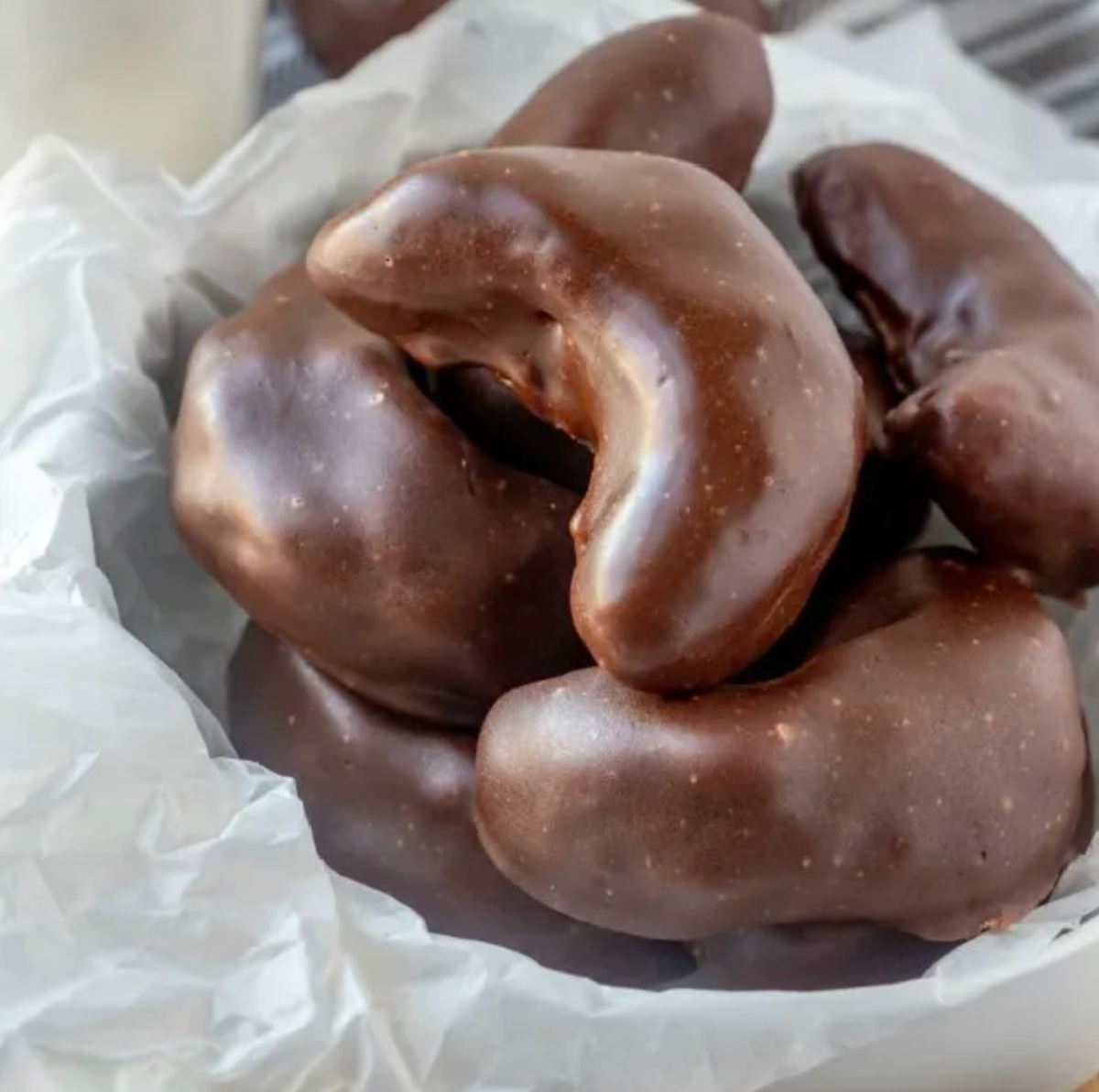 So rich, chocolatey, and delicious, you'll have a hard time saving this recipe for the holidays. These are fun to make, too!
25. Italian butter cookies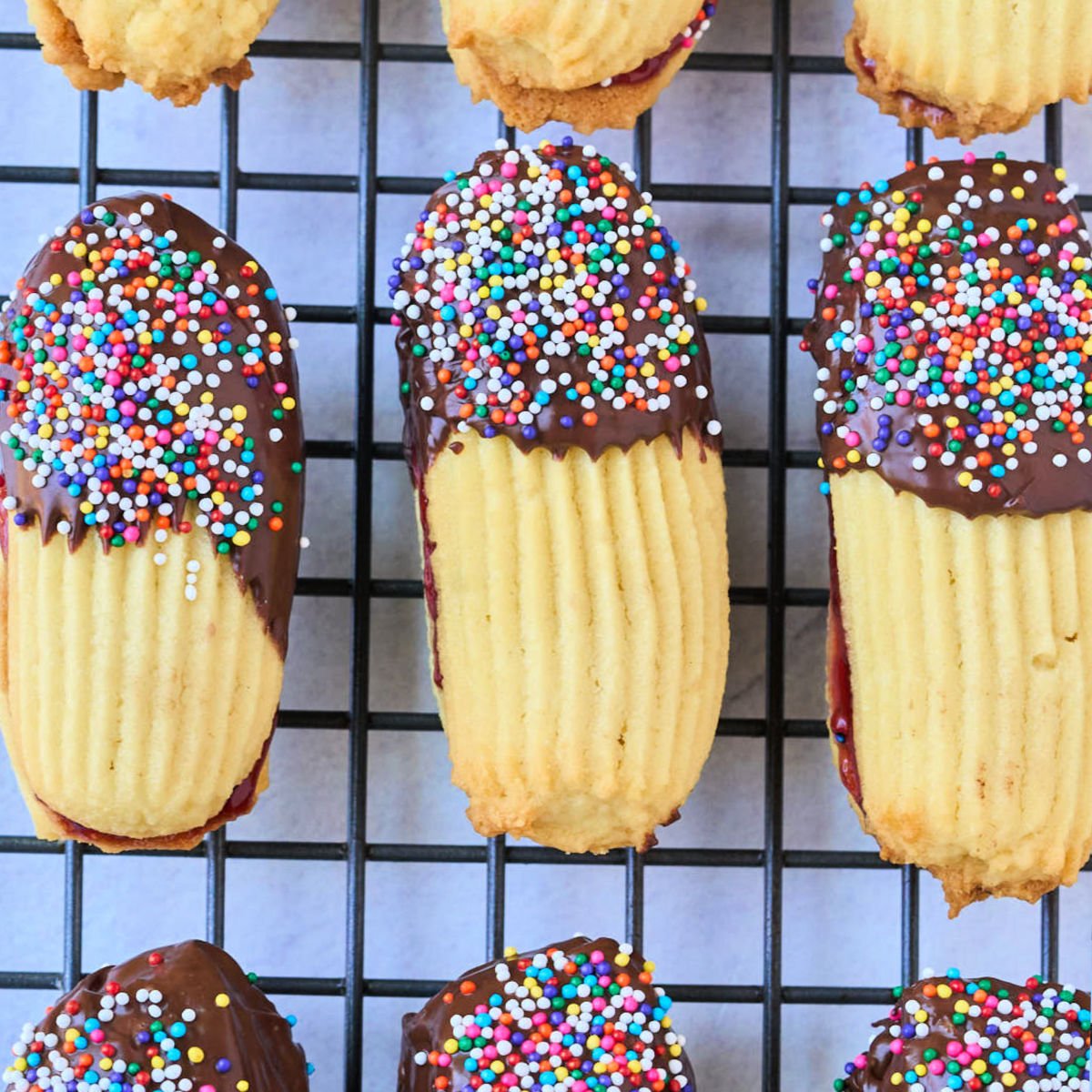 A bakery favorite, these are so delicious with jam, chocolate, and a piped, buttery base. A little more time-consuming than the others, but worth the effort.
26. Turtle Shortbread Cookies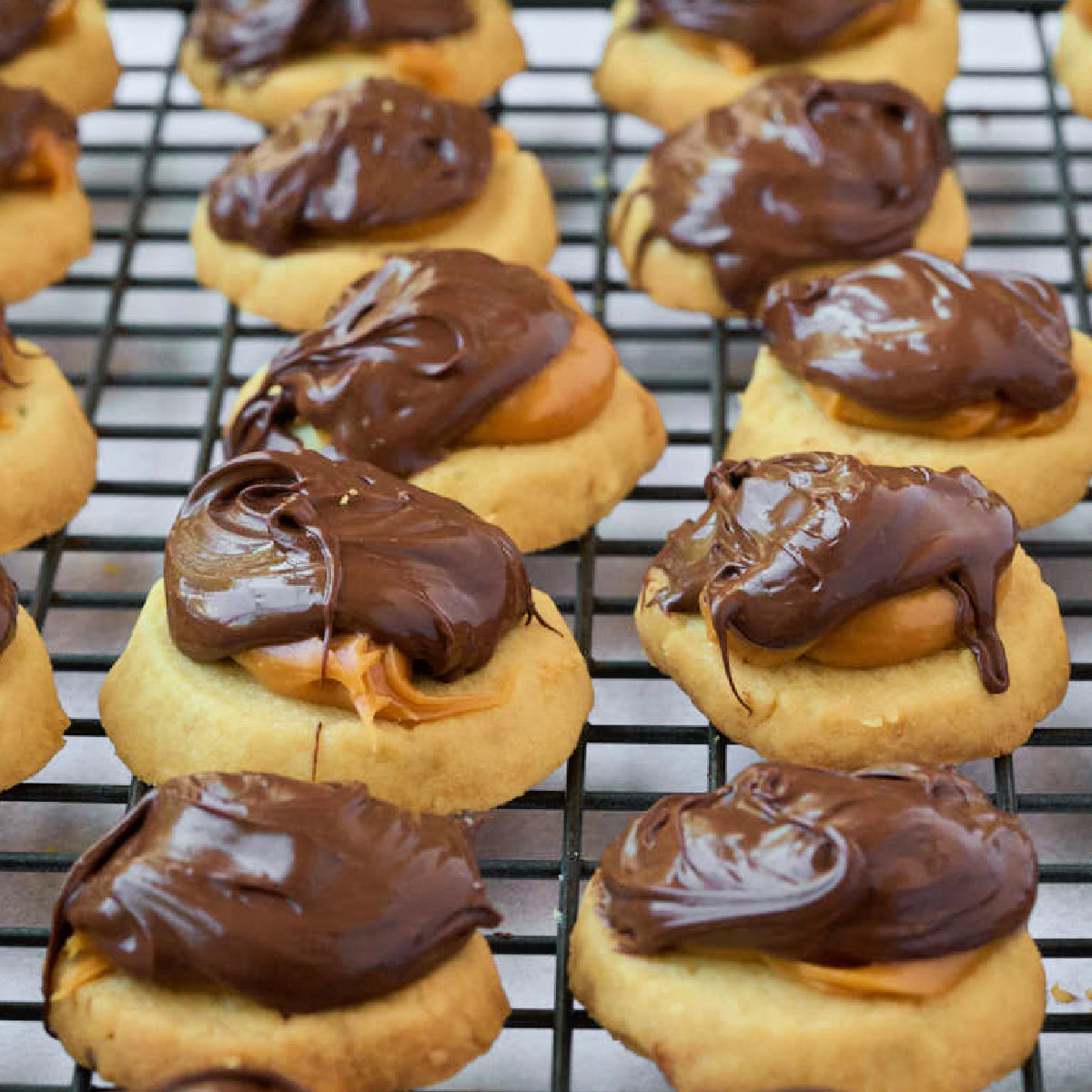 Caramel, pecans, and smooth chocolate all on top of a buttery shortbread cookie. These are so easy to make and are popular with everyone.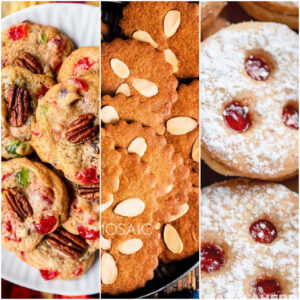 26 Absolutely Delicious Old-Fashioned Christmas Cookies
Print Recipe
These cookies will bring you right back to Grandma's kitchen. The perfect thing to bake for your coziest Christmas ever.
Click here for a FREE autumn cookbook (25+ Recipes!)
Ingredients
1

cup

salted butter at room temperature

½

cup

brown sugar

packed

2¼

cups

all purpose flour

toppings of your choice

sprinkles, nuts, melted chocolate
Instructions
Prep. Preheat your oven to 325° Fahrenheit with two racks. Line two baking sheets with parchment paper.

Make dough. Cream butter and sugar in an electric mixer until light and fluffy. Add 2 cups of flour and mix on low until the flour is mixed in. The cookie dough will appear very crumbly, but do not add any liquid. Turn it on onto a floured surface and knead in the remaining ¼ cup of flour by hand.

Shape into a log and cut. Shape the cookie dough into 2-inch log using your hands. You may find it easier to place the dough on a piece of plastic wrap before shaping, then unwrap. Cut into half-inch slices.

Bake. Arrange the cookies on two baking sheets, spaced ½ inch apart in all directions. (They won't spread much.) Bake in preheated oven for 17-20 minutes, until the edges and bottoms of the cookies are golden brown. Let them cool completely before adding the caramel and chocolate.
Notes
This is a base shortbread recipe that can be made into just about any cookie you'd like. Try filling it with jam, dipping in melted chocolate, or adding colored sprinkles.
Did you make this recipe?
If you loved it, please leave a review!