These simple sourdough rolls are perfect for dinner or making sandwiches.  If you are not ready for artisan loaves, give these a try!  They freeze well too.
Learn how to make crusty and chewy sourdough rolls using a small amount of yeast and a special steam technique in your oven. These are great as dinner rolls and a simple way to use your sourdough starter!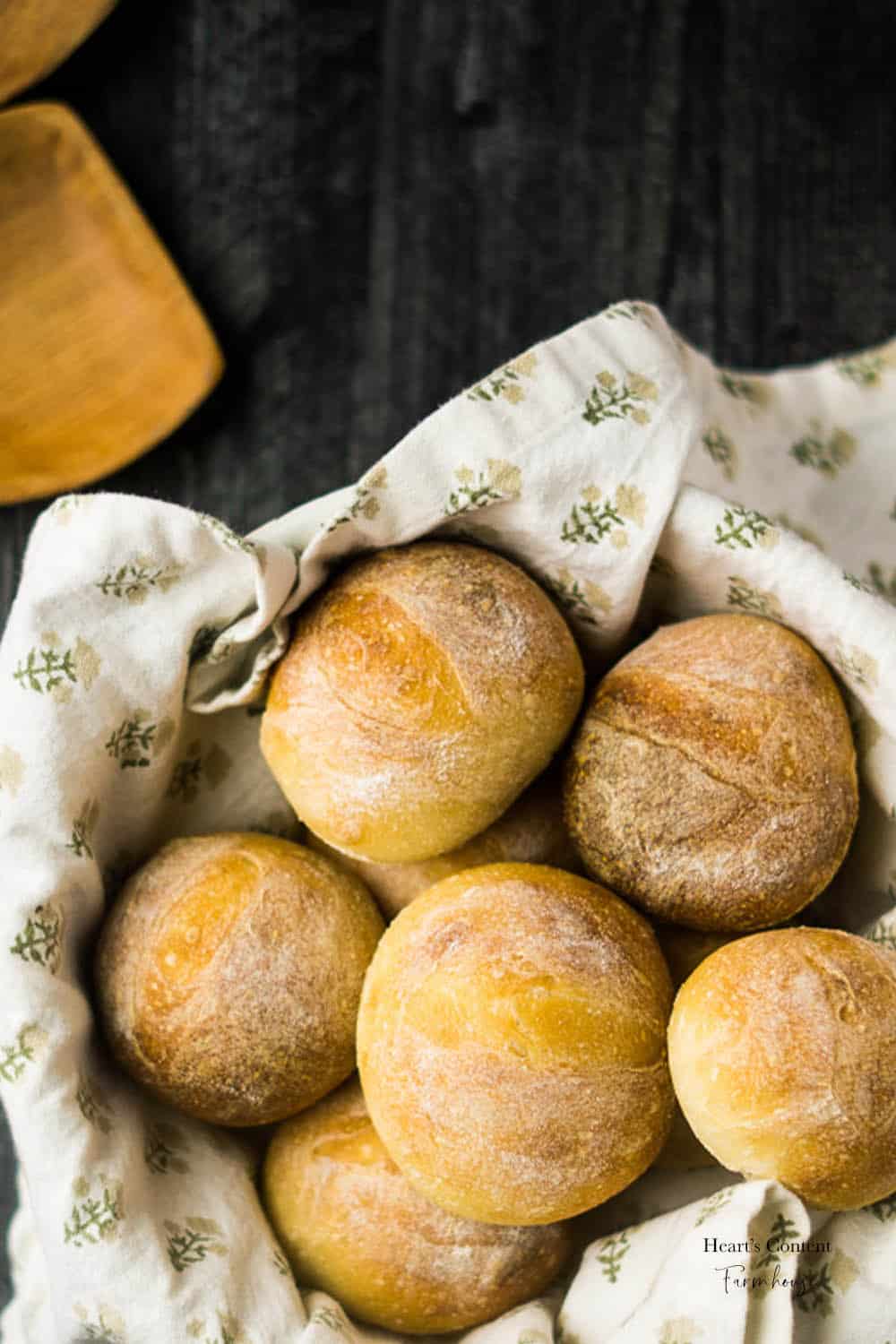 ❤️ Why you'll love this recipe
Delicious. These rolls are a reader favorite. They are not authentic, artisan-style sourdough. But these crusty rolls are delicious, beautiful, and foolproof. (If you're looking for a similar roll made with yeast, try bread machine crusty rolls.)
Easy. There is a time and a place for artisan sourdough involving many tools with French names. This is not it. This recipe is for when you just want some really good rolls. They have a crisp crust, soft interior, and good flavor. There is a slight sourdough tang, but it is totally undetectable by my kids. More of just a depth of flavor.
Versatile. Perfect for sandwiches, dinner, and just about anything else.
It only took me a million different tries to get this recipe right. 😉 I really hope you like them.
🧂 Ingredients
This is an overview of the ingredients. You'll find the full measurements and instructions in the printable recipe at the bottom of the page.
You'll need the following for these crusty, chewy rolls: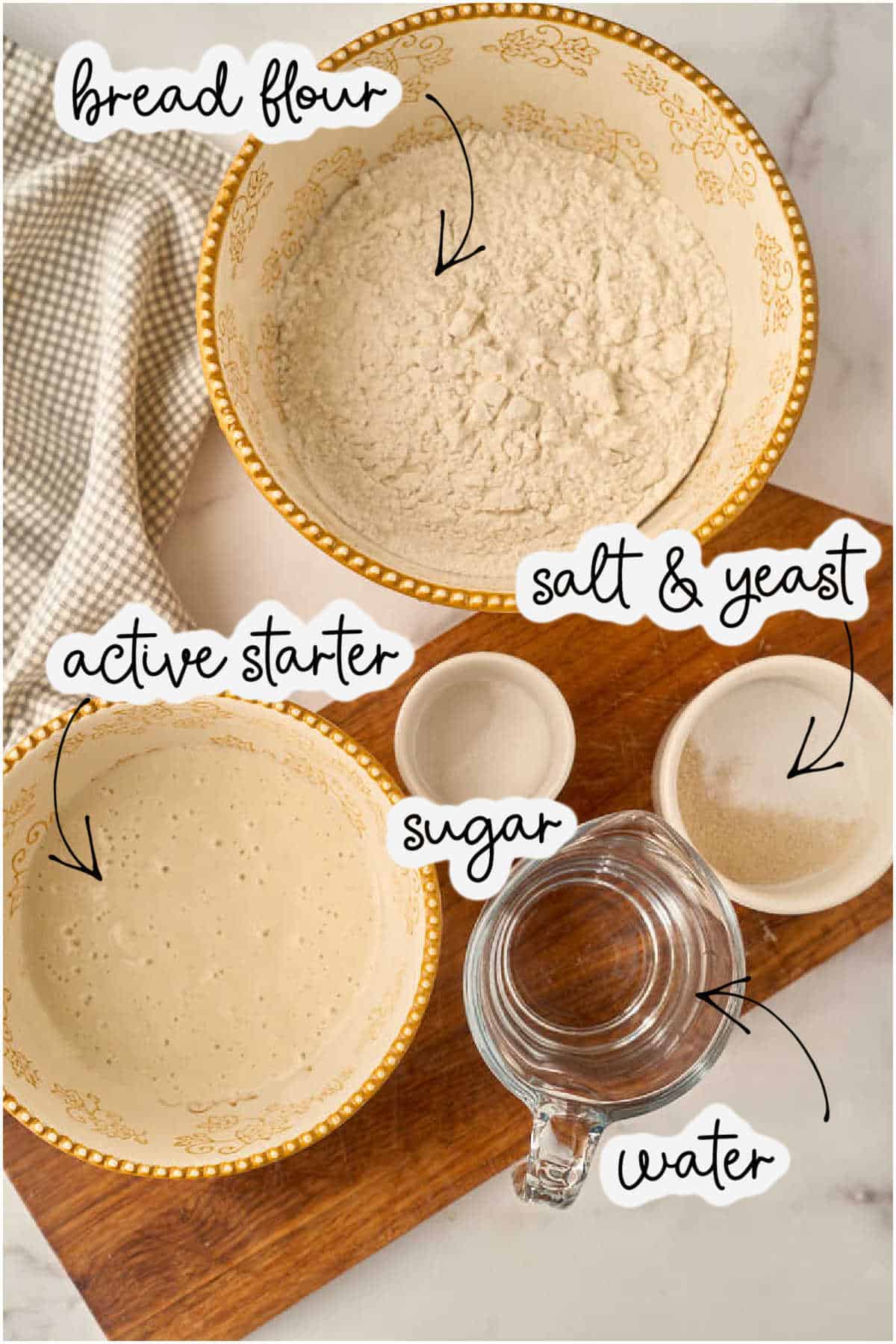 active sourdough starter
bread flour
water
sugar
salt
yeast
🥣 Equipment
A kitchen scale: I highly recommend weighing the ingredients if you have a digital scale. If you don't, I've included volume measurements as well. This is especially important with sourdough recipes since the volume can vary wildly depending on how much air is in your starter.
Bread flour: Bread flour is important to get a crusty, chewy texture. If you are using all-purpose flour, the texture won't be quite the same, and you'll need to use a little more flour. (I recommend King Arthur bread flour for all my bread recipes.)
A bread machine. Not necessary, but will make this recipe a breeze. You only need a basic one, since all it will do is knead and rise the dough.
Instant yeast. It's the best for home bakers.
Parchment paper that lays flat on the baking sheet. Much easier to deal with!
🍴Instructions
Step One: prep your starter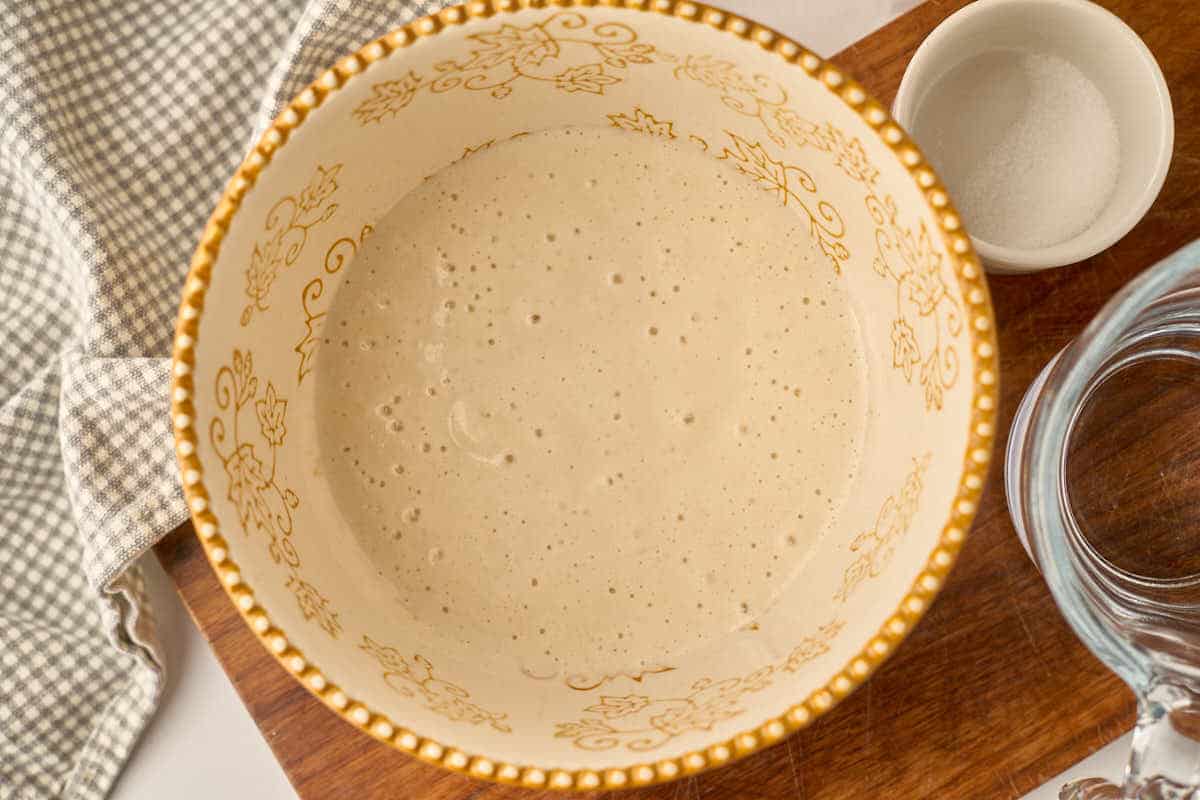 Make sure your sourdough starter is active, bubbly, and recently fed. The better your starter, the better your rolls. Even though these use a small amount of yeast, they still rely on the starter.
Most sourdough starter is a thick, pourable liquid the consistency of pancake batter. If yours is thicker or thinner, you will need to adjust the amount of water, so start with a lesser amount and add more slowly if needed.
Step Two: mix the dough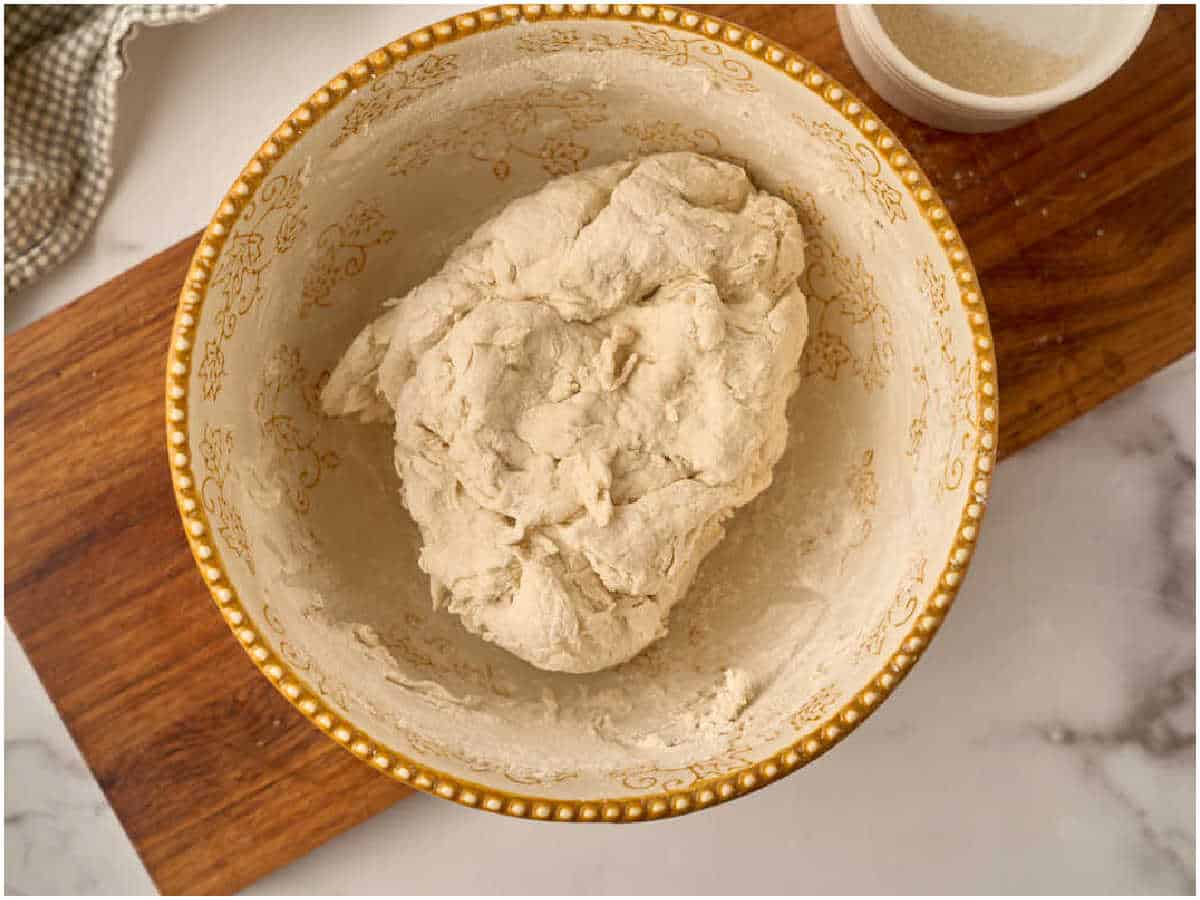 If you are used to baking artisan sourdough, the dough will probably seem very dry to you. Since we are forming it into rolls, it needs to keep its shape. So the texture is more like traditional bread dough. If you add too much water, you will have flat rolls.
After the autolyze period, we will knead in the salt and yeast. I like to put the salt and yeast in a little dish on top of the towel so I don't forget about them.
Step three: knead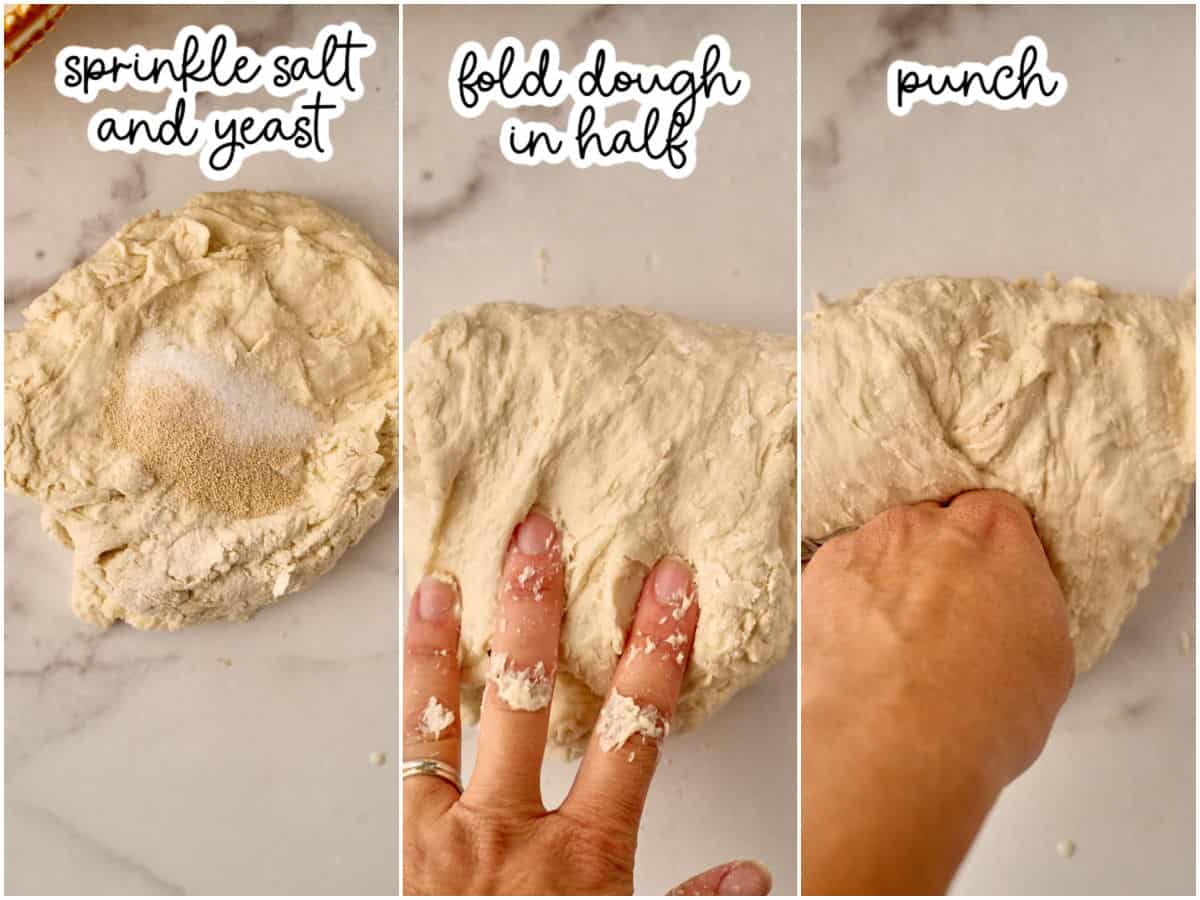 You can knead this dough by hand, with a stand mixer, or using a bread machine on the dough cycle.
To knead by hand
Fold the dough in the half, then punch it down. Stretch it out again, fold, and punch. Repeat this process for at least five minutes, until the dough is stretchy and smooth. You should be able to pull it flat without tearing it.
Kneading with a stand mixer
Place the dough in your mixer bowl with the dough hook and let it run on low for five to ten minutes.
Bread machine method
Simply add everything in the bucket and select the dough cycle. When the machine beeps, you'll have a risen dough that's ready to shape. I use this method the most.
Step Four: shape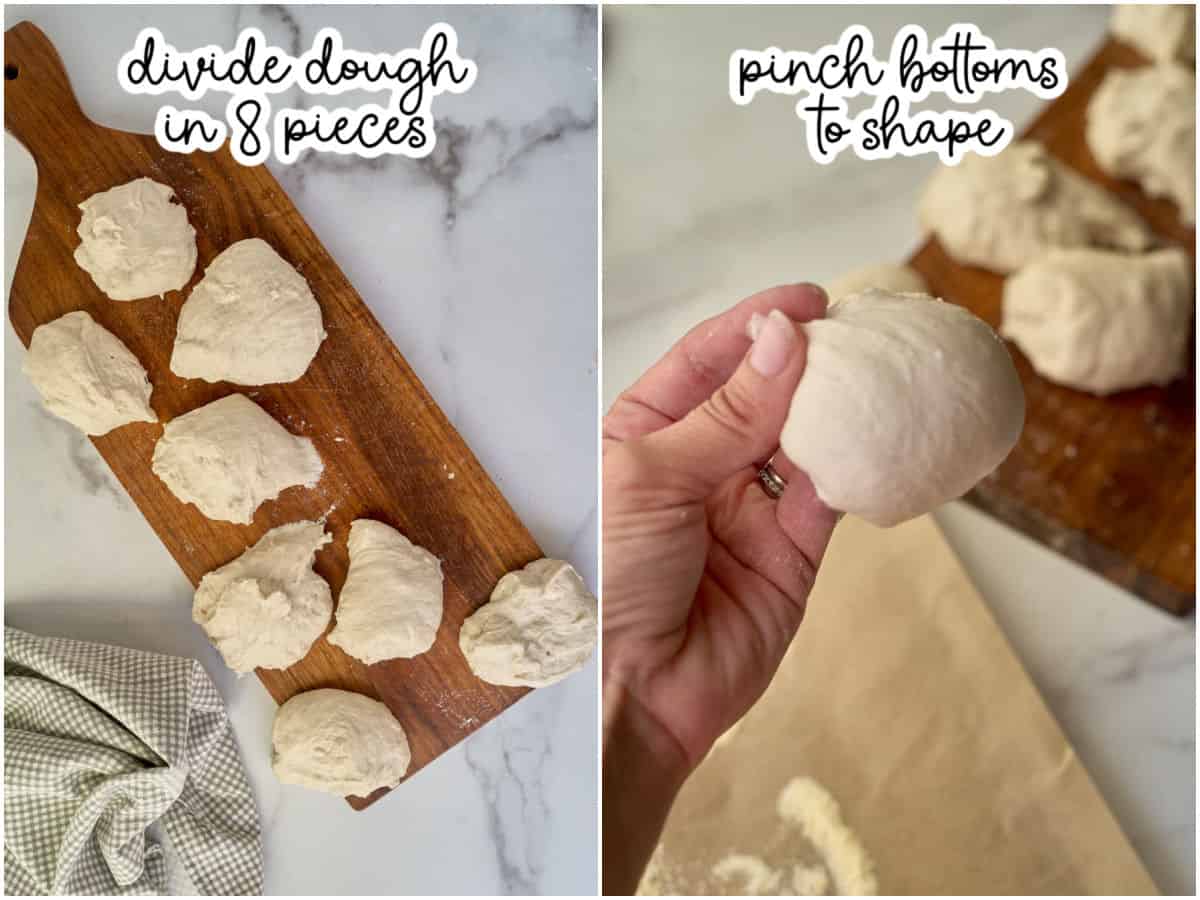 You'll want a sharp knife to divide the dough into eight equal pieces. If you want the rolls exactly equal, use a digital scale and measure in grams.
Make sure you do not smash the dough down to try to smooth it out. Pinch the bottom of the dough until the top has a smooth, round top. Don't handle it too much, just pinch and place it on a parchment-lined baking sheet.
After shaping, dust flour on top and slash with a lame or a serrated knife.
Step Five: the second rise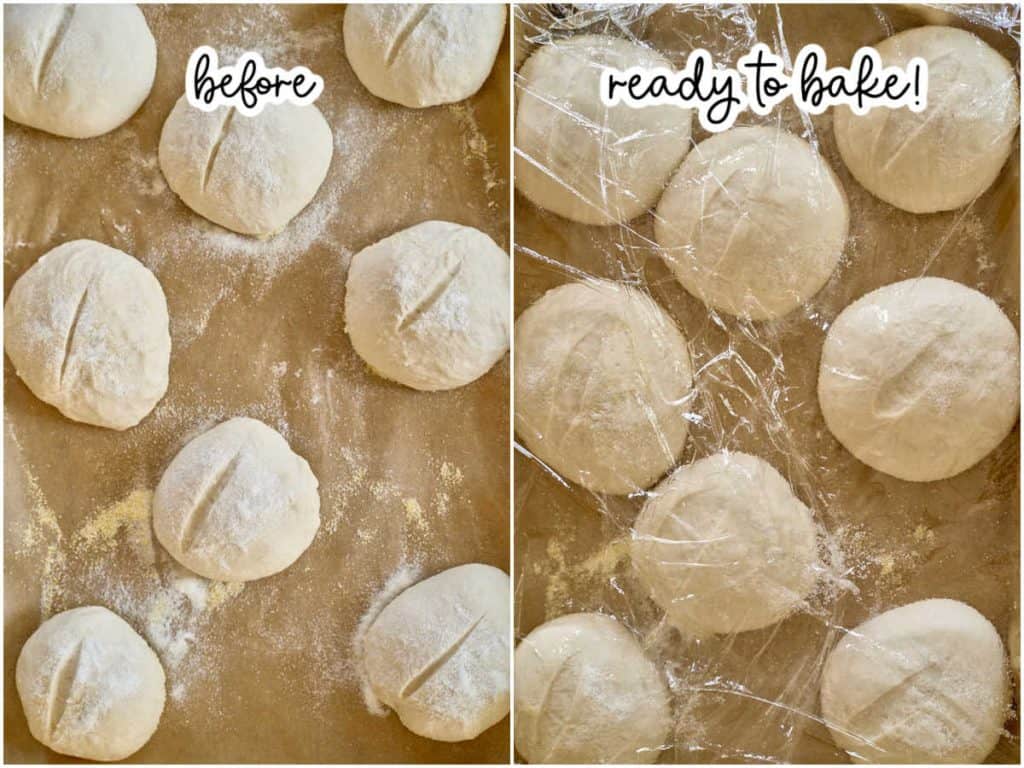 These rolls will complete their second rise in about forty-five minutes to one hour. They will not double in size but will look quite puffy. If you're looking for a warm place for the dough to rise, try turning your oven on for a minute, then turning it off and tucking the rolls in there. Just be sure to remove them before you preheat!
Step six: bake with steam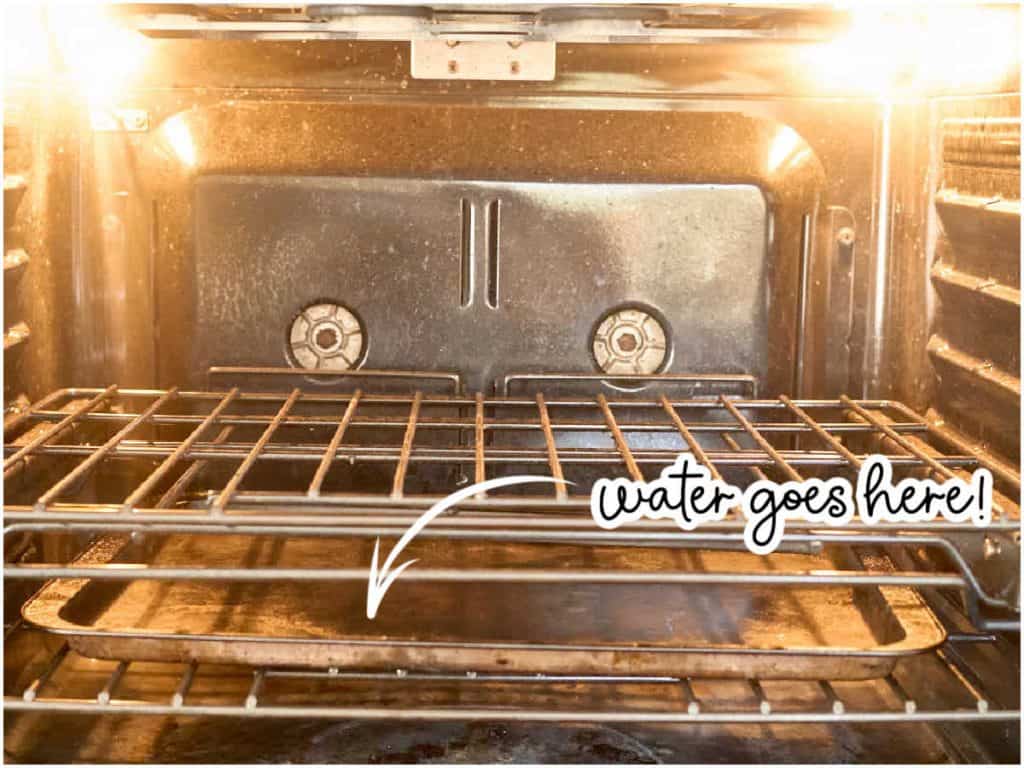 This is one of the keys to a great oven spring. Don't be afraid of this process.
Set up your oven like this, with a metal-rimmed baking sheet on a lower rack. (Do not use glass, or it will shatter!)
Let the oven preheat with the baking sheet on the lower rack. You'll pour water on just before you place the rolls inside, which will create steam. This will make the rolls rise nice and high with a beautiful crust.
🥫 Storage instructions
This recipe will keep well at room temperature for three days, tightly wrapped and just hanging out on the counter.
They also freeze very well. After they've cool to room temperature, pack them up in a freezer bag and they will keep fine for at least a month.
To reheat rolls without drying them out, defrost for a minute or so in the microwave at the defrost setting. Then wrap them in foil and place them in a warm (not hot!) oven for 5-10 minutes.
🔍 FAQs
Can I make these without yeast?
Yes! I rarely do, because I find they're a little fluffier with it. But it will work perfectly fine. Your rising times will be more like 4 hours each.
What if I don't have bread flour?
You can reduce the water a bit and use all-purpose. They won't be as chewy though.
Why does my dough look so wet?
You probably used a different brand of flour, or measured it differently. Add some more flour.
👩🏻‍🍳 Expert tips
Always shape rolls by pinching the bottoms. Smashing them down will make them dense and ugly.
Don't skip the steam! It's the magic that makes these so good!
📘 Related Recipes
🍽 Serve it with
These are great with Sunday dinner. Try these too:
🍅 make it along with me
Follow along step by step. The slides will turn every 7 seconds, or you can click ahead.
📖 Here's the recipe
Crusty Sourdough Rolls
Print Recipe
These simple sourdough rolls are perfect for dinner or making sandwiches. If you are not ready for artisan loaves, give these a try! They freeze well too.
Click here for a FREE autumn cookbook (25+ Recipes!)
Ingredients
7

ounces

active sourdough starter

1 1/4 cups/ 200 grams

13

ounces

bread flour

2 1/2 cups to 3 cups/ 370 grams

6.5

oz

water

3/4 cup plus 1 tablespoon/ 185 grams

1/2

teaspoon

sugar

1 1/2

teaspoons

salt

1/2

teaspoon

yeast
Instructions
Mix all ingredients except salt and yeast. Combine the starter, flour, water, and sugar in a large bowl. Stir well, using your hands if needed to incorporate all ingredients. The mixture may look dry but will feel slightly sticky to the touch. Cover and allow to rest at room temperature for thirty minutes.

Knead in the salt and yeast. Add the salt and yeast on top of the dough, and knead until smooth, stretchy, and elastic. (If using a bread machine, set it on the dough cycle. For a stand mixer, set it on low about 5 minutes. If kneading by hand, knead for about 10 minutes.) Check the consistency of the dough after a few minutes of kneading. It may seem sticky, but should clear the sides of the bowl and should not be too difficult to work with. If it seems very wet, add more flour a few tablespoons at a time.

The first rise. When the dough is kneaded, cover it and put in in a warm place to rise between 60-90 minutes, until nearly doubled in size.

Shape the rolls. Turn the dough out onto a clean counter or a cutting board. Prepare a baking sheet with parchment paper or oil and flour. Dust the top of the parchment with cornmeal. Divide the dough into 8 equal pieces, either by dividing into half, then quarters, then eighths, or by. using a kitchen scale. Shape the pieces into rolls by pinching the bottoms. Place on the cornmeal dusted parchment. Rub the tops with flour. Slash, if desired, using a lame or sharp knife.

The second rise. Cover the rolls with heavily greased plastic wrap and let rise in a warm place for 45-60 minuts, until puffy. Towards the end of the rising time, preheat your oven to 450 degrees. Place one rack in the center, and one in the lower middle area. Place an empty baking sheet on the lower rack to get hot while the oven preheats.

Bake with steam. When the oven has heated and the rolls have risen, pour one cup of water on the hot baking sheet to create steam. (It may buckle, this is ok.). Place the rolls inside and bake for 17-21 minutes, until browned outside. Cool rolls on wire rack for at least 30 minutes before serving.
Notes
Start with the lesser amount of flour and increase it if the dough is too wet. (If you are using all purpose flour, you will need the greater amount of flour, or even a little more.)
Divide into 12 pieces for smaller dinner roll sized servings. Bake 17-19 minutes.
Nutrition
Calories:
170
kcal
|
Carbohydrates:
34
g
|
Protein:
6
g
|
Fat:
1
g
|
Saturated Fat:
1
g
|
Sodium:
438
mg
|
Potassium:
53
mg
|
Fiber:
1
g
|
Sugar:
1
g
|
Vitamin A:
1
IU
|
Vitamin C:
1
mg
|
Calcium:
8
mg
|
Iron:
1
mg
Did you make this recipe?
If you loved it, please leave a review!