These simple sourdough rolls are perfect for dinner or making sandwiches.  If you are not ready for artisan loaves, give these a try!  They freeze well too.
Learn how to make crusty and chewy sourdough rolls using a a small amount of yeast and a special steam technique in your oven. These are great as dinner rolls and a simple way to use your sourdough starter!
This post contains affiliate links, meaning that if you purchase something after clicking on a link in the post I may earn a commission at no additional cost to you. Heart's Content Farmhouse is a participant in the Amazon Services LLC Associates Program, an affiliate advertising program designed to provide a means for website owners to earn advertising fees by advertising and linking to amazon.com.
Are you unfamiliar with the world of sourdough? Visit the beginners guide to sourdough baking, or get started with a sourdough starter of your own from scratch!
These rolls are my new favorite bread to make. They are NOT authentic, artisan style sourdough. But these crusty rolls ARE delicious, beautiful, and foolproof. (If you're looking for a similar roll made with yeast, try bread machine crusty rolls.)
There is a time and a place for artisan sourdough involving many tools with French names. This is not it. This recipe is for when you just want some really good rolls.
They have a crisp crust, soft interior, and good flavor. There is a slight sourdough tang, but it is totally undetectable by my kids. More of just a depth of flavor.
This is an easy recipe, but a few notes before you begin
I highly recommend weighing the ingredients if you have a digital scale. If you don't, I've included volume measurements as well.
My starter is a thick, pourable liquid the consistency of pancake batter. If yours is thicker or thinner, you will need to adjust the amount of water, so start with a lesser amount and add more slowly if needed.
Bread flour is important to get the a crusty, chewy texture. If you are using all purpose flour, the texture won't be quite the same, and you'll need to use a little more flour.
If you are used to baking artisan sourdough, the dough will probably seem very dry to you. Since we are forming it into rolls, it needs to keep its shape. So the texture is more like a traditional bread dough.
It only took me a million different tries to get this recipe right. I really hope you like them.
Helpful tools:
New to sourdough and not sure what I'm talking about?
Here is a good introduction from King Arthur flour.
There are many benefits to sourdough baking, but this recipe is a quicker one that doesn't have a lot of the health benefits. (But it's still delicious!)
Ready to have crisp and chewy dinner rolls tonight? Here are step by step photos and a printable recipe:
Weigh out your ingredients with a digital scale and add everything except the yeast and salt to a bowl
Stir with a spoon to form a rough, slightly dry looking dough
Allow it to rest, covered, at room temperature, for 20-40 minutes, then come back and add the salt and yeast.
Knead the dough by hand, bread machine, or stand mixer with dough hook until smooth and slightly sticky. Look for transparent "windows" in the dough. (If you're using a stand mixer, this post will help walk you through exactly how to knead with the dough hook.)
After a few minutes of kneading, the dough may be a little sticky, but it should not be wet or impossible to handle. Add more flour, a tablespoon or two at a time, until it forms a workable dough.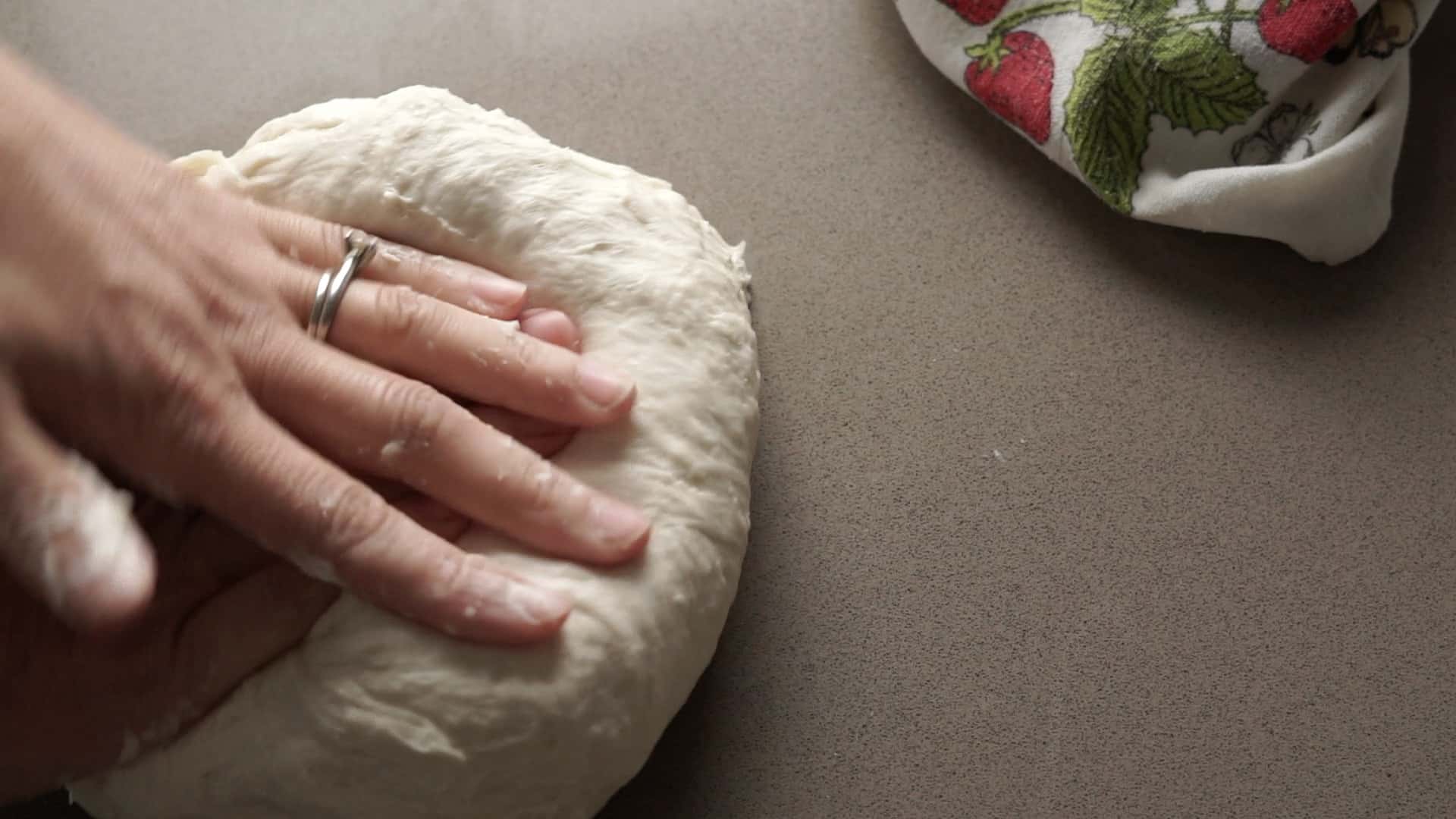 Place the dough in a clean, lightly oiled bowl and cover.
Allow to rise for 1 hour in a warm place, such as a slightly warmed but turned-off oven, until doubled in size
Then divide and shape into 8 rolls, placing them on a parchment- lined baking sheet sprinkled with cornmeal.
Cover with greased plastic wrap and allow to rise for 45- 60 minutes at room temperature. Halfway through the rising time, preheat your oven to 450 degrees. Put an empty, rimmed baking sheet on a lower rack.
When the rising time is up, the rolls should be puffy.
Pour 1 cup of water on the empty baking sheet to create steam.
Bake for 17-21 minutes until browned. The baking time varies widely with this recipe because of the steam. The steam lowers the oven temperature and depending on how quickly your oven gets back up to temperature, some ovens will bake much faster than other.
Cool on wire rack.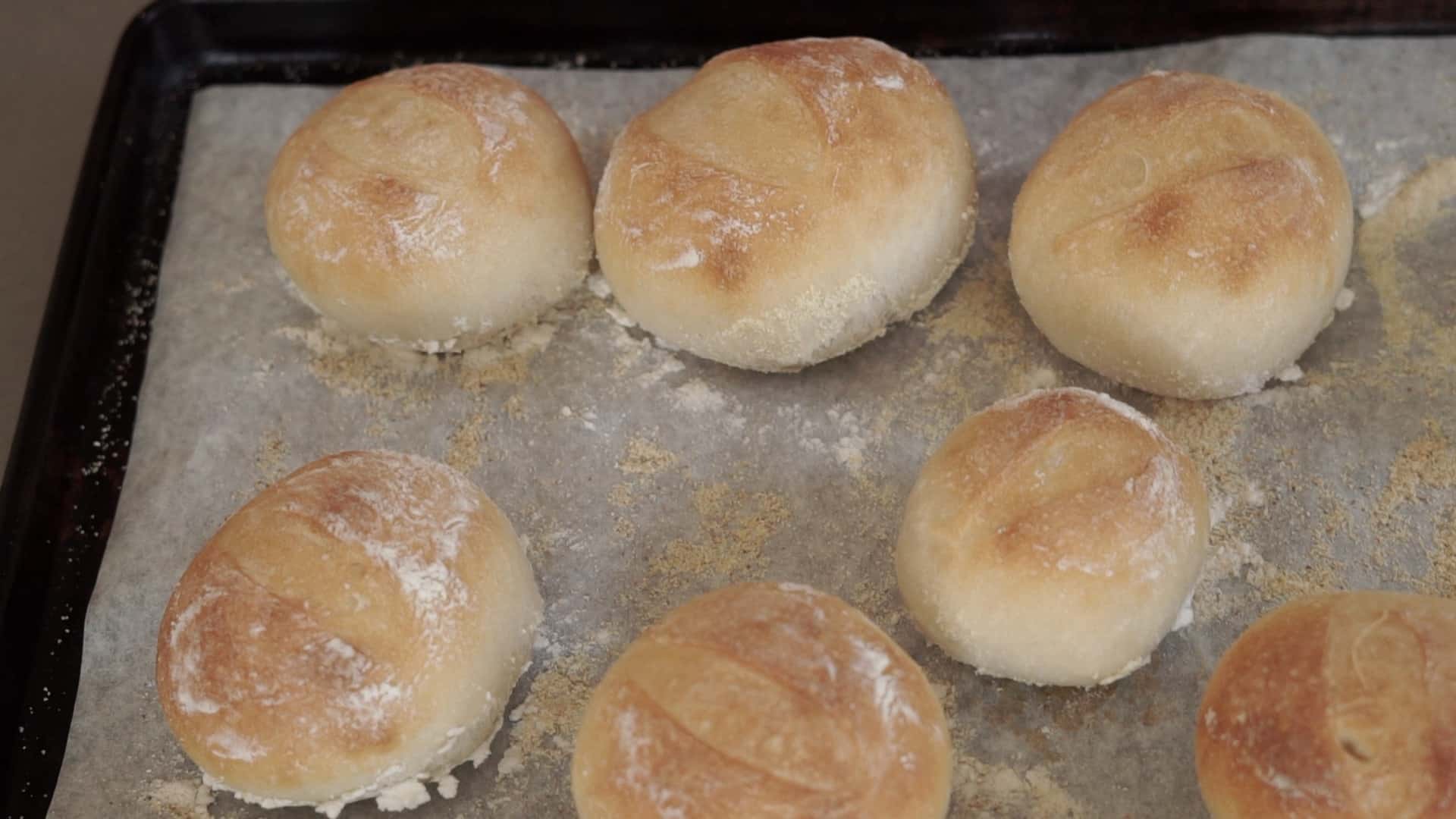 Storing the rolls
These crusty sourdough rolls freeze very well. After cooled to room temperature, pack them up in a freezer bag and they will keep fine for at least a month.
To reheat rolls without drying them out, defrost for a minute or so in the microwave at the defrost setting. Then wrap them in foil and place them in a warm (not hot!) oven for 5-10 minutes.
Looking for more sourdough recipes?
Printable recipe and video tutorial:
Crusty Sourdough Rolls
Print Recipe
These simple sourdough rolls are perfect for dinner or making sandwiches. If you are not ready for artisan loaves, give these a try! They freeze well too.
Click here to grab a free mini-cookbook with my best seasonal recipes
Ingredients
7

oz.

thick liquid pourable starter

1 1/4 cups

13

oz

white bread flour

2 1/2 cups to 3 cups

6.5

oz

water

3/4 cup plus 1 tablespoon

1/2

teaspoon

sugar

1 1/2

teaspoons

salt

1/2

teaspoon

yeast
Instructions
Combine the starter, flour, water, and sugar in a large bowl. Stir to combine. The mixture should be a slightly sticky dough. Cover and allow to rest for about 20-40 minutes.

Add the salt and yeast on top of the dough, and transfer it to whatever you are using to knead. If using a bread machine, set it on the dough cycle. For a stand mixer, set it on low about 5 minutes. If kneading by hand, knead for about 10 minutes (with a 5 minute rest halfway) without adding any additional flour. Check the consistency of the dough after few minutes of kneading. It may seem sticky, but should clear the sides of the bowl. If it seems very wet, add more flour a few tablespoons at a time.

When the dough is kneaded, cover it and put in in a warm place to rise between 60-90 minutes. If using the bread machine, let it complete the cycle and leave it in the machine a bit longer.

When the dough has completed its first rise, dump it onto the counter or a cutting board. Prepare a baking sheet with parchment paper or oil and flour. Dust the top of the parchment with cornmeal. Divide the dough into 8 equal pieces. I use a scale and aim for a tad over 3 ounces for each.

Shape the pieces into rolls by pinching the bottoms. Place on the cornmeal dusted parchment. Rub the tops with flour. Slash, if desired, using a lame or sharp knife. Cover with heavily greased plastic wrap and allow to rise again at room temperature for 30-45 minutes.

Towards the end of the rising time, preheat your oven to 450 degrees. Place one rack in the center, and one in the lower middle area. Place an empty baking sheet on the lower rack to get hot while the over heats.

When the oven has heated and the rolls are risen, pour 1 cup of water on the hot baking sheet to create steam. (It may buckle, this is ok.). Place the rolls inside and bake for 17-21 minutes, until browned outside. Cool rolls on wire rack.
Notes
Start with the lesser amount of flour and increase it if the dough is too wet.
If you are using all purpose flour, you will need the greater amount of flour, or even a little more.
To freeze the rolls, allow to cool completely then place in a plastic bag for up to 2 months. Defrost 1 minute per roll on the DEFROST setting in the microwave.
Nutrition
Calories:
170
kcal
|
Carbohydrates:
34
g
|
Protein:
6
g
|
Fat:
1
g
|
Saturated Fat:
1
g
|
Sodium:
438
mg
|
Potassium:
53
mg
|
Fiber:
1
g
|
Sugar:
1
g
|
Vitamin A:
1
IU
|
Vitamin C:
1
mg
|
Calcium:
8
mg
|
Iron:
1
mg
Happy baking!