Shrimp breaded by hand and tossed in sweet, shredded coconut. A restaurant favorite made easy at home.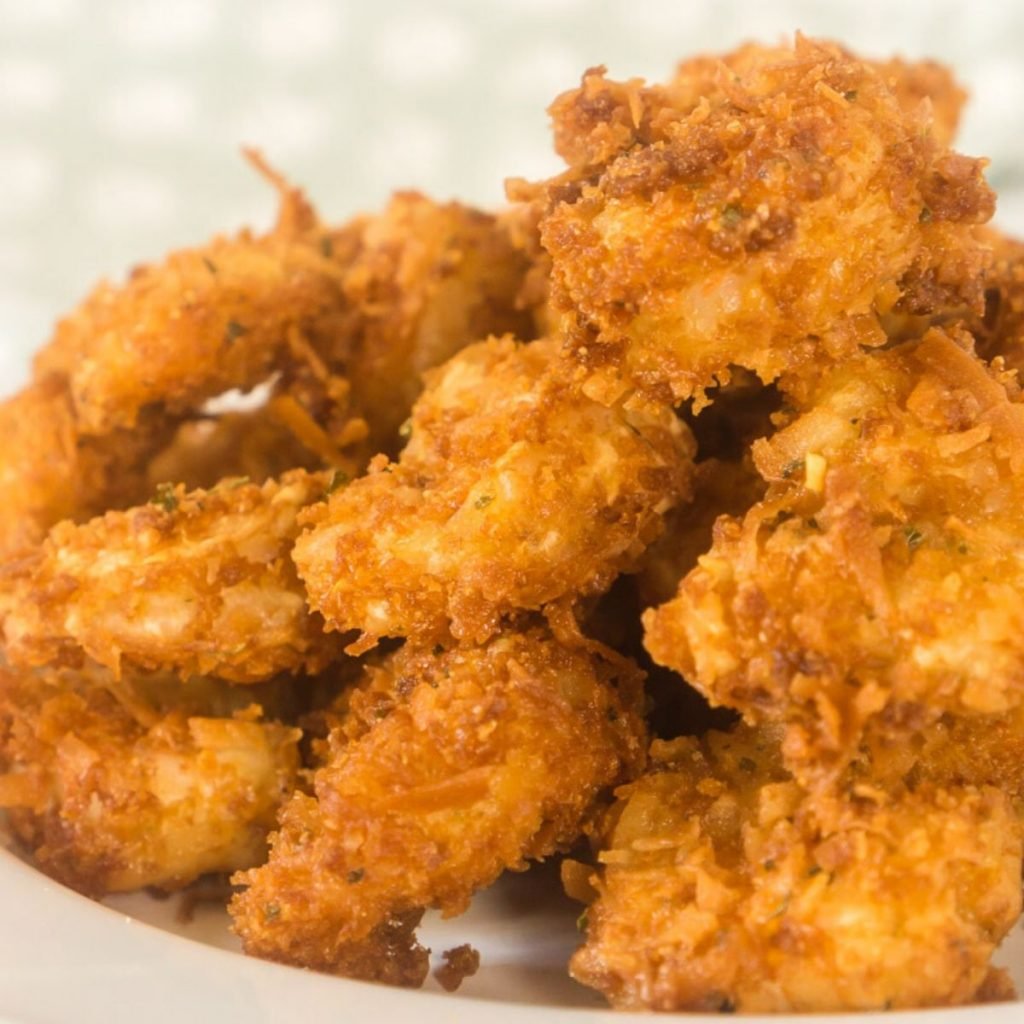 Everyone loves fried foods, right? And even the non-seafood people in your family will gobble up these deep fried coconut shrimp. They are golden brown, deliciously crisp, with just a hint of sweetness. Once you see how easy this recipe is to make at home, there will be no need to get them at a restaurant. We always feel like we're on vacation while we eat there.
What you'll need for coconut shrimp
Shrimp! You'll want them peeled and deveined. Using frozen is fine, just defrost them first.
Salt and pepper
1/2 cup all purpose flour
1 cup shredded coconut
1 cup Panko bread crumbs (find them in the international section of the grocery store, or near the plain breadcrumbs in some stores)
1 cup shredded coconut. I tend to use sweetened for this recipe, but some people prefer unsweetened. It's up to you! (shredded coconut is in the baking section of the grocery store, near the chocolate chips)
1 quart peanut oil or vegetable oil for frying
Optional: sweet Thai chili sauce for dipping (near the soy sauce in the store)
???? Frugal Tip
Nice quality shrimp are available at a great price at either Costco or Aldi. The Costco ones are slightly larger.
If you are at a grocery store, don't bother getting "fresh" shrimp the the seafood counter. It is almost always frozen shrimp that they have defrosted on site. That's fine, but the frozen bag keeps longer and is more convenient.
?? Let's make them, step by step
Breading the shrimp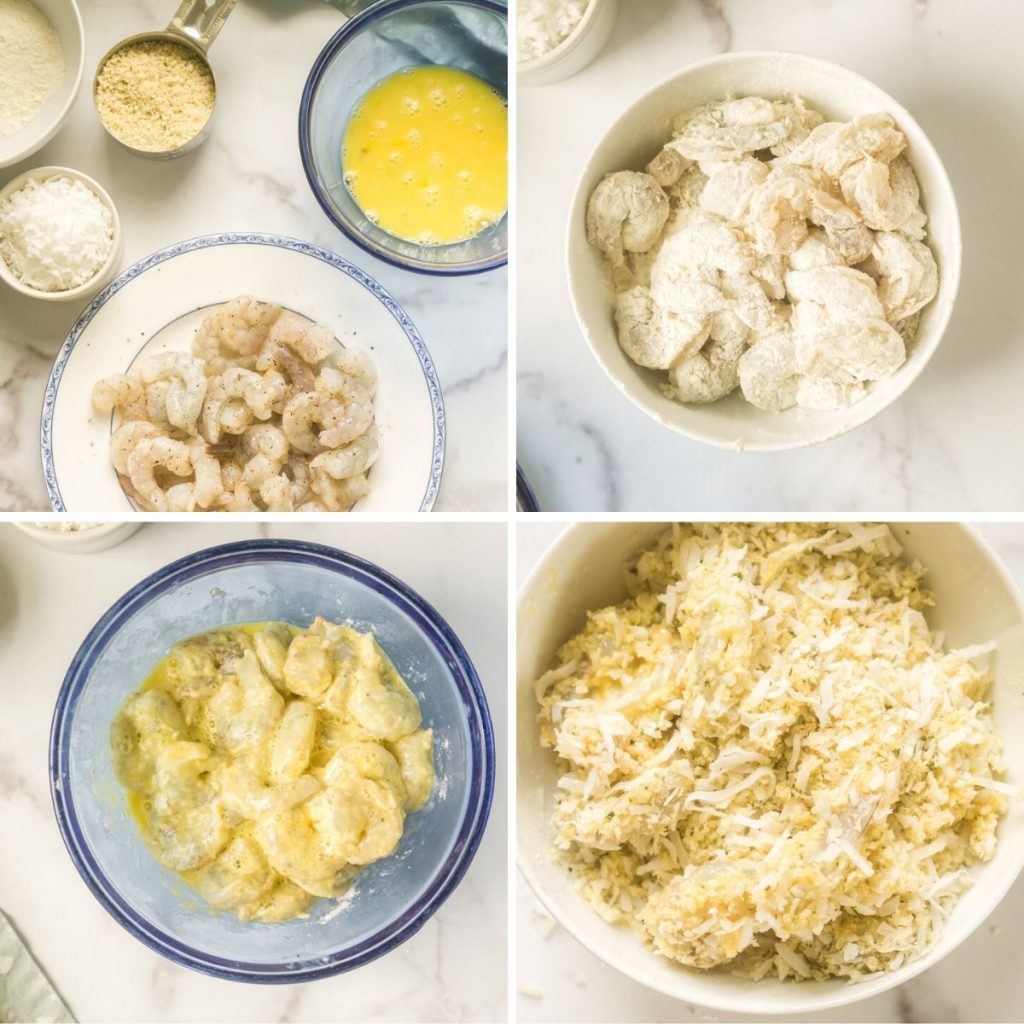 This recipe is a bit messy but it's very fast to make.
Before you get started, set up your deep fryer or Dutch Oven and fill it with oil. If you are deep frying in a pot, you'll need enough oil so that the shrimp can switch around easily. Use a candy thermometer to watch the temperature. You want to fry the shrimp at 365 degrees. Never leave hot oil unattended!
Now let's prepare the shrimp. Pat them dry with paper towels and season with salt and pepper.
You'll want three bowls for the three components of the breading. Line them up in order: first the flour, next the beaten egg, and finally a blend of the panko and shredded coconut. Dip the shrimp in, a few at a time, and place the breaded shrimp on a plate where they can wait to be fried.
Deep frying and serving
The frying part goes very quickly. Keep an eye on them, as they need just a few minutes.
If you're frying on the stovetop, you will need to flip them. They usually takes only a minute or two per side. Overcooked shrimp are rubbery, so don't leave them too long.
In the deep fryer, submerge the basket for 2 minutes and then check to see how browned they are. They may need one more minute.
Remove the shrimp once they are golden brown, and allow them to drain briefly on a paper towel lined plate.
They are best served immediately, and are delicious with sweet Thai chili sauce as a dipping sauce.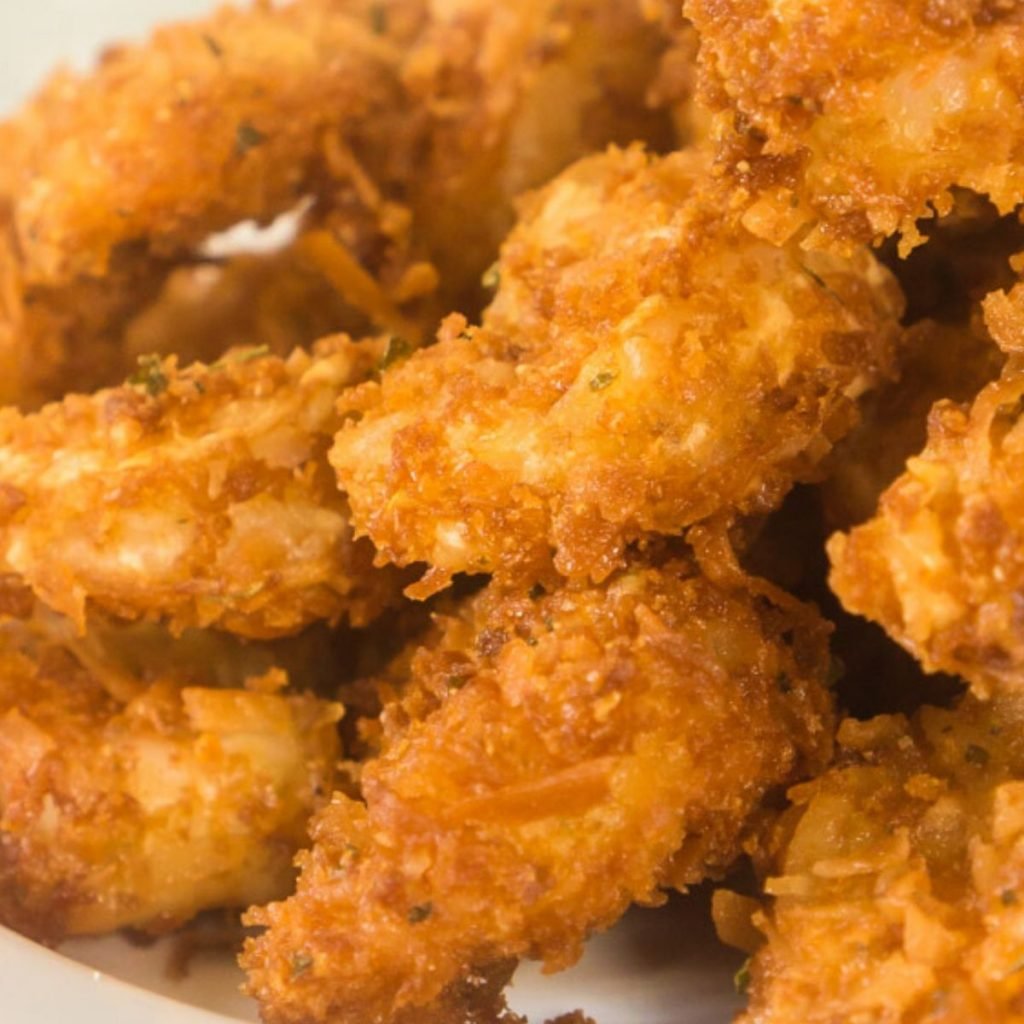 ???? Here's the recipe!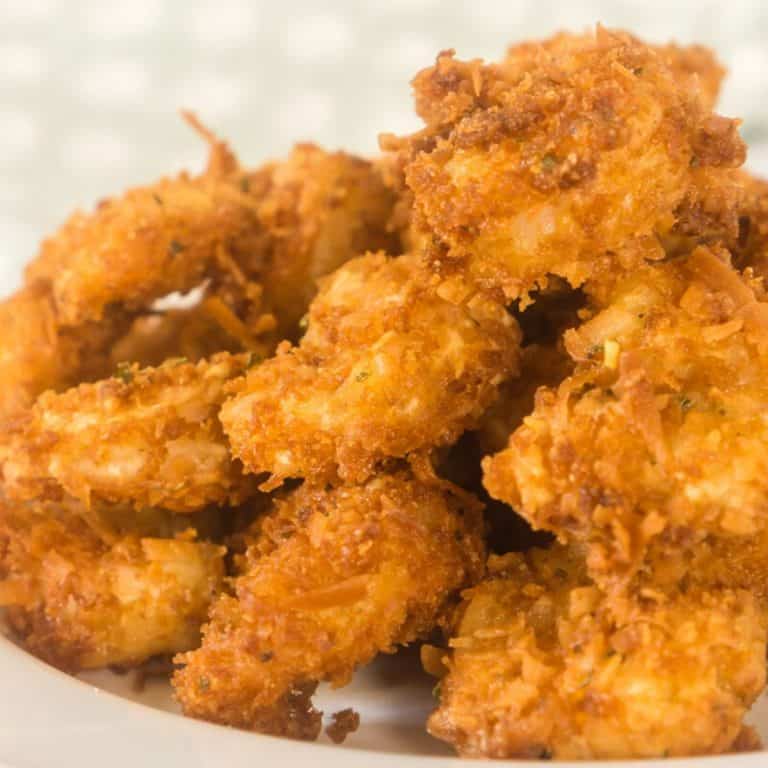 Easy Deep Fried Coconut Shrimp
Print Recipe
Shrimp breaded by hand and tossed in sweet, shredded coconut. A restaurant favorite made easy at home.
Click here for a FREE autumn cookbook (25+ Recipes!)
Ingredients
1

pound

raw shrimp

peeled and deveined

salt and pepper

2

eggs

beaten

1/2

cup

flour

1

cup

panko bread crumbs

1

cup

shredded coconut

sweetened or unsweetened will be fine

peanut oil or vegetable oil for frying
Instructions
Preheat the frying oil, to 365 degrees, either in a deep fryer or heavy bottomed pot with a candy thermometer.

Pat the shrimp dry with paper towels and season with salt and pepper.

Prepare three bowls: 1 with the flour, one with the beaten eggs, and one with the panko and and coconut mixed together. Dip the shrimp, a few at a time, first into the eggs, then the flour, then the panko/ coconut mix.

Check the oil temperature and fry in batches about 1-2 minutes per side. They shrimp should be in a single layer on the basket with plenty of room between them. If using a deep fryer, there is no need to turn them, and they will be done in about 2-3 minutes. Remove to a paper towel lined plate to drain. Serve immediately with sweet Thai chili sauce.
Notes
Deep fried foods are best eaten immediately.
If serving this as a main course, you may want to double the amount.
Did you make this recipe?
If you loved it, please leave a review!
The whole family will love this recipe!