A thick body cream with beeswax, shea butter, and apricot kernel oil perfect for dry skin.
This rich and nourishing beeswax and shea butter body cream is perfect for dry or sensitive skin and easier to make than you think.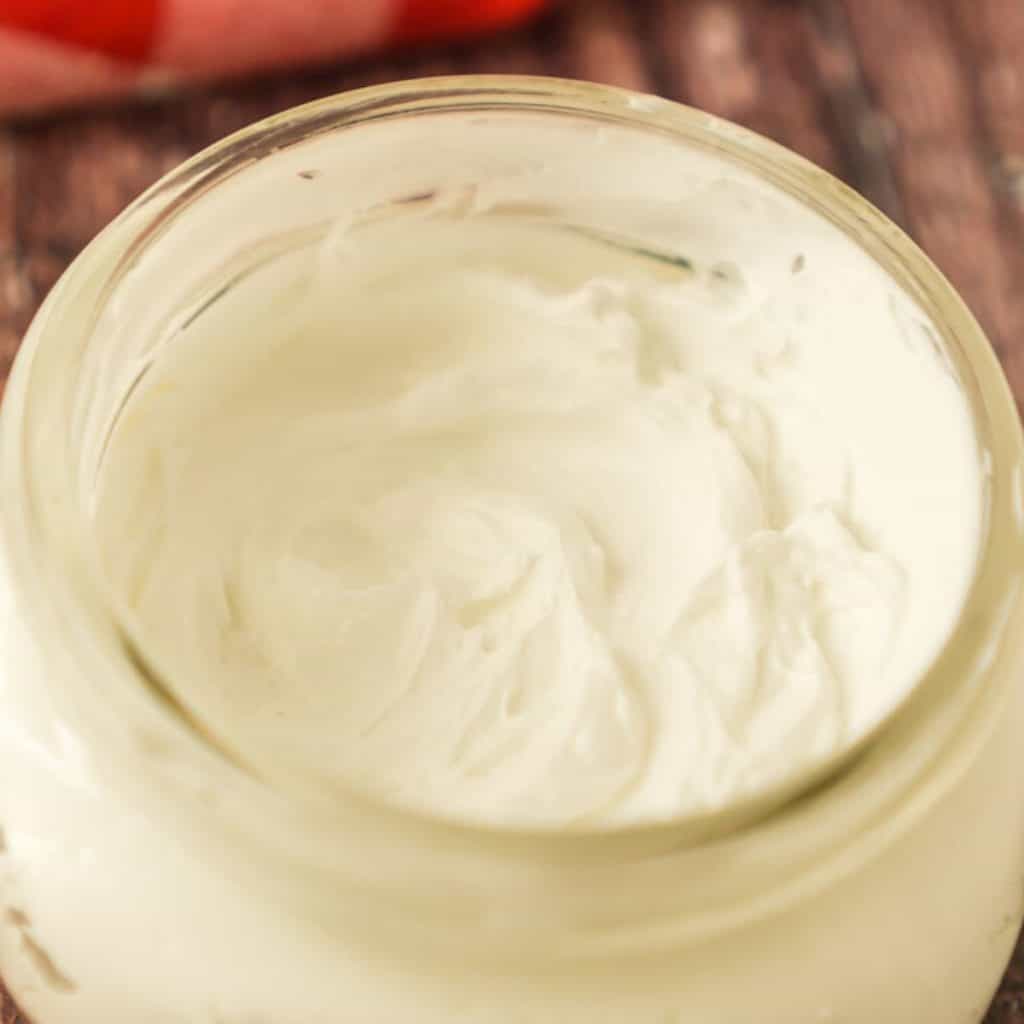 Why make your own body cream?
Homemade body cream is actually not difficult. It's easier than soap making, and there are no dangerous ingredients (well, you wouldn't exactly want to eat the ingredients, but you don't have to deal with lye.).
Making lotion or cream at home is basically combining oil and water. As we all know, this does not really work that well. In order to help oil and water blend together, or emulsify, you need to add emulsifying wax. This is a must. In fact you need an emulsifier and a co-emulsifier. The science of this is not very interesting; just know that you need both.
You will need to add a preservative. This is also a must. Without preservative, your homemade cream will last a matter of days before it grows mold.
If you don't want to deal with emulsifiers or preservatives, you can make a balm-like cream made out of just oils. It is also lovely, but it's little bit of a heavier feel, and it's best just for your hands or for super dry skin. Find that recipe here.
Making body cream at home allows you to customize the fragrance and oils and butters you use. This specific recipe is rich and thick because of the beeswax and shea butter. But it absorbs into the skin without any greasy feeling, and it's suitable for all over the body.
You can find a lighter, pumpable body lotion recipe here.
???? Ingredients and tools you'll need: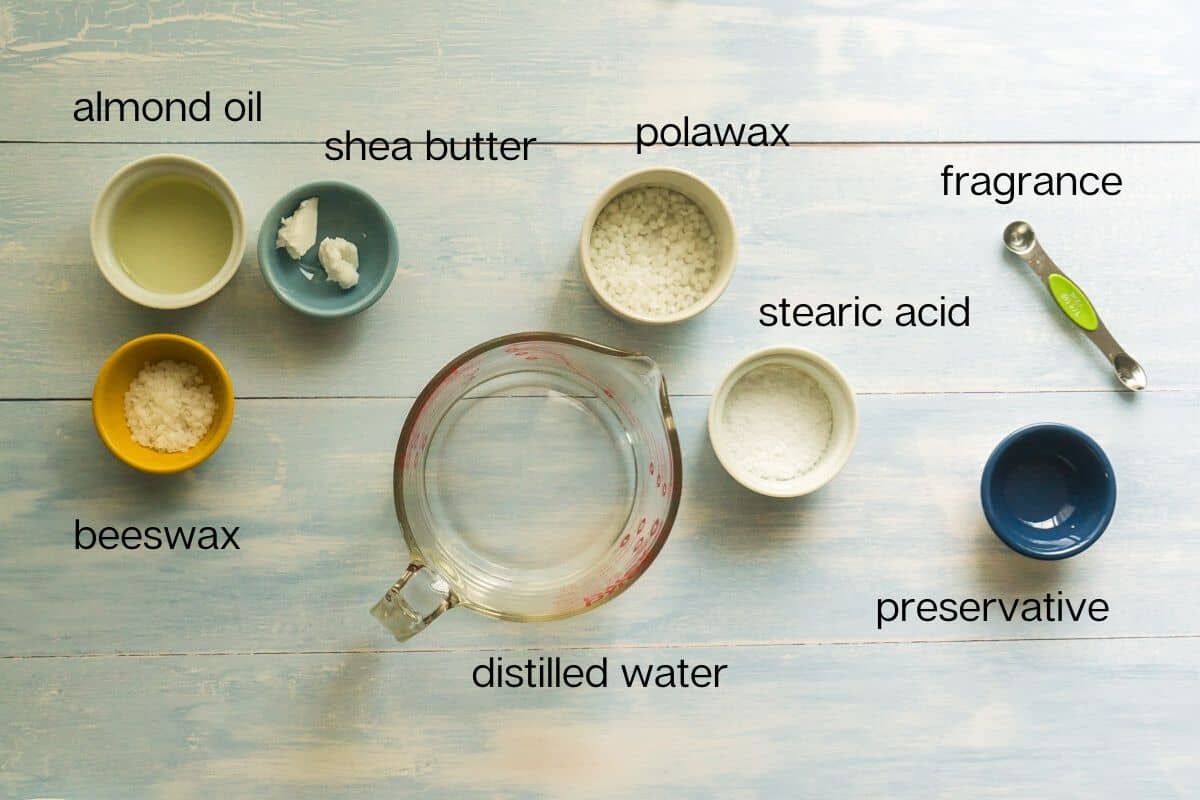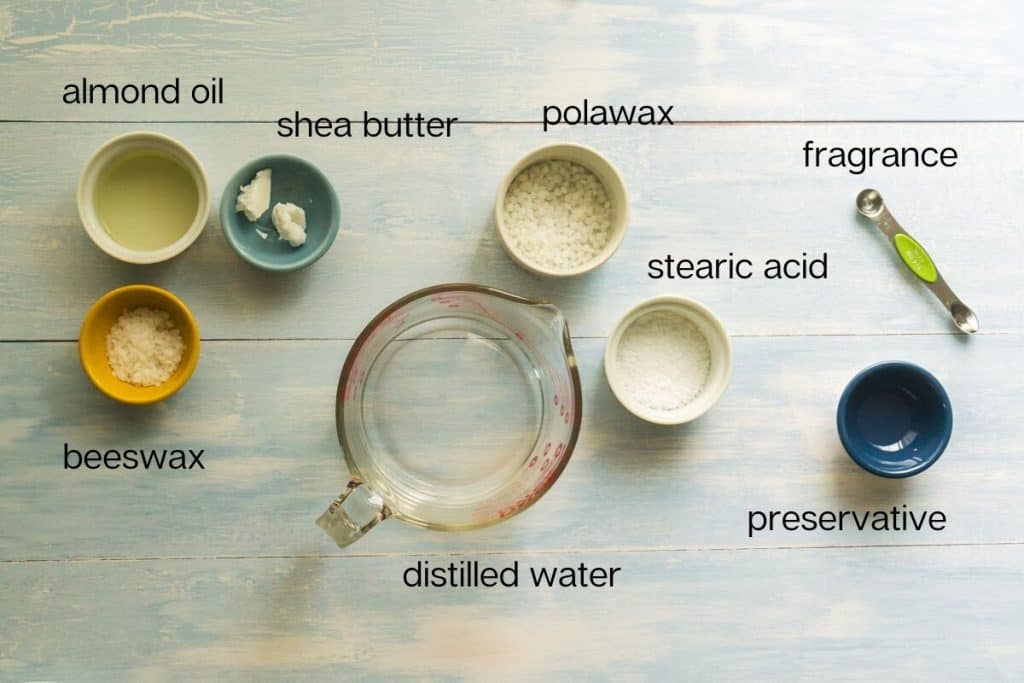 Ingredients
Tools
Stick blender
Shallow mason jar or body cream jar
Pyrex measuring cups or other microwave safe containers
Let's make it, step by step
Measuring, prepping, and heating it up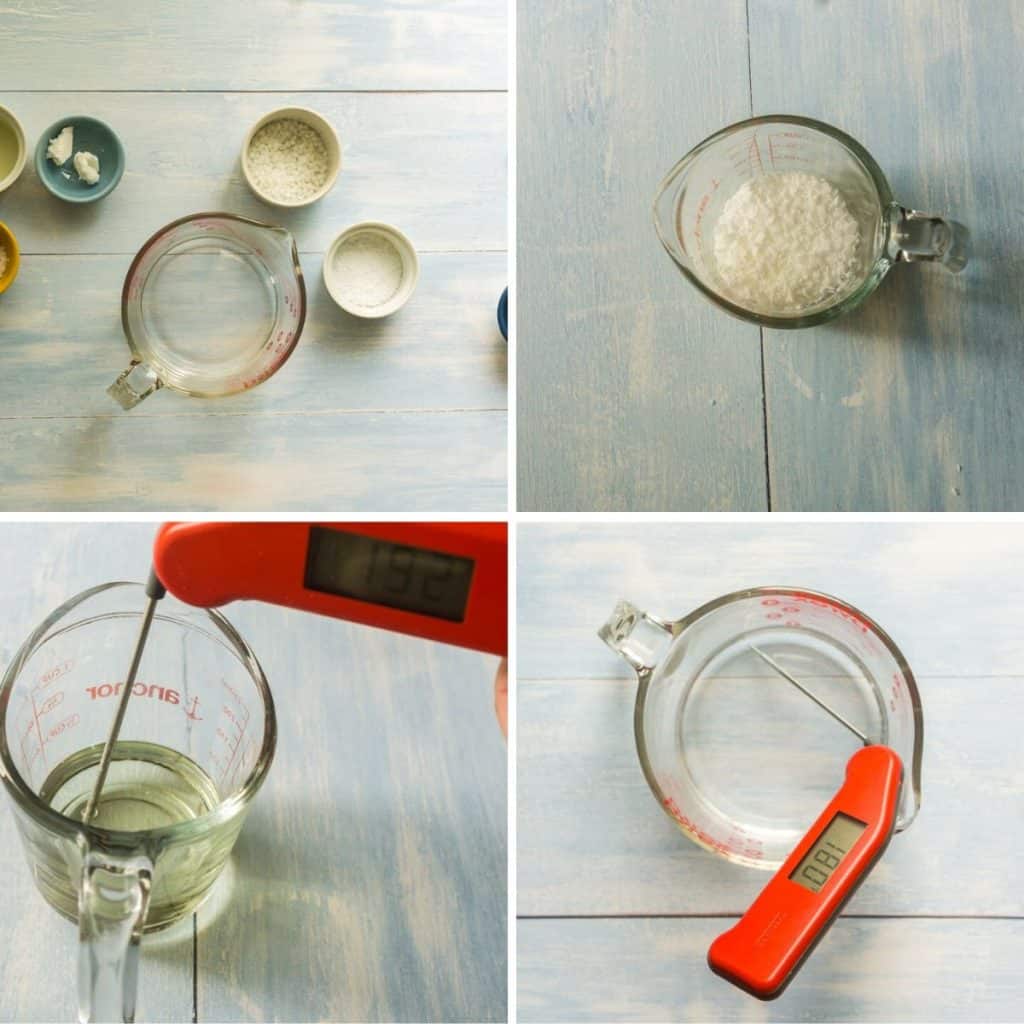 ???? Best practice is to disinfect everything that will touch the body cream by dipping it in a solution of 10% bleach. (To be honest, I only do this if I am making creams or lotions to sell. If I'm making them just for my family I wash in hot soapy water and I have never had a problem.)
Next, measure out all the ingredients separately, using a digital scale. It's important to measure them separately because when we are working with small amounts like this, every small amount makes a difference.
The next step is to heat up all the waxes and oils, and to separately heat up the distilled water. This can be done easily in a microwave safe bowl or Pyrex measuring cup. (A measuring cup is handy because it has higher sides and can contain the body cream during the blending process.)
You need to heat the water and oils up to at least 170 degrees. Check the temperatures right before blending, and if they have cool, heat them back up. The high temperature is crucial for emulsifying the oil and water.
Blending into a cream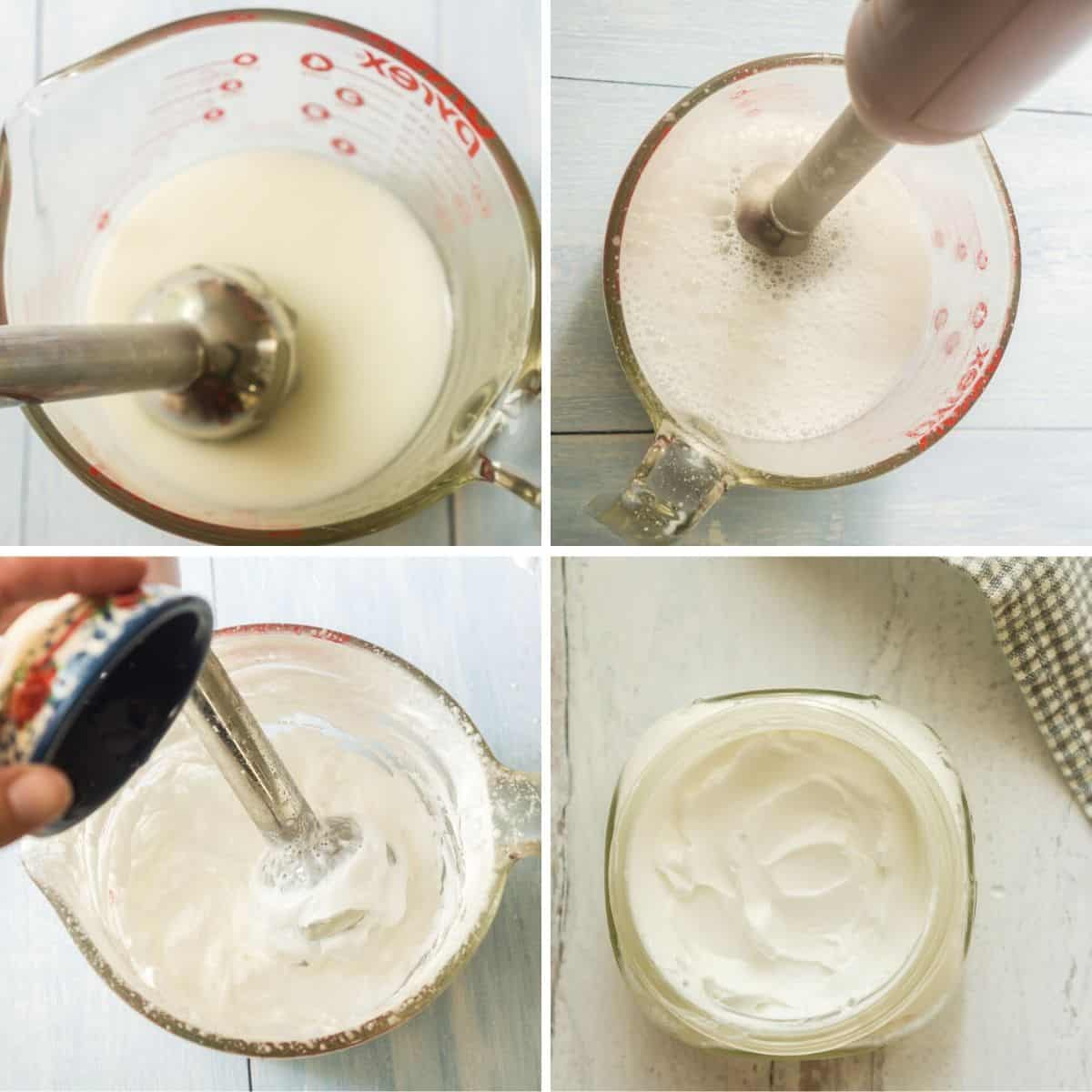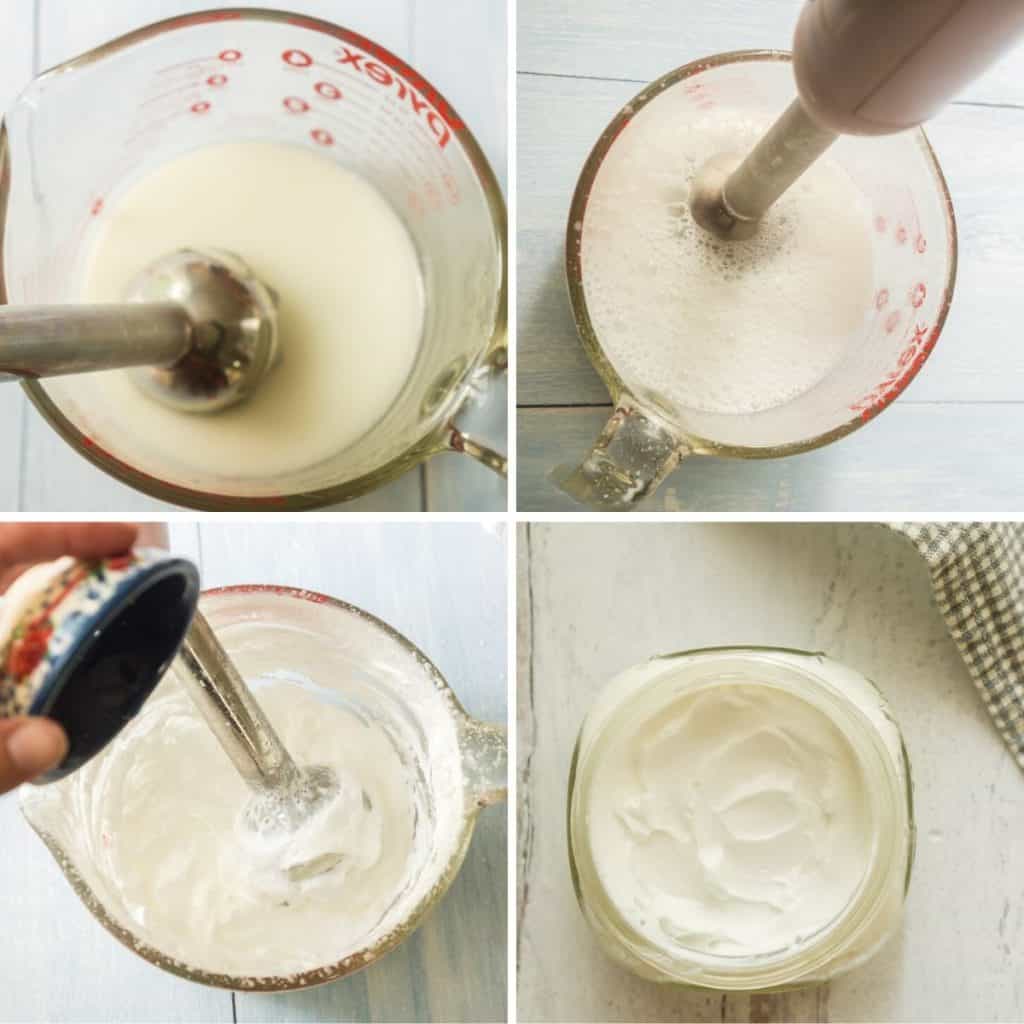 To blend, just pour the melted oils and waxes into the container with the water and blend with your stick blender. Let it run for about 20 seconds, then give it a 20 second rest.
The heat and the emulsifiers work together to blend the oils and water into a thick, rich cream. Sometimes it can seem like nothing is happening while you blend. But keep at it, and after a few minutes the solution will suddenly thicken and turn into a rich cream.
Carefully scoop it into a very clean container using a clean spoon or spatula. Let it cool before placing the lid on so there is no condensation.
???? Print the recipe here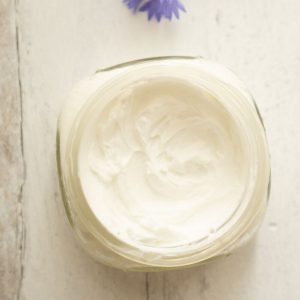 Nourishing Beeswax and Shea Butter Body Cream
Print Recipe
A thick body cream with beeswax, shea butter, and apricot kernel oil perfect for dry skin.
Click here for a FREE autumn cookbook (25+ Recipes!)
Ingredients
140

grams

distilled water

16

grams

almond oil

8

grams

shea butter

8

grams

beeswax

14

grams

stearic acid

14

grams

polawax

2

grams

phenonip

2

grams

fragrance of your choice
Instructions
Measure all the ingredients using a digital scale. Prepare your stick blender and jar by washing in hot water.

Place the stearic acid, polawax, beeswax, shea butter, and apricot kernel oil in a microwave safe container and heat in the microwave until contents are throughly melted and about 170 degrees. Place the water in a separate microwave safe container and microwave until also 170 degrees. Recheck the temperatures of both containers before blending.

Pour the oils into the water and blend with a stick blender, blending for 20 seconds on, then 20 seconds off. At first the mixture will seem thick and bubbly, but as it cools it will thicken. Very suddenly, it will change texture and become body. cream.

Add the preservative and fragrance once the correct texture is reached. Blend it in briefly using the stick blender.

Transfer to a very clean container. Stores well for at least 6 months.
Notes
The components can also be heated in separate pots on the stovetop.
Servings:
8
ounces of body cream
Did you make this recipe?
If you loved it, please leave a review!
What do you want to try next?