These french rolls are so versatile. You can serve them as a bread with dinner, then freeze the rest for sandwiches throughout the week. Perfect for beginners.
Why we love these:
We make these rolls every week, on Tuesday. They are great for Italian sandwiches, cheesesteaks, and whatever sandwich your heart desires. The dough can also be made into larger round loaves or baguette shapes to serve with dinner.
The best thing about the rolls is that they freeze well for at least two weeks, and can be defrosted in the microwave easily (takes about 1 minute on the defrost setting). The crust can be recrisped with just a few minutes in the oven. They have a thin, crisp crust and are super soft inside.
I always, always, always knead and rise my dough in the bread machine, although I never bake in it. The stand mixer is okay. I have never had success kneading by hand, but obviously many people do.
Helpful tools:
To freeze your rolls:
Allow to cool to room temperature. They will keep 2-3 weeks in a plastic bag. They don't fit well in a zipper bag, so I use plastic bread bags from old store bought bread. I would not recommend freezing them longer than this. The rolls will be freezer burned.
Defrost in the microwave for 1 minute on the DEFROST setting, then warm in the oven if desired after adding sandwich toppings.
Other beginner-friendly breads:
This same dough can be baked in a dutch oven for the truly easiest bread you will ever make.
A similar steam technique is used with these sourdough rolls.
Print the recipe here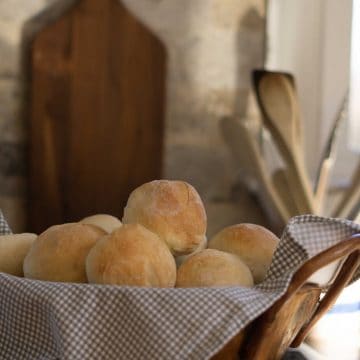 French Rolls
Print Recipe
Click here for a FREE autumn cookbook (25+ Recipes!)
Ingredients
4

cups

bread flour

1 1/2

cups

water

2

t.

salt

2 1/2

t.

instant yeast

SAF brand is the best

Cornmeal and flour for dusting
Instructions
Combine your ingredients and knead into a soft smooth dough, preferably in a bread machine on the dough cycle. Cover and allow to rise until doubled. (The bread machine will take care of this, and will beep when done.)

Divide into 10 equal pieces using a sharp knife. Shape into rolls, pinching the bottoms until the tops are smooth.Prepare your baking sheet by either spraying with non-stick spray or covering with parchment, then dust with cornmeal. Rub flour on top of the rolls. Place them on the baking sheet, slashing a diagonal line with a sharp knife.

Cover rolls with greased plastic wrap, and put in a warm place to rise. When they look very puffy, remove the plastic wrap. Towards the end of the rising time, preheat the oven to 450, and place a spare empty baking sheet with a lip in the oven. When the oven has preheated, pour 1 cup of water on to the spare baking sheet to create steam. It may buckle. This is okay.

Bake for 16-17 minutes. When done, they will have slightly browned bottoms and feel light for their size. Cool and use immediately or freeze.
Nutrition
Calories:
812681
kcal
|
Carbohydrates:
103086
g
|
Protein:
101106
g
|
Fat:
19026
g
|
Saturated Fat:
2503
g
|
Sodium:
77643503
mg
|
Potassium:
2403550
mg
|
Fiber:
67251
g
|
Sugar:
1
g
|
Vitamin C:
750
mg
|
Calcium:
123009
mg
|
Iron:
6085
mg
Did you make this recipe?
If you loved it, please leave a review!