One of the most popular sourdough discard recipes on the internet, you will love this Sourdough Lemon Cake.
Somewhere between a dessert and a quick bread, this cake perfectly balances the tangy lemon and the glaze's sweetness. This is perfect for that discarded sourdough starter, transforming it into a moist and flavorful cake, ideal for any time of day.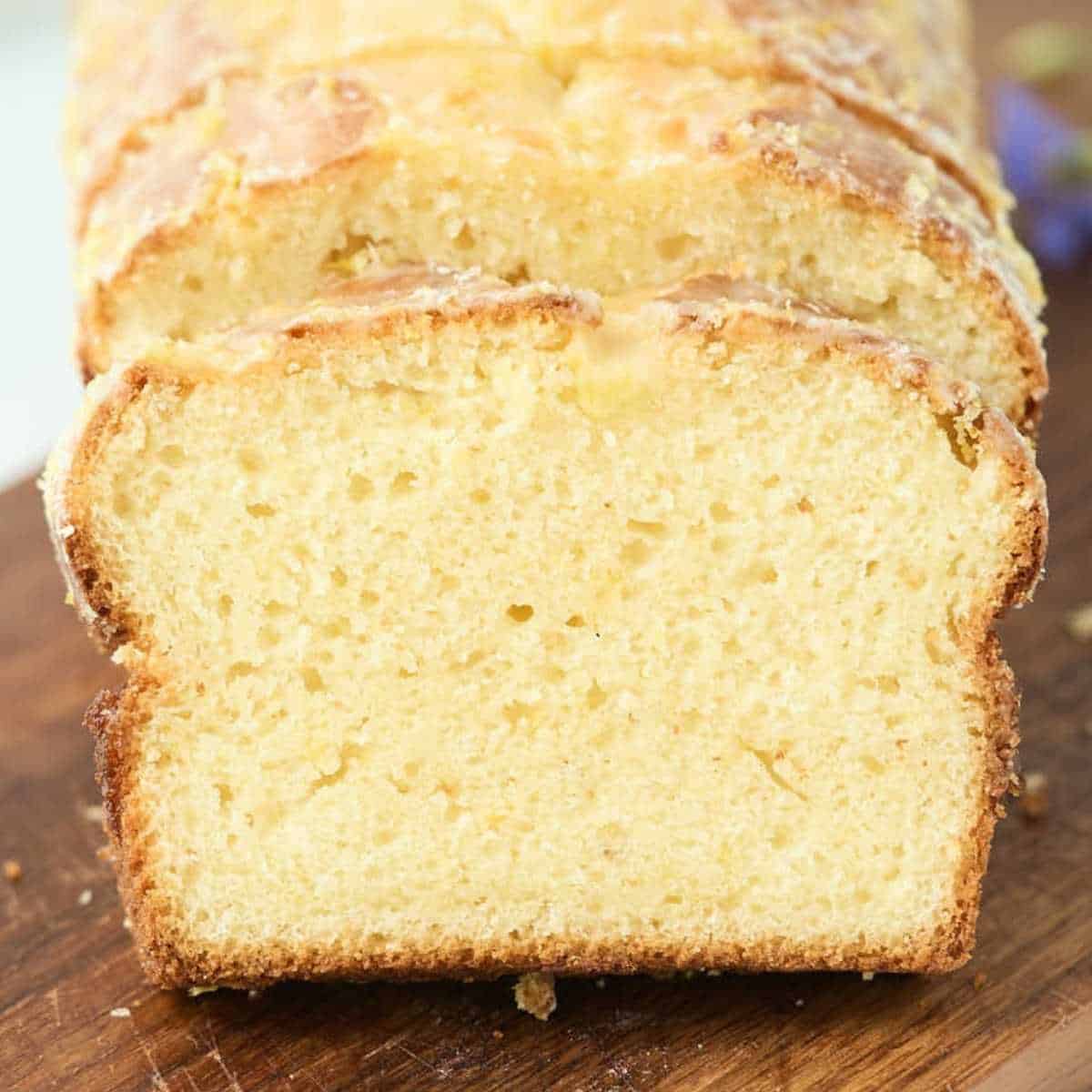 Want some free Christmas printables? Click here to grab 'em
Ingredients
For the Cake
½

cup

vegetable oil

(or melted butter)

¾

cup

granulated sugar

2

eggs

1½

cups

flour

1½

teaspoons

baking powder

½

teaspoon

salt

1

tablespoon

fresh lemon zest

1

tablespoon

fresh lemon juice

½

cup

sourdough starter

discard

¾

cup

milk
For the Glaze
½

cup

powdered sugar

2

teaspoons

lemon zest

2

teaspoons

lemon juice
Instructions
Prep. Preheat oven to 350 degrees with the rack in the center. Prepare a loaf pan or 9 x 9 square cake pan with cooking spray.

Wet ingredients. Combine the vegetable oil, eggs, and sugar in a large mixing bowl with an electric mixer until well combined.

Dry ingredients and milk. Mix the flour, baking powder, and salt in a separate bowl and add to the sugar mixture 1/3 at a time, alternating with the milk and the sourdough starter. Mix on low until just combined. Stir in the lemon juice and lemon zest by hand. Pour the batter into the prepared pan.

Bake and cool. Bake for 50-60 minutes (for the loaf pan) or 40-50 minutes (for the square pan) until golden brown and a toothpick inserted into the center comes out clean. Place on a wire rack. Allow to cool for about 15 minutes in the pan.
Make The Glaze
In a small bowl, combine the powdered sugar, lemon zest, and lemon juice for the glaze. Pour over the still-warm cake.

After the glaze has soaked in and hardened, remove cake from pan and allow to finish cooling on wire rack. Slice and serve once cool.
Notes
Having trouble with your cake sinking? Try adding a teaspoon of baking soda along with the powder. Cakes can also sink if they are underbaked: this recipe looks very browned before it bakes through.
Can be frozen if allowed to cool completely and then wrapped tightly. Glaze after it's defrosted.
Be sure to try cinnamon sugar blueberry sourdough muffins if you love this cake!
Nutrition
Calories:
242
kcal
|
Carbohydrates:
35
g
|
Protein:
3
g
|
Fat:
10
g
|
Saturated Fat:
8
g
|
Cholesterol:
29
mg
|
Sodium:
259
mg
|
Potassium:
47
mg
|
Fiber:
1
g
|
Sugar:
21
g
|
Vitamin A:
64
IU
|
Vitamin C:
1
mg
|
Calcium:
53
mg
|
Iron:
1
mg
Did you make this?
Let me know how it was! Please see below for serving ideas, storage instructions, and substitutions.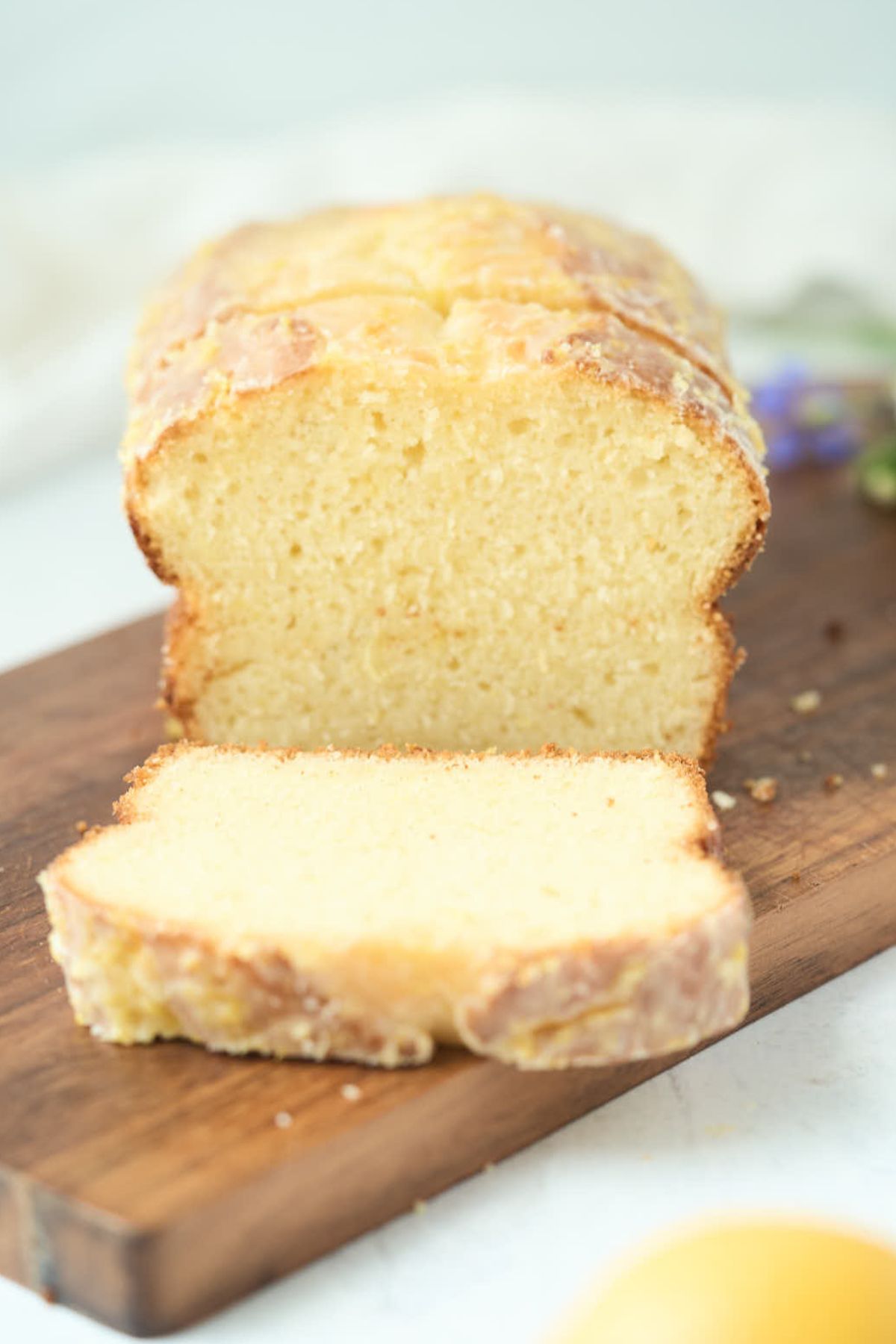 Deliciously sweet and tender, this recipe is one of the yummiest ways to avoid food waste.
Key Ingredients + Tools
Discarded sourdough starter. This gives the cake its unique texture and depth. It can be straight from the fridge!
Fresh lemon. Don't substitute bottled! You really want the brightness and freshness fresh lemon juice and zest.
Electric Mixer: Ensures your wet ingredients are thoroughly combined. (Not totally essential, but nice to have!)
Two Separate Mixing Bowls: One for wet ingredients and another for dry to make the combination process smooth.
Loaf Pan or Square Cake Pan: Depending on your preference, ensure it's well-coated with cooking spray for easy removal.
Wire Rack: Allows the cake to cool properly and makes the glazing process neat and efficient.
Boston International Ceramic Nesting Prep Bowls, 3 Sizes, Painterly Lemons Original Heart Bread Loaf Pan Stoneware Loaf Pan, Green Meatloaf Pan, Loaf Pans For Baking Bread, Nonstick Bread Pans, Retangular Bread Baking Pan for Kitchen Lemon Zester Grater, Citrus Zester Grater with Handle, Kitchen Gadgets for Cheese, Lemon, Chocolate, Nutmeg, Ginger, Fruit, Vegetable, Stainless Steel Micro Cheese Grate, Dishwasher Safe(Narrow)
Everything else is just basic pantry ingredients. 😊
Tips for the best sourdough cake
Sinking
A few readers have noted that their lemon cake has collapsed after baking. Since receiving that feedback, I've added some baking soda to the recipe to help leaven it further.
The baking soda is optional and will produce a lighter cake. I prefer it with only baking powder because it is a denser, more pound cake-like texture.
The two most common causes of this are an underdone cake or inactive baking powder/ baking soda. Make sure your cake is fully baked before baking by using a cake tester and remember that baking powder and baking soda should be replaced every 6 months.
Storage + Make Ahead
You can always double this recipe and freeze one. Make sure it is fully cooled before you freeze it. Make the lemon glaze after it is defrosted.
Leftovers? Slice it up and wrap individual slices. Defrost on the counter or briefly in the microwave. It will still be delicious.
Want more sourdough cake recipes?