It's hard to know which is better: the moist muffins with plenty of berries or the cinnamon sugar topping.
All that really matters is this is the best recipe for sourdough blueberry muffins. Yes, better than all the ones you've already tried. Let me prove it to you.
Want a free fall cookbook? Click here to grab a cookbook with 25+ of my best autumn recipes
Ingredients
Muffin Batter
¾

cup

white sugar

⅓

cup

vegetable oil

can substitute melted butter

1

egg

1¼

cups

all purpose flour

2

teaspoons

baking power

½

teaspoon

salt

3

tablespoons

milk

½

cup

starter

1¼

cup

blueberries
Crumb Topping
⅓

cup

all-purpose flour

¼

cup

butter

cubed

½

cup

white sugar

1½

teaspoons

cinnamon
Instructions
Prep. Preheat oven to 400 degrees with the rack in the center. Prepare a muffin tin with paper liners.

Make the Muffin Batter. Combine the flour, sugar, baking powder, and salt in a large mixing bowl. In a separate mixing bowl, combine the vegetable oil, milk, egg, and sourdough starter. Pour the liquid ingredients into the dry ingredients and stir until just combined. Do not over-mix. (The batter will be thick!) Add the blueberries and gently stir until mixed in. Fill the muffin tin with batter about 2/3 of the way to the top.

Make the topping. Cut the butter into the flour in a medium mixing bowl, using two knives or a pastry blender, until it resembles small peas. Stir in the sugar and cinnamon. Equally distribute the topping on top of the muffin batter.

Assemble. Fill the muffin tin with batter about 2/3 of the way to the top. Equally distribute the topping on top of the muffin batter.

Bake. Bake in preheated oven for 18-23 minutes, until a toothpick inserted in the center comes out clean or with a few moist crumbs. Finished muffins will have golden tops. Remove from oven and allow them to cool on wire rack. Serve warm or room temperature. Muffins will stay fresh two days at room temperature or can be frozen up to one month.
Notes
This recipe makes great jumbo muffins as well: use a tin that hold six jumbo muffins and bake for 25-30 minutes.
If you don't want to make the crumb topping, simply top with coarse sparkling sugar.
Nutrition
Calories:
256
kcal
|
Carbohydrates:
38
g
|
Protein:
3
g
|
Fat:
11
g
|
Saturated Fat:
3
g
|
Polyunsaturated Fat:
0.3
g
|
Monounsaturated Fat:
1
g
|
Trans Fat:
0.2
g
|
Cholesterol:
24
mg
|
Sodium:
135
mg
|
Potassium:
43
mg
|
Fiber:
1
g
|
Sugar:
23
g
|
Vitamin A:
153
IU
|
Vitamin C:
2
mg
|
Calcium:
14
mg
|
Iron:
1
mg
Did you make this?
Let me know how it was! Please see below for serving ideas, storage instructions, and substitutions.
❤️ Why you'll love this recipe
If you're a dedicated sourdough baker, you're familiar with the idea of sourdough discard recipes. You probably a collection of favorites already and it's time to add a new one!
These blueberry muffins are a great way to use that discard starter! They are moist, not too sweet, and topped with the best crumb topping: a sweet, cinnamon-sugar crunch blend.
Vegetable oil (or melted butter) makes this recipe moist and easy to make. There's no need to lug out the stand mixer for this recipe, a hand mixer will work perfectly, or even a whisk.
And if you love streusel toppings as we do, be sure to check out sourdough coffee cake too!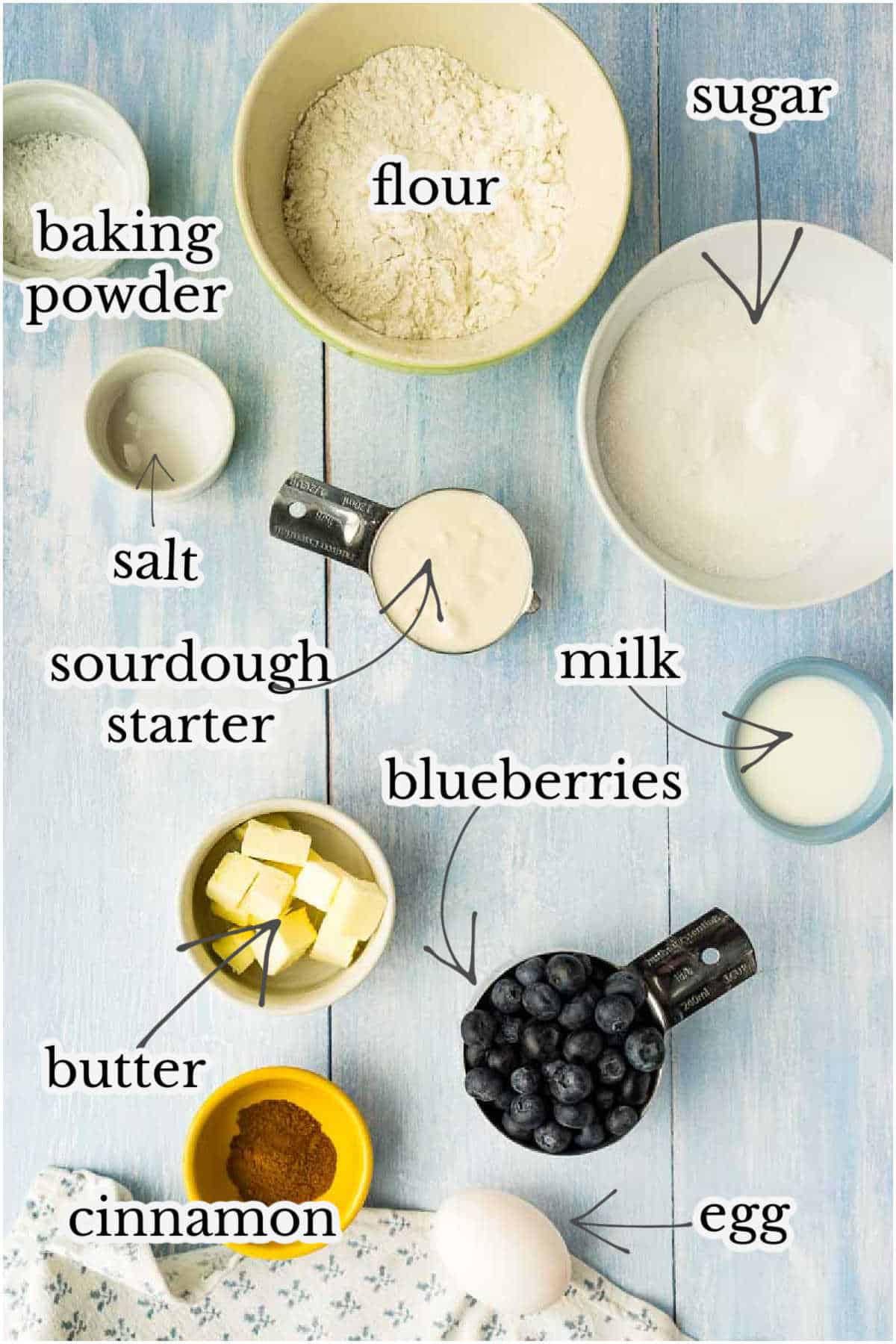 Muffin Batter
granulated sugar
vegetable oil or melted butter
egg
baking power
salt
all-purpose flour
milk
½ cup starter (discard or unfed starter is perfect!)
blueberries (fresh or frozen blueberries are fine)
Crumb Topping
all-purpose flour
butter
sugar
cinnamon
🥣 EQUIPMENT
2 muffin tins
large mixing bowl
paper cupcake liners
pastry blender or 2 forks for cutting the butter into the flour
Make the muffin batter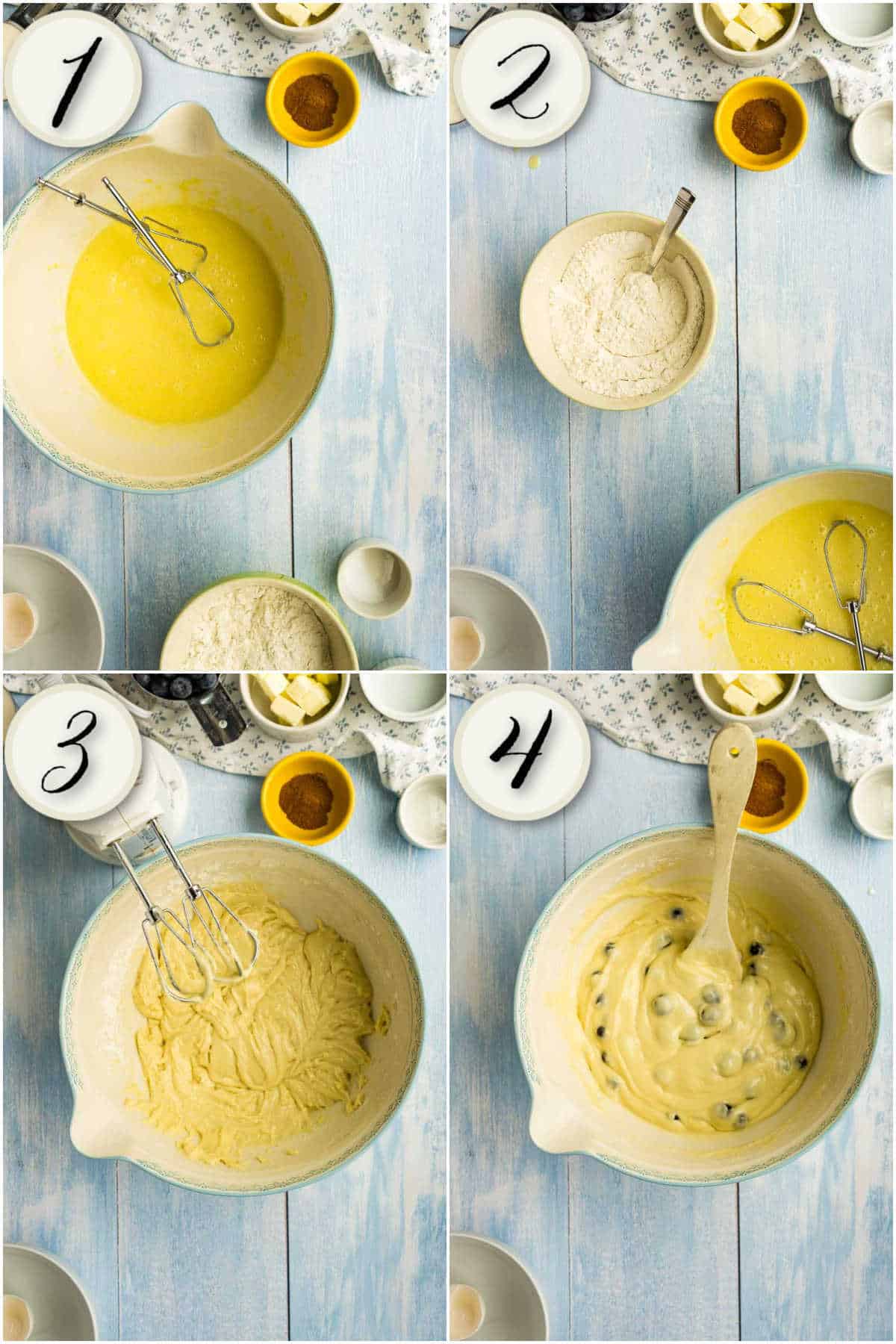 Start by preheating your oven to 400 degrees with the rack in the center.
We going to mix up the sugar, oil, and egg in a large mixing bowl that will eventually hold all the muffin batter. A hand mixer on medium speed for just a few minutes is perfect.
Then, in a separate smaller bowl, combine the flour, salt, and baking powder.
Add half of the dry ingredients to the sugar mixture, then add the milk, then the rest of the dry ingredients. Stir in the sourdough starter, and finally add the blueberries. Don't over mix, just gently stir until everything is combined.
(The batter will be thick! This is normal and helps you bake the most tender, fluffy sourdough blueberry muffins!)
Making the topping and baking
Now we make the streusel topping! Begin with the diced butter and cut it into the flour, until you have pieces the size of peas. If you have some bigger bits in there, no big deal. Then stir in the sugar and cinnamon.
Scoop the batter into a muffin tin, filling each cup about 2/3 of the way full. Sprinkle the topping on top, and bake!
Your blueberry muffins are done when a toothpick inserted into the center comes out clean. They will take anywhere from 17-23 minutes.
Take the muffins out of the muffin tin and let them cool on a wire rack. You can eat them warm or room temperature. They will stay fresh for two days just on a plate, covered with plastic wrap.
One of the best things about muffins is you can make them ahead and freeze them. Just make sure they are totally cooled and pop them in a zippered freezer bag. They'll keep well for a few months!
🥫 Storage Tips
These muffins will stay fresh in an airtight container for a day or two. Any longer than that and I'd recommend freezing them.
For even longer storage, freeze them in a freezer bag. They freeze very well and defrost in an hour or so at room temperature.
🔎 faqS
Can you use self-rising flour for this recipe?
Yes, absolutely. Just leave out the salt and baking powder.
Can I substitute chocolate chips?
Yes, and it's a delicious swap! I'd recommend skipping the crumb topping and just sprinkling sugar on top.
Does my sourdough starter need to be active?
Nope! The rise in these muffins comes from the baking powder, so discard starter straight from the fridge is perfect.
How can I make these vegan?
Substitute the egg for a flax egg and use coconut oil for the crumb topping.
Can I make a loaf with this recipe?
Yes, but you'll need to bake it for 40-45 minutes. Make sure you spray the loaf pan very generously.
📘 Related Recipes