A simple and delicious creamy coleslaw dressing.
A classic recipe for southern coleslaw dressing: creamy, tangy, and a little bit sweet. Once you try this one, it will be a staple at every barbecue.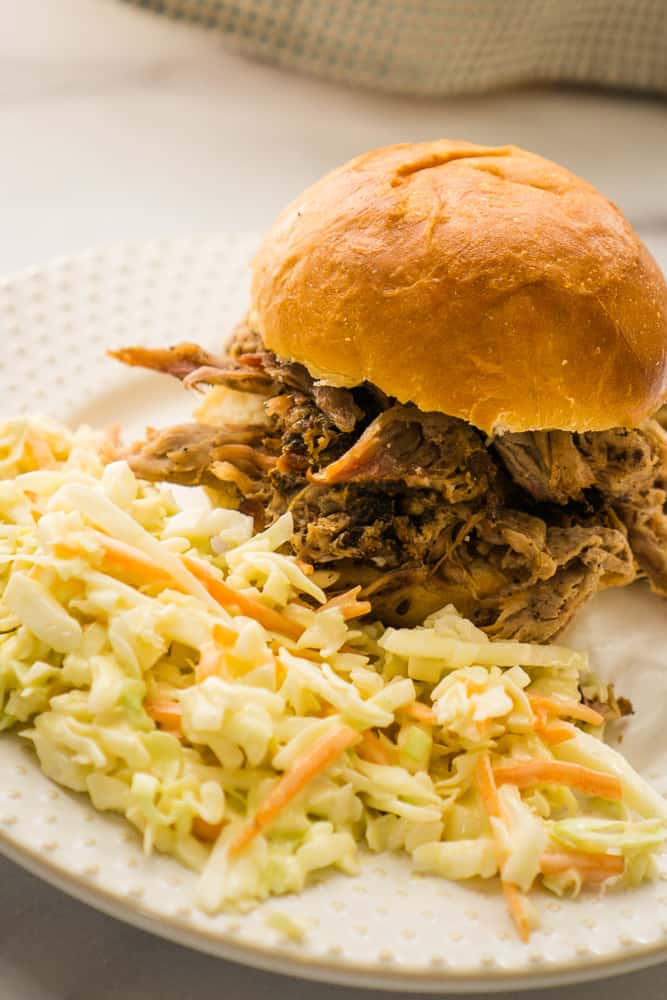 When I was in college I worked at a local barbecue restaurant that had been around forever and was famous with the locals. (I share more about the experience here.) The cook was named "Mom" and everyone there was very Southern and very friendly. I was straight from the suburbs and didn't really fit in right away, but eventually they came to accept me. It was actually a great job because the lunch shift was the busiest. It was from 10:30 to 2:30 and you would make at least a hundred dollars cash in tips during those four hours. I planned my class schedule around it because it was more important to me than school. (So was everything else, to be honest.)
Anyway. They served four things:
1. Pork barbecue sandwiches.
2. Pork barbecue platters.
3. Burgers.
4. Hot dogs.
But don't worry, you could pick a side dish too! Four of them.
1.Coleslaw
2. Fries.
3. Onion rings
4. Baked Beans.

And yet they were always busy because what they did, they did well. The best thing on the menu, though, was the coleslaw. I had never eaten coleslaw as a child because it just seemed gross. I refused to try this coleslaw either. But after two years of seeing people go crazy for it and order it for parties, I tried it on top of a sandwich. It was good. Really good. Sweet and tangy and perfect with the pulled pork sandwiches.

Finding the secret coleslaw recipe
I asked the cook for the recipe. She laughed at me. "Girl, there is no way I can share this recipe with you. I have it memorized by heart and the only copy is in a safety deposit box."
Now I don't know about the safety deposit box part. But she was serious about not giving me the recipe. I asked for a hint and she told me there were four ingredients.
It didn't take long for me to figure out what they were. Mayonnaise, mustard, sugar, and apple cider vinegar. Only the proportions and the method eluded me. I wrote it down and didn't worry about it for a while. I was in college, after all.

But after I got married, I tried again. It took a few tries but when there are four ingredients it didn't take long.
And I don't know if this is the exact slaw recipe they use, but it is very close and very delicious. I always plan a row of cabbages in my fall garden to have a steady supply of coleslaw.
What to serve with coleslaw:
We eat it any time we serve barbecue, fried chicken, or hot dogs. It's also good tucked into any sandwich. This is a great coleslaw recipe to make Rachel sandwiches (Turkey, Swiss, coleslaw, and Thousand Island dressing) on homemade sourdough sandwich bread.
And of course coleslaw is a great at a party because you can make the dressing way ahead of time. Make sure you are keeping proper food storage in mind. This article explains how to safely store mayonnaise based sides.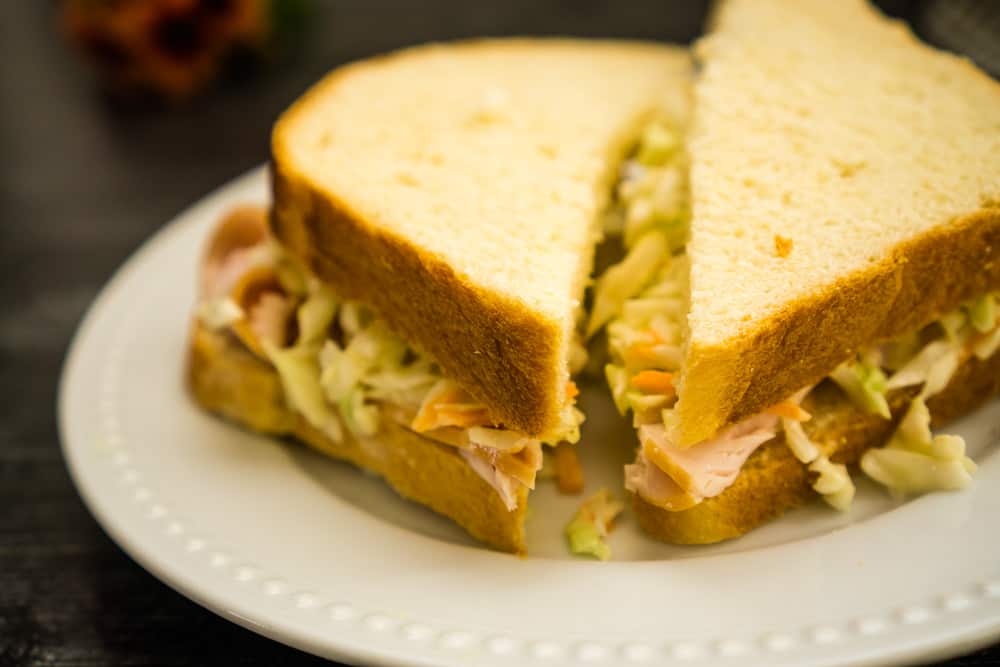 Print the recipe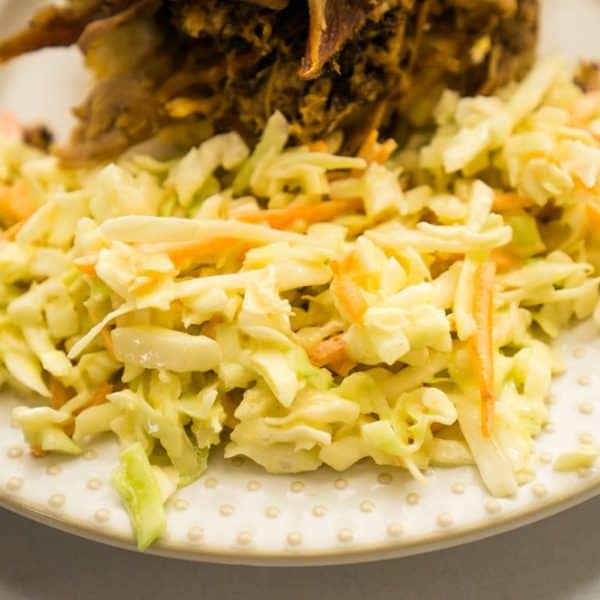 Southern Coleslaw Dressing
Print Recipe
A simple and delicious creamy coleslaw dressing.
Click here to grab a free mini-cookbook with my best seasonal recipes
Ingredients
1

cup

mayonnaise

2

tablespoons

yellow mustard

1/3

cup

white sugar

1/4

cup

apple cider vinegar
Instructions
Combine all ingredients in a medium bowl. Whisk to smooth out as much as possible. The dressing may seem lumpy, but it will smooth out as it chills.

Cover tightly with plastic wrap and refrigerate at least 2 hours.

To serve, toss with shredded cabbage and eat immediately.
Notes
The dressing will keep very well for a few days, but once cabbage is added it's best to serve right away.
Use a good quality mayonnaise like Hellman's or Duke's.
Nutrition
Calories:
109
kcal
|
Carbohydrates:
13
g
|
Protein:
1
g
|
Fat:
6
g
|
Saturated Fat:
1
g
|
Cholesterol:
4
mg
|
Sodium:
251
mg
|
Potassium:
19
mg
|
Fiber:
1
g
|
Sugar:
11
g
|
Vitamin A:
20
IU
|
Calcium:
4
mg
|
Iron:
1
mg
I hope you enjoy this!