No-fail method for making home fries with a crisp exterior and tender inside.  Customize to your family's taste for a crowd pleasing side dish any time of day.
The best recipe for cast iron skillet home fries. Soft potatoes, crispy outside, with plenty of flavor. A favorite for all ages, any time of day.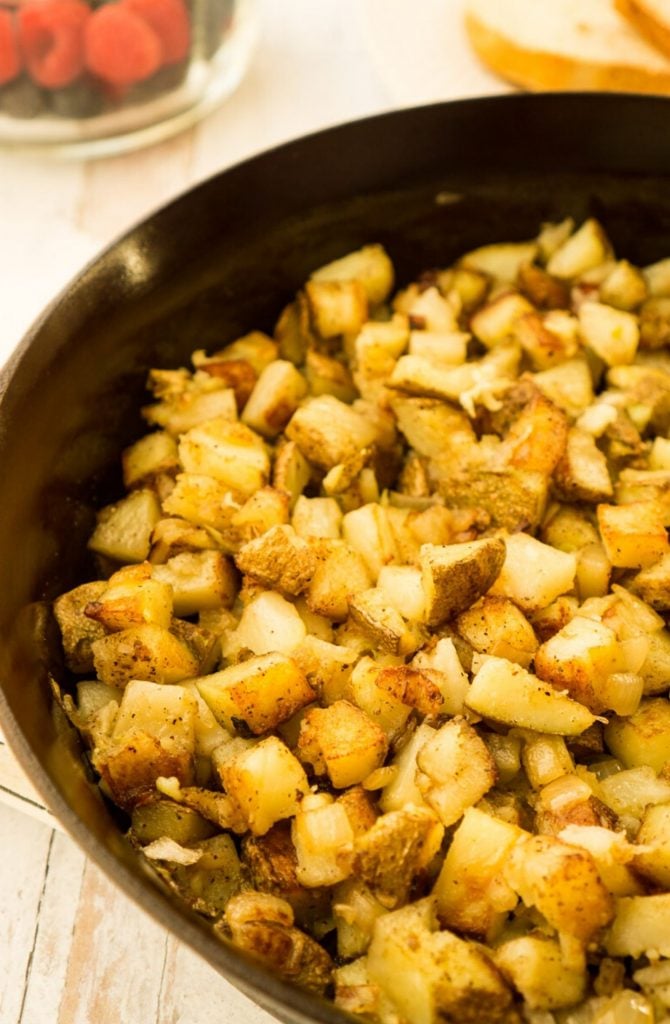 You want to make a delicious breakfast for your family, so you fry some bacon, dice up some fruit, and think, home fries would be great with this! I'll just dice up some potatoes and onion, cook them in butter, and add some salt!
And somehow, that idea turned into a disappointing side dish that tastes nothing like what you order at diners! What happened?
The keys to good home fries
Everyone loves home fries, but a lot can go wrong when making them at home. The most common culprit is undercooked potatoes, which is not delicious, burnt onions, or just a total lack of flavor.
The first problem, undercooked potatoes, is easy to deal with. This recipe starts with pre-cooked potatoes. This might seem like it's more work for you, but it's definitely easier. When you start with the potatoes already cooked, all you have to think about once they move to the skillet is how browned you want them. You already know they are soft inside.
There are two ways to precook the potatoes, which both work just fine. You can bake them ahead of time, or dice them and microwave them in a shallow dish.
What fat to use?
Vegetable oil is the best for browning the home fries because it won't smoke the way butter will. That means you can turn up the heat a little higher to brown them . But of course, butter has the most flavor. That's why sautéing the onion in the butter works so well, because you remove it all before you fry the potatoes.
Ingredients You'll Need: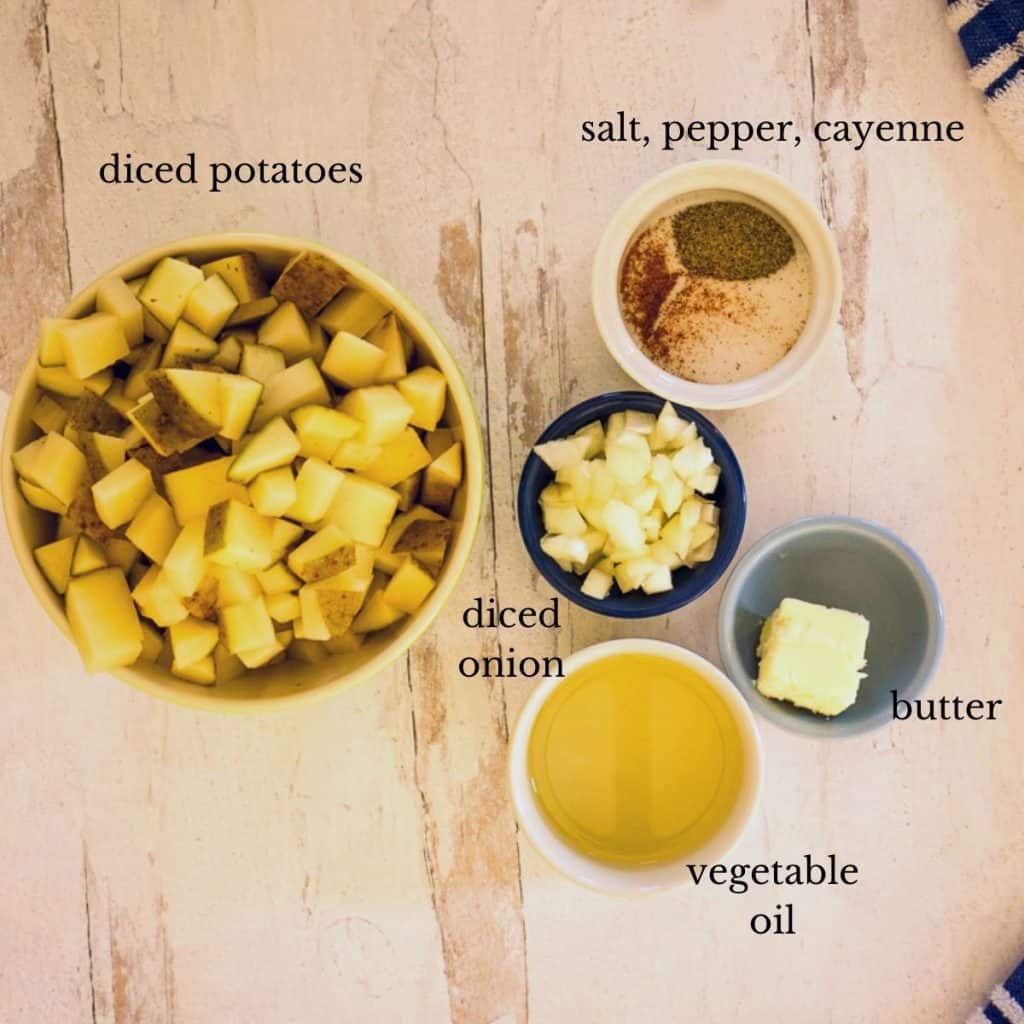 Potatoes. Russet or Yukon Gold are best. They hold their shape.
Vegetable oil. Best for really browning something without scorching it.
Butter. Delicious.
Diced onion. Any kind is fine.
Salt, pepper, and cayenne
What else can I add for flavor?
Just about anything. Here are some ideas:
Crumbled, cooked bacon
Diced fresh jalapeños, added with the onion
Fresh herbs, especially chives
Garlic salt or fresh garlic
A pinch of cayenne pepper
Fresh green or red bell pepper
Cajun seasoning
What to serve them with:
Any breakfast food, from omelets to waffles to homemade Greek yogurt to eggs.
Dinner! Don't forget that cast iron skillet home fries pair perfectly with dinner foods too, especially steak and anything grilled.
Do I have to have a cast iron skillet?
Nope!
You can use any heavy-bottomed pan. You might need a little more oil, depending on how sticky your pan is.
But cast iron is especially nice for being able to turn up the heat and getting nice browning on your food.
(You'll love making baked beans in a cast iron skillet too!)
Step by step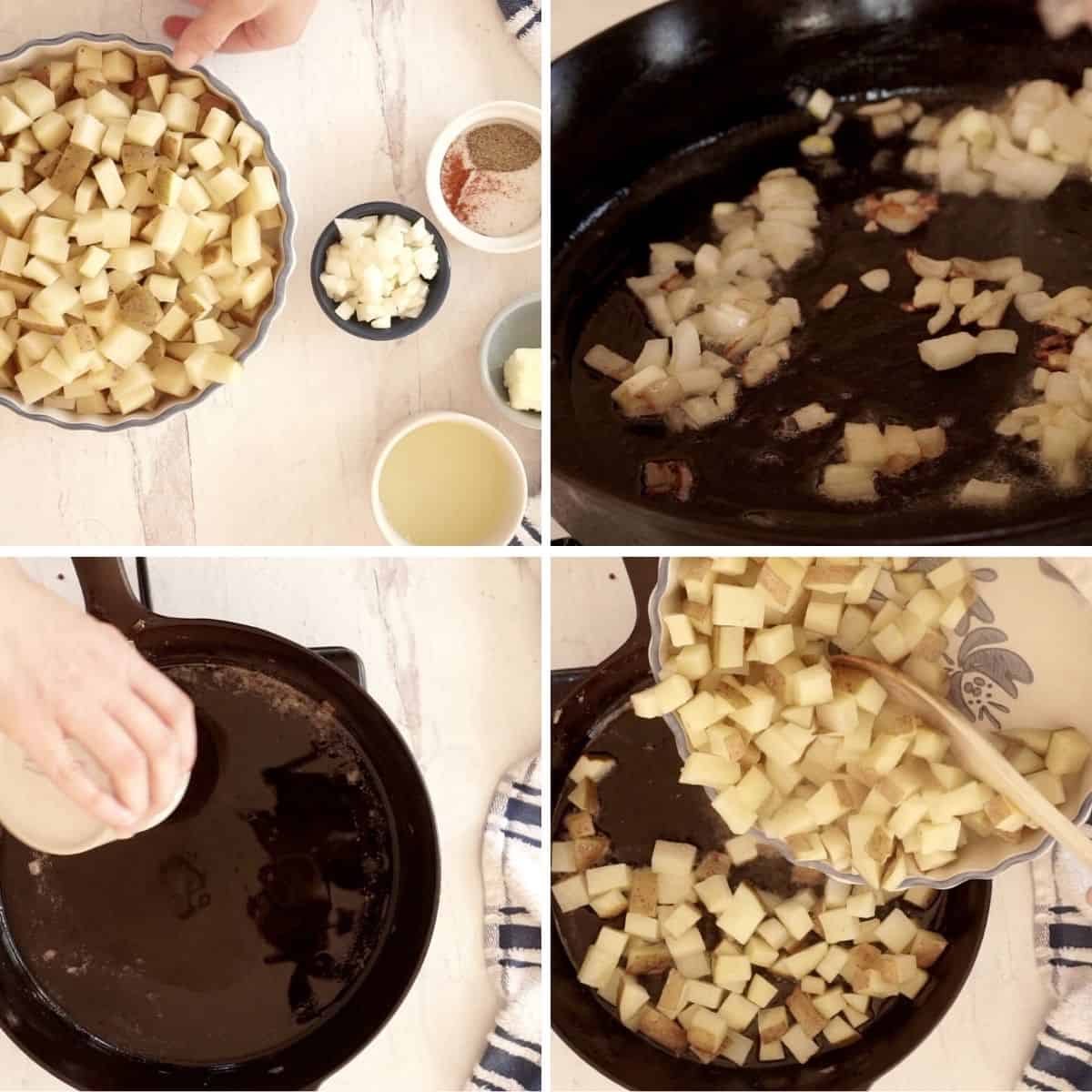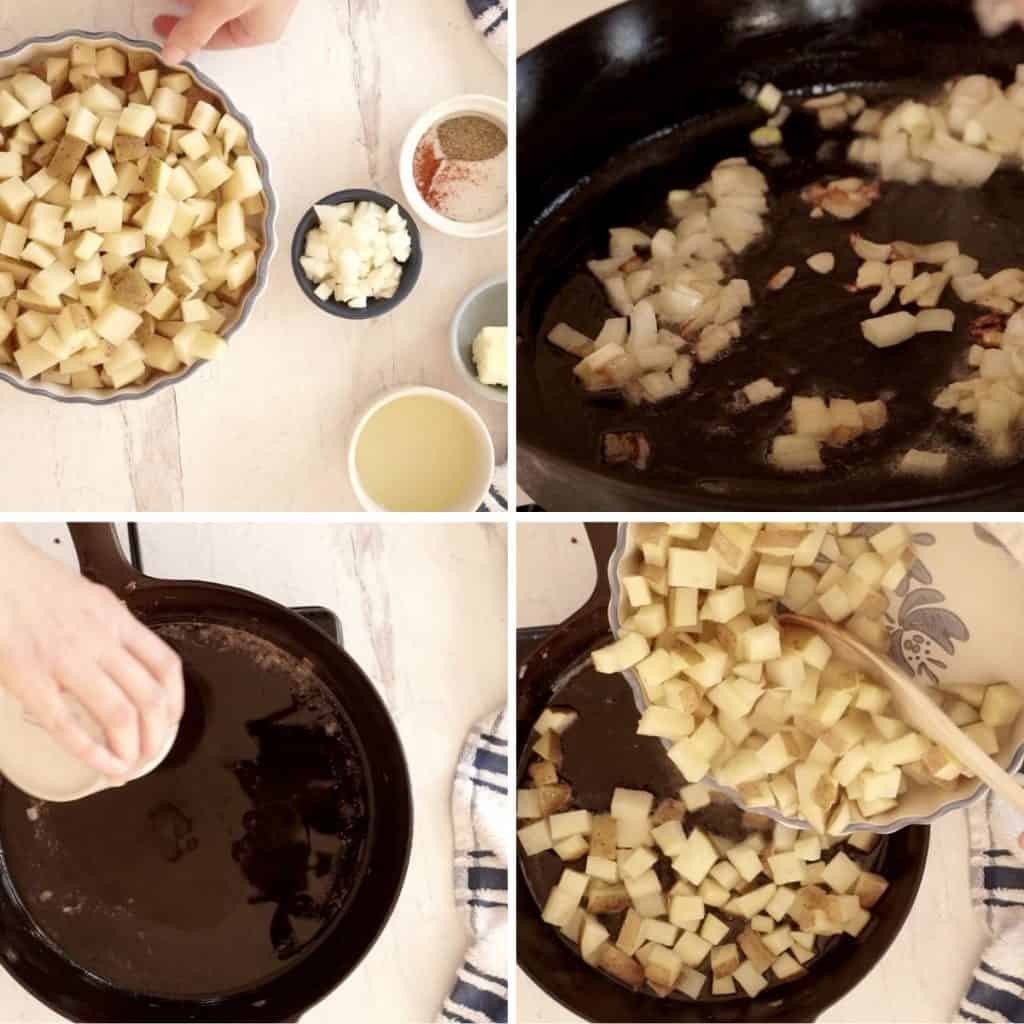 As we've discussed, the first step is to precook the potatoes. Just dice them up, place in them in a microwave-safe dish, and microwave on high for 5-7 minutes. You want them tender, but still holding their shape.
While that is happening, you can cook the onion. Add the butter to the skillet and cook the onion on medium low for about 5 minutes, until translucent. Remove the onion to a small plate.
Turn the heat to medium high and add the vegetable oil.
Place the diced potatoes in the skillet in a shallow layer. Don't start stirring and flipping right away! Let them brown. Once one side starts to brown, you can flip. Add the seasonings and the onion back in, and keep turning until they are browned to your liking.
More cast iron side dishes
Here's the recipe!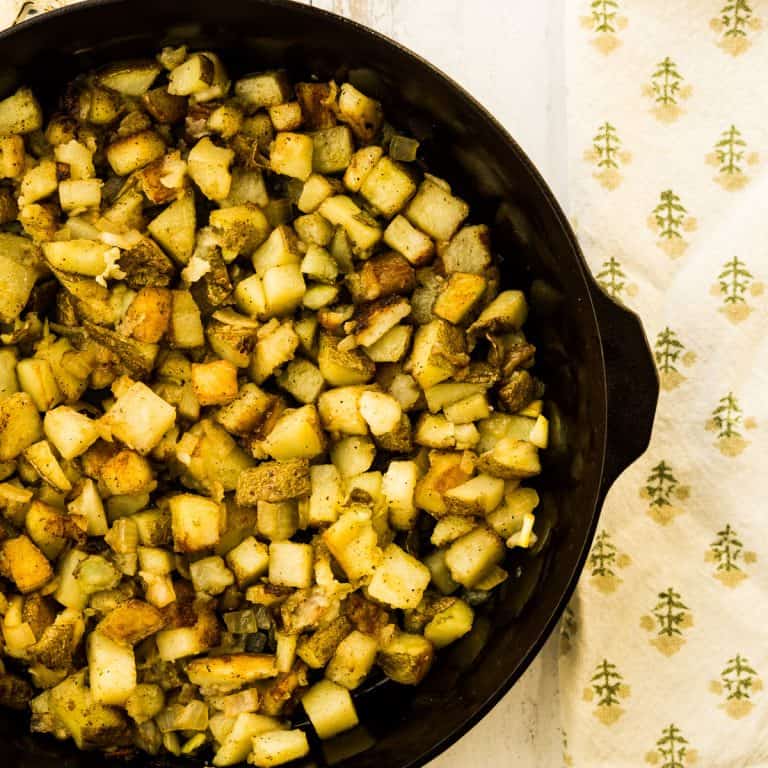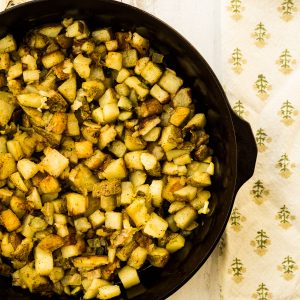 The Best Home Fries in a Cast Iron Skillet
Print Recipe
No-fail method for making home fries with a crisp exterior and tender inside. Customize to your family's taste for a crowd pleasing side dish any time of day.
Click here to grab a free seasonal e-cookbook!
Ingredients
1.5

lb

potatoes

scrubbed clean (4 medium), about 4 cups of diced potatoes

3

tablespoons

vegetable oil

1/3

cup

minced onion

2

tablespoon

butter

1

teaspoon

salt

1/2

teaspoon

pepper

pinch

cayenne pepper
Instructions
Cook the potatoes separately before you begin. You can either use leftover baked potatoes, or dice the potatoes and microwave them for 6 minutes on high.

Heat skillet over medium low heat and add the butter and onion. Cook until softened, translucent, and beginning to brown. Remove the onion t0 a small plate and set aside.

Increase the heat to medium high and add the vegetable oil. Place the cooked potatoes carefully in the skillet. Allow to brown before turning. Flip and brown on the other side. Add the cooked onion along with the salt, pepper, and cayenne. Continue to cook potatoes until they reach desired level of browning. Serve immediately.
Notes
Home fries reheat very well.
For extra flavor, try adding fresh herbs, diced pepper, or a garlic clove with the onion.
Nutrition
Calories:
151
kcal
|
Carbohydrates:
20
g
|
Protein:
2
g
|
Fat:
7
g
|
Saturated Fat:
6
g
|
Cholesterol:
1
mg
|
Sodium:
400
mg
|
Potassium:
484
mg
|
Fiber:
3
g
|
Sugar:
1
g
|
Vitamin C:
22
mg
|
Calcium:
19
mg
|
Iron:
1
mg