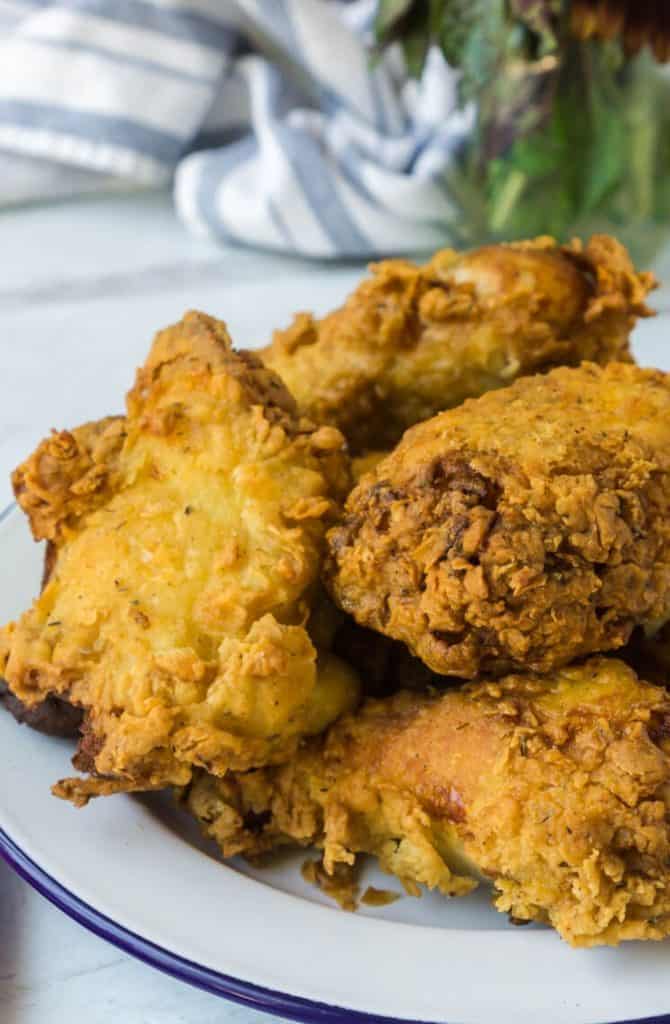 Everyone loves fried chicken, right? But it's one of those things that can be not so great when it's not done well. We want tender and juicy chicken with a crisp and seasoned crust. There are a few keys to getting the best chicken. Soaking in buttermilk is the best way to get tender chicken, and a short chilling period after breading the chicken makes sure the deliciously crisp breading doesn't come off.
Ready to get started?
Ingredients You'll Need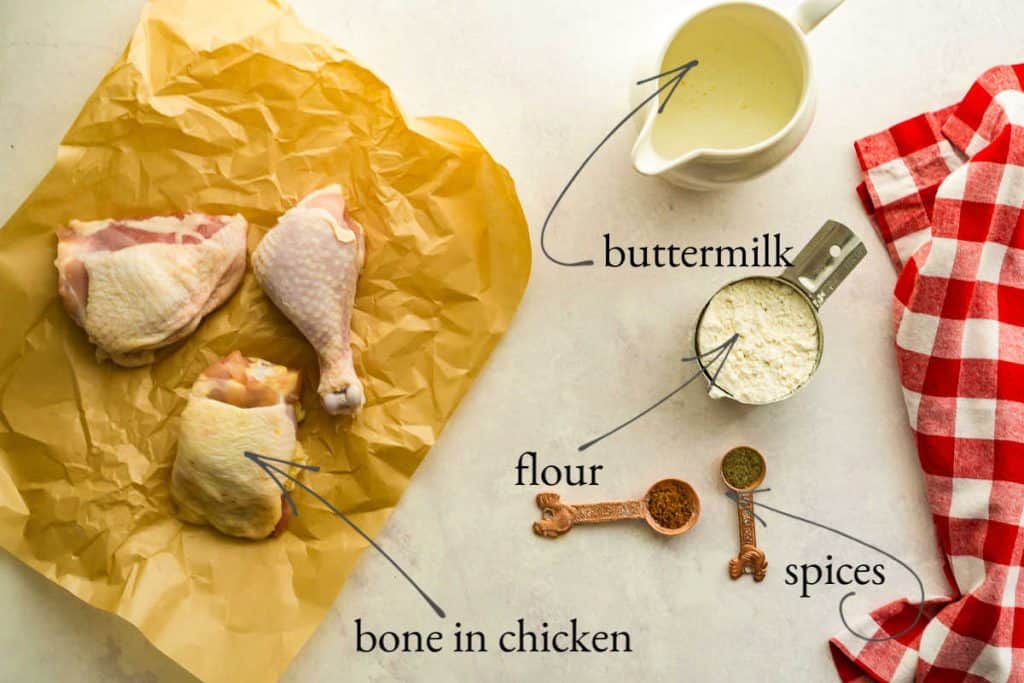 8 pieces chicken bone in, skin on
3 cups buttermilk
2 cups flour all purpose
1 teaspoon salt
1/2 teaspoon seasoned salt (Lawry's, etc.)
1/2 teaspoon pepper
1/2 teaspoon thyme
1 pinch cayenne pepper
1 quart oil for frying, peanut oil is best but vegetable is okay too!
???? Frugal Tip
I've found the most affordable way to get bone in chicken is to buy a few bulk packages of one single cut. Look for bone in thighs, drumsticks, and breasts. You can always buy a whole chicken and cut it up, but it's more work and more money.
Recommended Tools
You'll need a couple rimmed baking sheets and metal cooling racks to place the breaded chicken to chill and the cooked chicken to drain.
You can certainly deep fry without one, but there's nothing quite like a deep fryer. My recommended model maintains a perfectly even temperature and drains the oil so you can reuse it and save money.
Let's make some fried chicken
The buttermilk soak and breading process
Now this is one of those things you'll need to start way ahead of time. The chicken must soak in the buttermilk for a few hours at least, and then after dredging in flour it air chills in the fridge to keep the coating stuck on . If you don't mind waking up early you can do it all in one day, but make sure you've allowed yourself enough time (6 hour soak plus 2 hour chill plus 30 minutes cooking.)
Look for your very biggest bowl and place the chicken inside and fill the bowl up with buttermilk. Toss it around until its coated and covered, and then pop it back in the fridge for 6 to 12 hours.
When the time is almost up, mix up the seasoned flour. You'll another big bowl. If there are certain spices you want to add, feel free.
Get a rimmed baking sheet and place a cooling rack on top. You will need this for the breaded chicken to rest on a do a brief chilling period before you fry it.
Remove the chicken pieces from the buttermilk one by one. Shake off the excess buttermilk and then toss them into the flour. Make sure they are fully coated.
Place them on the cooling rack and place them back in the fridge, uncovered, for about two hours.
And now we fry!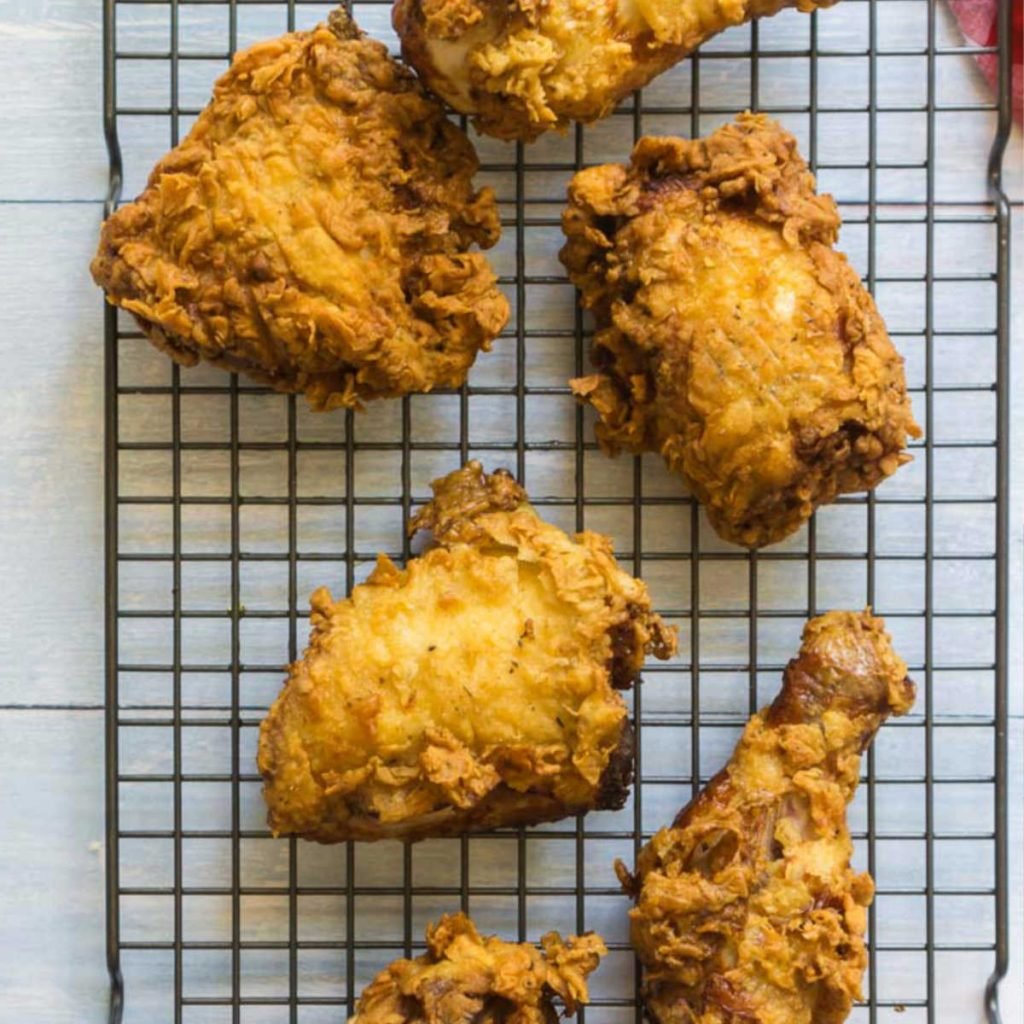 There are a few things to do to prepare for frying.
First, get a new rimmed baking sheet and layer some paper towels inside. Place another, clean cooling rack on top of the paper towels.
Preheat the deep fryer to 340 degrees. This is quite a bit lower than many recipes, but the chicken needs to cook a long time to make sure that it is thoroughly cooked. If the oil is too hot, the crust will burn before the chicken is cooked.
Place the chicken in the deep fryer basket. You'll need to cook this in batches and make sure they have enough room to swim in the oil without touching. Fry the chicken for 12-15 minutes, then flip it and fry another 12-15 minutes. I flip even if I am cooking in a deep fryer, as the chicken pieces are usually so large that they aren't fully submerged.
When the time has passed and the chicken is a beautiful deep, golden brown, check the internal temperature using an instant-read thermometer. If it is above 165, go ahead and cut into a test piece just to be sure the juices run clear. If everything looks good, remove the chicken from the deep fryer and place on the cooling rack to drain.
You can serve right away, or place in a 200 degree oven to keep warm until you're ready to serve.
What to serve on the side
Biscuits, of course! I don't have the biscuit gene and mine never turn out fluffy and beautiful using baking powder. I love angel biscuits, which use a bit of yeast to help.
Southern style coleslaw is always served with deep fried chicken in our house. It's the law.
And since this has been a long process, let's make an easy dessert and whip up an easy berry cobbler with frozen berries.
Looking for more deep fried favorites?
Print the recipe here
Classic Buttermilk Fried Chicken
Print Recipe
A classic method of making fried chicken: a buttermilk marinade and perfectly seasoned flour blend add up to juicy, flavorful chicken. A true crowd pleaser.
Click here to grab a free seasonal e-cookbook!
Ingredients
8

pieces

chicken

bone in, skin on

3

cups

buttermilk

2

cups

flour

all purpose

1

teaspoon

salt

1

teaspoon

seasoned salt

(Lawry's, etc.)

1/2

teaspoon

pepper

1/2

teaspoon

thyme

1

pinch

cayenne pepper

1

quart

oil for frying

peanut or vegetable
Instructions
Soak the chicken pieces in the buttermilk in a large bowl. Refrigerate for at least 6 hours, up to 12 hours.

Combine the flour, salt, pepper and seasoned salt in a large mixing bowl. Take out the chicken pieces, shaking off the excess buttermilk and dredge them in the seasoned flour, one by one.

Place the floured chicken pieces on a wire cooling rack set over a rimmed baking sheet. Refrigerate, uncovered, for at least 2 hours, to help the flour stick.

Preheat the deep fryer to 340 degrees (or use a heavy duty Dutch oven filled with three inches of oil and use a candy thermometor to monitor the temperature). Fry the chicken, covered, for 12-15 minutes per side until golden brown and thoroughly cooked. The internal temperature should be at least 165.

Place a clean cooling rack over a baking sheet with layers of paper towels. Place the cooked chicken on top and allow to drain. Serve immediately, or hold in a 200 degree oven.
Notes
It is easiest to have the chicken soak in the buttermilk overnight, then dredge them in flour in the early afternoon and cook for dinner in the evening.
Nutrition
Calories:
375
kcal
|
Carbohydrates:
57
g
|
Protein:
13
g
|
Fat:
10
g
|
Saturated Fat:
4
g
|
Cholesterol:
21
mg
|
Sodium:
1064
mg
|
Potassium:
310
mg
|
Fiber:
2
g
|
Sugar:
9
g
|
Vitamin A:
297
IU
|
Vitamin C:
1
mg
|
Calcium:
216
mg
|
Iron:
3
mg
Happy frying!