Deliciously tender and juicy chicken with a crisp and seasoned crust. You'll love how the breading won't fall off; a short chilling period makes sure it sticks.
As a bonus, cold fried chicken straight from the fridge makes the perfect evening snack.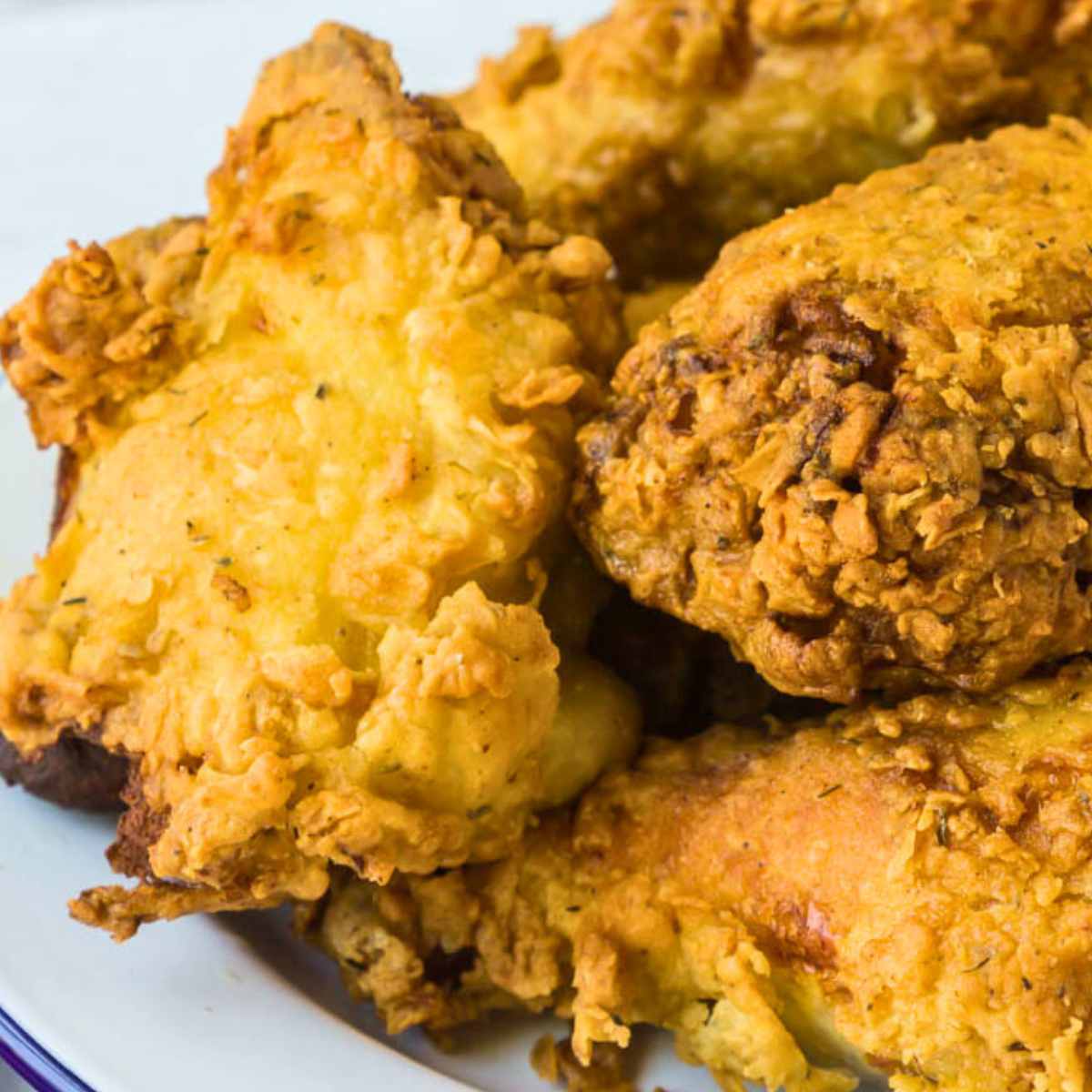 Want some free Christmas printables? Click here to grab 'em
Ingredients
8

pieces

chicken

bone in, skin on

3

cups

buttermilk

2

cups

flour

all purpose

1

teaspoon

salt

1

teaspoon

seasoned salt

(Lawry's, etc.)

1

teaspoon

pepper

½

teaspoon

thyme

1

pinch

cayenne pepper

1

quart

oil for frying

peanut or vegetable
Instructions
Marinate. Soak the chicken pieces in the buttermilk in a very large bowl. Refrigerate for at least 6 hours, up to 12 hours.

Bread. Combine the flour, salt, pepper, and seasoned salt in a large mixing bowl. Take out the chicken pieces, shaking off the excess buttermilk, and dredge them in the seasoned flour, one by one.

Chill. Place the floured chicken pieces on a wire cooling rack set over a rimmed baking sheet. Refrigerate, uncovered, for at least 2 hours to help the flour stick.

Fry. Preheat the deep fryer to 340 degrees (or use a heavy-duty Dutch oven filled with three inches of oil and use a candy thermometer to monitor the temperature). Fry the chicken, covered, for 12-15 minutes per side until golden brown and thoroughly cooked. The internal temperature should be at least 165.

Serve. Place a clean cooling rack over a baking sheet with layers of paper towels. Place the cooked chicken on top and allow to drain. Serve immediately, or hold in a 200-degree oven.
Notes
If you don't mind waking up early, you can do thiss all in one day, but make sure you've allowed yourself enough time (6 hour soak + 2 hour chill +30 minutes cooking.)
It is easiest to have the chicken soak in the buttermilk overnight, then dredge them in flour in the early afternoon and cook for dinner in the evening.
The frying temp is lower than many recipes, but the chicken needs to cook a long time to make sure that it is thoroughly cooked. If the oil is too hot, the crust will burn before the chicken is cooked.
Nutrition
Calories:
375
kcal
|
Carbohydrates:
57
g
|
Protein:
13
g
|
Fat:
10
g
|
Saturated Fat:
4
g
|
Cholesterol:
21
mg
|
Sodium:
1064
mg
|
Potassium:
310
mg
|
Fiber:
2
g
|
Sugar:
9
g
|
Vitamin A:
297
IU
|
Vitamin C:
1
mg
|
Calcium:
216
mg
|
Iron:
3
mg
Did you make this?
Let me know how it was! Please see below for serving ideas, storage instructions, and substitutions.
🧂 a note about what you'll need
chicken pieces, bone-in, skin on
buttermilk
all-purpose flour
salt
seasoned salt (Lawry's, etc.)
pepper
thyme
cayenne pepper
oil for frying, peanut oil is best but vegetable is okay too!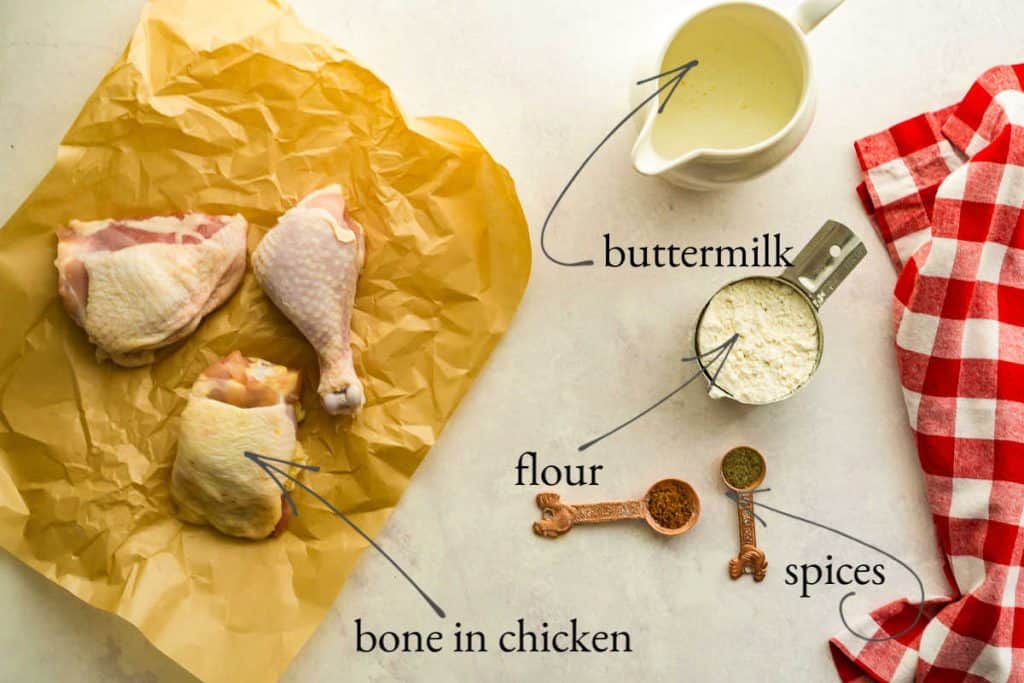 Rimmed baking sheets
Metal cooling racks to place the breaded chicken to chill and the cooked chicken to drain.
A deep fryer. (You can certainly deep fry without one, but there's nothing quite like a deep fryer. My recommended model maintains a perfectly even temperature and drains the oil so you can reuse it and save money.)
🥫 Storage instructions
Any leftovers can go in the fridge, tightly covered.
You can eat them cold or reheated in an air fryer or oven. The microwave will work in a pinch, but the skin won't be crispy.
Fried chicken does not freeze well.
👩🏻‍🍳 Expert tips
Save money on your chicken. I've found the most affordable way to get bone-in chicken is to buy a few bulk packages of one single cut. Look for bone-in thighs, drumsticks, and breasts. You can always buy a whole chicken and cut it up, but it's more work and more money.
Make sure you keep an eye on your oil temperature! If it gets too cold, the breading will fall off and you will be sad.
Place the chicken in the deep fryer basket. You'll need to cook this in batches and make sure they have enough room to swim in the oil without touching each other.
I flip even if I am cooking in a deep fryer, as the chicken pieces are usually so large that they aren't fully submerged.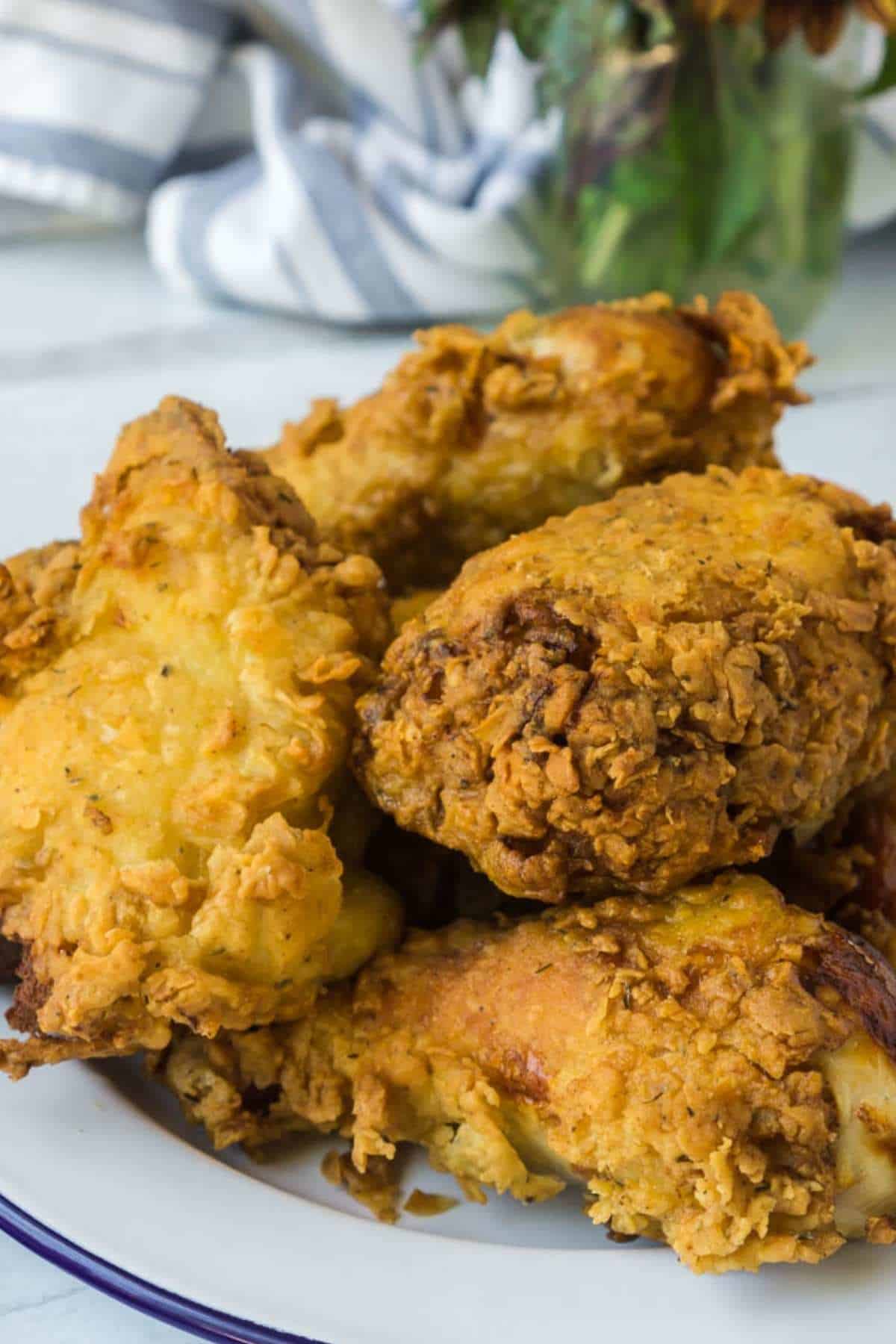 What to serve on the side
📘 Related Recipes