Classic fall spices and a blend of apples create a delicious apple pie filling that's ready to use any time of year. Makes 4 quarts
Sweet spiced apples, canned an ready to go on your shelf. Having apple pie filling makes it a breeze to create pies, cobblers, bars, and many more of your favorite fall treats.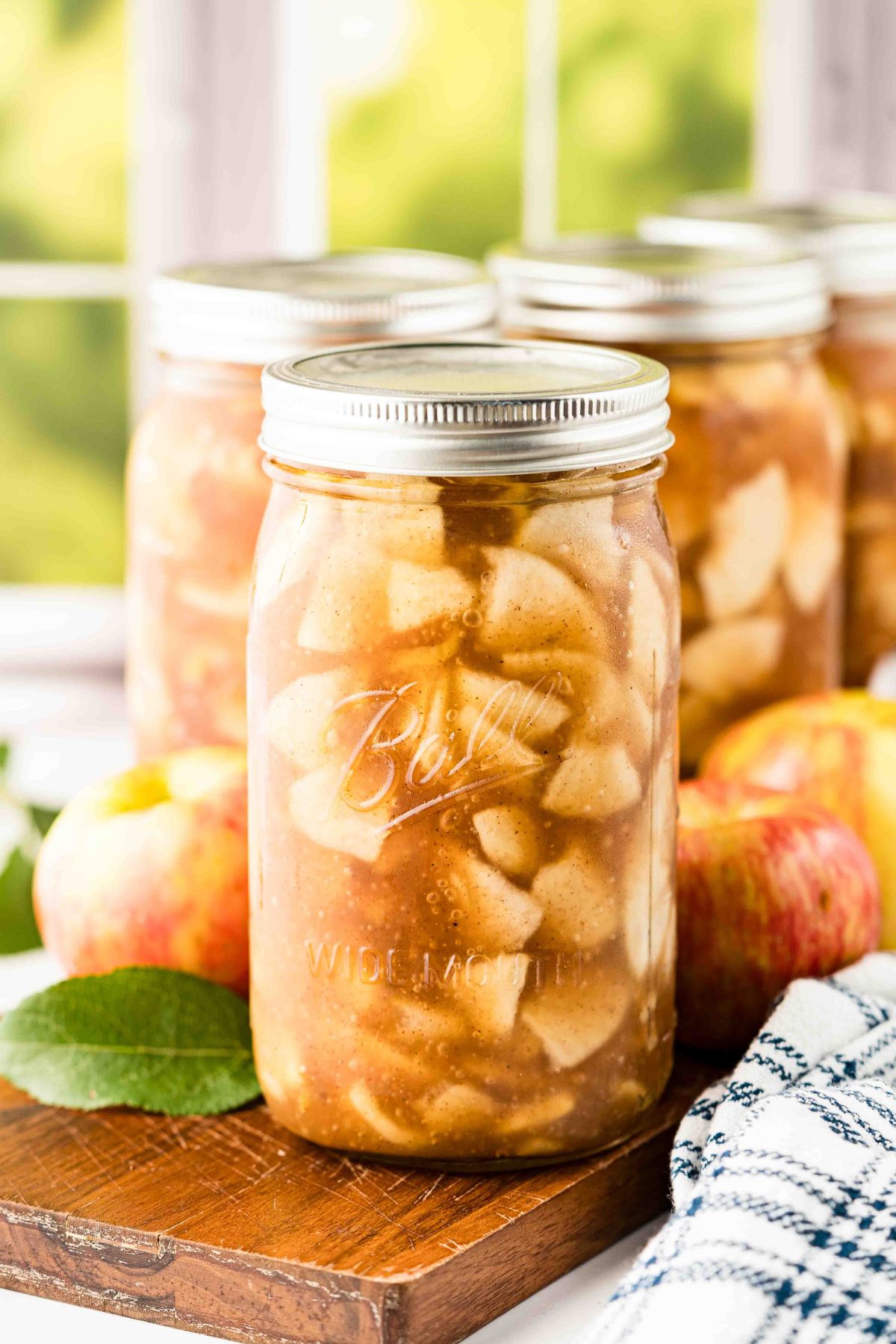 ❤️ Why you'll love this recipe
Simplicity: Easy to make, but even easier to use. You're doing all the hard work upfront.
Versatility: Not just for pies. Think pastries, crisps, or our favorite, served on top of homemade vanilla ice cream.
Taste: A blend of cinnamon, brown sugar, nutmeg, and sweet and tart apples with spices makes it an instant classic.
🧂 Ingredients
This is an overview of the ingredients. You'll find the full measurements and instructions in the printable recipe at the bottom of the page.
You'll need the following for this recipe:
Apples (Granny Smith & Honeycrisp recommended)
Lemon juice
Granulated sugar
Brown sugar
Clear Jel (cook-type for canning)
Ground cinnamon
Ground nutmeg
Salt
Water
Apple juice or apple cider
Pure vanilla extract (optional)
🥣 Equipment
Waterbath canner
Mason jars
New lids
Funnel
See all my recommended canning supplies here.
🍴Instructions
Step One: prep the supplies
Start by warming up your jars—either in the oven, dishwasher, or in hot water. This keeps them from cracking when you add hot filling later on.
Step two: prep the apples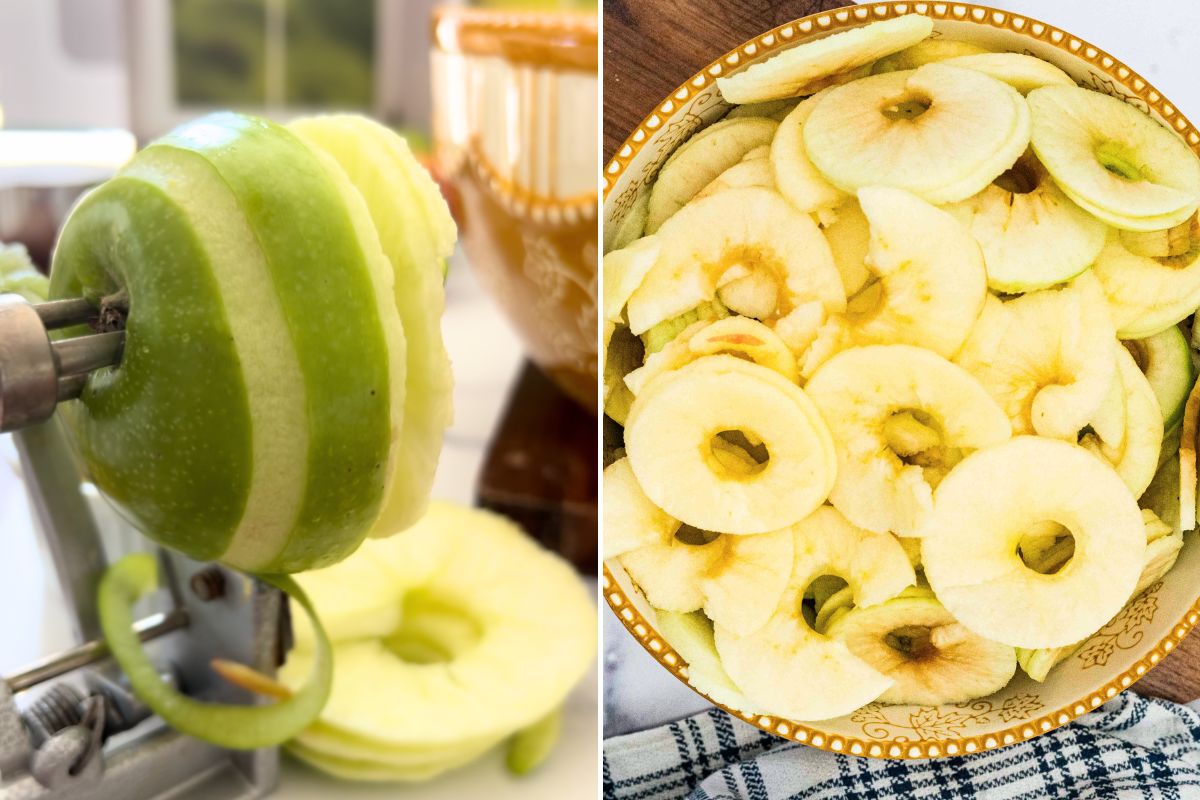 Peel, core, and slice those apples. Aim for consistent slices so they all cook at the same pace.
Step three: make the syrup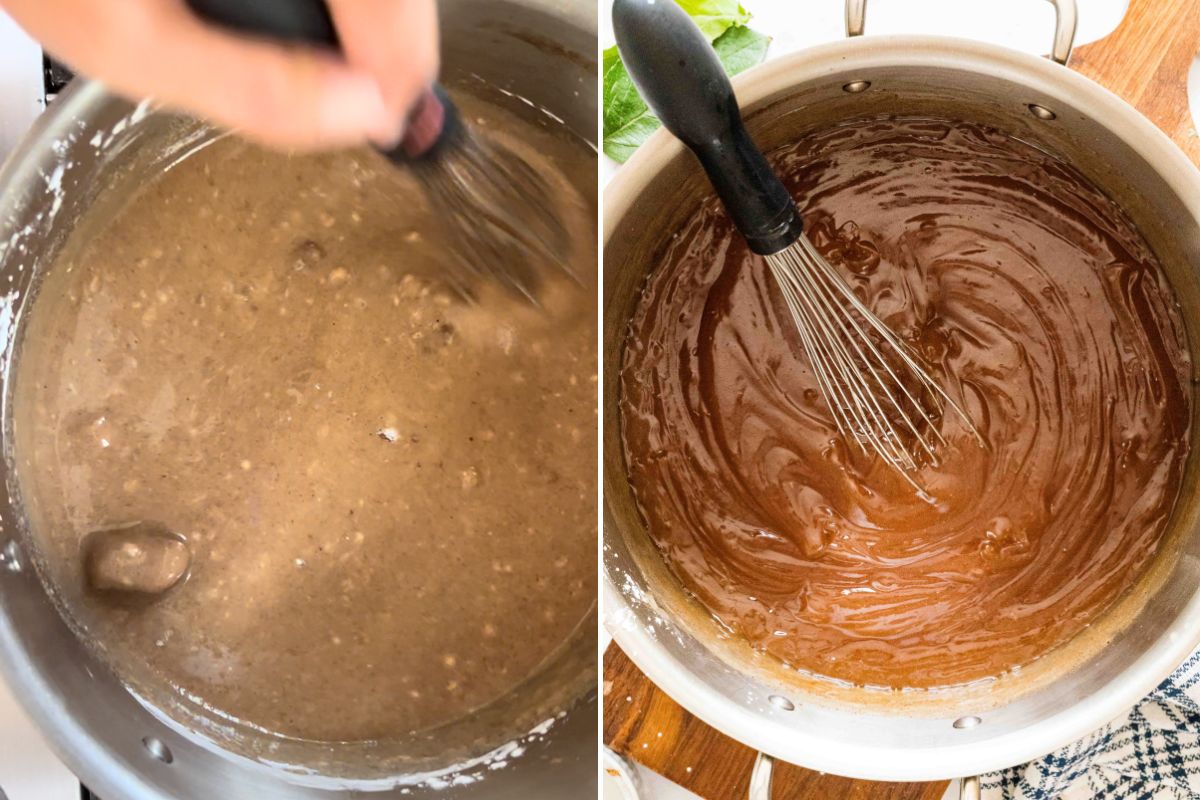 In a large saucepan, combine sugars, cornstarch, and spices. Slowly mix in the water and apple juice. Bring to a boil until it thickens up. When you add the apples it will thin out slightly as they release their juices.
Step four: add apples and cook
Toss the apple slices into the syrup. Cook them just until they're tender but still have some bite. If you're into vanilla, you can add it now.
Step Five: fill jars
Pour the apple mixture into your prepped jars. Make sure to leave a little space at the top.
step six: process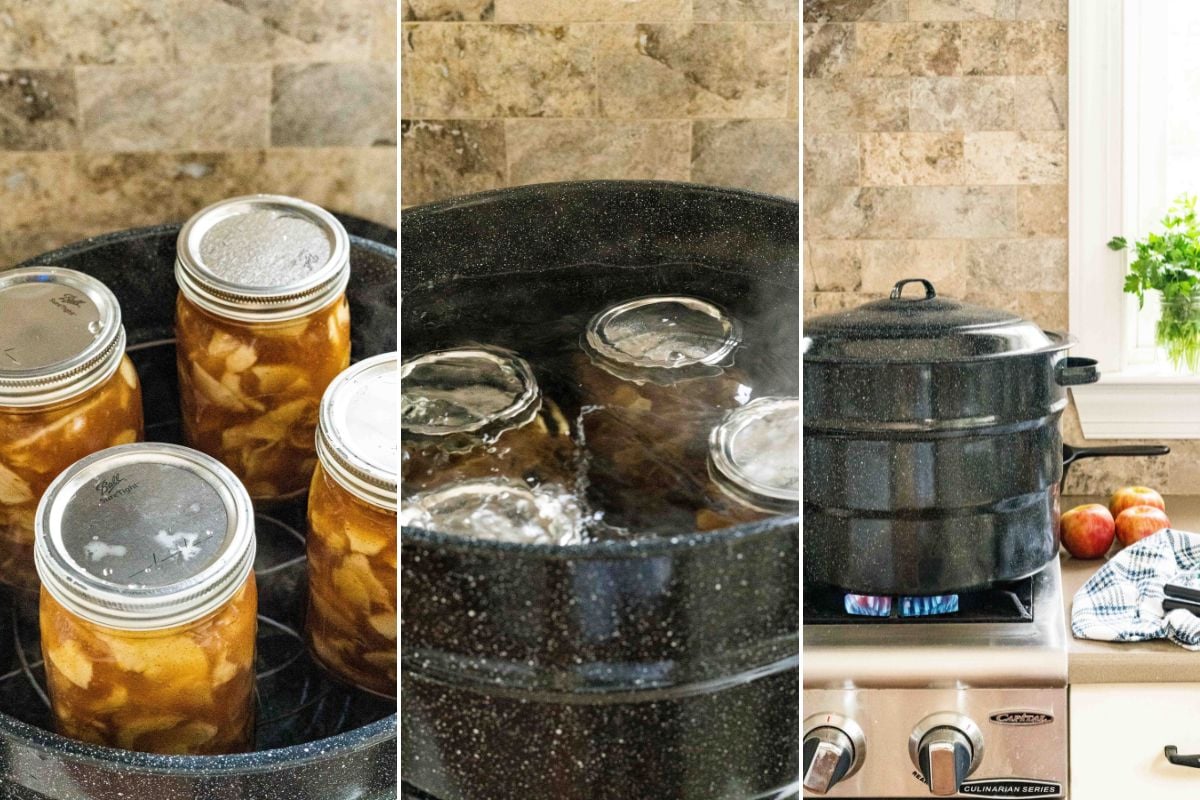 Clean off the jar rims, then put on the lids. They'll go into a boiling water canner for 25 minutes. If you're up in the mountains or somewhere high, adjust the time.
step seven: cool and store
After canning, set the jars out on a kitchen towel to cool. You'll hear them make a pop sound as they seal.
🥫 Storage instructions
Cool Spot: Store jars in a dark, cool place.
No Seal, No Problem: If a jar doesn't seal, don't fret! Pop it in the fridge and use within a few weeks.
Freezing: Not a canning fan? You can freeze the filling in freezer bags. Flatten, remove air, and use within 6 months.
🔍 FAQs
Why do I need to use Clear Jel?
You need a thickening agent, and cornstarch is not safe for canning. When canning, you need heat to penetrate through the entire jar to kill all the potential spoilage bacteria, ensuring your food is preserved safely. Cornstarch can sometimes create a mixture that's too thick, preventing even heat distribution. If some spots don't get heated enough, bacteria can survive and potentially make you sick later on.
Can I reduce the sugar?
Sugar acts as a preservative in this recipe, so a good amount is necessary. However, if you'd prefer a less-sweet filling, you can reduce it by 1/2 cup.
Can I add or remove spices?
Yes, they are only for flavor and can be altered however you'd like. 😊
👩🏻‍🍳 Expert tips
Carefully follow the instructions! Apple pie filling is prone to siphoning! (Siphoning refers to the liquid inside your jars getting pushed out during the processing. It's when you pull your jars out and think, "Hey, where'd half the liquid go?") Leaving proper headspace and removing bubbles can help prevent this.
Once you've finished processing the jars, resist the temptation to check the seals immediately. They need time to cool down and properly seal. Give them 12-24 hours of rest before testing the seals. By then, the lids should have been sucked down and sealed tightly.
Before sealing your jars, ensure the rims are squeaky clean. Any residue might prevent a proper seal, and you don't want that. A damp cloth does the trick, wiping away any spills or drips.
Watch the apples in the syrup when you simmer them like a hawk. If they're overcooked, they'll turn mush when you bake them in a pie. Aim for tender but still firm. Remember, these apples will likely be cooked again whenever you use the filling.
📘 more fruit canning Recipes
🍽 how to use your filling
Classic: Baked into a an apple pie or caramel apple cobbler.
Apple-Stuffed French Toast: Make a slit in thick slices of bread and stuff with apple pie filling. Dip in your egg mixture and cook for a sweet twist on French toast.
Apple Cinnamon Rolls: Spread the filling over your cinnamon roll dough for an extra layer of flavor before rolling, slicing, and baking.
Oatmeal Mix-in: Boost your morning oats by mixing in a scoop of apple pie filling.
Pancake & Waffle Topping: Warm it up and slather over pancakes or waffles for a hearty breakfast treat.
Apple Turnovers: Use puff pastry or pie dough to make individual turnovers. Fill, fold, crimp, bake, and enjoy!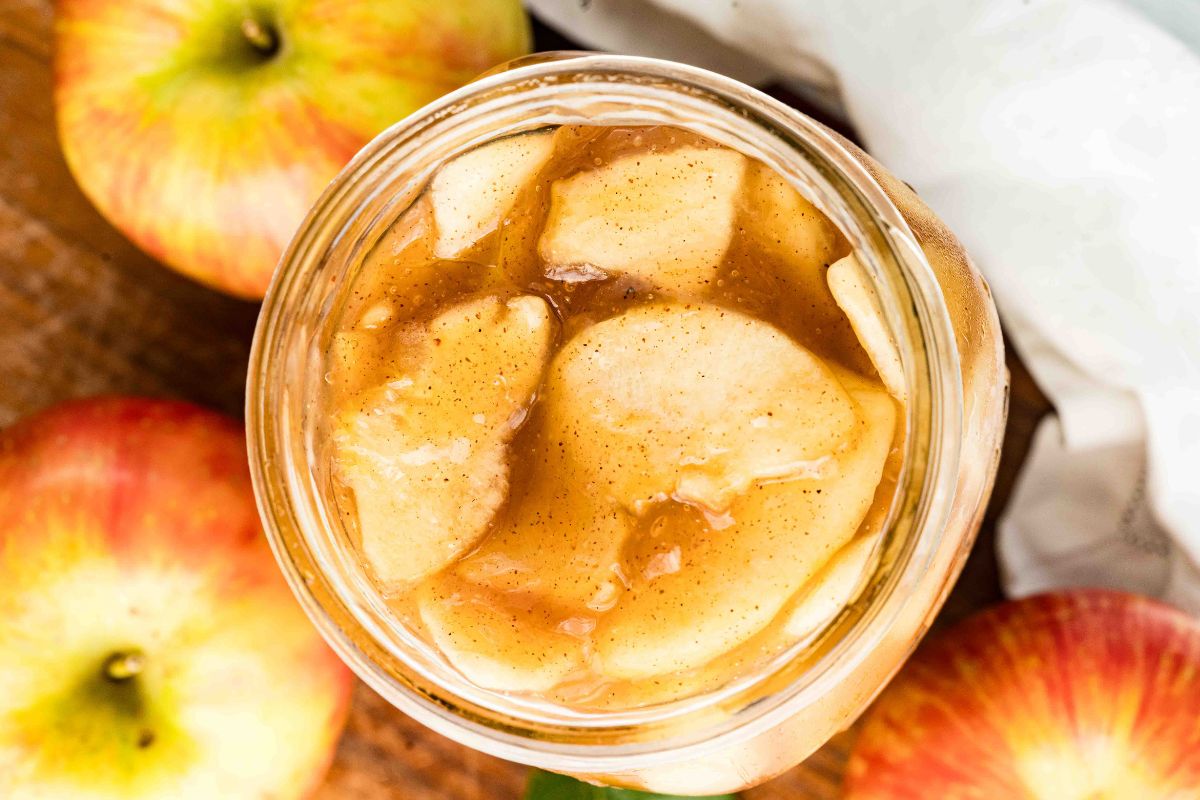 📖 Here's the recipe
Canned Apple Pie Filling
Print Recipe
Classic fall spices and a blend of apples create a delicious apple pie filling that's ready to use any time of year. Makes 4 quarts
Click here for a FREE autumn cookbook (25+ Recipes!)
Ingredients
16

cups

apples

cored, peeled and sliced (use a mix of sweet and tart apples like Granny Smith and Honeycrisp)

4

tablespoons

lemon juice

2

cups

granulated sugar

2

cups

brown sugar

packed

1

cup

Clear Jel

cook-type for canning

2

teaspoons

ground cinnamon

½

teaspoon

ground nutmeg

½

teaspoon

salt

5

cups

water

2

cups

apple juice or apple cider

2

teaspoons

pure vanilla extract

optional, I prefer without
Instructions
Prep Canning Supplies. Heat jars in the oven at 200℉, or by using the dishwasher or placing in hot water. They don't need to be sterilized, but need to be hot so they don't crack. Wash rings and lids in soapy water and place in small. saucepan of simmering water. Fill canner 3/4 full. with water and place on high heat to bring to a boil. Keep everything hot until you're ready to fill them.

Prepare the Apples Wash, peel, core, and slice the apples into uniform pieces.

Make the Syrup. In a large saucepan, whisk together the granulated sugar, brown sugar, cornstarch, ground cinnamon, ground nutmeg, and salt until well combined. Gradually stir in the water and apple juice (or cider) into the sugar and spice mixture. Add the lemon juice. Bring the mixture to a boil over medium heat, stirring constantly until it thickens.

Add Apples. Gently add the prepared apple slices to the boiling syrup. Reduce the heat to medium-low and let the apples simmer for about 6-8 minutes until they become tender but not mushy. Stir occasionally to ensure even cooking. Add vanilla if using.

Fill the Jars. Carefully ladle the hot apple pie filling into the prepared canning jars, leaving about 1/2 inch of headspace at the top. Use a non-metallic utensil to remove any air bubbles by gently tapping the sides of the jars. Seal the Jars Wipe the jar rims clean to ensure a proper seal. Place the lids and bands on the jars, tightening the bands until they are just fingertip-tight.

Process the Jars. Process the filled jars in a boiling water canner for 25 minutes (adjust processing time for altitude if necessary). Make sure the jars are fully submerged in water during the entire processing time. If you are processing pints, they need 25 minutes as well.

Cool and Store. Once the processing time is up, carefully remove the jars from the canner and place them on a clean kitchen towel. Allow the jars to cool completely. As they cool, you should hear a "pop" sound as the lids seal. Check that the lids are properly sealed before storing the jars in a cool, dark place. If any do not seal, place them in the fridge and use them within a few weeks.
Video
Notes
16 cups of apples is approximately 5.25 pounds or 16 medium apples
Nutritional facts are for 1/4 of a quart, to represent the amount of filling in one slice of pie.
Nutrition
Calories:
283
kcal
|
Carbohydrates:
73
g
|
Protein:
0.4
g
|
Fat:
0.4
g
|
Saturated Fat:
0.1
g
|
Polyunsaturated Fat:
0.1
g
|
Monounsaturated Fat:
0.01
g
|
Sodium:
87
mg
|
Potassium:
207
mg
|
Fiber:
3
g
|
Sugar:
68
g
|
Vitamin A:
69
IU
|
Vitamin C:
7
mg
|
Calcium:
38
mg
|
Iron:
0.4
mg
Did you make this recipe?
If you loved it, please leave a review!