A classic recipe for small batch strawberry jam: for canning or freezing.
❤️ Why you'll love this recipe
Pectin and plenty of sugar ensure a foolproof jam that will set easily.
Not too much jam. The amount of jam this makes is perfect for a family to eat throughout one year, especially when you enjoy different types of jam and don't want too much of one kind.
If you've never canned before, this is a great starting point. And if you're an experienced canner, you'll still enjoy the simple beauty of this strawberry jam.
Be sure to read my tips for canning day to make sure everything goes as pleasantly as possible.
🧂 Ingredients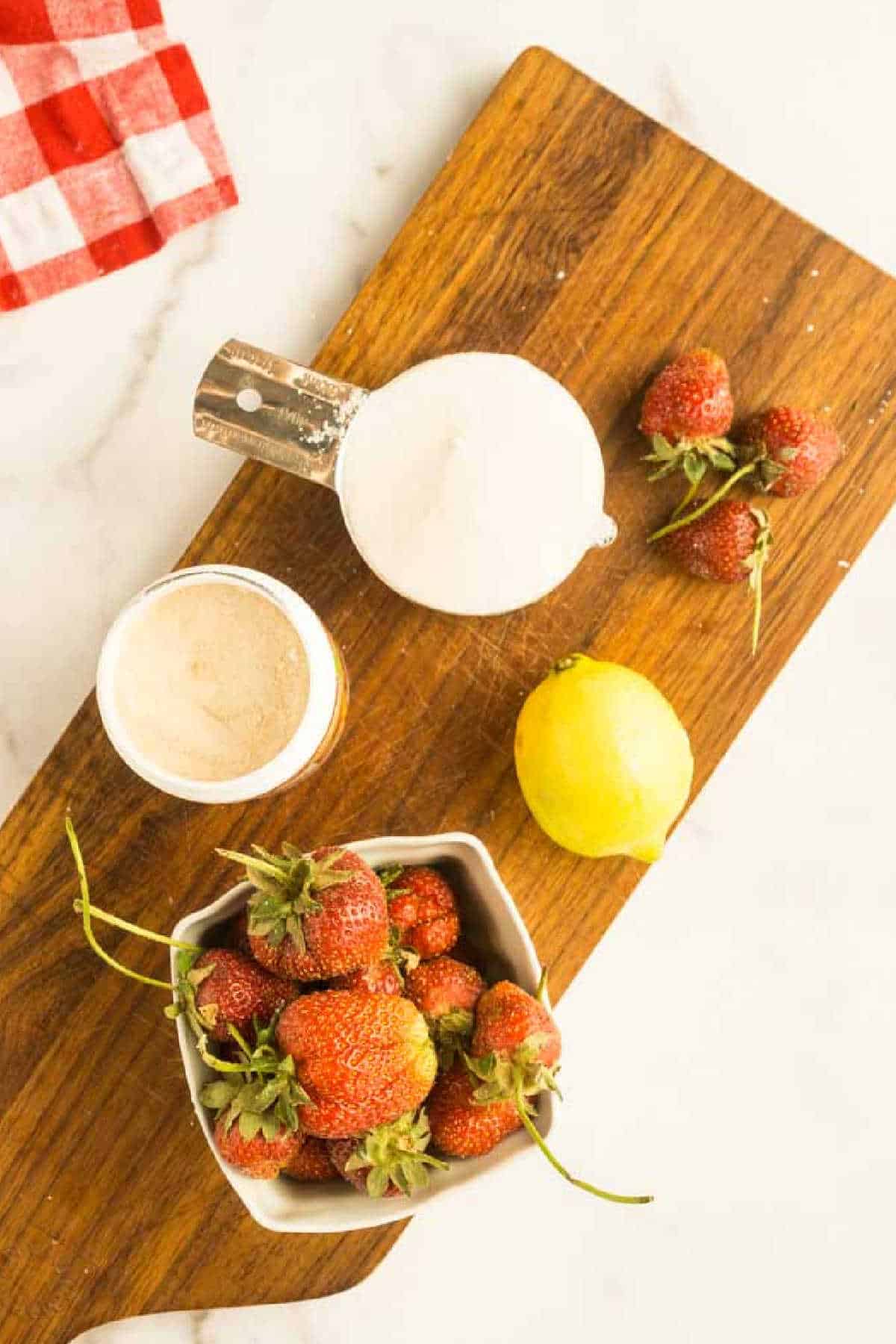 This is an overview of the ingredients. You'll find the full measurements and instructions in the printable recipe at the bottom of the page.
strawberries
bottled lemon juice
powdered pectin
granulated sugar
🥣 Equipment
Need help picking out canning supplies? Find all the canning supplies you need here.
half pint mason jars
water bath canner and accessories
a large deep skillet or saucepan
🍴Instructions
Step one: Preparing the equipment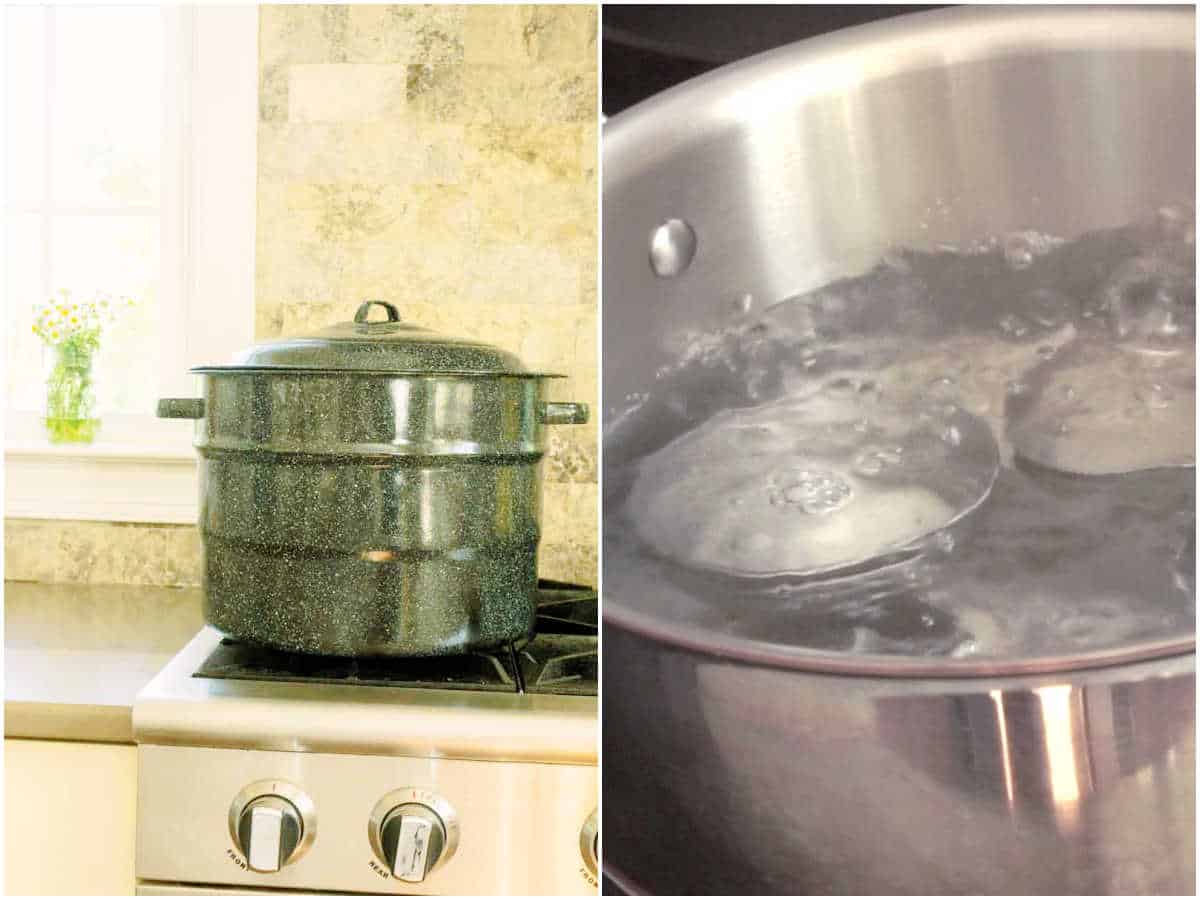 It's helpful to get your equipment ready before you start the jam because it takes so long for the canner to come to a boil. Get that going, and place your lids and bands in simmering water.
Your jars will need to be hot too, but remember you don't need to sterilize them. Just make sure they are very clean and heat them in the oven at 200 degrees, or in hot water if that's easier for you.
making the Jam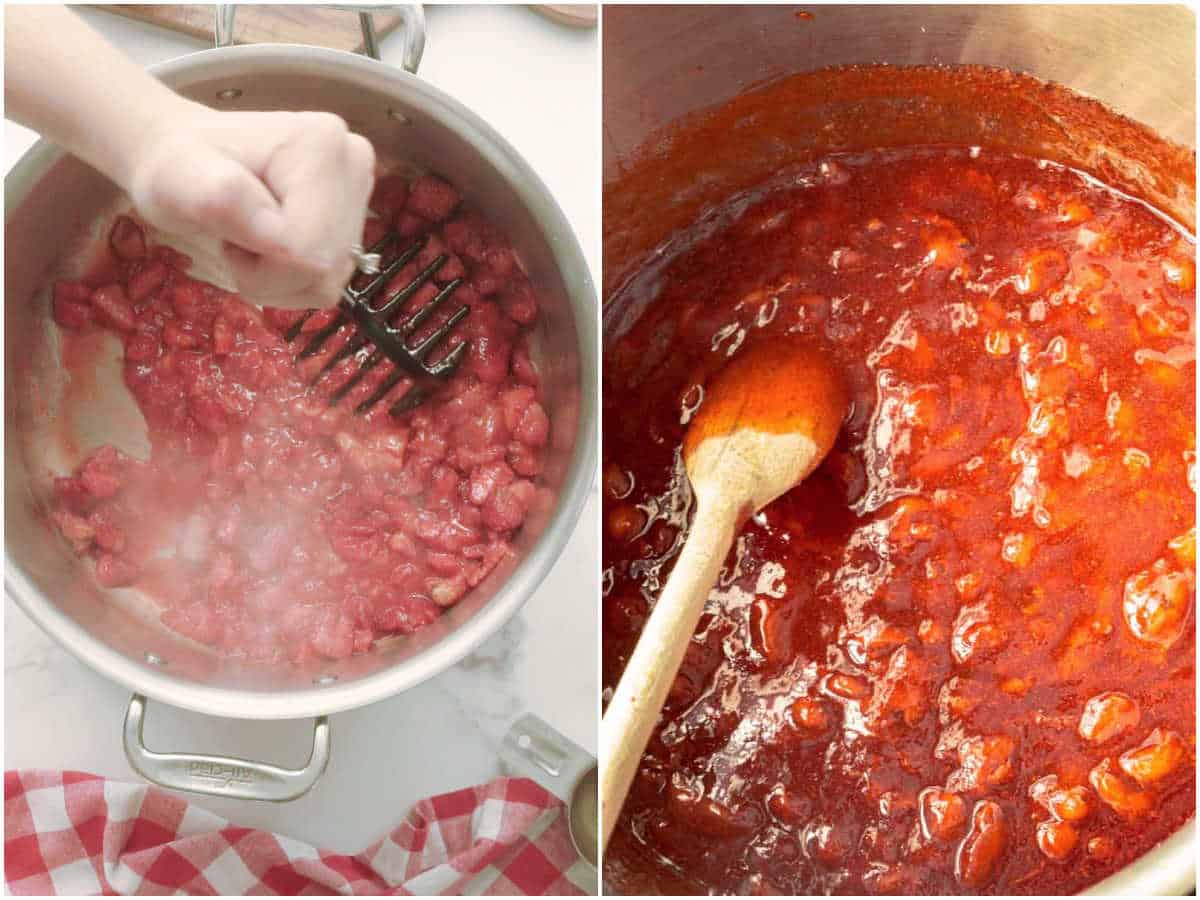 Making the jam is easy. The strawberries go in as halves and you just mash as they heat. Make sure you add the pectin a bit at a time as described in the recipe or else you'll get weird clumps. Since this recipe uses sugar and pectin, you really have to worry about the jam setting. Follow the recipe, and it will!
If you notice foam rising to the surface, you can just spoon it off and discard it. If it doesn't both you, just leave it. It will make your finished jam somewhat hazy in the jar, but it's purely cosmetic.
Putting it all together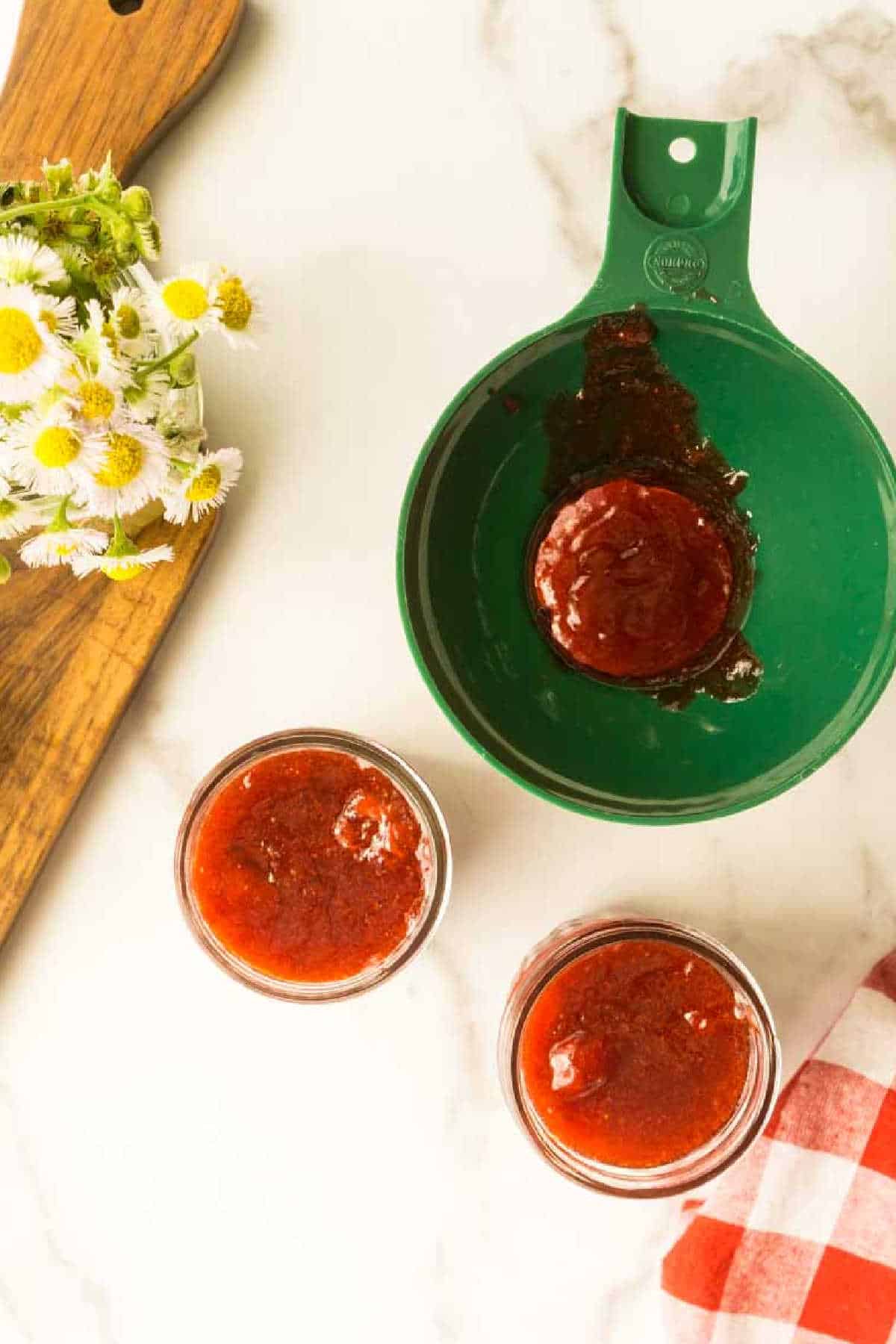 If you're freezing the jam, just funnel it in, let it cool, and freeze it. You're done. Easy peasy.
If you're canning it, after you funnel in the jam, take extra care to wipe clean the rims of the jar. If the rim is dirty, the lid won't properly seal to it, and it won't be safe to store.
Twist the bands on "fingertip tight". This means you could unscrew the lid with just the strength of your fingertips, without having to put any "muscle" into it. If you over-tighten, the jars could crack in the canner.
processing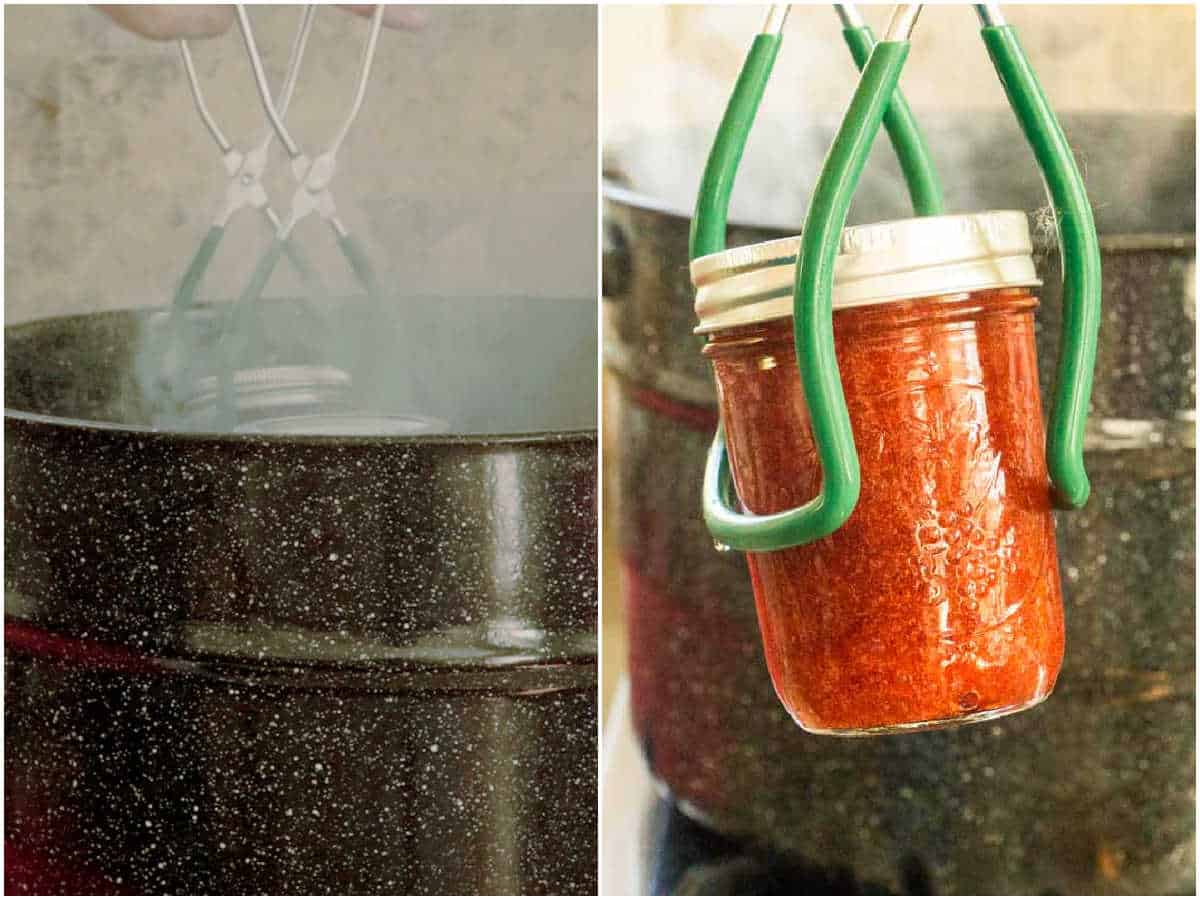 Process in the canner for 10 minutes and remove the jars. Let them sit, undisturbed, while they cool. They will seal as they sit and the lid will no longer pop up and down when you press on them.
👩🏻‍🍳 Expert tips
Choose fresh, unblemished fruit.
For the best flavor, use ripe strawberries. If they're not quite ripe, you can add a little bit of sugar to the recipe.
Wash and cut your berries before you begin
🥫 Storage instructions
If you've canned the jam and everything has sealed, put the jars in a dark place that's room temperature or cooled. An unheated portion of your basement is perfect. Otherwise, a cabinet or pantry on the main level will do just fine.
If any of your jars did not seal, put them in the fridge and use them right away.
🔍 FAQs
Do I need pectin to make strawberry jam?
For this recipe, yes you need pectin. And it's great for beginners. Your jam will set, guaranteed.
Can I use honey instead of sugar?
It's been done before but I wouldn't recommend it. I personally find the flavor too strong.
What is the difference between strawberry preserves and strawberry jam?
The difference is in the fruit. Preserves have large chunks of fruit and jam has smaller pieces that are more like a spread.
📘 Related Recipes
📖 Here's the recipe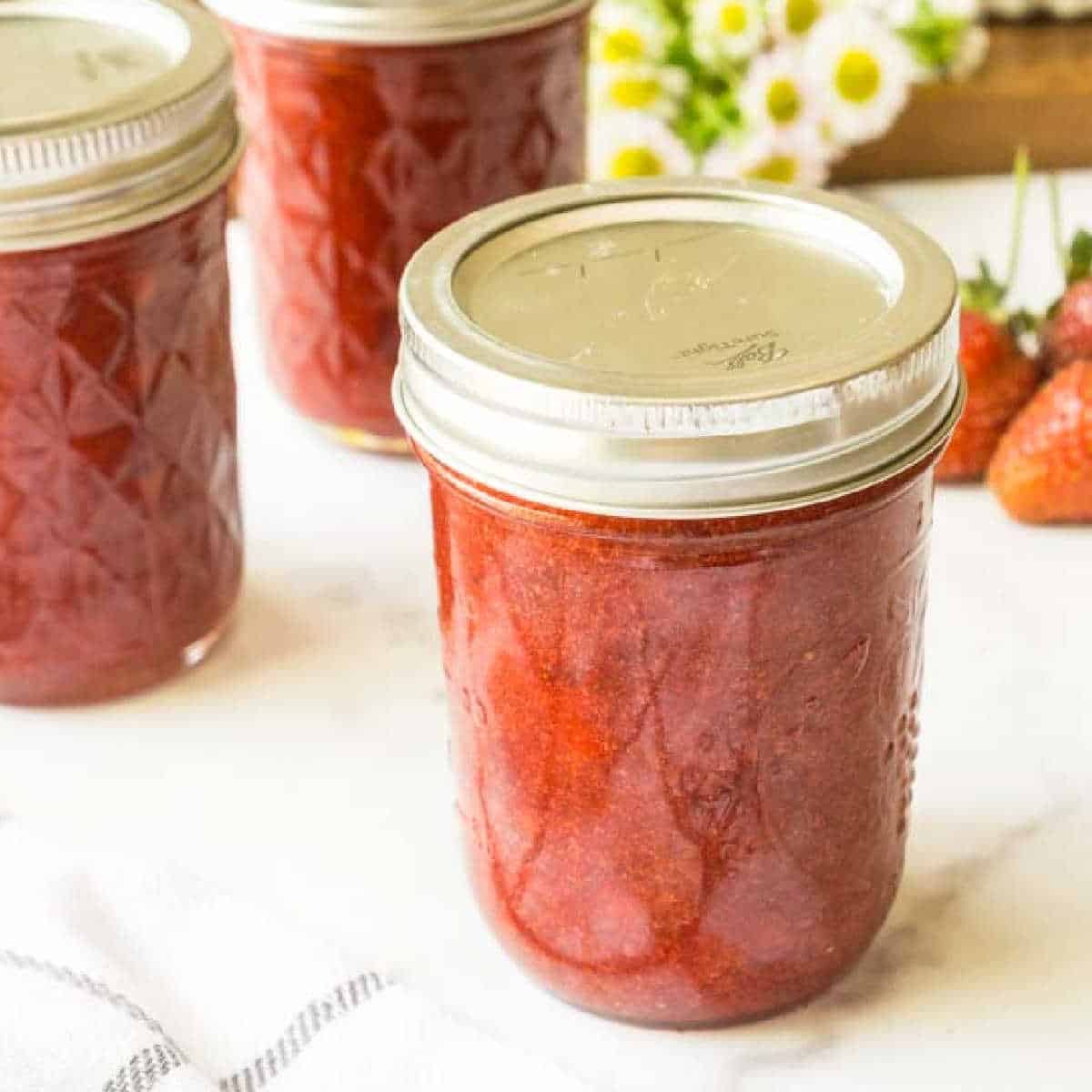 A simple recipe for strawberry jam that makes just the right amount. Canning instructions included, but it can also be frozen or just eaten quickly! Makes 4 half-pints.
Save
Saved!
Pin Recipe
Print Recipe
Rate Recipe
Want some free Christmas printables? Click here to grab 'em
Equipment
Water bath canner and accessories

Five (half pint) mason jars with lids and bands
Ingredients
5

cups

halved strawberries

about 2 1/2 pounds

2

tablespoons

lemon juice

bottled

3

tablespoons

pectin

3

cups

granulated sugar
Instructions
Prepare the jars and canner. If canning, prepare a water bath canning by filling with water and placing on stovetop to bring to a boil. Place rings and lids for jars in a small saucepan filled with water and bring to a simmer. Heat clean jars in the oven at 200 degrees or in hot water,

Make the jam. Combine the strawberries and lemon juice in large saucepan, mashing the berries. Sprinkle in pectin 1 tablespoon at a time and stir after each addition to prevent clumping. Bring to a full boil over high heat. Add the sugar and bring to a hard boil again. Allow to boil for 1 minute, constantly stirring. Remove jam from heat. If foam has formed on the surface, remove it with a spoon.

Assemble jars. Ladle jam into hot half-pint jars, leaving 1/4 inch of headspace. If you have an extra that won't fill a jar, put in a jar and place in the fridge to be eaten first. Wipe rims clean with a damp rag. Place lids and bands on jars and twist until fingertip tight, meaning the lid could be unscrewed with just your fingertips.

Process the jam. Carefully lower jars into boiling water canner, replace lid, and allow to process for 10 minutes. Remove jars and place on clean tea towel on counter to cool. Allow to to sit undisturbed until jars seal and the lid does not move when pressed. Store in a dark, cool place for up to one year.
Did you make this?
Let me know how it was! Please see below for serving ideas, storage instructions, and substitutions.
Enjoy your jam, and your summer.