The perfect, classic blend of sugar, spices and apples, with the addition of a secret ingredient. Stovetop and slow cooker instructions.
The perfect apple butter recipe for canning, made on the stovetop or in your slow cooker. Optional apple brandy plus plenty of spices make this a fall classic you'll make every year.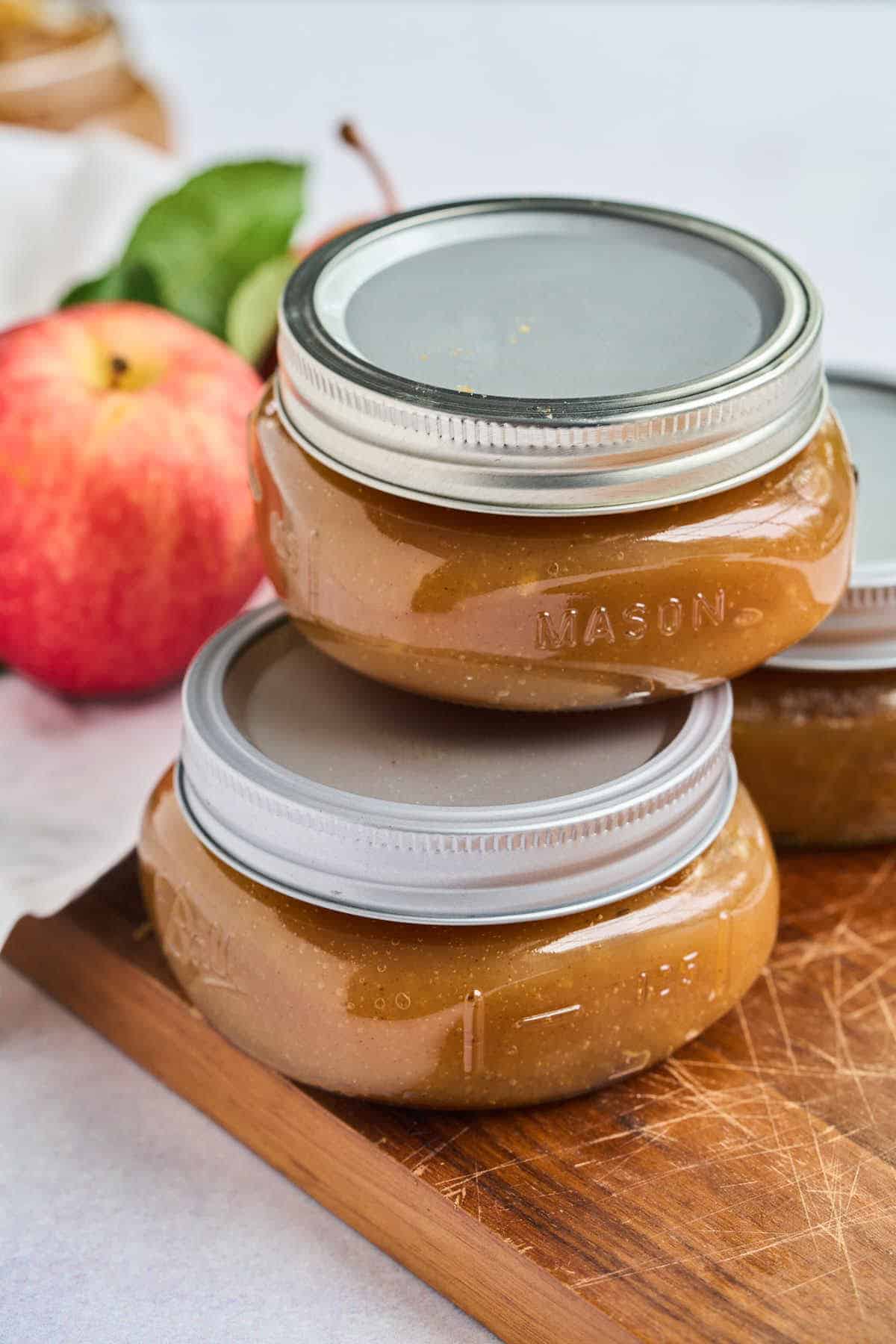 The best apple butter recipe
Do you love apple butter?
Apple butter is a delicious spread made from apples and spices, but did you know that it's also straightforward to make at home? You can even can it so that you always have some on hand! We have all the information you need to start making your own apple butter today.
Once you taste homemade apple butter, there's no going back. There are only two steps involved in the process of making this delicious treat – cook down the apples, then puree them into smooth goodness! It tastes better than anything store-bought and has an amazing aroma that fills your kitchen while it's cooking. The best part about this recipe is how simple it is – anyone can do this with just a few ingredients and basic kitchen equipment.
This makes for an easy-to-follow guide for those who want to learn how to make their own apple butter at home without any fuss. I've included slow cooker instructions and a pretty printable recipe at the bottom.
Ingredients
4 pounds apples. This is about 12 medum apples
1 cup water
1 cup apple brandy. This adds amazing flavor, but if you don't have it, you can substitute apple cider or just plain water.
1 cup light brown sugar
1 cup granulated sugar
2 teaspoons cinnamon
1/4 teaspoon cloves
1 tablespoon bottled lemon juice. Canning recipes require bottled lemon juice beecause the acidity level is steady.
1/2 teaspoon kosher salt
Apple Brandy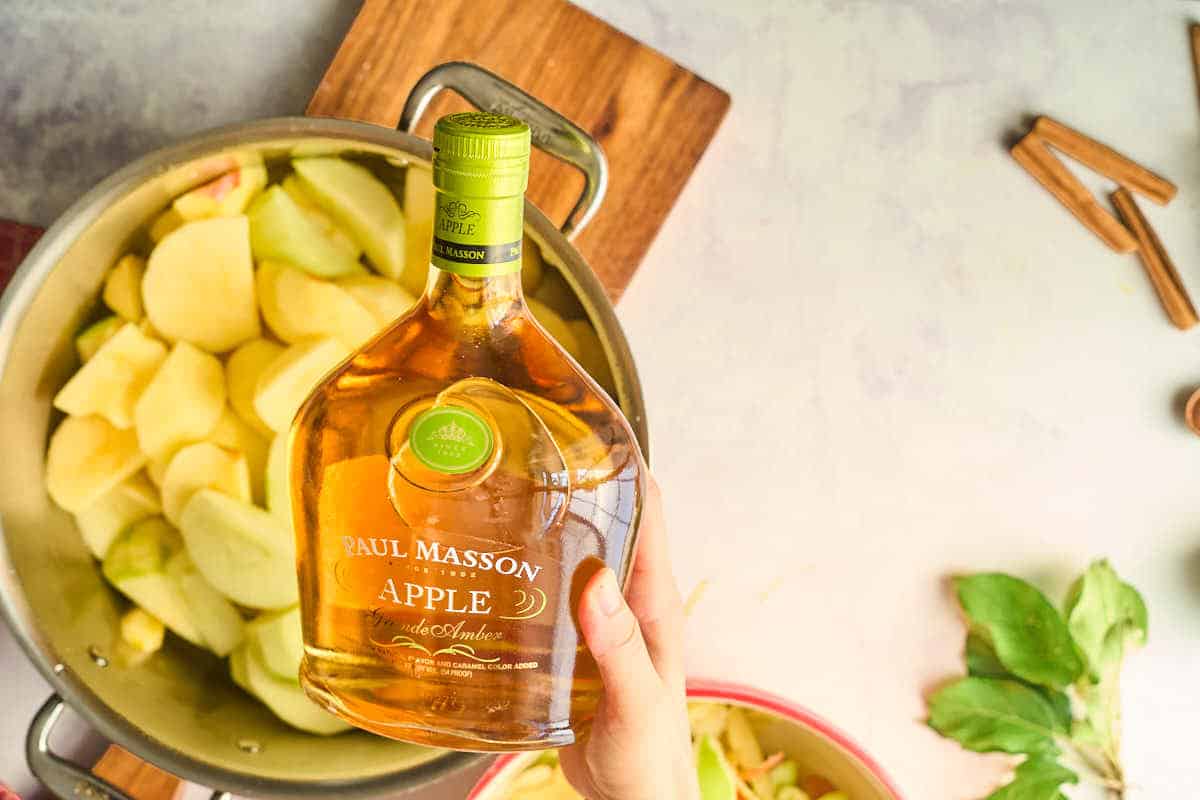 There are many affordable brands of apple brandy these days and famous and expensive Calvados. I buy a brand that is less than $12 for this bottle, and it's enough for a few batches of apple butter and a few drinks!
Suppose you don't have it and don't want to get it, no worries. Just use apple cider or water.
Picking and prepping your apples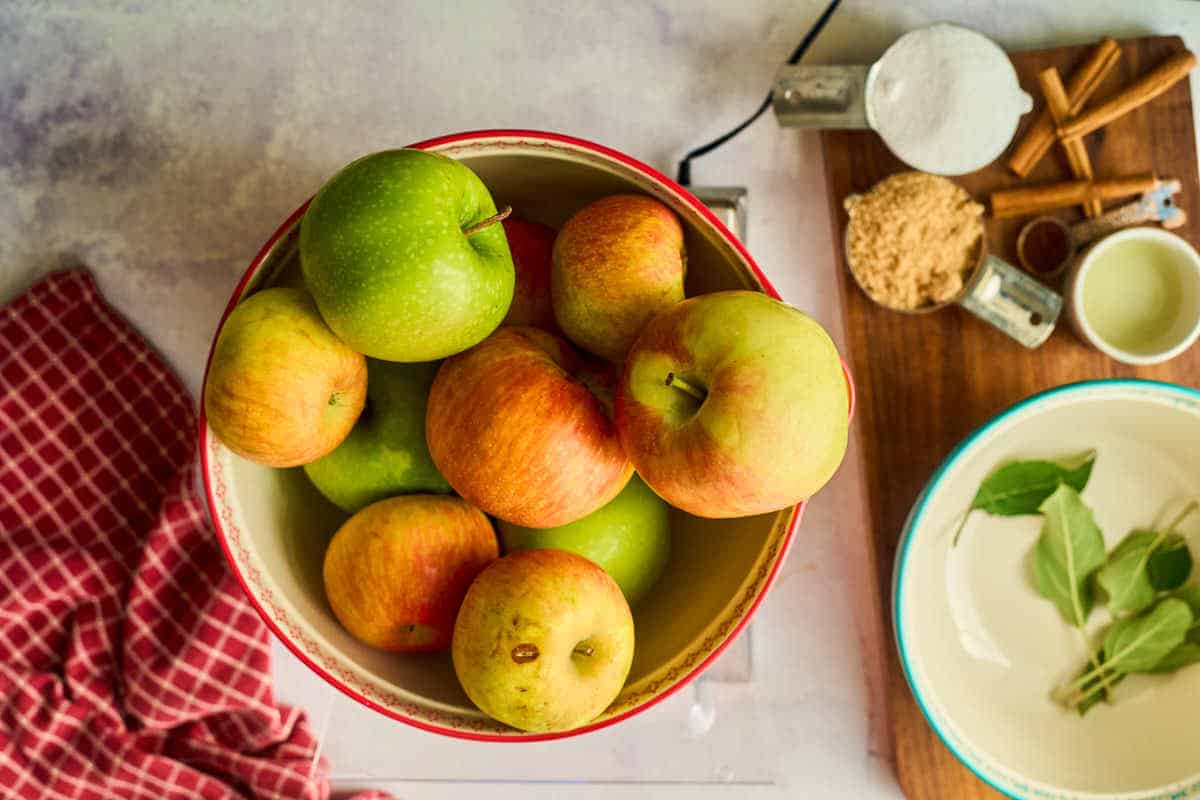 What apples to use
Don't stress over picking the right apples for apple butter; it really doesn't matter! Granny smith is popular for baking and other apple sweets, but they are very firm and take a bit longer to soften.
It's nice to have a blend of different varieties. I normally make apple butter on a day when we have a hodgepodge of apples, and I have never once worried about what variety to use.
You'll need a total of 4 pounds, which is about 12 medium-sized apples. Of course, weighing them is best.
Peeling and quartering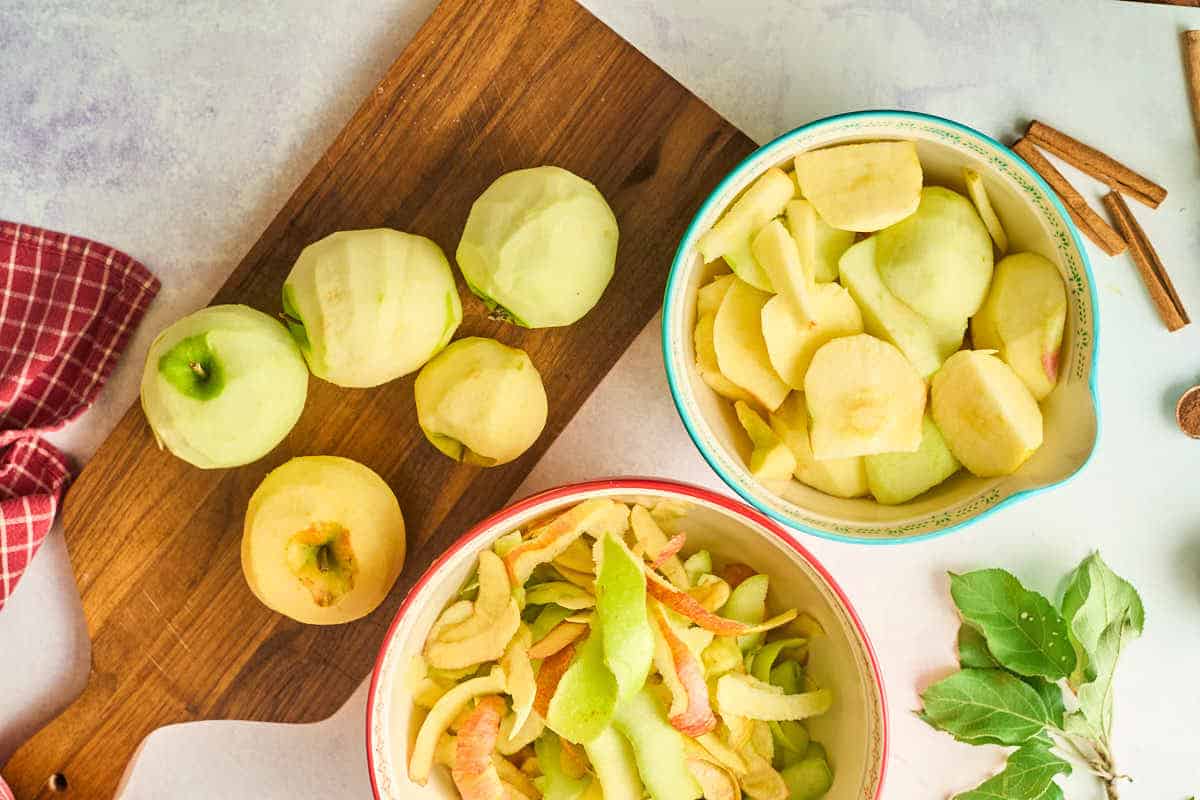 Before you start, prep your apples, all you need to do is peel them and quarter them.
The easiest way to peel these apples is to do it by hand. Even if you have a fancy apple peeler with a turning handle, you could have them all peeled twice by the time you set it up.
There's no need to slice them! Just peel the apples and put them in the saucepan.
How to tell when it's done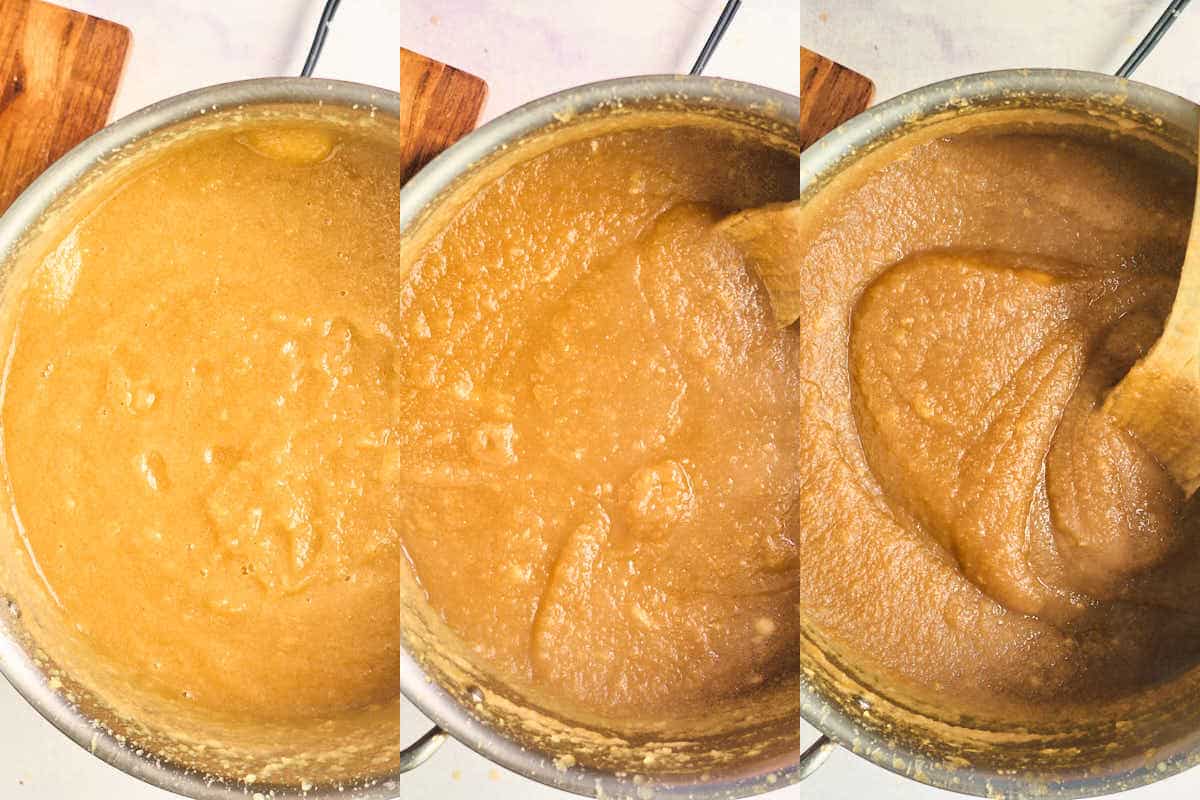 At first, the apple butter will look like cinnamon apple sauce. As it cooks down, it will thicken and become darker. As you stir it with a spoon, it should hold its shape in a sense instead of just flopping back like a pot of applesauce.
It won't be as thick as jam but should be thicker than applesauce.
You want it to look like the third picture in this image before canning it.
Slow cooker apple butter
Our favorite way to make this is in the slow cooker. It takes longer, and it isn't really any easier. But the fragrance that fills your kitchen while the apples cook is amazing!
Instead of cooking the apples in a saucepan, just place them, the water, and the apple brandy in your slow cooker with the lid on. Turn it on low, and the apples will soften in about 4-6 hours.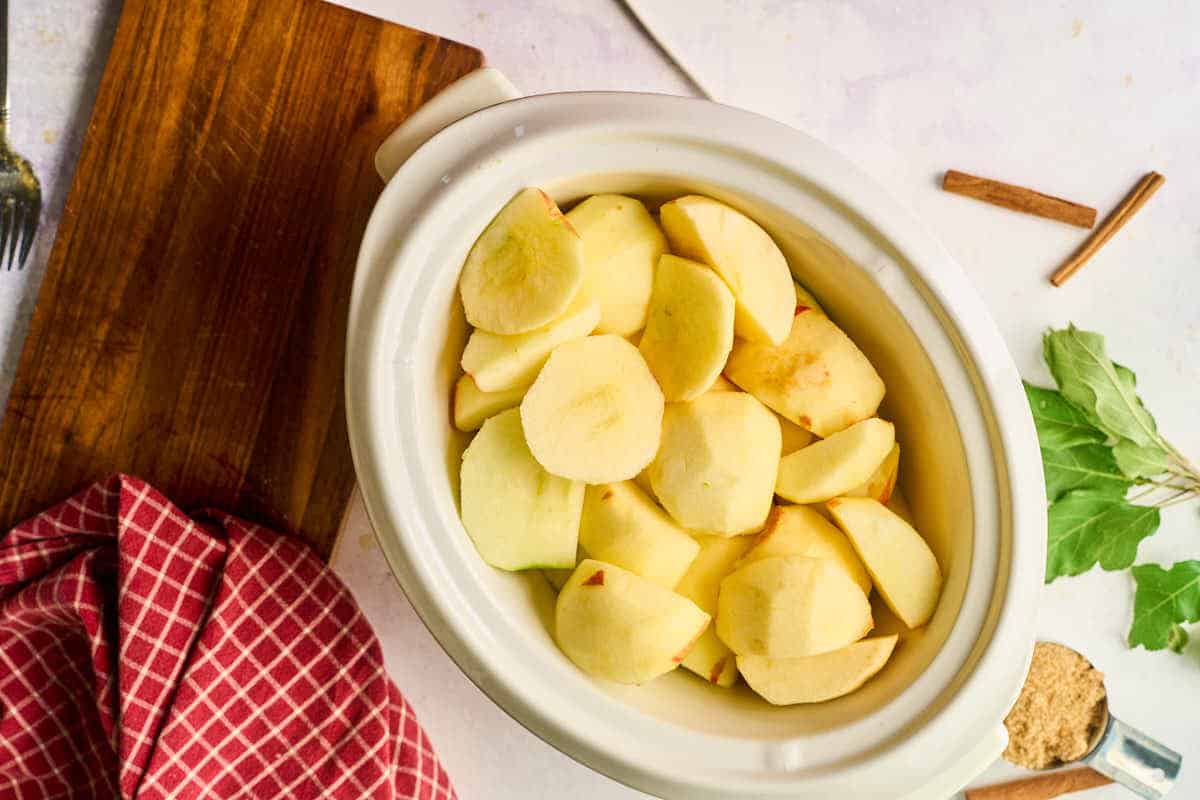 Puree the apples, add the remaining ingredients, and then use the slow cooker on high to finish cooking the apple butter. Place the lid on, but with a wooden spoon underneath so that moisture can escape. This step will take a few hours.
Can the apple butter as directed, and enjoy the cozy atmosphere in your kitchen.
Pretty Recipe
Don't forget to download your free styled recipe to keep in your recipe binder.
Click here or on the image below, and it will open up instantly for you to print!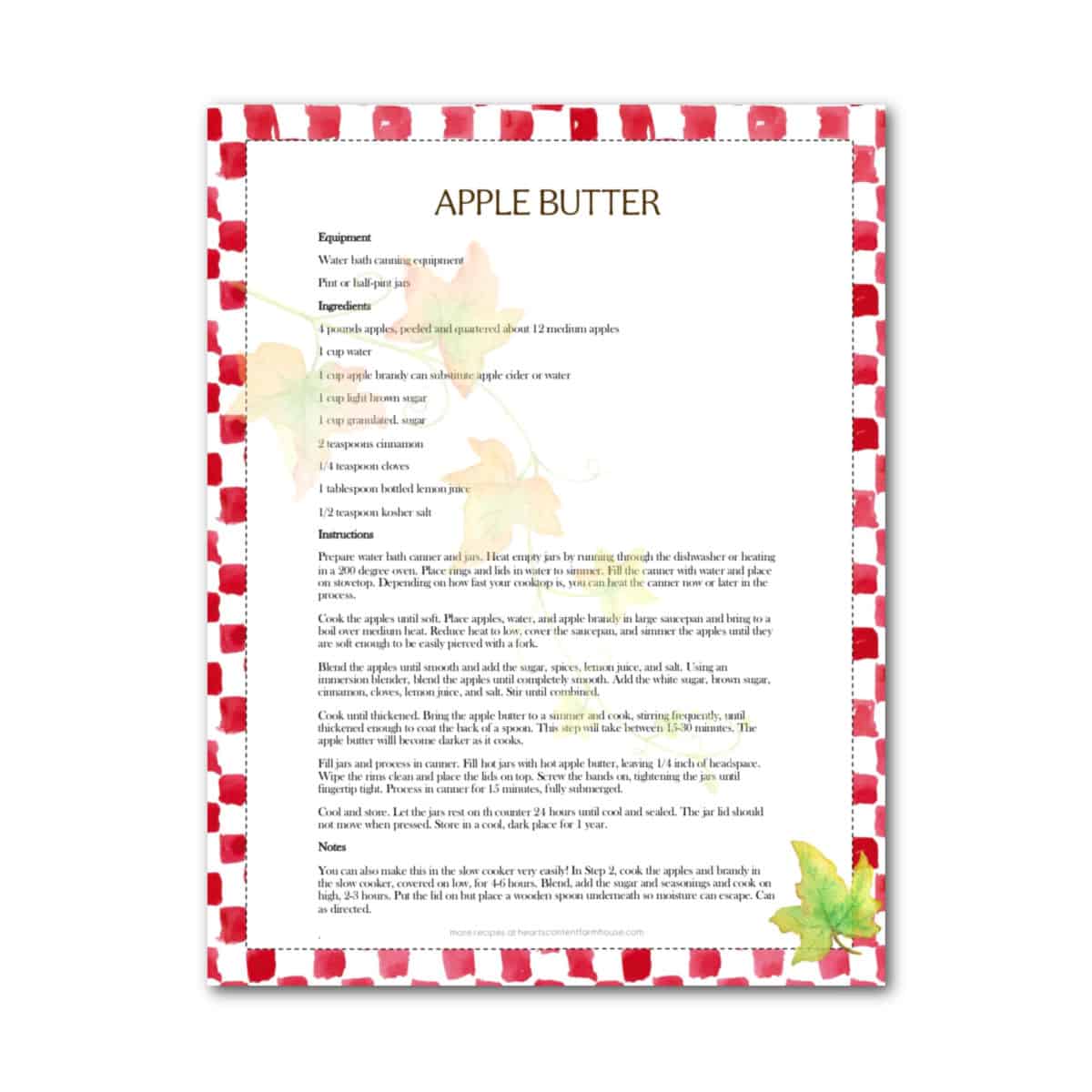 Recipe
Old Fashioned Apple Butter
Print Recipe
The perfect, classic blend of sugar, spices and apples, with the addition of a secret ingredient. Stovetop and slow cooker instructions.
Click here to grab a free Christmas cookie and candy ebook + holiday planner printables!
Equipment
Waterbath canning equipment

Pint or half-pint jars
Ingredients
4

pounds

apples, peeled and quartered

about 12 medium apples

1

cup

water

1

cup

apple brandy

can substitute apple cider or water

1

cup

light brown sugar

1

cup

granulated. sugar

2

teaspoons

cinnamon

1/4

teaspoon

cloves

1

tablespoon

bottled lemon juice

1/2

teaspoon

kosher salt
Instructions
Prepare waterbath canner and jars. Heat empty jars by running through the dishwasher or heating in a 200 degree oven. Place rings and lids in water to simmer. Fill the canner with water and place on stovetop. Depending on how fast your cooktop is, you can heat the canner now or later in the process.

Cook the apples until soft. Place apples, water, and apple brandy in large saucepan and bring to a boil over medium heat. Reduce heat to low, cover the saucepan, and simmer the apples until they are soft enough to be easily pierced with a fork.

Blend the apples until smooth and add the sugar, spices, lemon juice, and salt. Using an immersion blender, blend the apples until completely smooth. Add the white sugar, brown sugar, cinnamon, cloves, lemon juice, and salt. Stir until combined.

Cook until thickened. Bring the apple butter to a simmer and cook, stirring frequently, until thickened enough to coat the back of a spoon. This step will take between 15-30 minutes. The apple butter will become darker as it cooks.

Fill jars and process in canner. Fill hot jars with hot apple butter, leaving 1/4 inch of headspace. Wipe the rims clean and place the lids on top. Screw the bands on, tighteneing the jars until fingertip tight. Process in canner for 15 minutes, fully submerged.

Cool and store. Let the jars rest on th counter 24 hours until cool and sealed. The jar lid should not move when pressed. Store in a cool, dark place for 1 year.
Notes
You can also make this in the slow cooker very easily! In Step 2, cook the apples and brandy in the slow cooker, covered on low, for 4-6 hours. Blend, add the sugar and seasonings, and cook on high, 2-3 hours. Put the lid on but place a wooden spoon underneath so moisture can escape. Can as directed.
Nutrition
Calories:
30
kcal
|
Carbohydrates:
7
g
|
Protein:
1
g
|
Fat:
1
g
|
Saturated Fat:
1
g
|
Polyunsaturated Fat:
1
g
|
Monounsaturated Fat:
1
g
|
Sodium:
27
mg
|
Potassium:
5
mg
|
Fiber:
1
g
|
Sugar:
7
g
|
Vitamin A:
2
IU
|
Vitamin C:
1
mg
|
Calcium:
3
mg
|
Iron:
1
mg
No matter how you make it (slow cooker or stovetop), apple butter is a delicious and easy-to-preserve fall treat that you can enjoy all year round.
Enjoy your fall,