There's nothing as charming as a cutting garden in your backyard. Here are sample garden plans you can use, and tips for creating your own cutting garden design.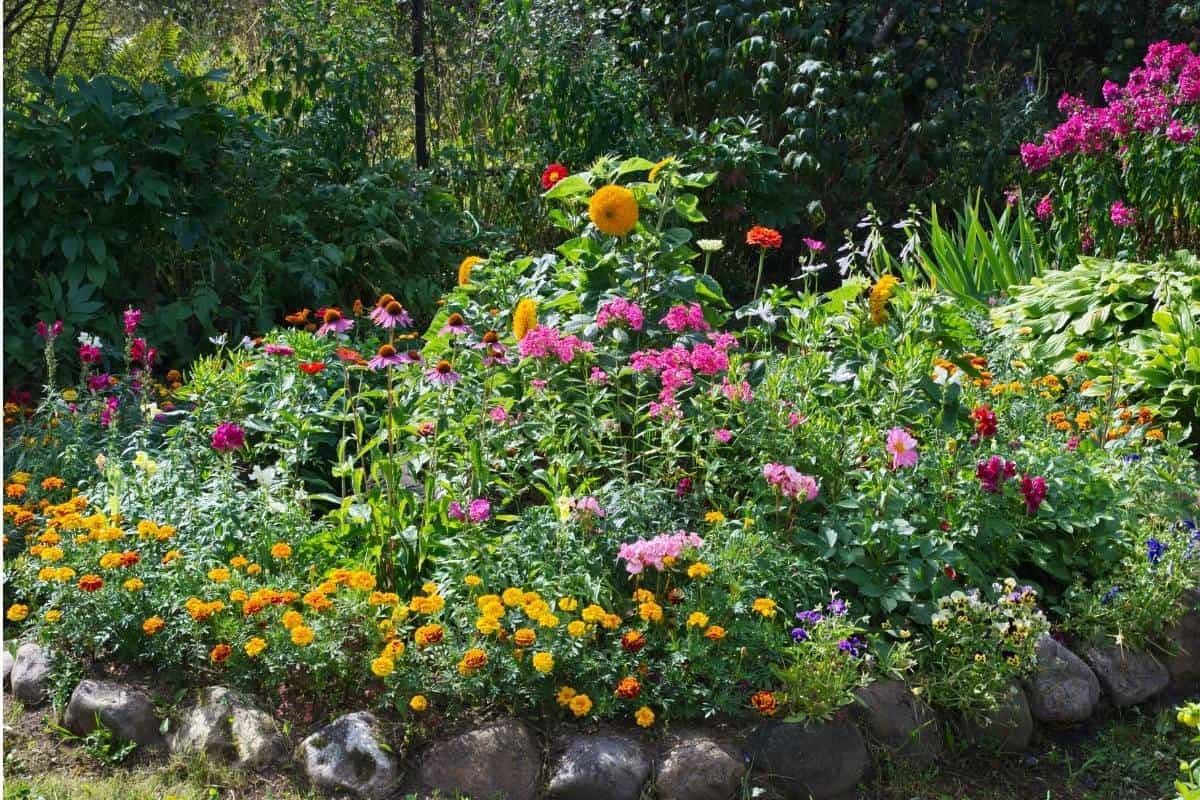 When you're designing a regular flower garden, you need to think about plants that look good together and will bloom in pleasing color combinations. A cutting garden plan is a little different because the point is the harvest. But of course, you'll still want lovely bouquets that will last all season.
Every gardener will have different goals. Do you want soft colors? Sunflowers all season long? A natural look to your bouquets?
Here are tips on how to layout your cutting garden and some sample plans you can use as-is.
Cutting garden plans and layouts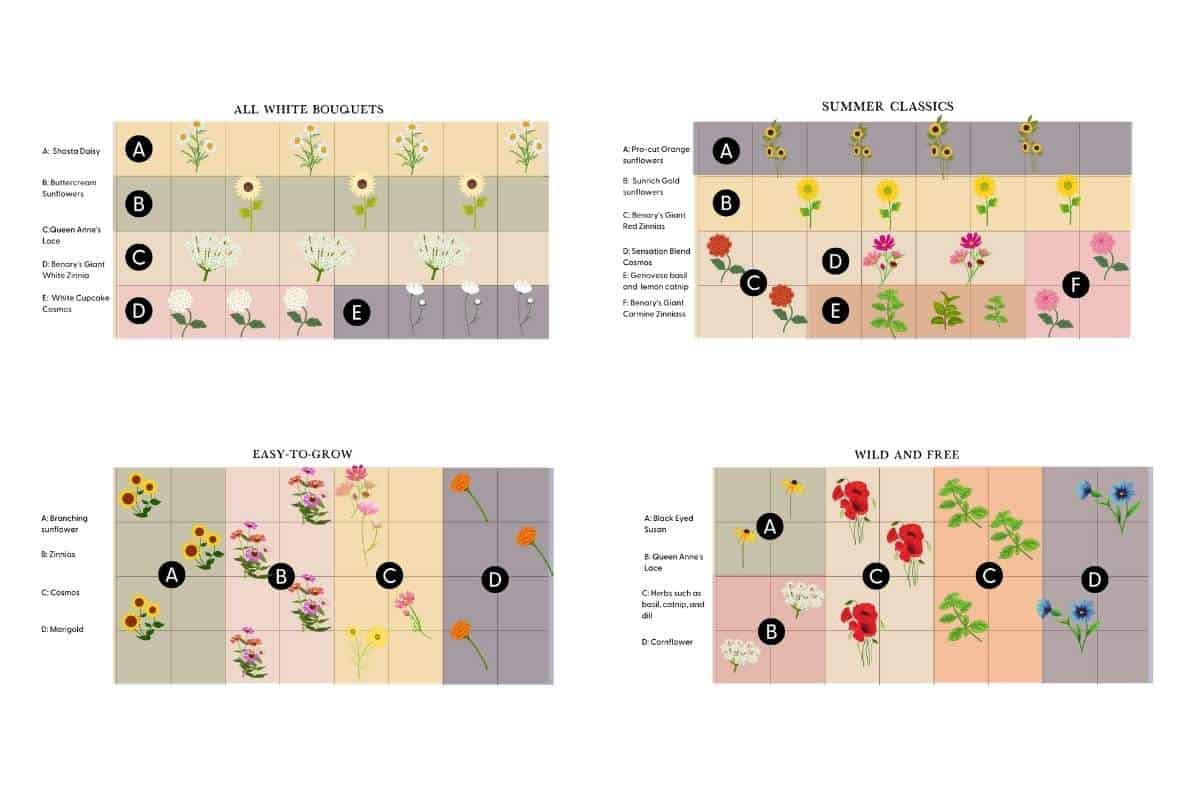 Cutting gardens will do very well either in traditional row styles or laid out as raised beds.
Rows can make for easier harvesting with minimal bending or reaching. You can plant a large plot in rows of flowers or tuck one flower row at the end of your vegetable garden.
Raised beds are perfect for having a small cutting garden in your backyard. You won't need to worry about tilling, and you can set them up in just a weekend.
And if you feel like you don't have room for either type, plant an 18-inch wide strip where you can find the space. This style will fit perfectly in most yards and easily between walkways or along fences.
Tip: Vegetables and flowers can be grown in the same beds without harming either plant. Flowers are often beneficial to vegetables and help with pollination.
How to design your garden
A well-planned cutting garden will make it easy and enjoyable to harvest and arrange fresh bouquets from your garden.
Make it easy to work in
When planning the width of your beds, be sure you know how far you can comfortably reach first. If you can reach 2 feet and you can access your bed from both sides, then you can plant a wide, 4-foot row. But if you can't reach that far comfortably, make the row shallower! You'll need to spend a lot of time in your flower beds as you harvest, remove dead flowers, and more.
To make a cutting garden as colorful as possible, plant flowers with different heights at their blooming stage. In addition to making the garden look attractive, it also helps you use spaces that would otherwise go unused.
🌻 New gardener? Read: How to Grow a Cutting Garden, For Beginners.
Don't forget fillers
If you love lots of color in your bouquets, this might not apply to you. But some people appreciate some calm mixed in their homegrown flowers and and plant some foliage plants.
If you're looking for something with great texture, try planting feather reed grass in the background of your bed.
You might also like:
dusty miller
herbs
ornamental kale or cabbage
baby's breath
Make sure you have flowers blooming all season long
If you have the space, plant your cut flower garden strategically,, so you have blooms from June up until frost.
Use succession planting for midseason flowers like sunflowers and zinnias
Plant early bloomers like snapdragons, sweet peas, and Shasta daisies
Take advantage of spring bulbs and flowering shrubs to extend your bloom times
Plant some seeds indoors for a head start in the spring
What plants should you include in the garden
Pick plants that grow well in your location and that you like. Other than that, the sky's the limit. Most cut flowers will prefer a sunny spot with well-drained soil. If you have that, your flower bed can hold just about anything you'd like.
(If you find a particular flower doesn't do well in your garden, try planting it in a container instead.)
The whole point of a cutting garden is to bring beauty and joy to your life, so make sure your garden reflects your favorite flowers.
Some popular choices that will bring a smile to your face:
Teddy Bear Sunflowers (read more about growing sunflowers)
Burgundy Mix Sweet Peas
Annual Phlox
Sweet Potato Vine
Tips for growing flowers efficiently
Consult your seed packet or favorite gardening books for advice on spacing each flower in your cutting garden. Keep in mind that You can plant some plants along garden borders,, and you can intersperse flowers amongst each other.
You can pull some very early flowers such as sweet pea or snapdragon,, and you can plant a later season fllower.
By planting a succession of blooming flowers, you can have fresh bouquets throughout the growing season.
Don't forget to use containers around your house, too. You can easily fit many annuals in a 2 foot round pot with plenty of room for them to grow.
If you want a cutting garden but don't have enough space, try a 4-inch pot with a
Sample plans you can use
Looking for a done for you cut flower garden layout? Find your favorite here and replicate it in your flower bed.
If you have a small space, pick your favorite. If you have more room, like a few. (I'd start with one Classic Cutting Garden bed, then add the Season Extender Beds)
These are all for 4 x 8 beds, which can represent a raised bed or a section of a wide row. If your rows are different sizes, just adapt.
The Classic Cutting Garden
This plan features beautiful flowers with long stems. They are cutting garden favorites for a reason,, and they shine here.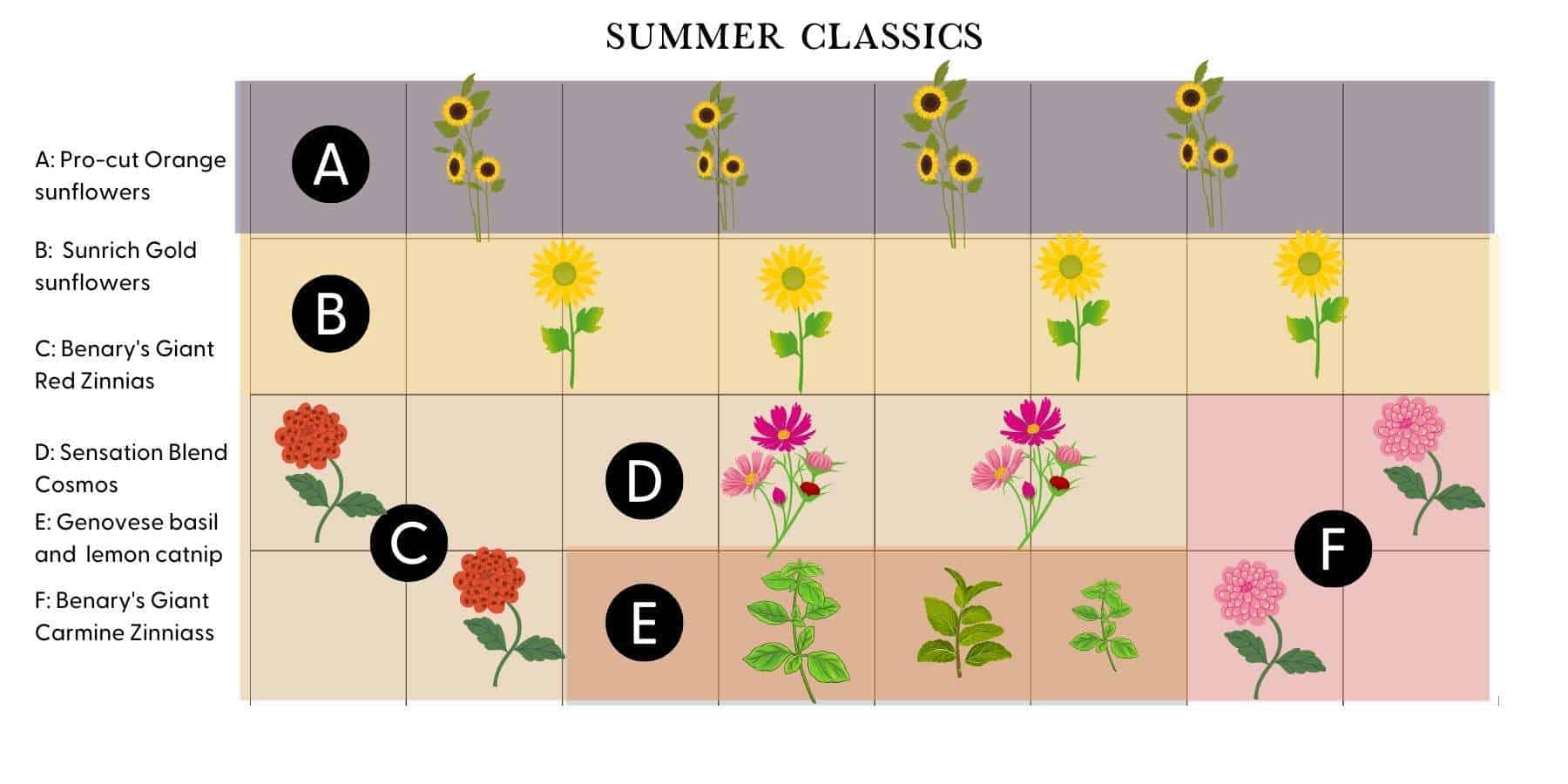 Bright and Colorful Cutting Flowers
Dahlias and plenty of annuals boast bright colors. If you're looking for some cheerful color to bring indoors throughout the growing season, this is the plan for you.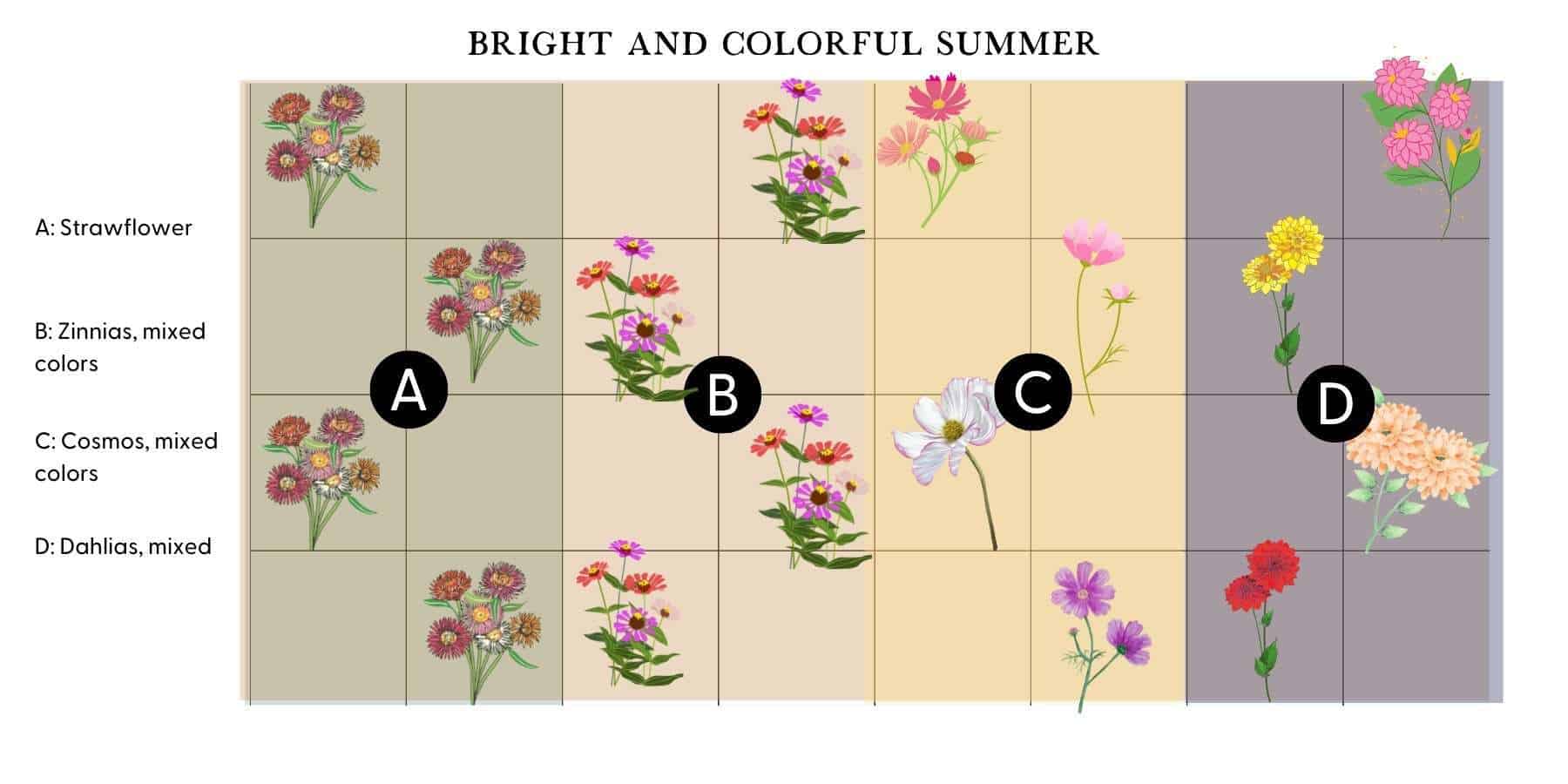 All-White Flower Garden
This cutting garden features beautiful blooms that are understated. There almost complement many flowers with more color, so you can pair this with another cut flower garden layout.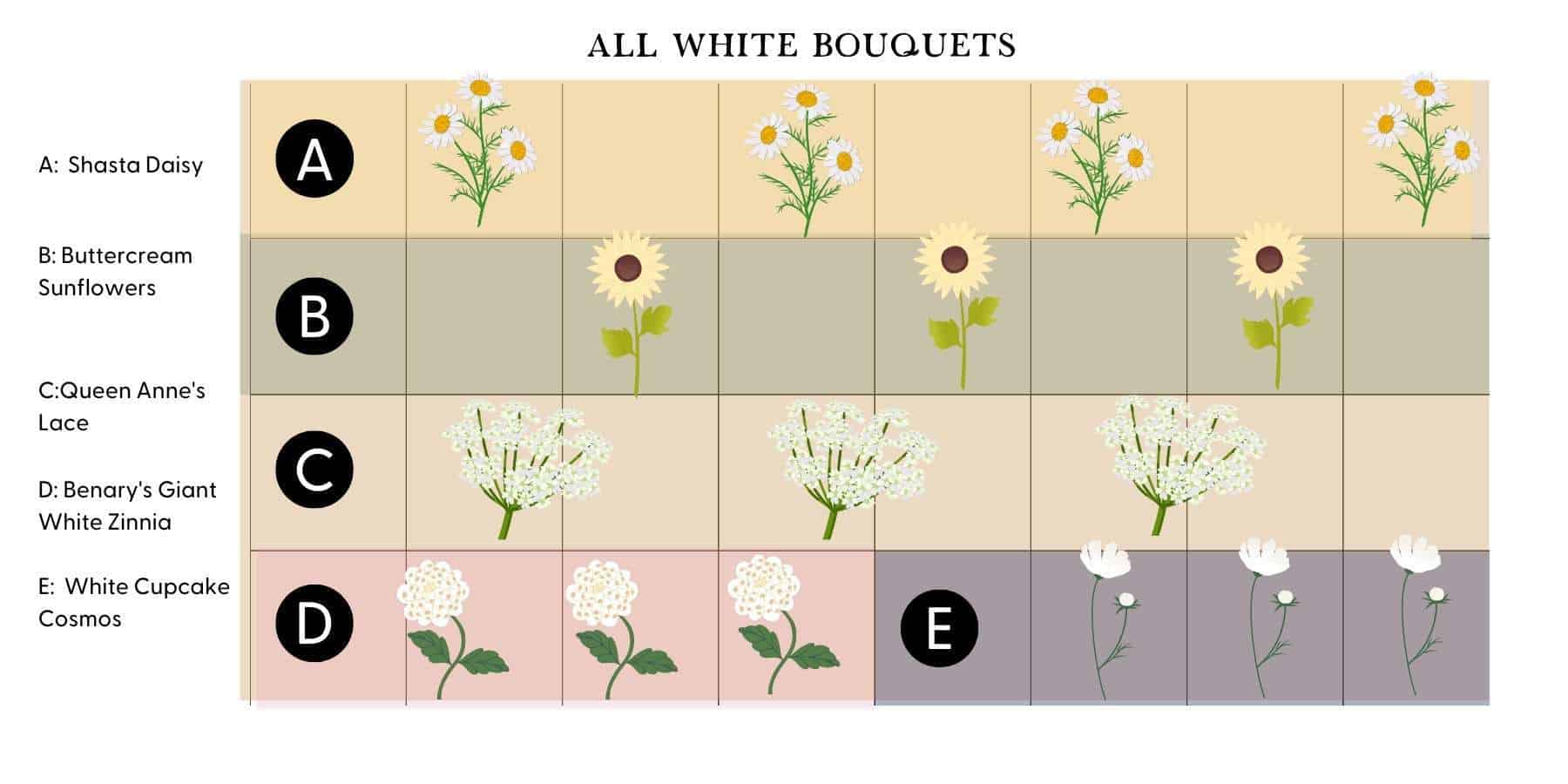 Longest Flowering Season (Early)
The next two beds show the same flower garden at two different times of the year. Choose plants that bloom early and then another set that blooms mid through late summer.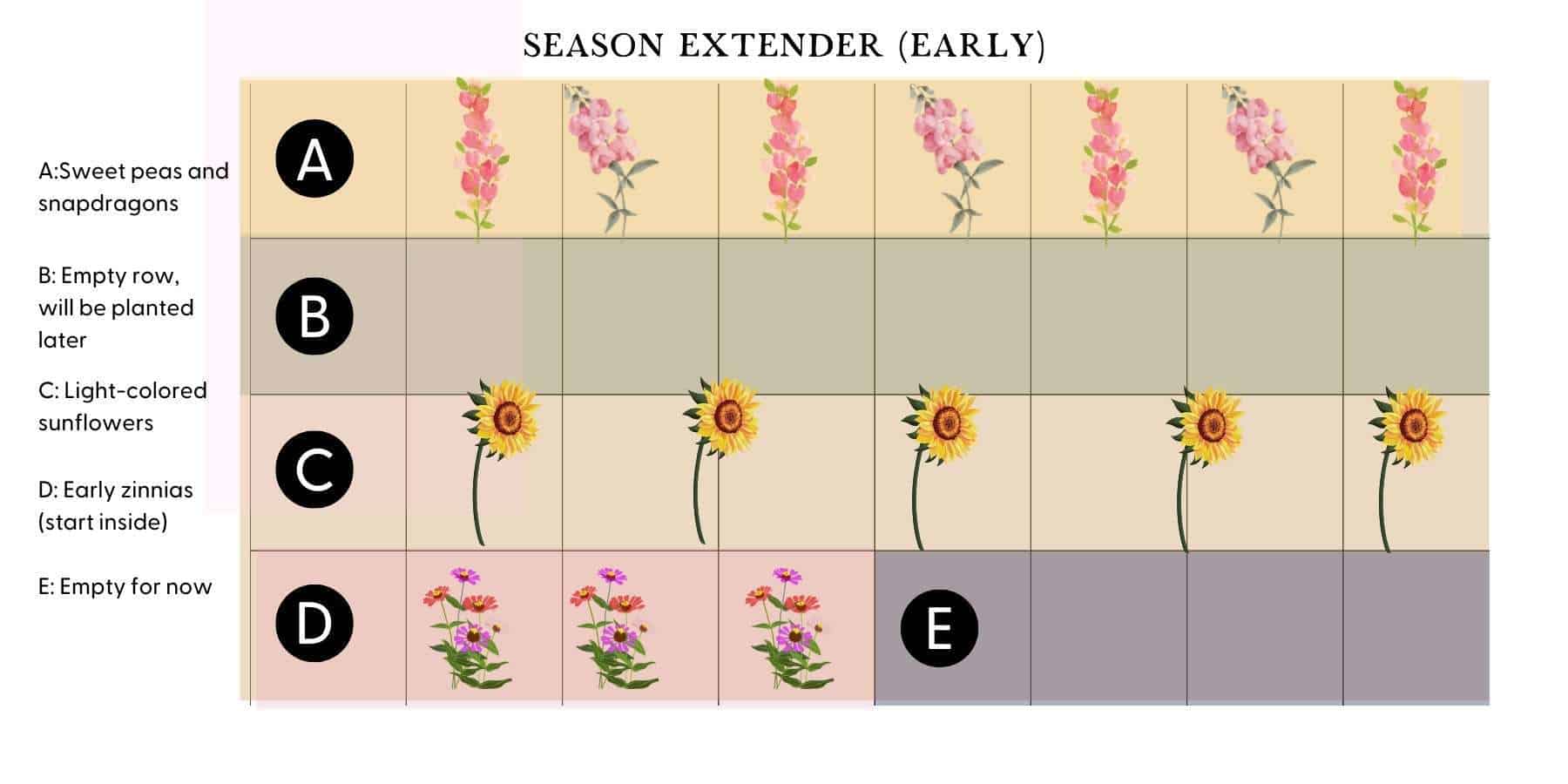 Longest Flowering Season (Late)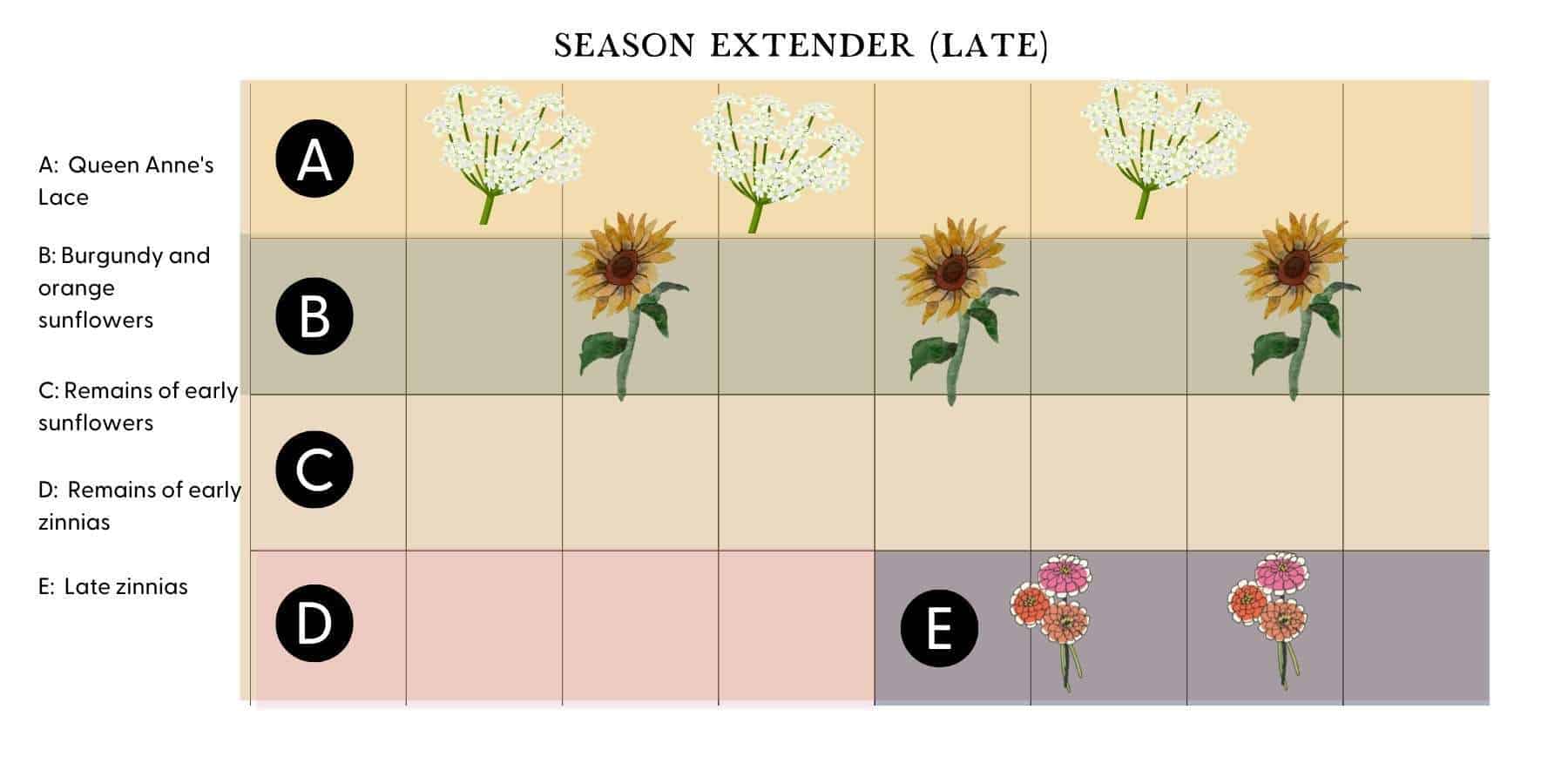 Wildflower Inspired Cut Flower Garden
If you love wildflowers but want something predictable, this cutting garden design features Black-eyed Susan, poppies, and other wild-looking flowers.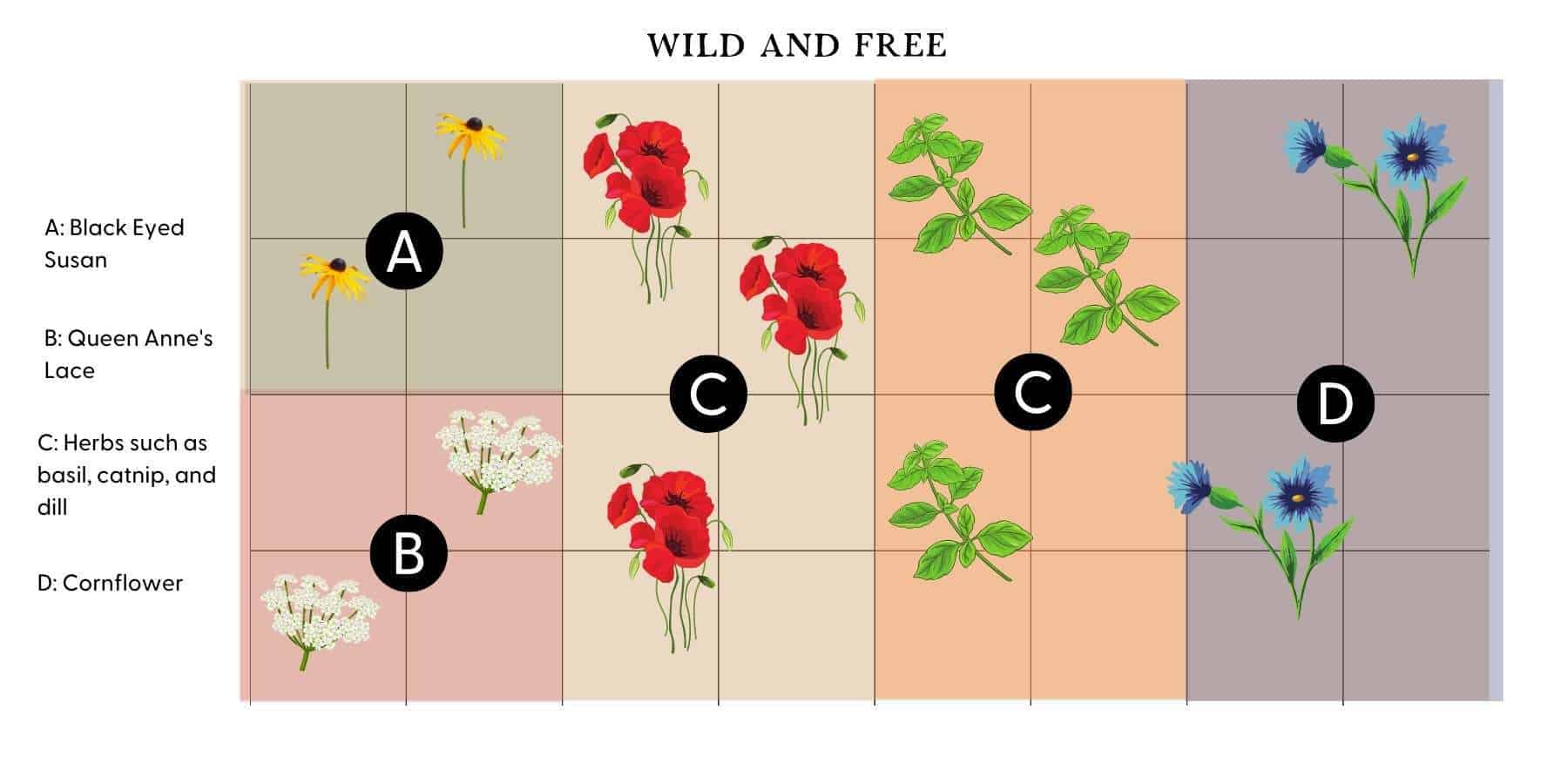 The Easy to Grow Cutting Garden
Are you a beginner gardener? Try this layout that features simple classic flowers. Even if you become a master gardener, you'll probably still enjoy these plants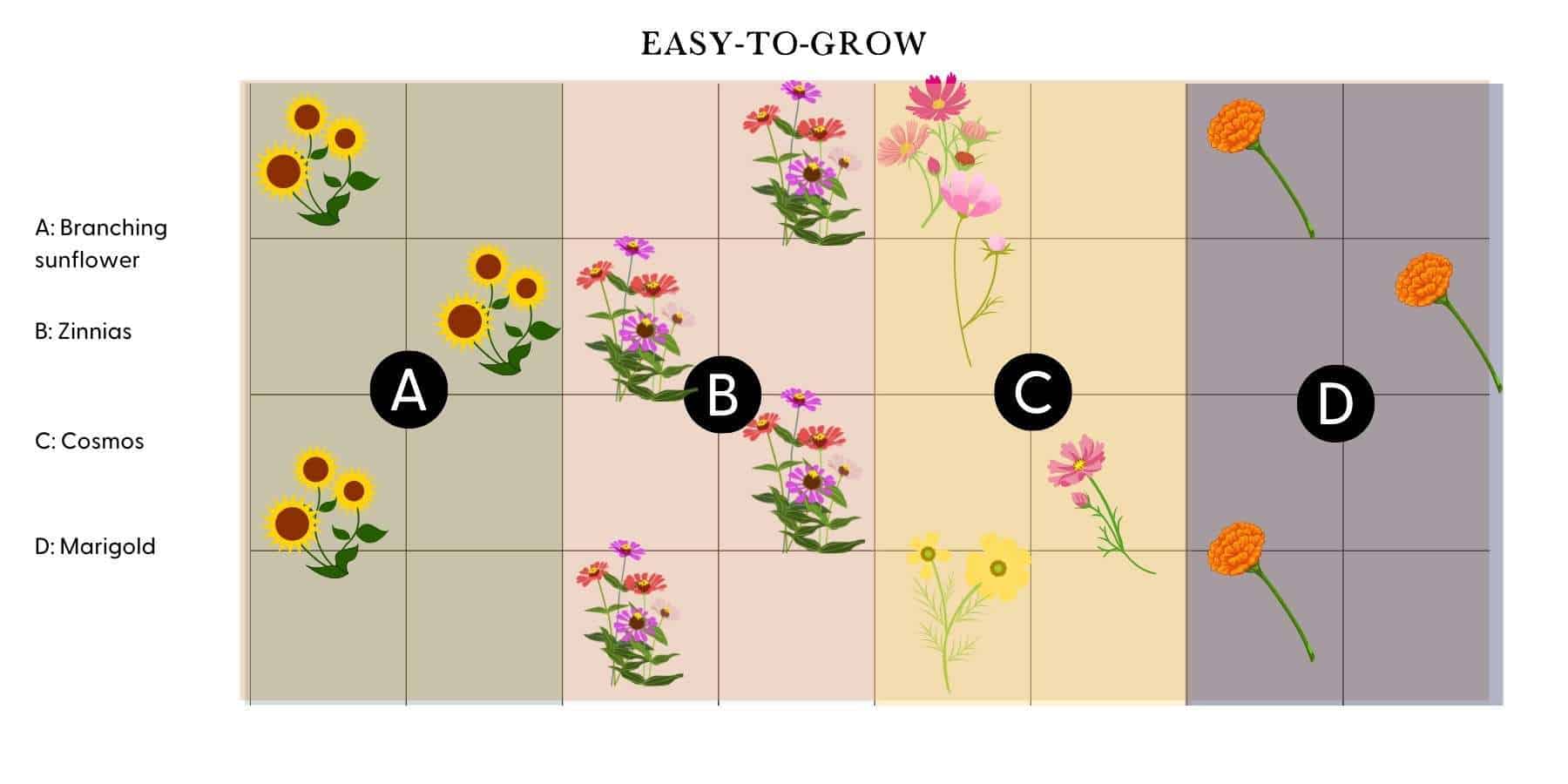 🖨 Want to print 'em all out? Click here for an instant download PDF.
No matter what your gardening goals are, we've got you covered. If you're looking for a cutting garden plan that will provide flowers in soft colors all season long or one with natural-looking bouquets, these sample layouts and plans should help get the creative juices flowing! We hope this was helpful when designing your cutting garden.